I love mulled wine and I love cake (you might have noticed) and I decided I had to find a festive recipe to combine my two loves. Luckily I did and the results were delicious. So find below the recipe for mulled wine cupcakes and treat yourself.
This recipe should make approx. 12 cupcakes.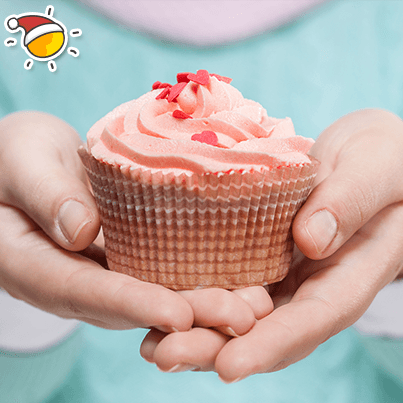 For the cupcakes:
4 free-range eggs
225g/8oz caster sugar
225g/8oz self-raising flour
2 tsp baking powder
225g/8oz soft unsalted butter
Few drops of vanilla extract
1 tsp ground ginger
1/4tsp ground cloves
1/2tsp ground cinnamon
Zest of one orange
For the surprise filling!
200ml mulled wine
1 1/2tsp corn flour
For the topping:
50g unsalted butter
Zest of 1 orange
1tsp cinnamon
175g icing sugar
125g mascarpone
Pink colouring and any sparkles/berries/grapes you would like to decorate.
How to make the cupcakes
Preheat the oven to 180c/gas mark 4
1. In a mixing bowl add the caster sugar and butter, cream together until light and fluffy.
2. Add the eggs and beat the mixture until combined.
3. Sieve in the flour, add the orange zest and the spices and stir. Then fold the mixture.
4. Divide the mixture into 12 individual cupcake cases and place in the oven for 20 minutes or until you can stick a knife into the cakes and it comes out clean.
5. Allow the cakes to cool on a cooling rack.
To make the filling:
1. Add the mulled wine and corn flour into a saucepan. Heat the mixture, whisking until you have a gel-like mixture. Then remove from the heat and allow to cool.
2. When the cupcakes have cooled cut out the middle of them using an apple corer.
3. Add a little bit of the mulled wine gel into the middle of each of the cakes.
To make the icing:
1. Beat together the butter, orange zest, cinnamon and icing sugar in a large bowl.
2. Add the mascarpone and the pink food colouring and mix until you have a nice smooth mixture.
3. Spoon on top of cupcakes and decorate with sparkles or fruit.
Enjoy!!!