There's a very special and totally unique event happening at Longleat Adventure & Safari park this Christmas that will give you a truly action packed day out! I was so lucky to be asked along to the opening of the "Festival of Light' and here's my review!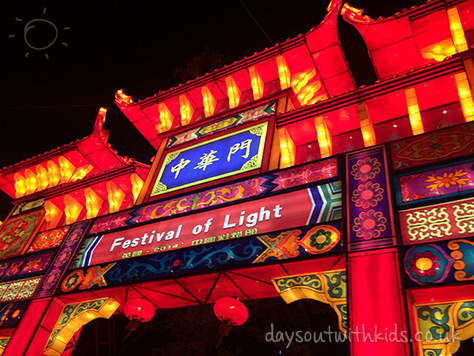 This season at Longleat, not only will you be able to enjoy meeting the animals and taking a drive around the safari trail, but you will also be able to see the TRULY AMAZING chinese lanterns which form 'Festival of Light'. This is definitely a day out with a difference!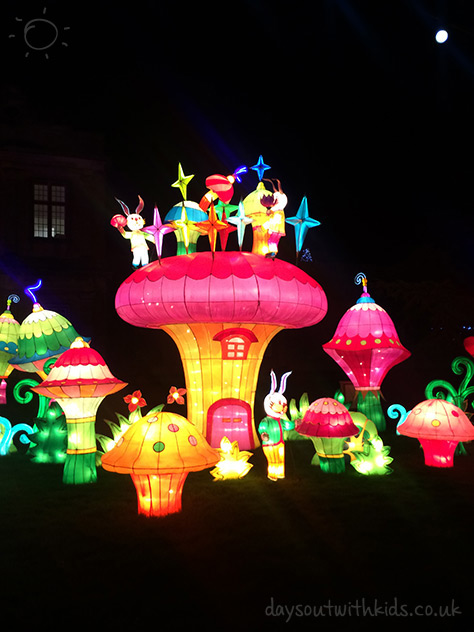 The beautiful display of is the first of it's kind in Europe! There are more than 30 acres of illuminations, all set around the beautiful backdrop of Longleat House. You will see dragons, temples and models of the famous Longleat animals! The illuminations are fantastic to look at during the day but are incredible after dark!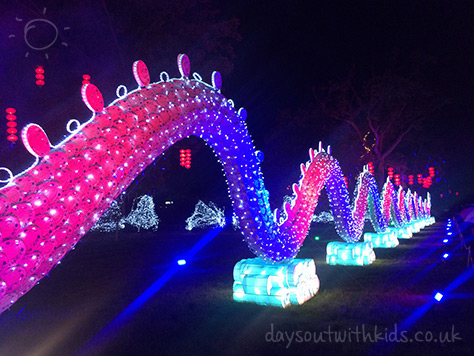 At 4.30pm, as it starts to get dark the illuminations switch on. As you walk through the displays you are literally surrounded by a rainbow of colour! There are a range of traditional Chinese displays, including an enormous Dragon created using plates!!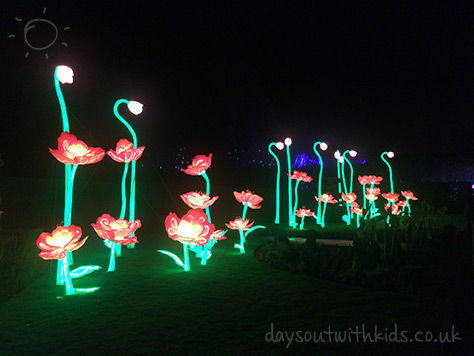 The trees throughout the walkways are draped with lights that give the glittering effect of rain, there are beautiful silk flowers and characters and towards the end you come to the most breathtaking display of all….a re-creation of the safari animals. With life-size lions, towering giraffes and my favourites, the pink flamingoes!

Even the lake is covered with beautiful giant lotus flowers. (plus we had a surprise guest when one of the real sea lions jumped up to greet us!!). A little tip; wear 'sensible' shoes as the displays near the lake are on grass, which could get slippery or muddy if it rains.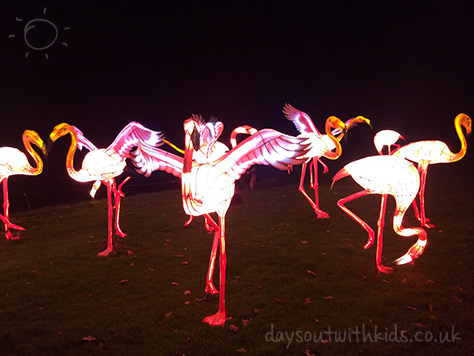 As well as the Festival of Light you can also enjoy all the usual Longleat adventures including the Safari ( hooved animals may be indoors in wet weather) and the 'Animal Kingdom', where you will see  lemurs, get up close to the penguins, and even feed the birds with nectar. They actually land on you and feed from a tiny cup that you hold in your hand! After that take a boat trip on the lake to see the gorilla and feed the sea lions!
If you fancy getting in the festive spirit there are a range of Christmassy activities (at an additional cost). Why not take a skate on the ice rink, or meet the Big man himself by taking a ride on the Santa Express (you must book this experience in advance).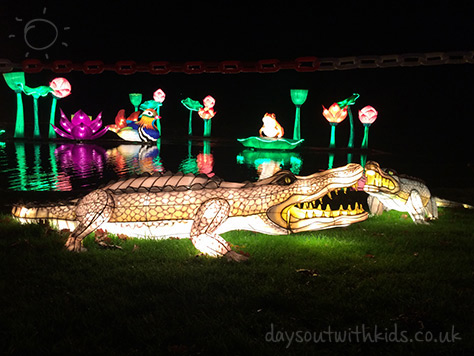 Overall a very unique and magical experience awaits as you wander the grounds of Longleat House this festive season!