I love visiting the Natural History Museum in London as it provides hours of fun and learning (and it's free!!). Science museums are also great places to visit as they have lots of interactive and fun exhibitions where the kids can get 'hands on'. Here's a selection of great attractions over the country that you can visit for a fab day out, no matter what the weather is doing!
Science Museum; London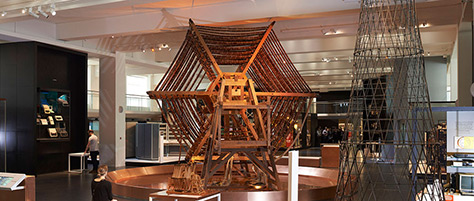 Discover fascinating exhibitions at this museum ranging from space to technology. The 'Making the Modern World' exhibition is an intriguing look at objects and events that have changed our world. With many more exciting things to see, the Science Museum is a great place for a day out.
Click here for more information
Winchester Science Centre & Planetarium; Winchester, Hampshire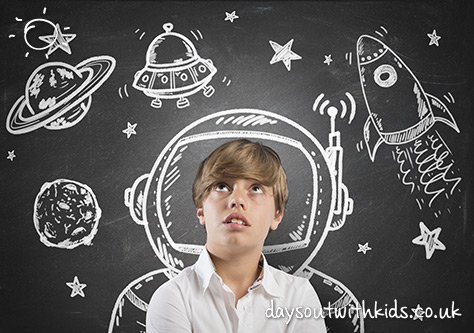 Winchester Science Centre & Planetarium is a fascinating, fun and educational day out for the whole family. With over 100 'hands on' exhibits it's an ideal place to bring young children. Don't miss the Planetarium – a 17 metre dome where you can get up close to the solar system.
Click here for more information
Catalyst Science Discovery Centre; Widnes, Cheshire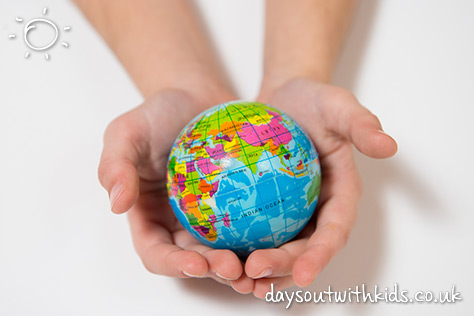 This centre shows the kids that science can be fun, with fantastic sights including interactive displays and various workshops.
Click here for more information
Thinktank Science Museum; Birmingham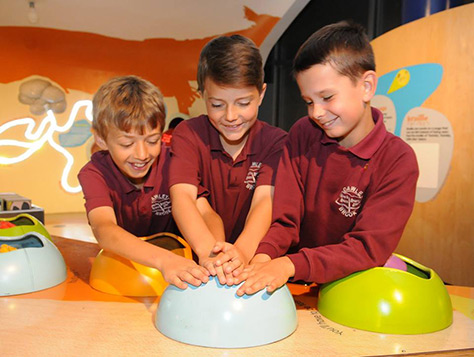 You will discover the past, investigate the present and see into the future at this impressive science museum. There are some excellent collections on display, such as animals, plants, rocks and fossils. You can even see the fossilised skull of a Triceratops!
Click here for more information
Magna Science Adventure Centre; Rotherham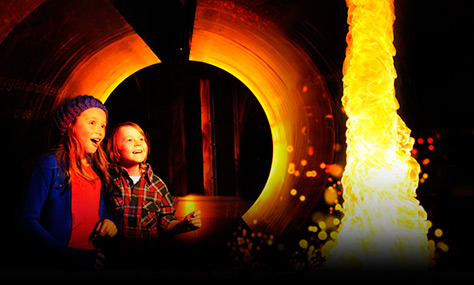 This fun and educational science centre will inspire the next generation of scientists! There are interactive displays and exhibits showing the wonders of science and nature. The museum has over one hundred exhibits to entertain the children and help them explore the four elements- Air, Water, Earth and Fire.
Click here for more information
Satrosphere Science Centre; Aberdeen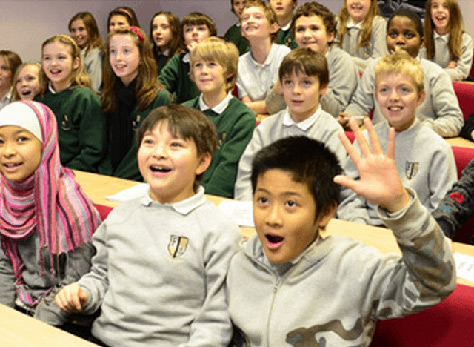 For a fascinating day out, bring the family to the Satrosphere Science Centre. With many different exhibits and displays, you will learn about all aspects of science. There are hands-on exhibits so kids can really get stuck in, making science not just educational but fun too.
Click here for more information
***Free entry for one child with one full price paying adult when you purchase a 'Days Out Card'.***
FIND OUT MORE 
The Royal Institution of Great Britain; London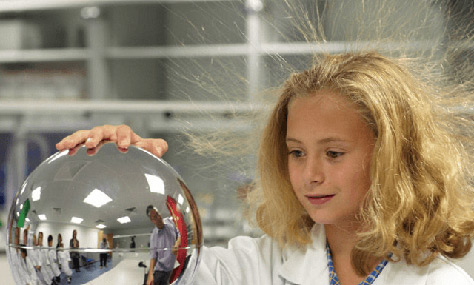 The Royal Institution of Great Britain is an interesting centre dedicated to scientific education and research. They offer family fun days suitable for children 6-12, your little ones will enjoy the short talks in the theatre, experiments which they can participate in, and a range of other creative activities.
Click here for more information
Jodrell Bank Discovery Centre; Macclesfield, Cheshire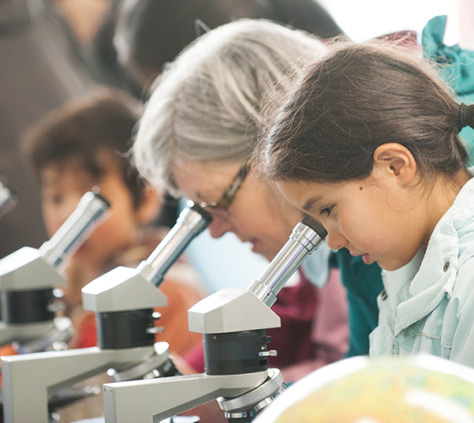 Discover the universe through interactive activities, listen to the sounds of the Big Bang or take some time to learn about the world-famous giant Lovell Telescope. Outdoors there's a galaxy garden and play area. You can borrow a special 'backpack' and learn about the Solar System as you make your journey along the 'Planet Path'.
Click here for more information
The MAD Museum; Stratford upon Avon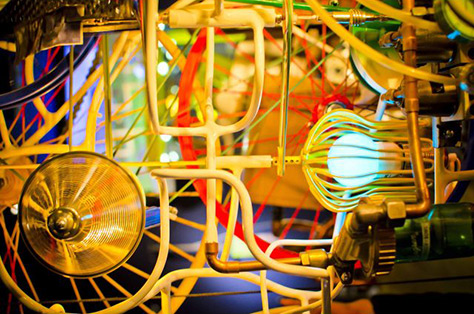 For the uninitiated, the museum is a mix of Heath Robinson and Scrapheap Challenge, a hotchpotch of futurist mechanisms with amazing creativity and ingenuity. The MAD Museum holds over 100 pieces; both large and small with two floors full of far-fetched designs and quirky contraptions. Perfect for little kids and big kids alike, this weird and wonderful museum has become a must see attraction.
Click here for more information
Cambridge Science Centre; Cambridge
The Cambridge Science Centre is full of amazing exhibits and learning activities including a spectroscope which allows you to see colours of light that are not visible to the naked eye. You can also see how passing an electrical current through a single wire can make it generate enough energy to jump around!
Click here for more information
The Observatory Science Centre; Hailsham, East Sussex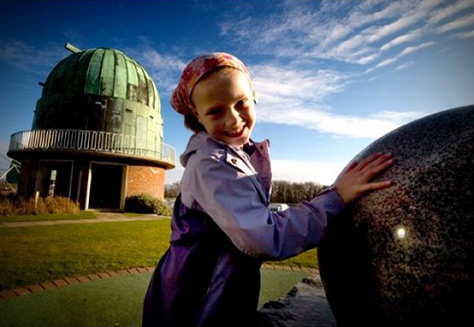 This fantastic leading hands-on science centre houses over 100 exhibits for the family to see! Set within the former home of the Royal Greenwich Observatory, you will learn all about the planets, gravity, forces, sound, light and so much more.
Click here for more information
Dundee Science Centre; Dundee

Dundee Science Centre is a great day out for the most inquisitive of children.  With many temporary exhibitions, there's always something new to see. The permanent exhibits offer visitors an educational and fun experience related to the different aspects of science.
Click here for more information
Museum Of Science & Industry; Manchester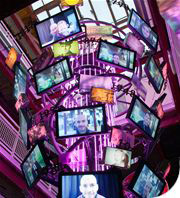 MOSI is an exciting museum full of interactive displays and an ever changing variety of exhibitions exploring science and industries. Exhibitions such as; how tornados are made, 4D cinema, how the human body works, and the history of communications in Manchester. Walk through a recreation of a Victorian sewer (smells included!), visit the air and space hall, plus a hall dedicated to locomotives.
Click here for more information
The Natural History Museum; London
For a fascinating and educational day out, head to the Natural History Museum. You will learn about the natural world through amazing exhibitions and displays! Be sure to check out the Darwin Centre where you will discover science in action. The Attenborough Studio is a fascinating audio-visual venue where you can learn all about life on earth. There are so many things to see at this amazing place, so don't miss out!
Click here for more information
@ Bristol Science Centre; Bristol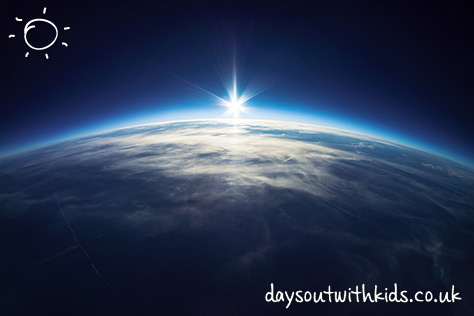 At-Bristol Science Centre provides its visitors with a unique day full of fun and discovery. Aimed at people of all ages, it offers many different displays and exhibitions themed around all aspects of science. There are temporary exhibits too so you'll always find something new, no matter how many times you visit!
Click here for more information
Techniquest; Cardiff
Techniquest is a hands-on science discovery centre that the kids will love exploring. With over 130 interactive exhibits from the hot air balloon and hydrogen rocket, to chunky puzzles. There is a changing programme of events, a science theatre and planetarium.
Click here for more information
Glasgow Science Centre; Glasgow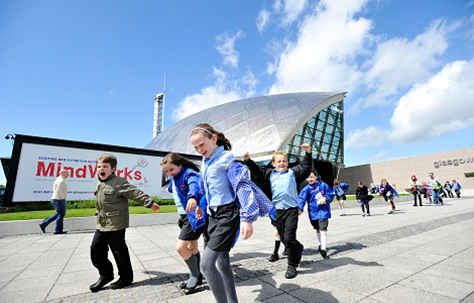 The Glasgow Science Centre is perfect for kids with a thirst for knowledge. You'll learn about all aspects of science, including the human body and the universe. The Science Centre is also home to an IMAX theatre, so you can take your little ones to see a film in stunning surround sound.
Click here for more information
Remember you can visit our website where you will find over 4,000 days out ideas!