If you're a cupcake fan like I am, then give this simple recipe a go and make some lovely cupcakes for Valentine's Day.
What you need:

125g self-raising flour
125g unsalted butter, softened
125g caster sugar
2 eggs
2 tbsp milk
1/2 tsp vanilla extract
Ready to roll icing in red and pink
Small amount of icing sugar
How to make:
Mix together (cream) the caster sugar and unsalted butter
Add the eggs and sieve flour in and mix
Add vanilla essence and milk then fold mixture until creamy and mixture drops of the spoon.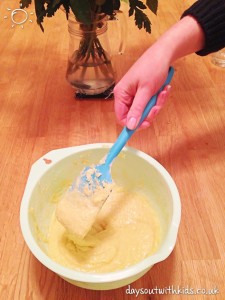 Divide mixture between cupcake moulds. Bake in the oven for 15-20 minutes
Remove from oven and allow the cakes to cool.
For the decoration:
Sieve some icing sugar clean work surface/chopping board and roll the icing to desired thickness and get decorating.

We used two different colours, rolled out, so we could layer the cakes and use cookie cutters to make the cute designs. You can just brush some water on the icing and sprinkle with edible, glitter and icing hearts.

Last step enjoy the cupcakes!