Are you doing Veganuary? Or perhaps your already vegan looking for meal inspiration?
Check out our vegan recipes below – there kid-friendly and ready to sweep the nation!
Simple, healthy and sure to satisfy,
Our ultimate favourite has got to be the vegan shepherd's pie! 
Falafel Burgers
Prep Time: 10 mins / Cook Time: 6 mins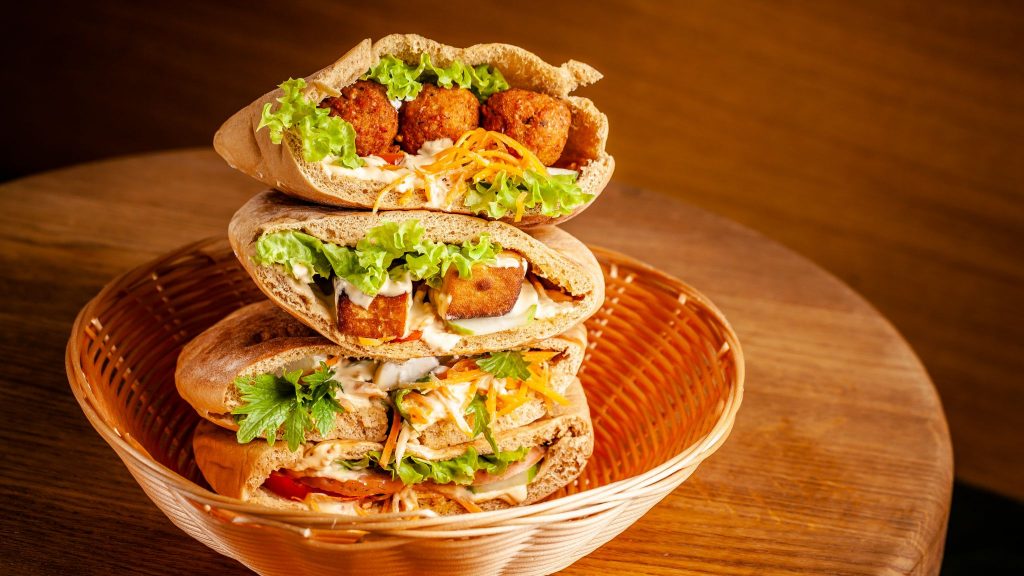 What you'll need:
400g can chickpea (rinsed and drained)
1 small red onion (roughly chopped)
1 garlic clove (chopped)
handful of flat-leaf parsley/curly parsley
1 tsp ground cumin
1 tsp ground coriander
1/2 tsp harissa paste or chilli powder
2 tbsp plain flour
2 tbsp sunflower oil
toasted pitta bread (to serve)
200g tub tomato salsa (to serve)
green salad (to serve)
How to make:
1. Drain a 400g can of chickpeas and pat dry.
2. Place the chickpeas into a food processor along with 1 small chopped red onion, 1 garlic clove, handful of flat-leaf parsley, 1 tsp ground cumin, 1 tsp ground coriander, 1/2 tsp harissa paste or chilli powder, 2 tbsp plain flour and a little salt.
3. Next, blend until smooth. Then shape into four patties with your hands.
4. Heat 2 tbsp sunflower oil in a non-stick frying pan, add the burgers, then quickly fry for 3 minutes of each side until lightly golden.
5. Serve with toasted pitta bread, tomato salsa and a green salad!
Creamy Vegan Mac and Cheese
Prep Time: 10 mins / Cook Time: 10 mins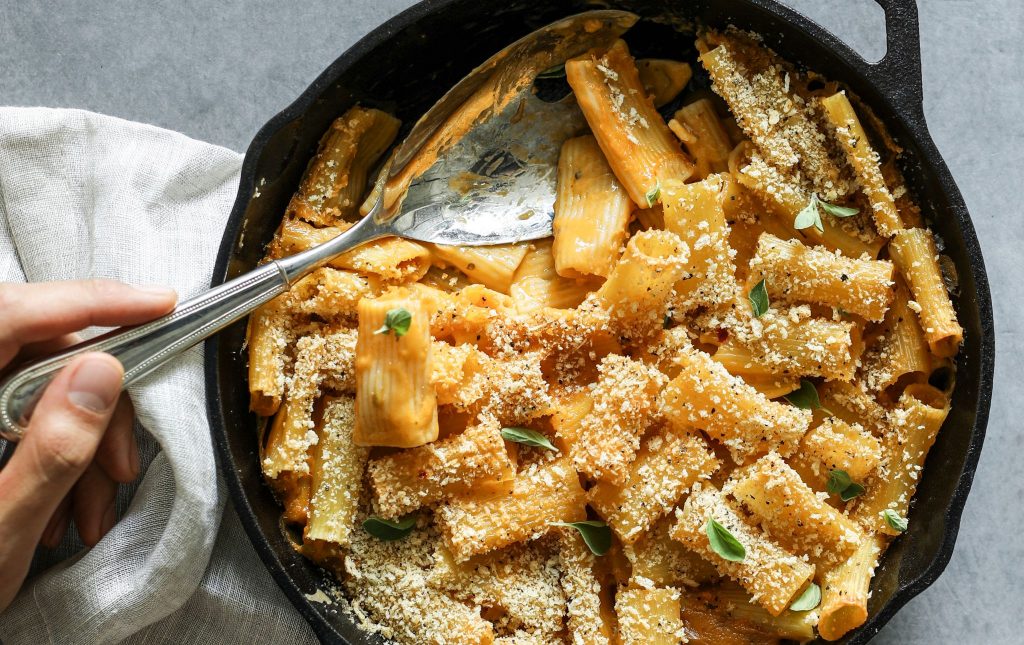 What you'll need:
10 ounces dried macaroni
1 cup peeled/diced yellow potatoes
1/4 cup peeled/diced carrots
1/3 cup chopped onion
3/4 cup water
1/2 cup raw cashews
1/4 cup coconut milk
2 tablespoons yeast flakes
1 tablespoon lemon juice
1 teaspoon salt
1/4 teaspoon garlic powder
1 pinch cayenne pepper
1 pinch paprika
How to make:
1. Begin by cooking the macaroni, following the package instructions. (Typically boil for 6-8 minutes in salted water, drain and set aside).
2. Bring water to boil in a small pot. Place chopped potatoes, carrots and onion in the boiling water and cook for 10 minutes or until vegetables are soft enough to blend.
3. Next, use a slotted spoon to remove the vegetables from the pot into a blender. Add 3/4 cup of that cooking water to your blender, along with your remaining ingredients including cashews.
4. Blend until smooth.
5. Pour sauce over your cooked macaroni noodles in a dish and serve immediately.
One-pot Mushroom and Potato Curry
Prep Time: 10 mins / Cook Time: 20 mins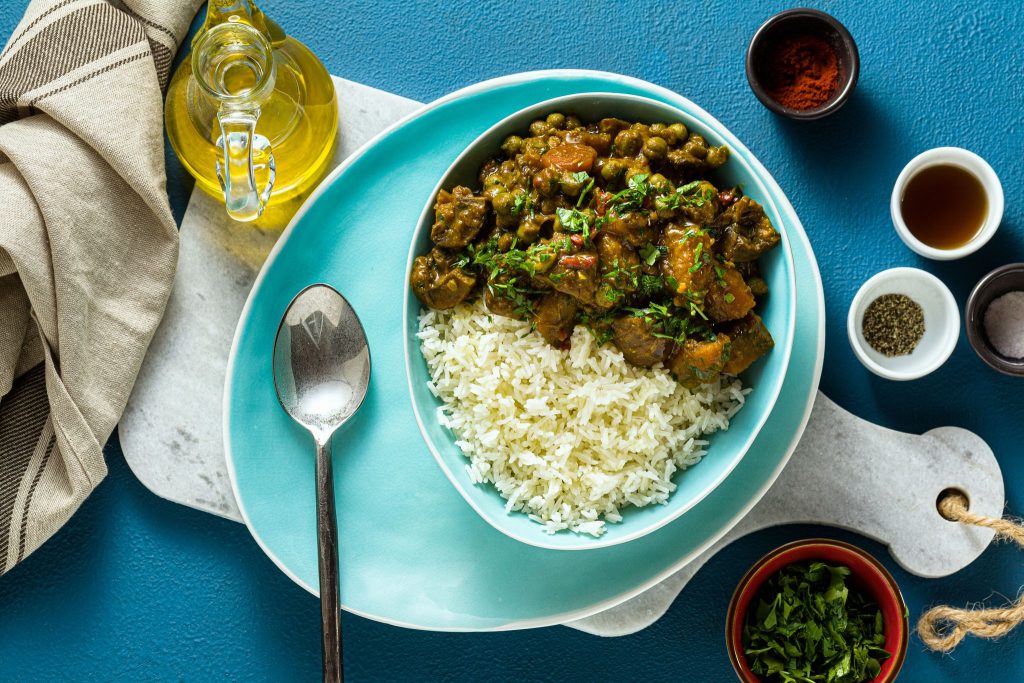 What you'll need:
1 tbsp oil
1 onion (roughly chopped)
1 large potato (chopped into smaller chunks)
1 aubergine (trimmed and chopped into chunks)
250g button mushrooms
2-4 tbsp curry paste (depending on how hot you like it)
150ml vegetable stock
400ml coconut milk
Chopped coriander (to serve)
How to make:
1. Heat the oil in a large saucepan, then add onion and potato. Cover, then cook over a low heat for 5 mins until the potatoes begin to soften.
2. Next, add in the aubergine and mushrooms and cook for a few minutes.
3. Stir in the curry paste, pour over the stock and coconut milk. Bring to the boil and then simmer for 10 mins or until the potato is tender.
4. Finally, stir through the coriander and serve with rice or naan bread!
Vegan Pizza Margherita
Prep Time: 15 mins / Cook Time: 15 mins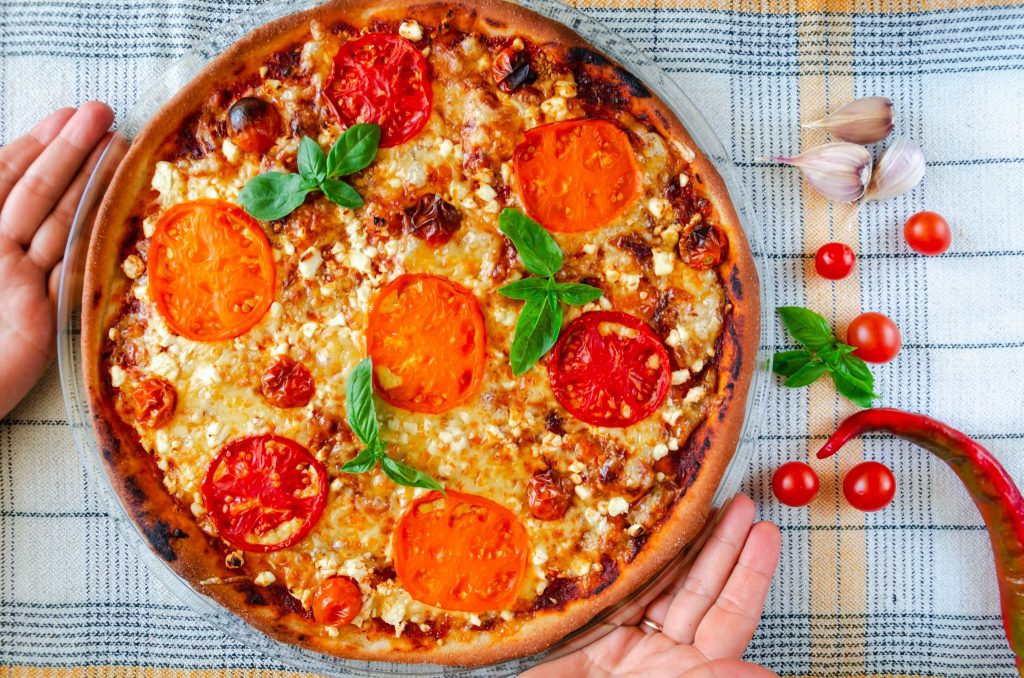 What you'll need:
For the pizza dough
500g white bread flour
1tsp dried yeast
1tsp caster sugar
1 1/2 tbsp olive oil
For the tomato sauce
100ml passata
1tbsp fresh basil (chopped)
1 garlic clove (crushed)
For the topping
200g vegan mozzarella-style cheese (grated)
2 tomatoes (thinly sliced)
Fresh basil, chilli oil and vegan parmesan to serve (optional)
How to make:
Begin, by putting the flour, yeast and sugar in a large bowl. Measure 150ml of cold water and 150ml boiling water in a jug and mix them together. Next, add oil and 1tsp salt to the warm water then pour it over the flour. Stir well then start to knead the mixture together in a bowl until it forms a soft and slightly sticky dough. If it is too dry, try adding a splash of cold water.
2. Next, dust a little bit of flour onto the work surface and knead the dough for 10 minutes. Place it back in the mixing bowl and cover with cling film greased with a few drops of olive oil before leaving to rise in a warm place for approximately 1 hour.
3. Heat oven to 220c/gas 9 and place a baking sheet or pizza stone on the top shelf to heat up. Once the dough has risen, knead it again on a floured surface (it should be springy and a lot less sticky now). Set aside whilst you prepare the sauce.
4. Place all the ingredients for the tomato sauce in a bowl, season with salt and pepper and mix well. Again set aside until needed.
5. Divide the dough into 2 pieces, shape into balls and flatten each piece out as thin as you can get it. Make sure the dough is well dusted with flour to stop it from sticking. Dust another baking sheet with flour then put a pizza base on top, spread 4-5 tbsp of the tomato sauce on top and add some sliced tomatoes and grated vegan cheese. Drizzle with a little olive oil and bake in the oven on top of your preheated baking tray for 10 – 12 minutes.
6. Repeat with the rest of the dough and topping. Serve the pizzas with fresh basil leaves or if you like, sprinkle over some vegan parmesan just after baking!
Vegan Avocado and Chickpea Curry Jacket Potato
Prep Time: 15mins / Cook Time: 45 mins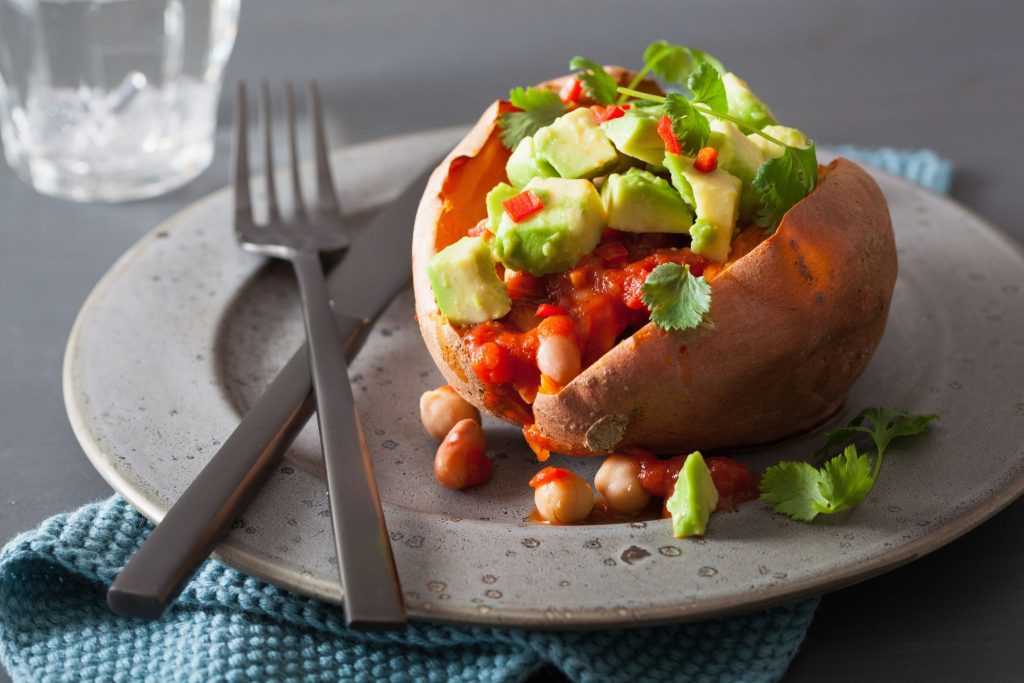 What you'll need:
4 sweet potatoes
1tbsp coconut oil
1 1/2 tsp cumin seeds
1 large onion (diced)
2 garlic cloves (crushed)
Thumb-sized piece ginger (finely grated)
1 green chilli (finely chopped)
t tsp ground coriander
1/2 tsp turmeric
2 tbsp tikka masala paste
2 x 400g can chopped tomatoes
2 x 400g can chickpeas (drained)
1 x Avocado
Lemon wedges and coriander leaves (to serve)
How to make:
1. Begin by heating the oven to 200c/180c fan/gas 6. Next, pierce the sweet potatoes all over with a fork before placing them on a baking tray and into the oven for 45 minutes.
2. Whilst the potatoes are cooking, melt the coconut oil in a large saucepan over medium heat. Add the cumin seeds and fry for 1 minute until fragrant. Next, add the onion and fry for 7-10 minutes until softened.
3. Put the garlic, ginger and green chilli into the pan and cook for 2-3 minutes. Add the spices and tikka masala paste and cook for a further 2 minutes, then tip in the tomatoes. Bring to a simmer, then finally tip in the chickpeas and cook for a further 20 minutes until thickened. Whilst cooking cut 1 avocado into small pieces.
4. Put the roasted sweet potatoes on four plates and cut open lengthways. Spoon over the chickpea curry and the avocado chunks. Finally,  squeeze over the lemon wedges then scatter with coriander before serving.
Vegan Shepherd's Pie
Prep Time: 30 mins Cook Time: 1hr,20 mins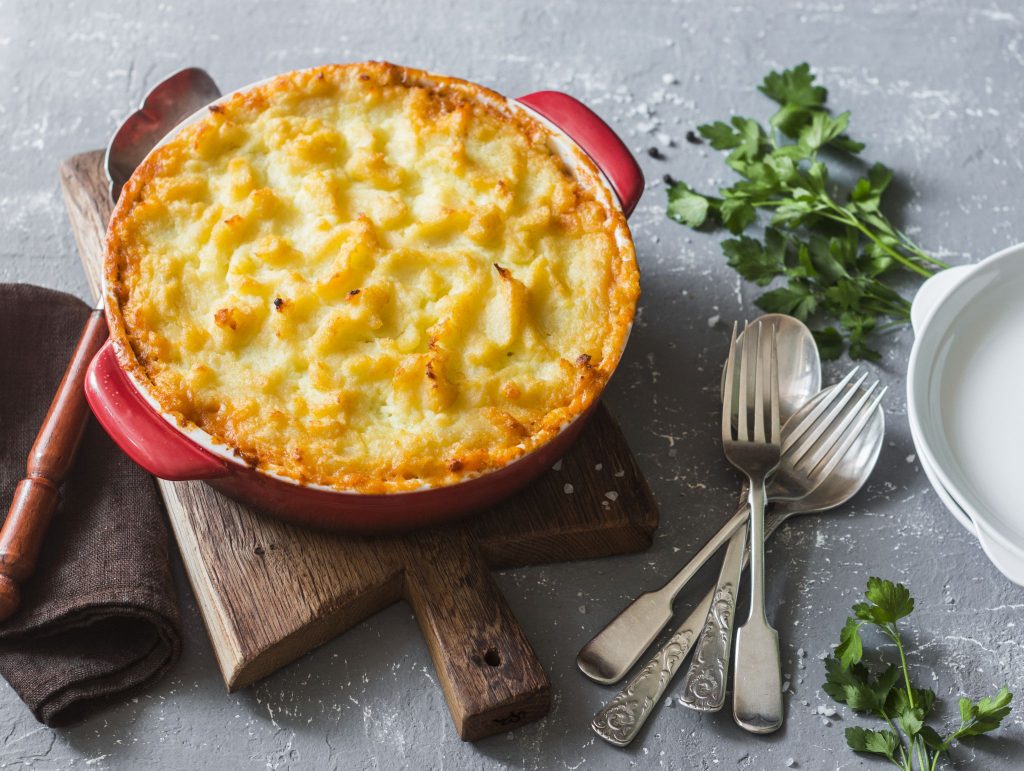 What you'll need:
1.2kg floury potatoes (Such as Maris Piper or King Edward)
50ml vegetable oil
30g dried porcini mushrooms, soaked in hot water for 15 mins then drained (reserve the liquid)
2 large leeks (chopped)
2 small onions (chopped)
4 medium carrots (cut into small cubes)
1 vegetable stock cube (we used Kallo, a great vegan one)
3 garlic cloves (crushed)
2 tbsp tomato puree
2 tsp smoked paprika
1 small butternut squash (peeled and cut into small cubes)
1/2 small pack marjoram or oregano (leaves picked and roughly chopped)
1/2 small pack thyme (leaves picked)
1/2 small pack sage (leaves picked and roughly chopped)
4 celery sticks (chopped)
400g can chickpeas
300g frozen peas
300g frozen spinach
20ml olive oil
Small pack flat-leaf parsley (chopped)
How to make:
1. Begin by placing the unpeeled potatoes in a large saucepan, cover with water, bring to the boil and simmer for 40 mins. Drain and leave to cool.
2. Whilst the potatoes simmer, heat the vegetable oil in a large heavy-based saute pan or flameproof casserole dish. Next, add the mushrooms, leeks, onions, carrots and stock cube and cook for 5 minutes. Making sure to stir every so often! The veg should be soft but not mushy!
3. Next, add garlic, tomato puree, paprika, squash and herbs. Stir and turn the heat up a little bit, cook for 3 minutes. Add celery, then stir and cook for a further few minutes.
4. Tip in the chickpeas along with the water in the can and reserved mushroom stock. Add the peas and spinach and stir well. Cook for 5 minutes, stirring occasionally, then season, turn off and set aside. At this point, there should be lots of liquid and the vegetable should be looking bright and little firm.
5. Peel the potatoes. Mash 200g and stir in the veg. Break the rest of the potatoes into chunks, mix with olive oil and parsley and season.
6. Finish by diving the filling into the pie dishes and top with the potatoes. Heat oven to 190c/170c fans/gad 5 and bake the pies for 40-45 minutes until the top is golden and the filling is heated through.
What have you been up to?  We'd really love to know! Someone else might love it, and really want a go! If you've got ideas, suggestions or reviews, you can shout all about it on whatever channel you choose!
Let's go on a Picniq! Follow us on Facebook, Twitter or tag us on Instagram using #PicniqUK! ❤