Do mealtimes mean another war,
Trying to get your kids to eat more?
These healthy snacks they will actually eat,
Make their 5 a day an easier feat!
Make Fruit Fun!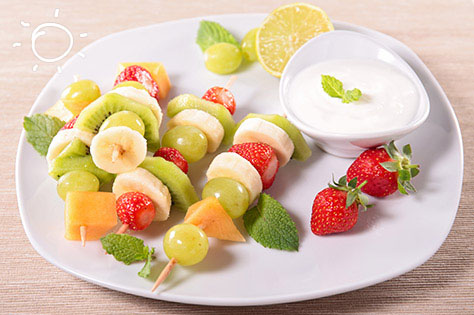 These fun and healthy fruit kebabs will be a hit with the little ones. It's so simple, all you need to do is cut any fruit into small pieces or cubes and 'thread' the fruit pieces on to a skewer to make a kebab! Why not experiment with different fruits and serve with their favourite yoghurt as a dip?
Get the Kids Cooking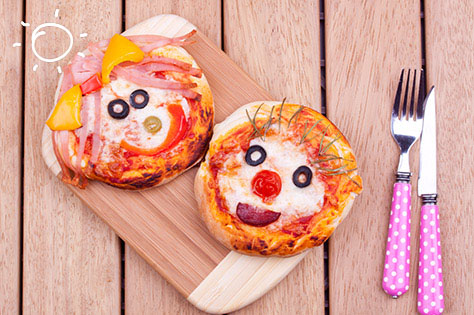 Get your little ones enthusiastic about their dinner…whilst earning their keep 😉 Let them decorate pizzas with yummy veggies and they will be chomping at the bit to taste their creations!
Smoothie Lollies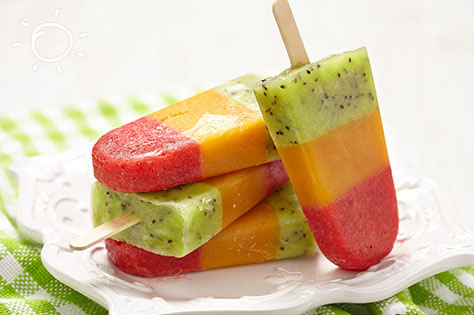 Any type of fruit can be whizzed together and turned into a yummy smoothie, but why not make extra smoothies and freeze some to make healthy fruity ice lollies.
Broccoli Splat Cakes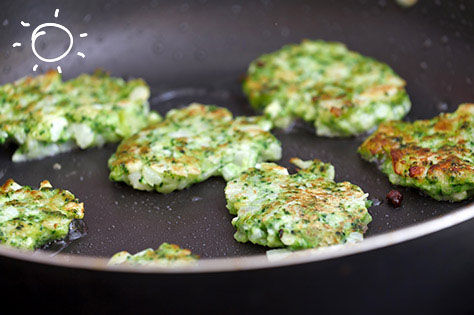 These yummy splat cakes need no introduction, they are just delicious! Here's what you need and how to make them, so give them a go and tell us what you think…

1 large broccoli
1 medium egg, beaten
1 tablespoon Parsley
75g cheese, grated
100g breadcrumbs
Cook the broccoli in boiling water for 5 minutes, transfer to a bowl and mash. To the bowl with the broccoli, add the egg, parsley, cheese, plus the breadcrumbs and mix well. Make into small balls, and SPLAT onto either a greased baking tray (for oven cooking) or in a lightly oiled frying pan. Bake in the oven or fry, until golden brown. Tuck in and admire the clean plates!
Frozen Slushy!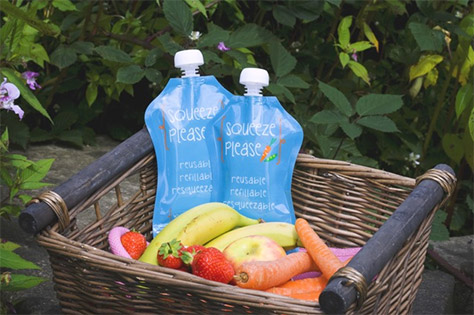 Kids have an incredible ability to sniff out a 'slush puppy' machine from miles away, so give them a go at home yourself! Blitz some frozen fruit with a couple of ice cubes and voila…you have a homemade, and much healthier slushy! As a side note, give the kids frozen berries (still frozen) as a snack…they will love them! You can get these Squeeze Please reusable pouches here.
Give the Chips a 'Sweet' Makeover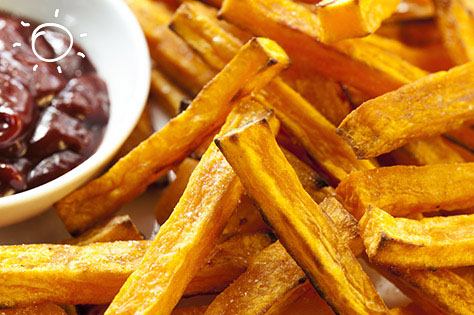 We all love chips so why not try switching to oven baked sweet potato chips. Cut sweet potato into chips, place on a baking tray, drizzle with olive oil and cook for 30-40 minutes at 200 degrees. Simple!
Baked Beetroot Crisps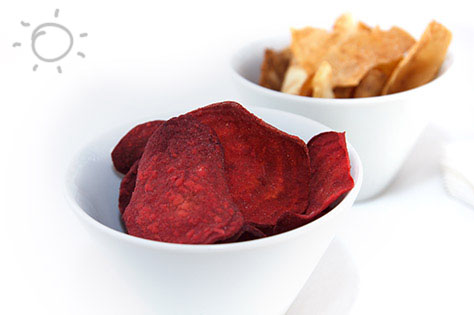 Veggie crisps are seriously yummy and you can buy them everywhere now, but you can make them at home too and they are a perfect after-school snack. Here is a recipe for beetroot crisps, but you could try sweet potato, carrot, and even apple for a slightly sweeter taste! Here's what to do…
4 medium sized beetroots
Approx. 2 teaspoon olive oil
Small amount of sea salt
Preheat the oven to 200 degrees Celsius, peel the beetroots and then slice them as thinly as possible. In a large bowl toss the sliced beetroot with the olive oil until they are all lightly coated, and spread the beetroot onto two different oven trays and season with salt. Place the trays in the oven and when the beetroot starts to dry, turn the slices over. Bake for 10-20 minutes, until they are fully dried out and allow to cool on a wire rack.
 Throw some Shapes!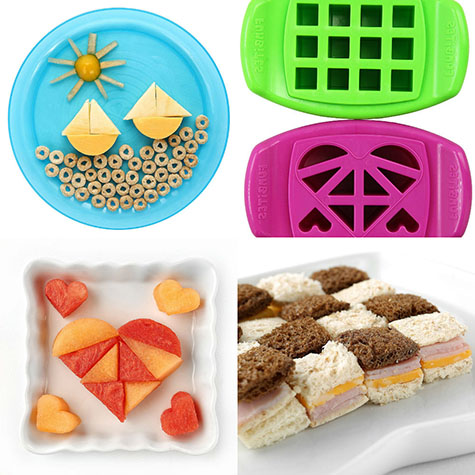 Try these Funbite food cutters which are perfect for fussy eaters. These award-winning cutters transform food into either triangles, squares or heart shapes and your little ones will be tempted to try different types of healthy food!  Funbites can be used on sandwiches, fruit, vegetables, cheese and many more yummy foods so be adventurous
Sunshine in a Glass – even when it's raining!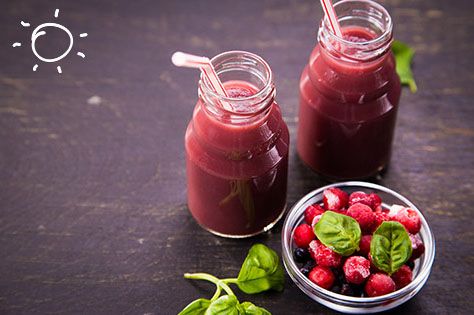 This fruity smoothie juice is particularly yummy at breakfast time and will brighten up your day. Below you will find a list of all you will need to create your very own glass of sunshine!
1 orange, peeled
1 grapefruit, peeled
60g pineapple, cut into chunks
1 mango, cut into pieces
1 banana
Splash of orange juice
3 ice cubes
Add all the ingredients and process until smooth. You can alter the thickness of your drink by increasing or decreasing the amount of orange juice used.
What works well in your house? We'd really love to know! Someone else might love it, and really want to go! If you've got ideas, suggestions or reviews, you can shout all about it on whatever channel you choose!
Let's go on a Picniq! Follow us on Facebook, Twitter or tag us on Instagram using #PicniqUK! ❤