This is a great recipe to make your own Creme Eggs this Easter. It's not as hard as it looks… but it is messy!! My top tip is to make the eggs quite small and keep adding chocolate over a few hours to get a really thick yummy 'shell'! Enjoy 🙂
Ingredients: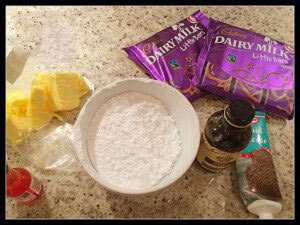 145g liquid glucose (available in supermarkets baking section!)   Or you can use golden syrup.
50g butter at room temperature
1 tsp vanilla extract
350g icing sugar
A few drops of yellow food colouring
200g chocolate (I used Cadbury's Dairy Milk for a true Creme Egg taste!)
Optional: An electric mixer makes life so much easier.
How to make:
Mix the butter, liquid glucose and vanilla extract in the electric mixer, gradually add in the icing sugar (so that you don't end up covered in sugar dust!). The fondant mixture needs to be REALLY thick, so you can stand a large spoon up in it. I actually bent the whisk on my mixer!
Separate the 'fondant' in to 2 bowls.  (about a 75%/ 25% split). Add a few drops of yellow food colouring to the smaller amount of fondant and mix until yellow. This will become the 'yolk'. 
Roll the fondant into balls. Larger ones for the white mixture and smaller ones for the 'yolk' 
Put the balls on grease proof paper and place in the freezer for 10 mins. This makes the fondant easier to work with.
Flatten one of the white balls in the palm of your hand. Put a yellow one inside and wrap the white around it. Roll to create an egg shape. Put the 'eggs' in the freezer for about an hour or overnight is fine. The fondant softens very quickly so even if they are completely frozen you will still be able to 'work' with them. 
When you are ready to put on the chocolate 'shells' remove the eggs from the freezer.
Boil a pan of water, then put on a low setting to keep it warm. Place a bowl over and add in the chocolate, mix until it melts.
Put the frozen / cold 'eggs' on sticks ( I used chopsticks!) or skewers or a fork. Have some glasses ready to stand the 'eggs' in. This bit is MESSY! Dip the cold fondant 'eggs on sticks' into the chocolate and roll until the fondant is covered.  
Use the glasses to stand the 'eggs on sticks' in. The chocolate will dry out  in about 5 /10 mins and you can then dip in chocolate again to get a thicker shell.

And Voila – You have made your own Creme Eggs!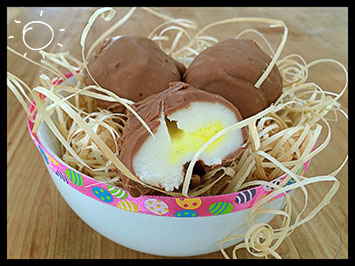 Store in the fridge until you need them. These are best eaten within 48 hours, if they last that long of course! 😉