Let's go berry picking in the summer sun,
To see what we can pick and have lots of family fun!
From Willows Farm, West Craigie, Parkside and lots more too,
Here's our handy list of lovely farms waiting for you!
Parkside Farm Pick Your Own – Middlesex
Opening Saturday 22nd June 2019
Check website for opening times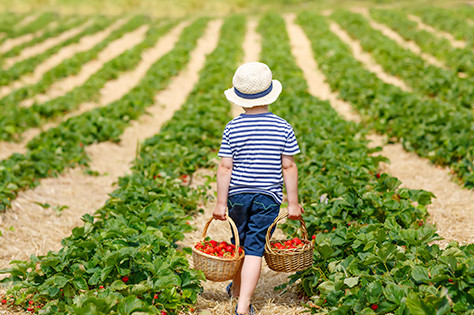 Bring the family along for a fruit picking experience they will remember. Parkside Farm has a wide variety of fruits and vegetables which are grown especially for Pick-Your-Own throughout summer. You can also enjoy a picnic in the designated area and visit the farm shop which is well stocked with delicious farm produce and ice cream! Find out more.
Willows Fruit Farm – Skegness
Open 7 days a week 9am-6pm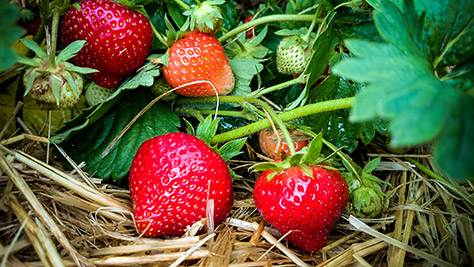 Willows Farm is great if you're after a wide range of fruit and vegetables! The farm grows strawberries, gooseberries, red currants, blackberries and even loganberries. You can also pick up fresh produce from their farm shop, as well as honey, jams and homemade cupcakes. If you're feeling outdoorsy and fancy being close to the coastal attractions for longer, you can even camp in their camping park! Wheelchair friendly. Find out more.
The Balloon Tree – York
Open 9am – 6pm everyday
The Balloon Tree, which takes its name from an ancient horse tree that used to stand at the nearby Buttercrambe Turning, is a family run farm shop, cafe and farm with a pick your own fruit and vegetable farm. Little ones will love the Pick Your Own trail map, which shows you what is available on certain days and where you can find them, turning berry picking into a fun game! Find out more.
Brocksbushes Fruit Farm – Northumberland
Open from 9.30am until 6pm daily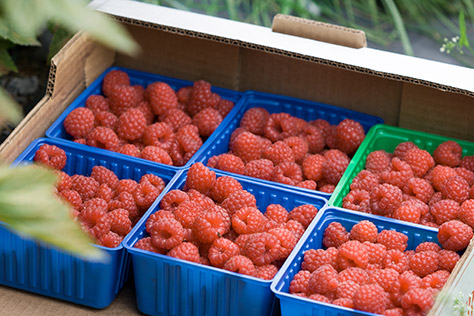 Brocksbrushes Farm boasts over 35 acres of soft fruit which is available to pick until late September. You can relax in their tea room which overlooks the pick your own area and soak up the beautiful rural surroundings. You can keep an eye on your little farmers as they stock up your fruit supply! The Farm Shop is open from 9:30am until 6pm, with last entry to the Pick Your Own site at 5pm. Find out more.
Thurloxton Fruit Growers – Somerset
Open 10am – 6pm daily
Set within the beautiful Devon surroundings, Thurloxton Farm has strawberries, gooseberries, broad beans and rhubarb. You'll also get the chance to see Ouessant sheep… the smallest sheep in the world! Drop them an email to confirm opening times, which can vary. Find out more.
West Craigie Farm Shop – Edinburgh
Open 9am – 5pm every day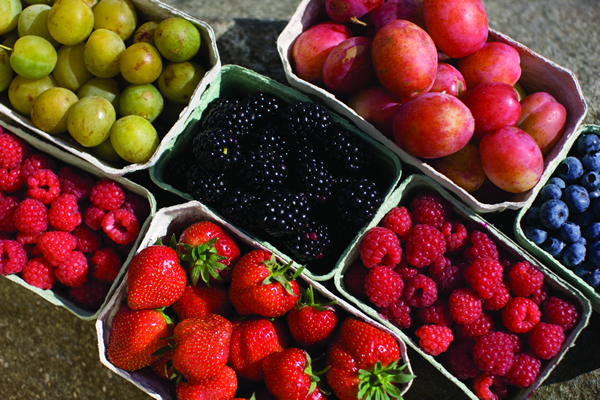 Head here to pick strawberries, cherries, raspberries, redcurrants, blackcurrants, gooseberries, peas, broad beans, french beans, runner beans and blackberries. There is an availability calendar on their website so you can check before you go! If you pick too much, remember you can make some delicious jam. Staff will happily give you jam making tips, just ask! Find out more.
Ansty Pick Your Own and Farm Shop – Wiltshire
Open Monday 10:30am – 4pm, Tuesday – Saturday between 9.30am – 5.30pm, and Sunday 10am – 4pm.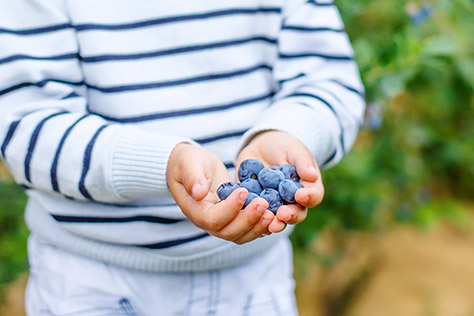 Set in the rural countryside on the Dorset/Wiltshire border, Ansty farm overlooks the beautiful Wiltshire Downlands and offers a large variety of berries to fill your basket with! There is also a lovely tea room offering homemade sweet treats and light lunches such as pizza, pasties and sausage rolls. Kids can also take part in their Maize Maze during the summer holidays! Check their website for updated opening hours. Find out more.
What have you been up to? We'd really love to know! Someone else might love it, and really want to go! If you've got an idea, suggestion or review, you can shout all about it on whatever channel you choose!
Let's go on a Picniq! Follow us on Facebook, Twitter or tag us on Instagram using the #PicniqUK hashtag!