It's the end of the school day with mouths to feed,
Some quick, simple meals would be nice indeed.
All these recipes are super yummy,
Guaranteed to satisfy some hungry tummies!
Crispy Parmesan Chicken Tenders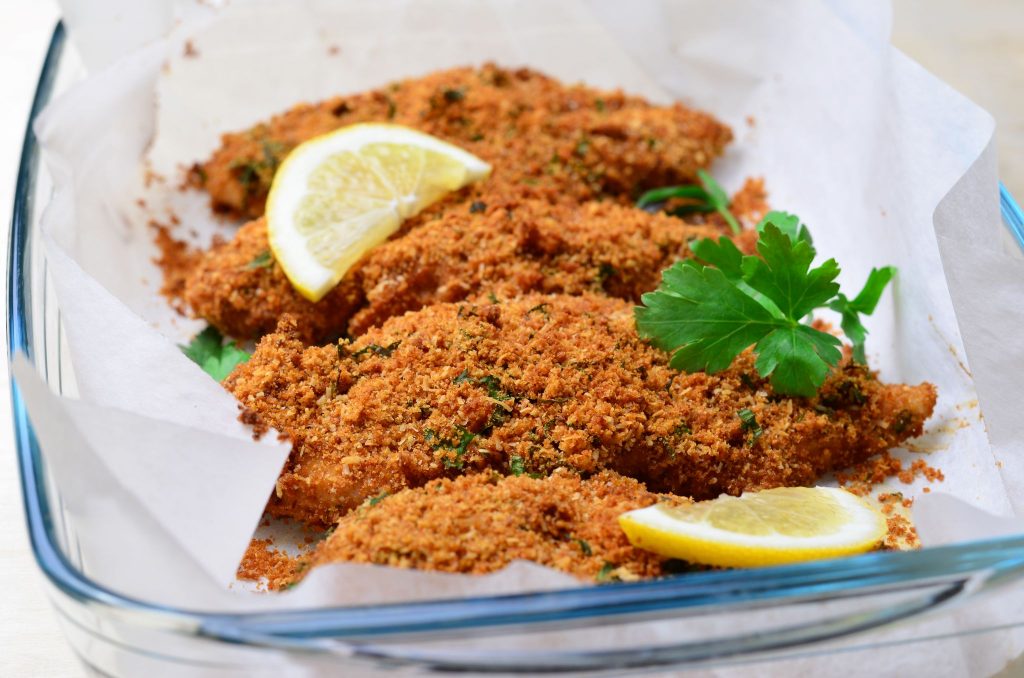 What you need:

3 chicken breasts, sliced into thin strips
65g flour
1/4 tsp garlic powder
1/4 tsp onion powder
1 tsp paprika
2 tsp Italian seasoning
3 eggs
115g breadcrumbs
55g parmesan cheese
How to make:
1. Preheat oven to 200˚C.
2. Cut chicken breasts into strips and season with salt and pepper.
3. In a re-sealable plastic bag, combine flour, garlic powder, onion powder, paprika, and Italian seasoning.
4. Add the seasoned chicken strips into the flour mixture and seal the bag. Shake until the chicken strips are well coated with the flour mixture.
5. Beat 3 eggs in a small bowl and dip each piece of chicken until well coated. In another bowl, combine bread crumbs and parmesan cheese and coat each piece of chicken with the mixture.
6. Place the coated chicken strips on a greased baking sheet and bake for 35-40 minutes, flipping halfway, and bake until golden brown (times and temperatures may vary based on oven).
Chicken, Basil and Pesto Risotto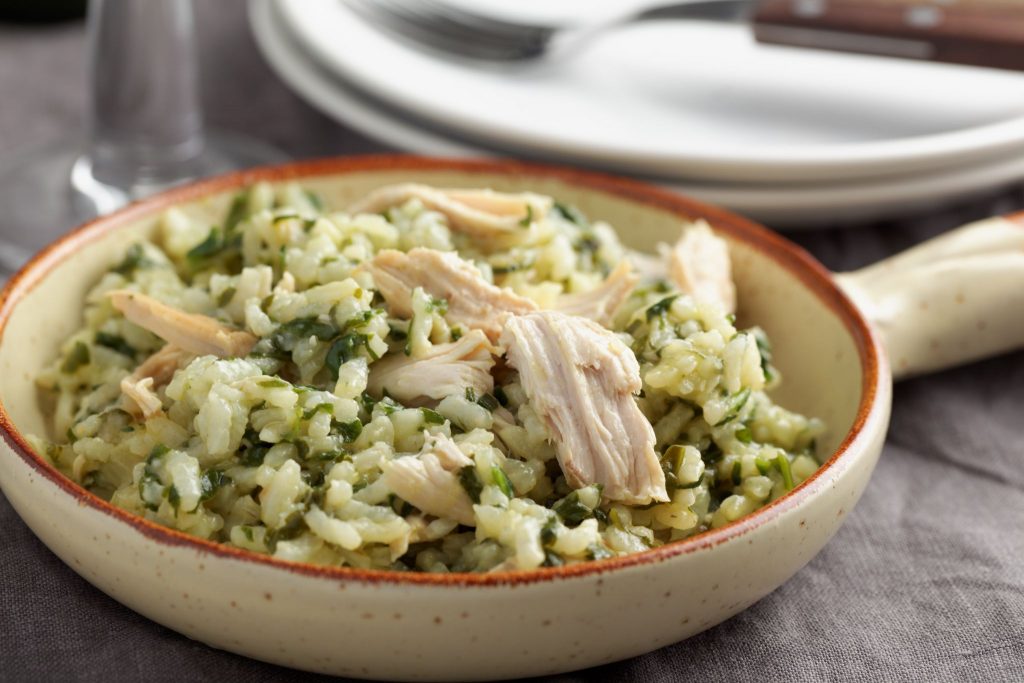 What you need:

1 large chicken breast, diced
1 onion, diced
1 tbs butter
3/4 cup Arborio rice, uncooked
100g basil pesto
3 cup chicken stock
1/2 red pepper, fine diced (you can add courgette as well if you like)
Optional: Parmesan cheese to serve
Salt and pepper to taste

How to make:
1. Place a large pot over a medium high heat.  Add the butter, onion and garlic. Stir until the garlic starts to soften.
2. Add the diced chicken and until lightly browned.
3. Add the rice and basil pesto and stir to coat the chicken mix.
4. Pour in the chicken stock and mix in the red pepper. Reduce to a medium heat and place the lid on the pot. Leave to cook for 15 minutes – check halfway to make sure the rice isn't sticking to the bottom!
5. Remove the lid and stir. The liquid should be absorbed and the rice should still have a slight crunch to it. Season with salt and pepper as needed and serve with parmesan cheese.
Serve while hot. Serves 4 as a main. Store leftovers in the fridge in an airtight container for up to 3 days. Reheating before eating.
Cajun Spiced Meatballs with Spaghetti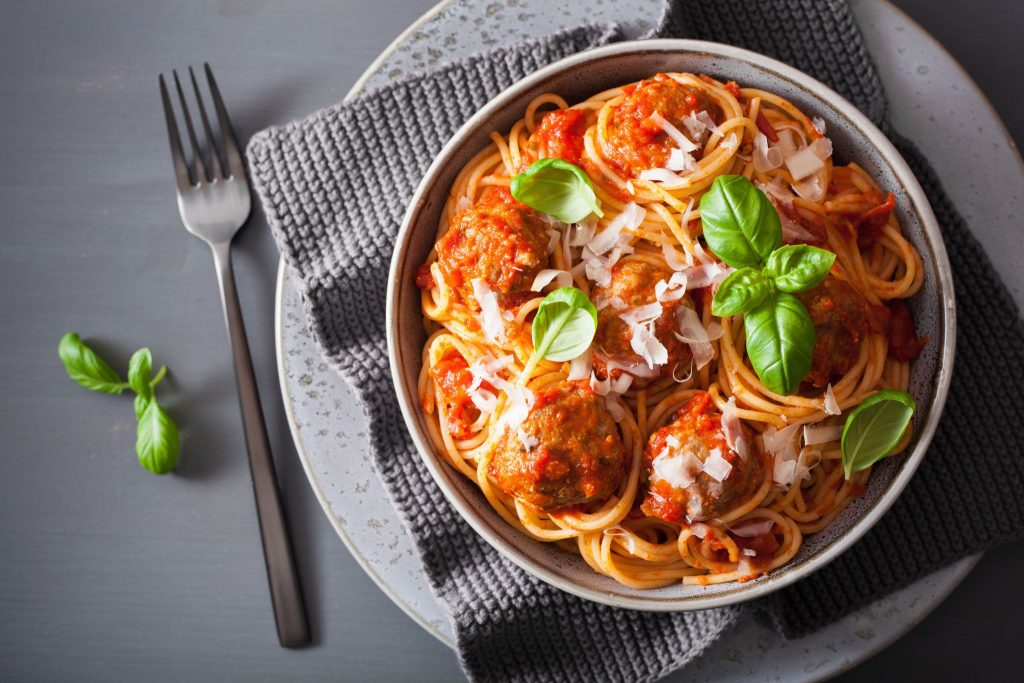 What you need:
400g beef, minced
35g Cajun seasoning
3 slices of white bread, blitzed into crumbs
1 egg
1 tbsp sunflower oil
500g tomato pasta sauce
Fresh coriander (roughly chopped)
Fresh basil (to serve)
How to make:
1. Place the mince in a bowl with the Cajun seasoning, breadcrumbs and egg. Mix well and divide into 20 balls.
2. Heat the oil in a frying pan and fry the meatballs for 10 minutes, turning frequently until browned.
3. Add the pasta sauce, cover and cook for a further 10 minutes until cooked through. Meanwhile, cook the spaghetti
4. Drain the pasta, divide between 4 plates and top with meatballs, sauce and coriander.
5. Decorate with a few basil leaves and serve straight away
Homemade Fish and Chips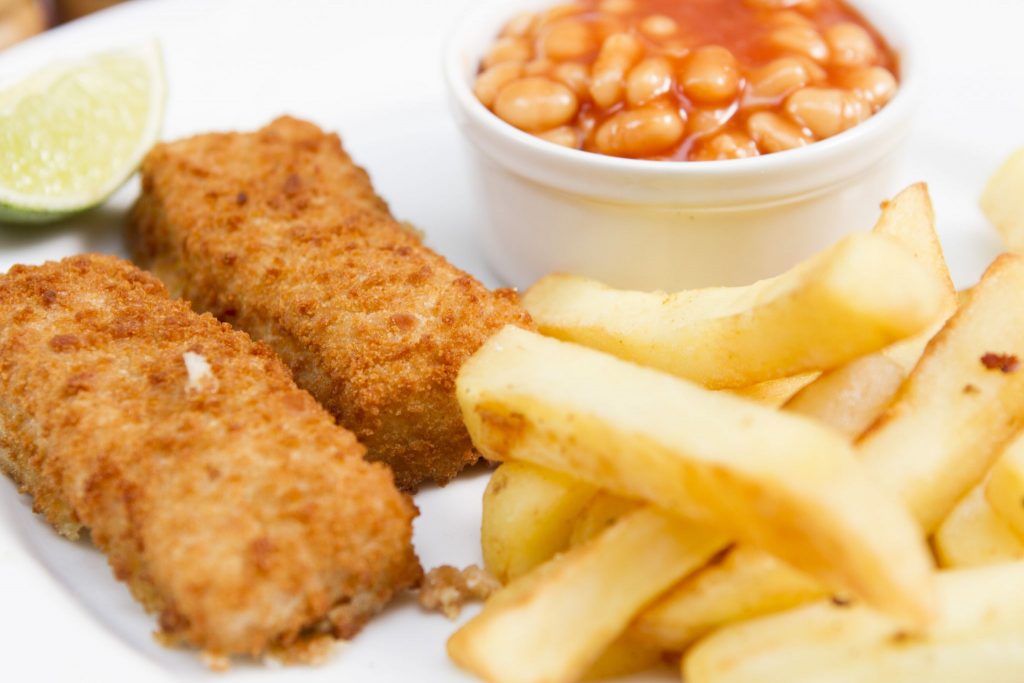 What you need:
1kg boneless fresh white fish
40g plain flour
2 eggs, lightly beaten
100g fresh breadcrumbs
Finely grated rind of 1 lemon
1 packet oven baked chips
How to make:
1. Slice the fish into 20 fingers.
2. Place the flour in a bowl. Break eggs into another bowl and whisk to combine. Combine the fresh crumbs and lemon rind in a third bowl.
3. Place a fish finger in the flour bowl and cover well, dust off any excess. Dip the flour-coated fish finger in egg and then in the bread crumb mixture. Repeat for remaining fish fingers.
4. Place coated fish fingers on trays and then in freezer bags if not cooking immediately. Keeps in freezer for 2-3 months.
5. When ready to cook, preheat oven to 210°C. Line three baking trays with baking paper.
6. Arrange fish fingers in a single layer on one tray and chips in a single layer on the other two trays. Bake for 10-15 minutes until golden and sizzling. Serve in paper boxes or paper cones.
Three Cheese Macaroni
What you need:
Salt and Pepper
450g Macaroni pasta
6 tablespoons butter
6 tablespoons flour
3 cups milk
1 cup double cream
450g Cheddar cheese
100g blue cheese ( You can choose whichever 3 kinds of cheese you fancy!)
100g parmesan cheese
2 cups of breadcrumbs
Fresh parsley for garnish
How to make:

1. Preheat the oven to 160 degrees Celsius.
2. In a large pan of water add the pasta and 3 pinches of salt and bring to the boil, cook for 8 minutes until al dente, and set aside.
3.In a large saucepan melt butter and flour and cook for 2-4 minutes on a medium heat, whisking until a thick paste forms.
4. Add cold milk and whisk until dissolved, then cook sauce on a medium heat until thick and bubbly.
5. Add cream and all 3 cheeses, salt and pepper and cook until all cheeses have fully melted, stirring occasionally.
6. Add the cooked macaroni pasta and mix
7.(OPTIONAL) Pop the mixture into a baking dish and top with breadcrumbs, cook for 12/15 minutes or until golden brown!
Creamy Veggie Curry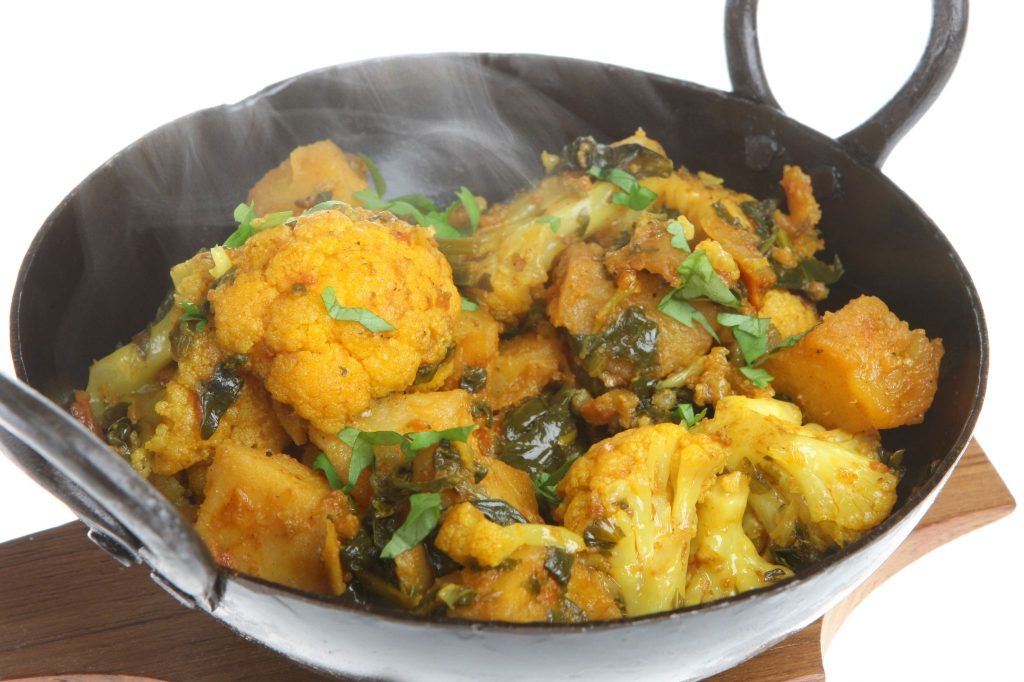 What you need:
Rice or Naan bread to accompany the curry
1 can of Coconut Milk
2 tablespoons of Garam Masala powder
1 onion
1 clove of garlic
1 large sweet potato
2 handfuls of Spinach
1 Cauliflower
How to make:
1. Boil your rice in a pan, then peel and cut the sweet potato and cauliflower into small chunks and boil in a pan on high heat for 10-15 minutes.  Meanwhile, slice the onion and garlic.
2.Fry the onion and garlic in some oil until golden brown then add the garam masala.
3. Drain the sweet potatoes and cauliflower and add to the pan, pour in the coconut milk and spinach and simmer for 10-15minutes on a low heat.
4. Season with salt and pepper and serve with rice or naan bread or both!
Twice baked Jacket Potatoes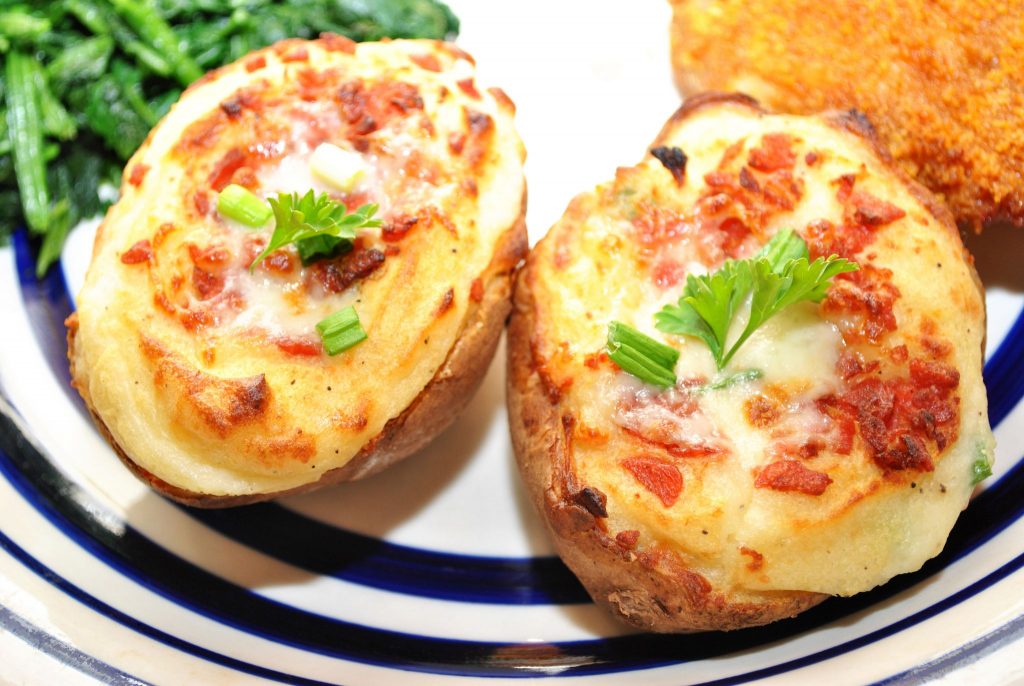 What you need:
Large baking potatoes
Meats of your choice
Cheddar cheese
Sweetcorn
Sliced spring onion
Salt and pepper
1 teaspoon of olive oil
Side salad (optional)
How to make:
Preheat the oven to 200 degrees Celcius.
Pierce potatoes with a fork and season skin with salt, pepper and oil and wrap in foil.
Bake potatoes for an hour until the skin is crispy and potato is soft in the middle.
Carefully cut the potatoes in half and top with meats, vegetables and cheese on top.
Bake for another 10 minutes or until cheese has melted and browned.
Serve with a side salad! Enjoy!
Let us know your tasty after-school dinner ideas which we can share with other parents! What have you been cooking?  We'd really love to know! Someone else might love it, and really want to go! If you've got ideas, suggestions or reviews, you can shout all about it on whatever channel you choose!
Let's go on a Picniq! Follow us on Facebook, Twitter or tag us on Instagram using #PicniqUK! ❤️