Boost those brains at the start of the day,
Give the kids one of these breakfast's to send them on their way,
From banana and carrot muffins, cookies and more,
These are healthy and yummy treats kids will adore!
Here are some tasty recipe ideas for breakfasts that you can make ahead of time and whip out for the kids on those 'no time to do anything' mornings!
1. Banana and Carrot Muffins

These can be frozen once baked and then defrosted by microwaving for 10-15 seconds when needed.
Ingredients:
220g vegetable oil
4 eggs
250g plain white flour
1 ½ tsp baking soda
175g light brown sugar
1 tsp vanilla essence
350g grated carrots
1 cup mashed banana (overripe is ok)
muffin cases
Method
Preheat the oven to 180C/ gas 4
1. Mix the oil, eggs, sugar and vanilla essence in an electric mixer until fluffy.
2. Stir in the mashed banana and grated carrots.
3. Sift in the flour and baking soda and mix again.
4. Spoon out the mixture into muffin cases.
5. Cook for 10-15 minutes. To check if they are cooked, gently stab with a knife and it should come out clean.
2. Oatmeal Cookies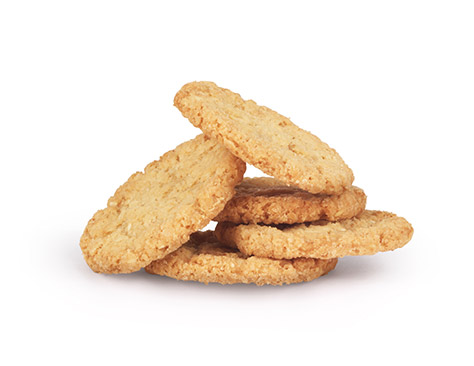 Yummy, filling and easy to eat on the go!
Ingredients
175g self-raising flour
50g raisins
75g porridge oats
17g granulated sugar
1 tsp bicarbonate of soda
1 tsp baking powder
175g butter (softened)
2 tbsp golden syrup
Method
1. Preheat the oven to 180C/gas 4. Grease 2 large baking trays.
2. Put the flour, oats, raisins, sugar, bicarbonate of soda and baking powder into a mixing bowl.
3. Gently heat the butter and golden syrup until they have combined.
4. Pour the melted mixture into the mixing bowl with the other ingredients and mix until you end up with a thick mixture.
5. Divide the mixture into small balls and put on the baking trays.
6. Bake for about 12 minutes until golden brown and firm.
7. Leave on the baking tray to cool once you have taken them out of the oven. Then store in an airtight container to keep them tasty!
3. Dried Apple and Yoghurt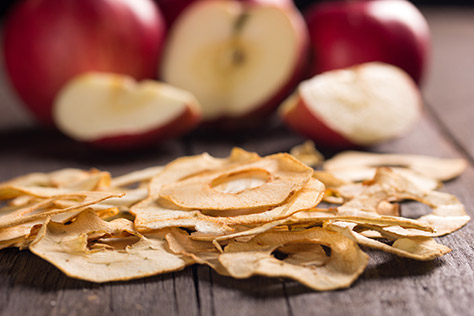 A fun 'snack' style breakfast. Just watch out for yoghurt stains on their school uniform though!
Method
1. Core and slice 4 apples into very thin slices. If you do this with the apple sideways rather than upright you will create nice ring shapes ( although the shape doesn't really matter!).
2. Preheat the oven to a low heat, 160C/ 140C fan/ gas mark.
3. Put the apple slices on a baking tray lined with grease-proof paper.
4. Cook for 45 mins – 1 hour, turning halfway through. Once ready the slices will be slightly golden.
5. Allow to cool and store in an airtight container.
6. When needed pour some natural (or flavoured) yoghurt into a bowl and let the children dip in the dried apples.
4. Banana Loaf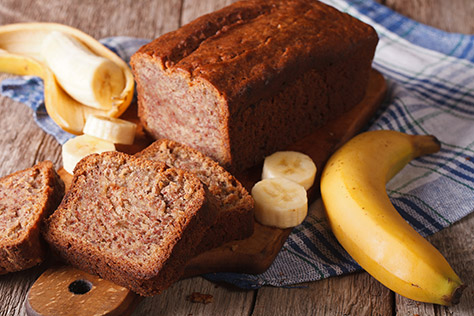 A ready to go, an alternative to jam on toast!
Ingredients:
125g butter
150g caster sugar
1 teaspoon vanilla extract
1 egg, beaten
2 overripe mashed bananas
190g self-raising flour
60ml milk
Preheat the oven to 170c/ fan 150c/ gas mark 3
Method
1. Line a 2lb loaf tin with grease-proof paper.
2. Melt the butter and sugar in a saucepan over medium heat, then add the vanilla extract. Remove from the heat.
3. Mix in the mashed bananas and egg.
4. Stir in the flour and the milk.
5. Pour the mixture into the loaf tin and cook for 35 minutes until a knife comes out clean.
5. Breakfast Fruit Smoothie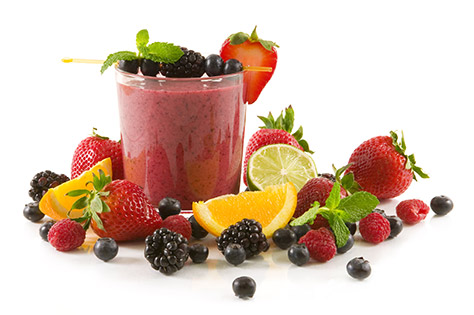 With hidden spinach, this one will give them super powers! Once you have made this pour into ice cube trays and freeze. When you need to, simply pop a few smoothie 'ice cubes' in a plastic cup and pop in a bowl of warm water to thaw quickly.
Ingredients:
A small handful of fresh spinach
150g frozen or fresh berries
1 chopped banana
1/2 pint milk or soya milk
Method
1. Put all the ingredients in a blender and whizz until smooth!
2. Freeze (storing in the fridge will not work as everything separates!).
Hope these help on those mad-dash mornings! My little ones love the muffins. In our house, we have 'Muffin Mondays' as that's always our busiest day!
What is your favourite brain-boosting breakfast at home? We'd really love to know Someone else might love it, and really want to go! If you've got ideas, suggestions or reviews, you can shout all about it on whatever channel you choose!
Let's go on a Picniq! Follow us on Facebook, Twitter or tag us on Instagram using #PicniqUK!