Thanksgiving is an American tradition which kicks off the 'holiday season' and in fact one in six of us in the UK are now joining in the celebrations! We have found some lovely crafty and fun Thanksgiving ideas for children to get involved in, as well as some tasty traditional recipes which your little ones will love.
Homemade Thankful Cards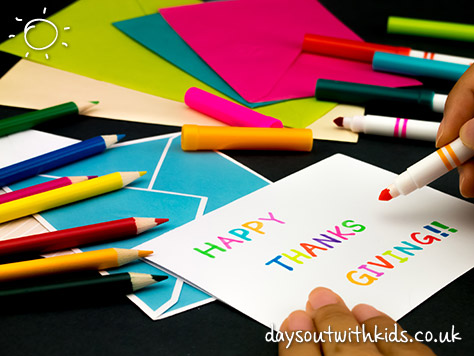 Get creative with the little ones and make cards of thanks for family and loved ones. Once they have made their cards, they have to write one reason they are thankful to that person for. It gets the children thinking about why they appreciate their family and loved ones, and it will also put a smile on the face of the person receiving the card! 🙂
Turkey Feather Hunt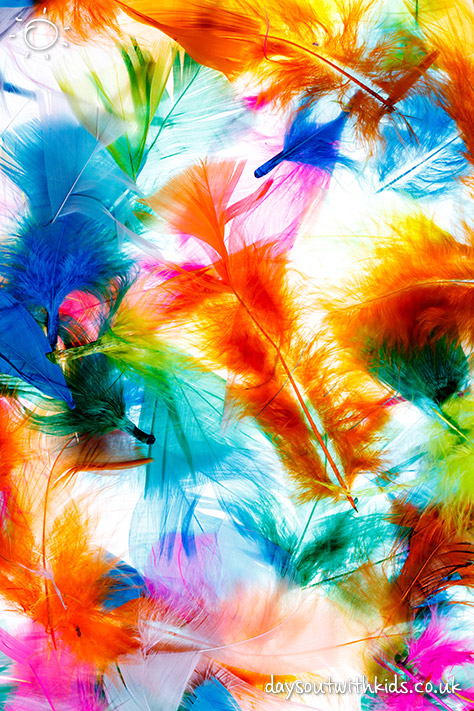 Kids love an Easter egg hunt so why not try this alternative idea with a Thanksgiving themed twist. Get some colourful feathers and hide them around the house and/or in the garden for the little ones to find with prizes at the end!
Turkey Handprints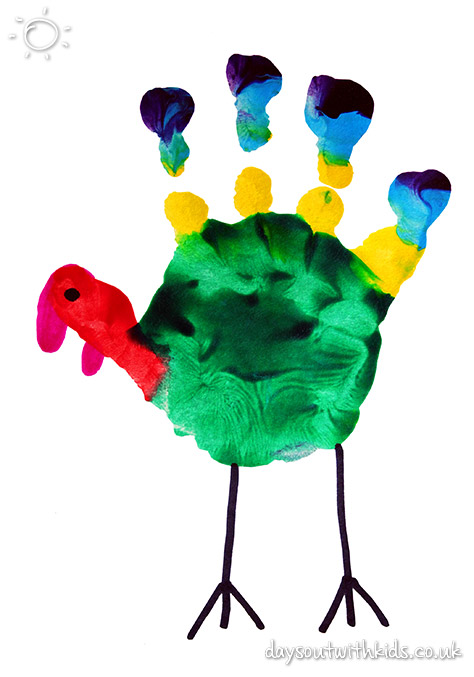 Give these fun turkey handprints a go – the kids may get messy hands but they will have lots of fun doing it! Paint their thumb red and the palm of their hand and four fingers in festive autumn colours, press their hand down on some paper to create a colourful handprint. Finally add some legs and an eye with black pen and you've got a turkey hand print!
Mac 'n' Cheese with Butternut Squash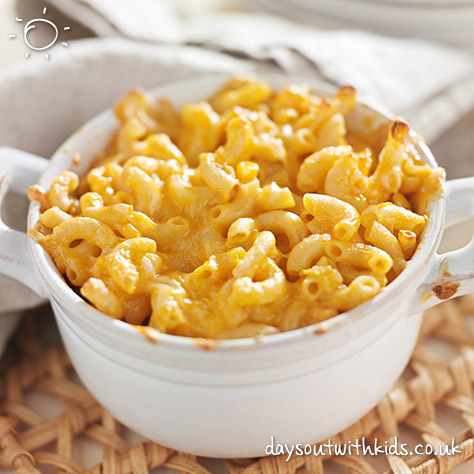 Fill little tummies with an easy to make macaroni cheese which has added butternut squash, a real veggie favourite with kids due to its natural sweet taste.
What you will need:
One butternut squash, peeled and diced
150g dried pasta
40g plain flour
40g butter
400ml milk
1/2 tsp English Mustard
120g cheddar cheese, grated
How to make:
Preheat the oven to 180 degrees Celsius.
Line a baking tray with parchment paper, add butternut squash with a drizzle of olive oil and roast in the oven for 30mins, or until squash is tender and golden.
Meanwhile, cook pasta in large saucepan of boiling water for 10-12 minutes, drain and leave to one side.
To make the cheese sauce, melt butter in a saucepan over a gentle heat and stir in flour for one minute. Gradually add milk stirring well. Once all milk is added, increase to medium heat and bring to the boil stirring constantly. Simmer for 1-2 minutes until sauce has thickened and remove from the heat. Add mustard and 3/4 of the cheese stirring well until cheese has melted.
Put pasta and butternut squash in an ovenproof baking dish, pour over the sauce, top with remaining grated cheese and pop in an oven for 20mins until the cheese is golden and bubbling.
Serve to your hungry little monkeys and enjoy seeing clean plates!
Tasty Mini Pumpkin Pies
In America, Pumpkin Pie is traditionally served on Thanksgiving Day, and here are some really tasty, easy to make mini pies that the kids can help make – and of course eat!
What you will need:
Ready rolled sweet shortcrust pastry
425g tinned pumpkin (you can buy this from supermarkets)
220g light brown sugar
2 large eggs
375 ml milk
2 tsp ground cinnamon
1/2 tsp ground allspice
1/2 tsp ground ginger
How to make:
Preheat the oven to 180 degrees Celsius.
In a bowl, beat eggs and add pumpkin whilst still beating to ensure thoroughly mixed.
Add sugar and spices to the mixture and beat again until combined, and then mix in the milk.
Cut the ready rolled pastry and line a muffin tray with the pastry to make individual cases.
Spoon in the mixture and bake for 20 mins until golden brown and the filling has set.
Enjoy!
Yummy Snickerdoodles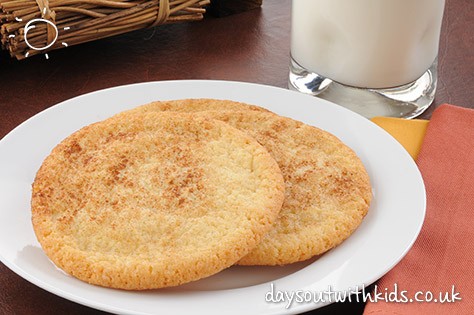 These American cinnamon flavoured cookies are simple to make and taste great during the festive season, so let the children get stuck in!
What you will need:
250g butter
320g plain flour
200g light brown sugar
100g caster sugar
1 large egg
1 and a 1/2 tsp ground cinnamon
1/2 tsp bicarbonate of soda
1/2 tsp cream of tartar
Pinch of salt
How to make:
Preheat the oven to 180 degrees Celsius.
Melt the butter and in a bowl, add the melted butter, sugars, and the egg, whilst beating well until thoroughly combined.
Add the cinnamon, bicarbonate of soda, cream of tartar and a pinch of salt to the mixture and stir well.
Gradually add the flour until combined well and the mix has formed a dough.
In a bowl mix some cinnamon and caster sugar. Divide the dough into small balls and roll in the cinnamon and sugar until dough balls are coated, then place on a baking tray.
Bake in the oven for 10-12 minutes until golden brown round the edges.
Leave to cool and then tuck in!
Do you celebrate Thanksgiving or have family and friends that do? Let us know how you celebrate the day as we would love to hear from you!