St Paul's Cathedral is a must when you're visiting London and for families this is a 'Summer of Surprises'! Throughout July and August there are exciting themed events taking place where families can have fun whilst leaning together! Families will learn about the Cathedral's art and treasures, be inspired during storytelling sessions and even enjoy some live street art!
This iconic Cathedral has survived much of London's turbulent past and these days you can enjoy its stunning interiors, marvel at its treasures and climb the famous dome- all 525 steps, to collect your 'I did the dome' badge! Half way up the climb you will find the 'Whispering Gallery'……stand either end and whisper messages to each other!
Inspiring Stories; 21st, 28th and 29th July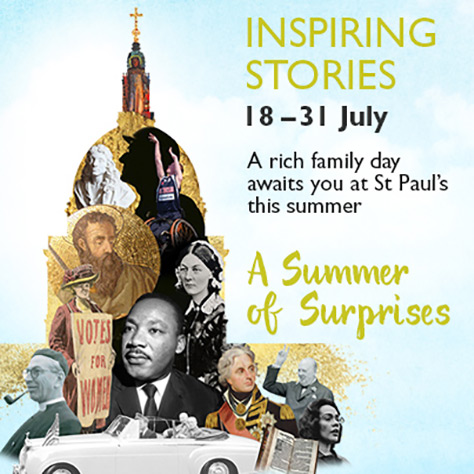 There's been a cathedral on the  St Paul's site since the year 600 and the current St Paul's Cathedral has survived the Blitz and witnessed much more. During the 'Inspiring Stories' family days there are tours and story telling sessions where you will 'meet' famous people associated with the Cathedral such as Sir Christopher Wren and Florence Nightingale. MORE INFO
Awesome Art; 6th, 12th and 14th August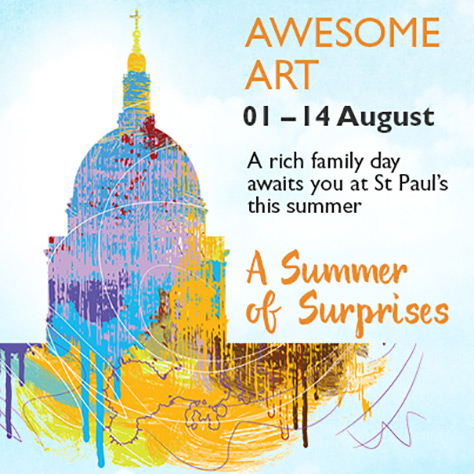 On 'Awesome Art' days families will learn about the famous and dramatic artworks inside the cathedral by taking a themed guided tour. Children will love the amazing mosaics in the Cathedral's ornate 'quire' which shows images of fish, birds and beasts! Children (and grown ups!) can get creative by trying out a bunch of hands-on craft activities and make their own tile mosaic to take away! MORE INFO
Hidden Treasures; 20th, 24th and 28th August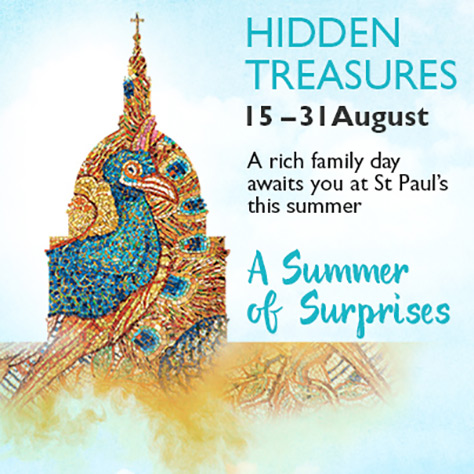 St Paul's holds a huge collection of incredible treasures within its walls. From opulent cups and plates used during services, to the clothing worn during important ceremonies. During 'Hidden Treasures' days families can join 2 themed tours, where you will explore the maze like crypt and even see the Harry Potter 'Hogwarts' staircase! During the afternoon the expert Verger will be on hand to answer questions and also share some of the treasures up close. If that wasn't enough, there are also craft activities, including embroidery and calligraphy! MORE INFO
Street Art Days 31st July & 1st August
During these two days, street artists will be creating some inspiring art works exploring the subjects of Mary, St Paul's Watch and Wisdom.
Photography Days 27th July, 3rd & 17th August
For three special days this summer you can break the rules at St Paul's! Well, some of them anyway! It's possible for visitors, especially children, to take photographs inside the Cathedral on 27th July, 3rd & 17th August! Children under 18, (with their parent or guardians permission) are encouraged to share their best snaps on the cathedral's Facebook and Twitter pages with the hash tag #StPaulsSummer. Include your name and age to be in with a chance of winning a prize. MORE INFO
If you can't make one of the special family days there's still lots for you to do. You can follow the family trail where you will learn about St Paul's and the past buildings or even pick up a multimedia guide and explore the St Paul's at your own pace.
CLICK HERE FOR MORE INFO ABOUT THE SUMMER OF SURPRISES!