Do your kids come home from school STARVING after their busy day?
Here are some quick and tasty snacks to have before they play!
We have baked, popped, savoury and sweet,
Whichever snack you make, it's sure to be a treat!
Cheesy Savoury Muffins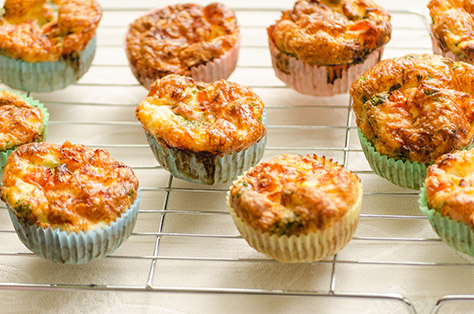 These savoury muffins are a great, tasty, healthy snack which children will love. We have used ham and peppers however this recipe is so versatile you can add whatever you wish to create a quick and easy tummy filler.
What you will need:
300g self-raising flour
150g butter, melted
250ml milk
1 egg, lightly beaten
70g cheese, grated
60g ham, finely sliced
1 red pepper, diced
1 tbsp parsley, chopped
How to make:
Preheat the oven to 180 degrees Celsius.
Line a 12 cup muffin tray with muffin cases (or use a normal baking tray if not using a muffin tray).
Combine the flour, pepper, ham and cheese in a bowl.
In a separate bowl mix the egg, butter and milk.
Add the wet ingredients into the dry ingredients and lightly stir until just combined.
Pour into the muffin cases and bake for 15-20 minutes.
Fruit Kebabs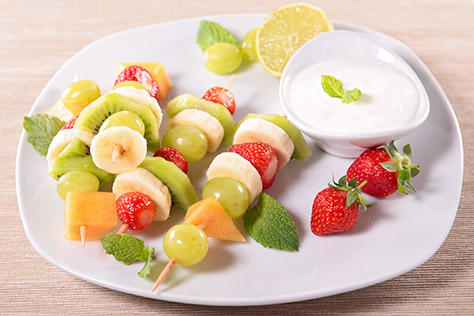 These fun and healthy fruit kebabs will be a hit with the little ones. Why not experiment with different fruits and serve with their favourite yoghurt as a dip.
What you will need:
Any fruit cut into small pieces or cubes!
Skewers
How to make:
'Thread' the fruit pieces onto the kebab.
Pour yoghurt into a small bowl and serve as a dip with the fruit kebabs.
Lemon Hummus and Breadsticks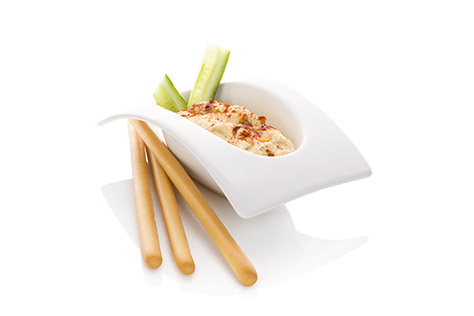 Try this tasty homemade hummus served with breadsticks. Of course, if you are tight for time then you can cheat and buy hummus already made!
What you will need:
200g canned chickpeas
2 tbsp of lemon juice
2 garlic cloves, crushed
1 tsp ground cumin
Salt
4 tbsp water
2 tbsp extra virgin olive oil
1 tsp paprika
How to make:

Drain the chickpeas and rinse.
Mix together the chickpeas, lemon juice, garlic, cumin, salt and water, then pop into a food processor and blend until you get a smooth purée.
Season with lemon, salt and cumin.
Pour into a dish and drizzle with olive oil.
Serve with breadsticks or even your child's favourite veg cut up.
Quick and Easy Flapjacks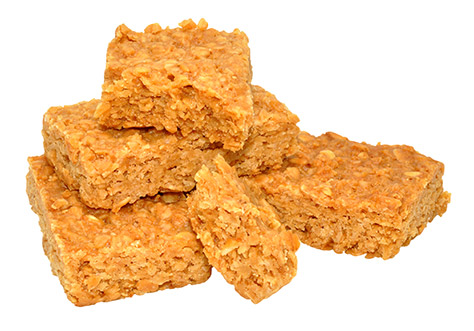 Here is a quick and easy flapjack recipe for that perfect after-school snack where the kids can get involved – why not add dried fruit and nuts, or even chocolate chips for an extra sweet treat!
What you will need:
125g rolled oats
60g butter
60g brown sugar
2 tbsp golden syrup
How to make:
Preheat the oven to 180 degrees Celsius.
Lightly grease a baking tin with butter or line with parchment paper.
Put the golden syrup, sugar and butter in a large saucepan.
Heat gently whilst stirring occasionally, until the butter and sugar have melted.
Remove from the heat and stir in the rolled oats (and dried fruit if using).
Spoon into the prepared tin and press down so that the mixture is flat.
Bake for 20 minutes until the edges are golden.
Once cooled, lift out of the tin and cut into squares.
Popcorn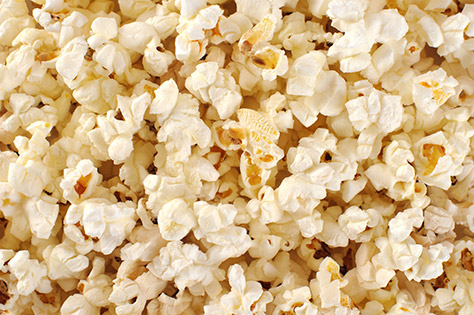 Popcorn is a fantastic quick and easy snack which children love. Plain popcorn makes a tasty snack, or for a special treat try this: (my favourite !!!)
Melt butter and brown sugar in a saucepan on a low heat
'Pop' some popcorn in the microwave until ready
Mix the popcorn in the butter and sugar mixture until it's coated and enjoy- delicious!
Tasty Pizza Pockets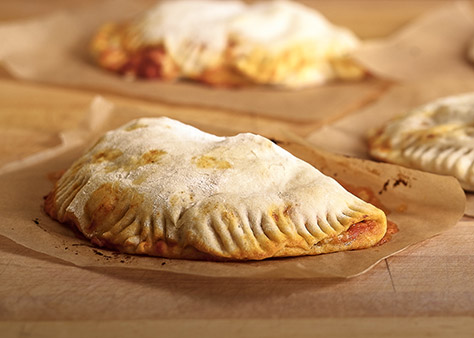 If your children love pizza, try this tasty alternative recipe. We have used a tomato and mozzarella filling, however, you can add whatever takes your fancy.
What you will need:
Ready-made pizza dough (you can buy this frozen)
100ml passata
A handful of cherry tomatoes halved
125g ball mozzarella, sliced
How to make:
Preheat oven to 200 degrees Celsius.
Firstly roll out the dough into a small circle/circles.
Spoon passata onto one half of the dough circle, along with the mozzarella and cherry tomatoes (you could also add ham or mushrooms), leaving room to fold the other half over the top.
Fold the dough over and pinch them together – so that your pizza pockets will look like pasties!
Brush with beaten egg.
Bake in the oven for 15-20 minutes or until golden brown.
Gingerbread Men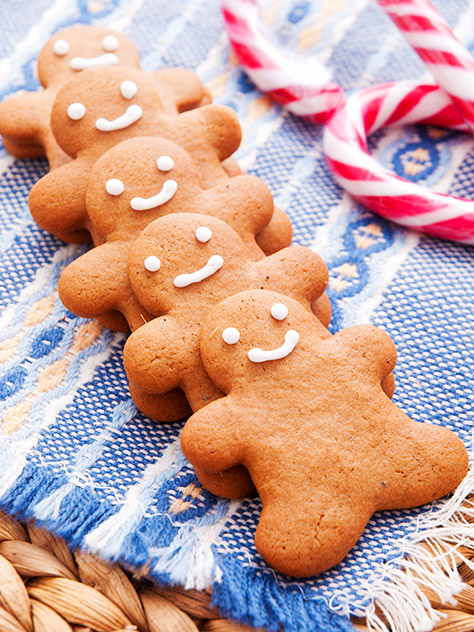 Get the kids baking and decorating these simple gingerbread men and, if there are any left, they are great for lunch boxes the next day!
What you will need:
350g plain flour
100g butter
1 egg
175g soft light brown sugar
4 tbsp golden syrup
1 1/2 tsp ground ginger
1 tsp bicarbonate of soda
How to make:
Preheat oven 180 degrees Celsius.
Line two baking trays with parchment paper.
Combine the flour, bicarbonate of soda, and ground ginger into a bowl and mix well.
Add the butter and mix together with fingers until the ingredients resemble a breadcrumb consistency.
Combine sugar to the mixture and stir in the egg and golden syrup to make a firm dough.
Put your dough on a floured surface and roll out to about 5mm thick.
Cut out the shapes with a pastry cutter
Transfer biscuits to tray making sure they are evenly spaced and bake for 10-15 minutes until golden brown
After a few minutes move to a wire rack to cool.
Once cooled, the kids will have fun decorating their gingerbread men with icing!
Do you know any other tasty treats? We'd really love to know! Someone else might love it, and really want a go! If you've got ideas, suggestions or reviews, you can shout all about it on whatever channel you choose!
Let's go on a Picniq! Follow us on Facebook, Twitter or tag us on Instagram using #PicniqUK! ❤️