Heading to Walt Disney World to see some top attractions,
Check out Cinderella's Castle and see Mickey in action! 
After all the excitement I'm sure you'll want something to eat,
Indulge at Be Our Guest Restaurant and even meet the Beast!
🎢Our favourite attractions 🎢

1. Cinderella Castle
We couldn't resist putting this as one of our attractions to see! Step inside Cinderella's very own castle and view stunning hand-crafted glass mosaics that tell the story of Cinderella. You can also head to the Bibbidi Bobbidi Boutique and experience a true fairy godmother princess or knight makeover. Finally, meet Cinderella herself along with other Disney Princesses!
2. Seven Dwarfs Mine Train
Whizz through to the Seven Dwarfs Mine and watch as they dig, dig, dig! Clamber on to a mine train as you go up a steep incline and travel around the mine complete with the Dwarfs singing, along with watching Snow White inside her cottage. Make sure to stop the Evil Queen from causing any mischief!
3. Dumbo the Flying Elephant
Step aboard your very own flying elephant in this attraction! Enjoy soaring through the sky in this attraction, but don't worry, if heights aren't your thing you can now control just how high Dumbo flies. Another cool feature of this ride is the interactive queue! Once inside your kids can enjoy the playground until your buzzer goes off for you to enjoy the ride.
4. Under the Sea – Journey of the Little Mermaid
Take an underwater journey to see Ariels complete collection in her grotto! Sit in your own clam and marvel at the special effects as you spot Flounder and Scuttle, her father King Triton and Ursula. This attraction will make you feel part of Ariel's world!
5. Splash Mountain
If you don't mind getting wet, head on over to the thrilling Splash Mountain! Hop onboard a log and drift through the tunnels to watch geese, frogs, raccoons, possums, bees and alligators as they sing Disney classic songs such as "Zip-a-Dee-Doo-Dah" and "Ev'rybody's Got a Laughing Place".  This ride is best suited for older kids who enjoy rides with big dips.
🍔Our Favourite restaurants!🍔
1. Cosmic Ray's Starlight Café
This dining experience is definitely one which will blast your tastebuds! Head to Cosmic Ray's Starlight Café to try out of this world bacon cheeseburgers, chicken nuggets and even vegetarian falafel burgers.
2. Liberty Tree Tavern
Travel back to the revolutionary war period and experience a real American family-style Thanksgiving at Liberty Tree Tavern!  Each room is themed after a famous person from that era such as Benjamin Franklin and George Washington. I recommend this place if you're craving a home-cooked meal whilst away!
3. Be Our Guest Restaurant
Ever wanted to experience eating at the Beasts castle? Well, now you can! Head to the Be Our Guest Restaurant and eat in one of the three themed rooms for breakfast, lunch or dinner. P.S Beast also makes a special appearance during dinner every 45 minutes! Make sure to reserve as Be Our Guest Restaurant books up fast.
4. Tony's Town Square Restaurant
If you love Italian food as much as I do, head on over to Tony's Town Square Restaurant and indulge in one of their mouth-watering pasta dishes, just as Lady and Tramp would have liked!
5. Main Street Bakery
This cafe is perfect if you just need a quick pit stop whilst at the park. Get your caffeine fix with a Starbucks coffee paired with a delicious sweet treat!
⭐️Parades and shows!⭐️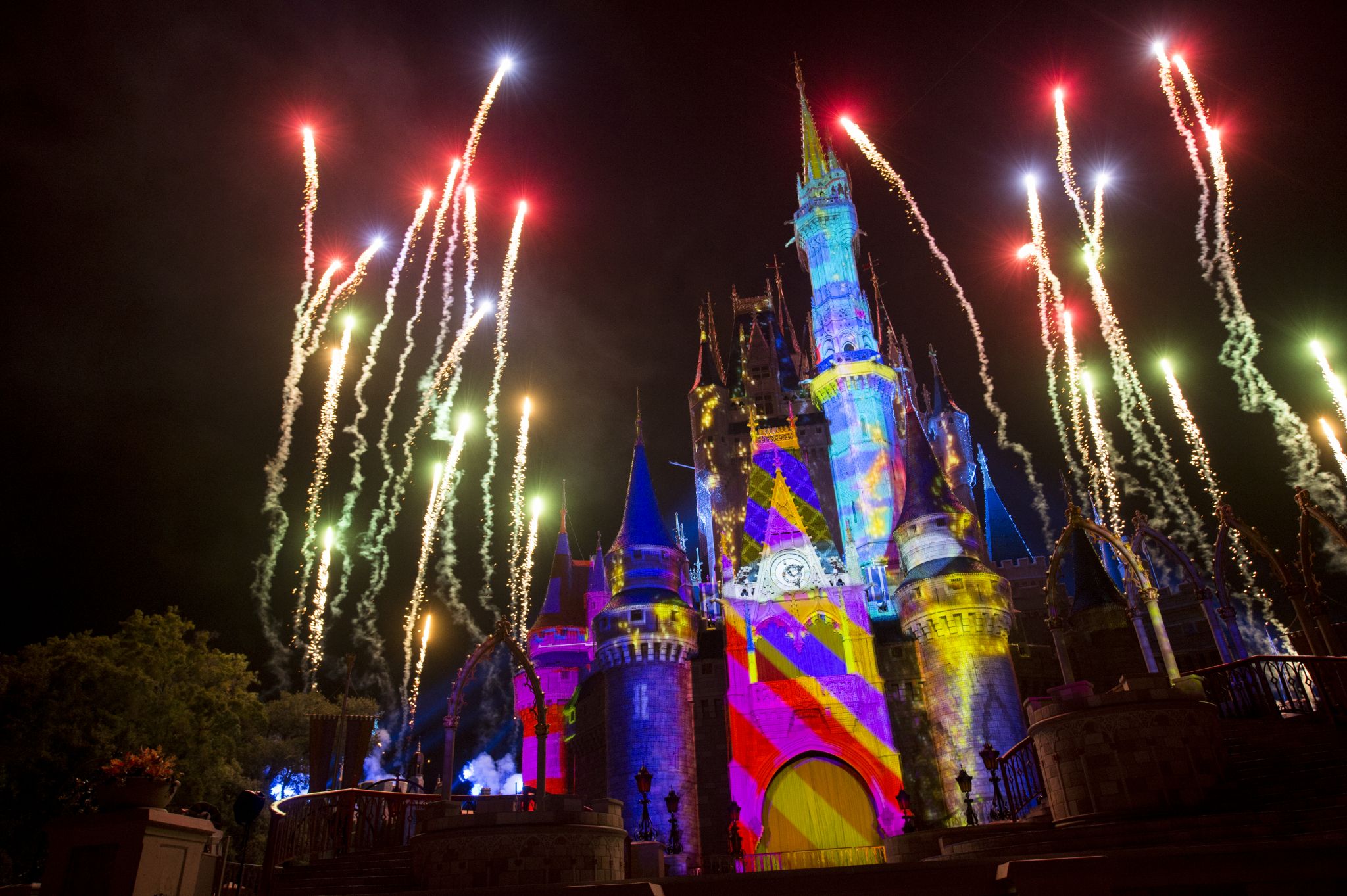 1. Move It! Shake It! MousekeDance It! Street Party
Time: 11:00am, 12:30pm, 5:45pm
This parade is sure to have everyone dancing! Dance, sing and clip with Mickey and Minnie Mouse in this interactive musical parade.
2. Mickey's Royal Friendship Faire
Time: 10:30am, 11:30am,1:00pm, 2:00pm, 4:15pm
If your little ones are Frozen fans, this show is perfect for them! Starring Mickey and friends along with Disney Princesses such as Anna & Elsa, Tiara and Rapunzel, this show brings the Cinderella Castle to life!
3. Once Upon A Time
Time: 10pm
Featuring light-up effects and music, this show is simply magical! Listen to Mrs Potts tell a bedtime story to Chip. See what Disney characters you can spot!
4. Electrical Water Pageant
Time: 10.35pm
This light-up water show will have everyone amazed! Watch as glowing sea creatures sail across Seven Seas Lagoon with the show ending playing patriotic songs as the American flag floats across the water.
5. Let the Magic Begin
Time: 8.55am
Start your day full of magic! Stop outside the Cinderella Castle and watch Mickey and friends welcome you to the park. This show is great for the first day of your Disney trip!
©Disney
What have you been up to lately? We'd really love to know! Someone else might love it, and really want to go! If you've got ideas, suggestions or reviews, you can shout all about it on whatever channel you choose!
Let's go on a Picniq! Follow us on Facebook, Twitter or tag us on Instagram using #PicniqUK!