If, like me, you're running out of activity ideas, why not have a go at making a boredom busting jar? This easy and cute jar means you won't be hearing "I'M BOOOORED!" this summer!
Grab your jar (I've gone for this Kilner one but any jar will do) and begin cutting your card into strips. Don't make them too small or little hands might struggle to reach the bottom! Also make sure you're using round end scissors with a rubber/plastic grip to avoid any nasty accidents!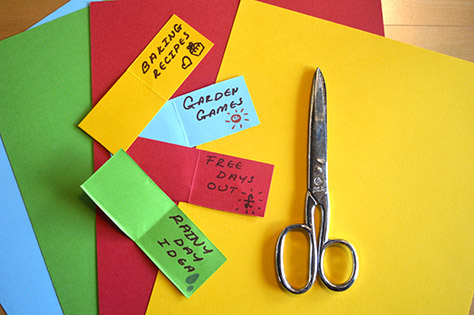 Have a think about what boredom busting ideas you'd like to add and categorise them into rainy day, outdoor, free and educational activities. If you're after some inspiration, have a look at the handy list of ideas pulled together below!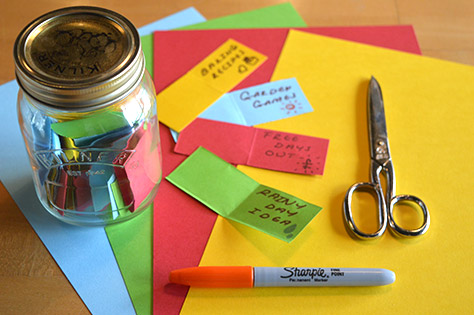 Write your ideas onto the card, fold the strip in half and fill your jar to the brim lots of fun filled activities ! The first idea can be decorating the jar for a personal touch!
When your jar is ready and you need some inspiration simply pull out one of your lovely ideas!
Summer Ideas 
Indoor Rainy Day Activities  
Make a Milk Bottle Fairy House
Emergency Rainy Day Attractions
Weatherproof Indoor Games to Play
Baking
One Ingredient Banana Ice Cream
6 Minute or Less No Bake Sweet Treats
Free Days Out Out 
Have you got any fab boredom busting ideas to add to the jar? Let us know! Don't forget to send us your snaps of your very own boredom buster jars on Facebook, Twitter and Instagram 🙂