Forget the chocolate, forget the sweets,
Instead, check out these healthy snacks for your after school treats!
From fruit kebabs and blueberry yoghurt bites too,
there are so many after school snacks waiting for you!
Running out of snack ideas? We've got you covered! Here are 6 healthy yet delicious after-school snacks that your kids will never get tired of and better still can be prepped and ready in just minutes. From fruit kebabs to peanut butter and banana rice cakes, we've got light snacks to keep the kids going to tea as well as more filling treats perfect for a pre-sports snack!
Fruit Kebabs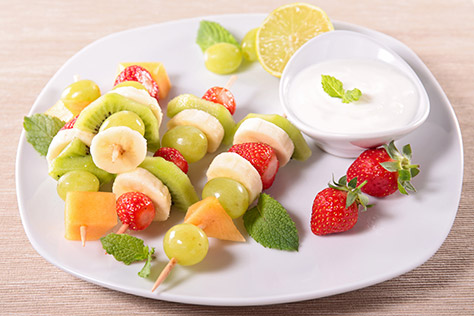 These fun and healthy fruit kebabs are sure to go down a hit with the little ones, I mean every food is more fun on a stick right?! Why not experiment with different fruits and serve with their favourite yoghurt as a dip to make the ultimate yummy snack.
Ingredients:
Any small fruit of your choice
Skewers
Directions:
1. 'Thread' the fruit pieces onto the skewers, alternating as you go
2. Pour yoghurt into a small bowl and serve as a dip with the fruit kebabs
Peanut Butter & Banana Rice Cake

 Is it one of those days where you don't have a spare five minutes and are finding yourself rushing from school to football practice, to tennis lessons and so on! Well, not only is this peanut butter and banana rice cake super simple to make but it also is packed with protein making it the perfect pre-sports snack for the kids!
Ingredients:
Lightly salted rice cakes
Peanut butter
Banana
Directions:
1. Spread a layer of peanut butter on top of the rice cake
2. Slice your banana, and add a few slices to the top
Blueberry Yogurt Bites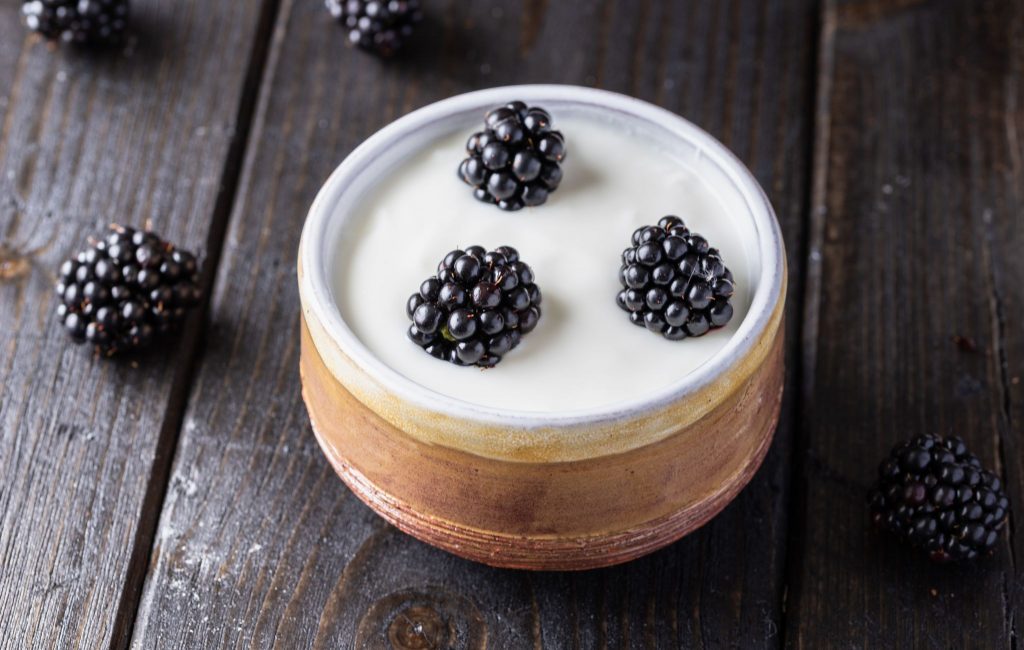 What's not to love about blueberry and yoghurt right? This is a great healthy snack for those slightly warmer days and guess what… you only need 4 ingredients!
Ingredients:
(Serving: 20)
1 cup of plain yoghurt
2 tsp of honey
1 cup of fresh berries
1/2 cup of slivered almonds
Directions:
1. Mix the honey and yoghurt together
2. Stir in the blueberries and almonds
3. Place the mixture in spoonfuls on a silicone tray to freeze. Note, you can also use ice cube trays
4. Freeze for 2 hours until solid
Hummus and Breadsticks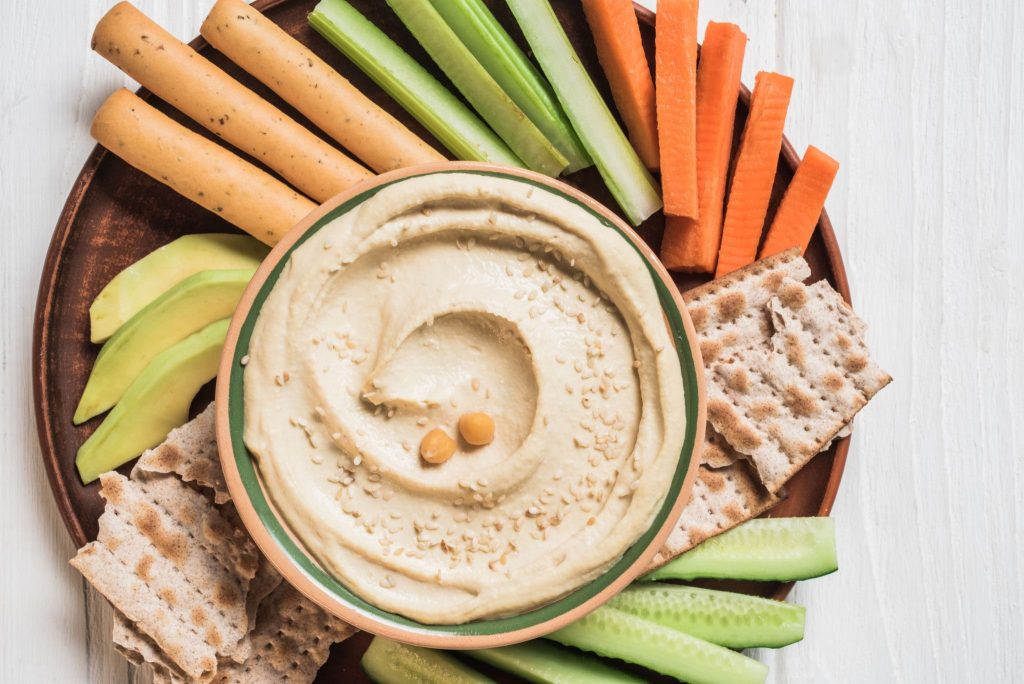 Isn't it amazing how much more attractive healthy snacks become to kids once they've got something to dip them in! Try making your own tasty hummus using the instruction below. But of course, if you are tight for time then you can cheat and buy hummus already made!
Ingredients for hummus:
(Serves 3)
200g canned chickpeas
2 tbsp lemon juice
2 Garlic cloves, crushed
1tsp ground cumin
Salt
4 tbsp water
2tbsp extra virgin olive oil
1 tsp paprika
Directions:
1. Drain the chickpeas and rinse
2. Mix together the chickpeas, lemon juice, garlic, cumin, salt and water, then pop into a food processor and blend until you get a smooth purée
3. Season with lemon, salt and cumin
4. Pour into a dish and drizzle with olive oil
5. Serve with any of the following: breadsticks, carrots, cucumber or even avocado!
Mixed Berry Milkshake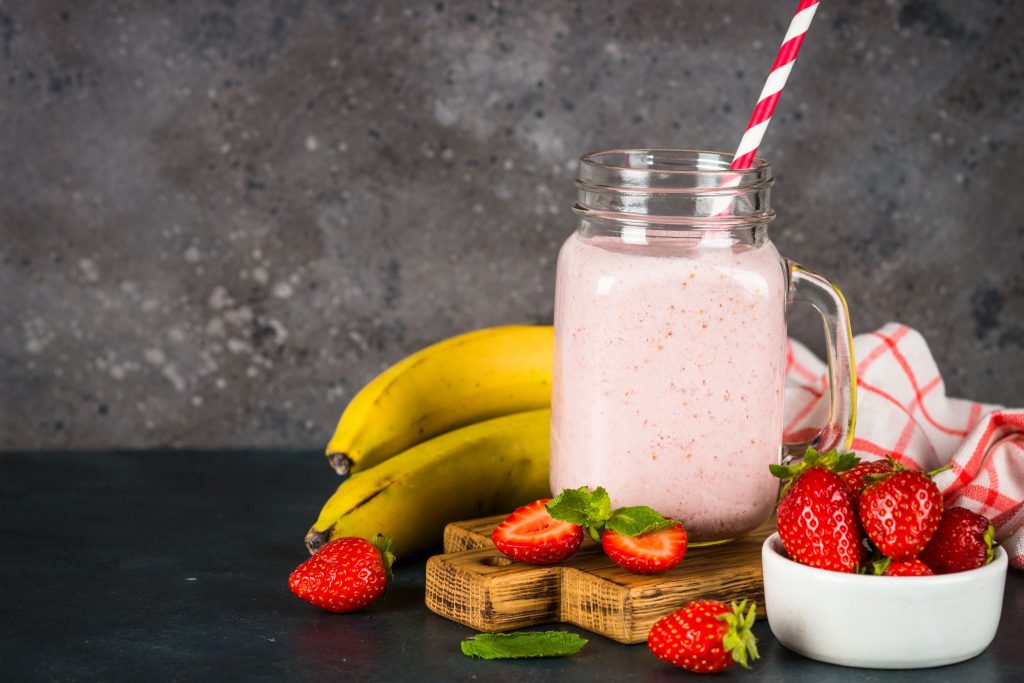 This mixed berry milkshake will bring all the kids to the table! Plus, it makes the perfect light snack to keep them going until tea time!
Ingredients:
2 Scoops vanilla low fat ice cream
1/2 cup blackberries
1/2 cup blueberries
1/2 cup sliced strawberries
1/2 low-fat milk
Directions:
1. Put all the above ingredients into a blender
2. Blend until the content becomes smooth
3. Transfer it into glasses and it's ready to drink!
Granola Bars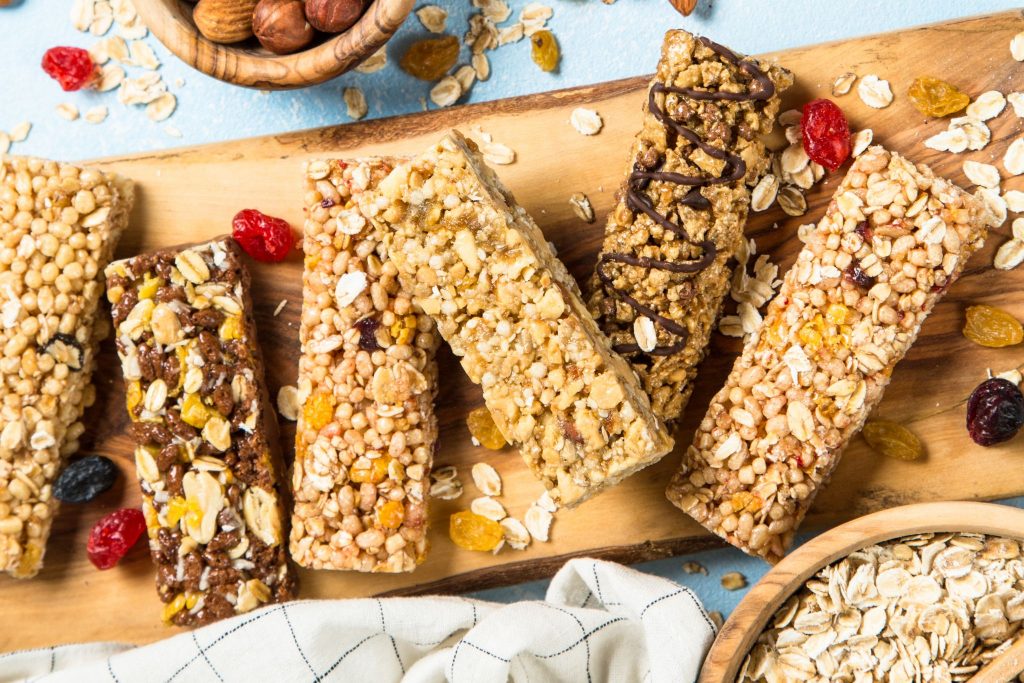 Bake up a special after-school snack for your child this school year with this simple granola bar recipe! Or even better still, why not bake them altogether one day after school? They are super simple to make yet so delicious!
Ingredients:
2 and 1/2 cups rolled oats
1/2 cup nuts, roughly chopped
1/4 cup honey
1/4 cup unsalted butter
1/3 cup brown sugar
1 teaspoon vanilla extract
1.4 teaspoon kosher salt
3/4 cups total extra mix-ins (about 1/4 cup of 3 different ingredients such as dried fruits, coconut,  chocolate chips etc)
Directions:
1. Preheat the oven to 350 degrees celsius
2. Line the baking dish with parchment or foil. Lightly spray with cooking spray.
3. Place the oats and nuts on a rimmed baking sheet. Bake for 8-10 minutes until lightly toasted. Place the nuts and oats in a large bowl.
4. Whilst the oats are toasting, add honey, butter, and brown sugar to a small saucepan. Cook over medium heat until the butter melts and sugar dissolves. Once the butter mixture is ready, remove it from the heat and stir in vanilla and salt. Pour this mixture over the oat and nut mixture and stir. Then, add on any extra ingredients of your choice, except for chocolate, and stir. Make sure to double-check none of the oats are dry!
5. If you're wanting to add some chocolate to your yummy granola bar, then wait for about 15 minutes for the mixture to cool a bit before adding the chocolate and stirring.
6. Place all the oat mixture in the prepared pan, its best to do this using a rubber spatula.
7. Finally, lift the bars from the pan using the edges of the foil/parchment and place them on a cutting board. Cut into desired shapes and sizes and then they are ready to tuck into! Exciting!
What have you been up to? We'd really love to know! Someone else might love it, and really want to go! If you've got ideas, suggestions or reviews, you can shout all about it on whatever channel you choose!
Let's go on a Picniq! Follow us on Facebook, Twitter or tag us on Instagram using #PicniqUK!