London is packed with family friendly attractions but you don't have to spend a fortune in order to experience the buzzing atmosphere! There are so many opportunity for FREE fun in our capital, from Royal traditions to museums and art galleries, farms, street markets and parks. 
Changing of the Guards, Buckingham Palace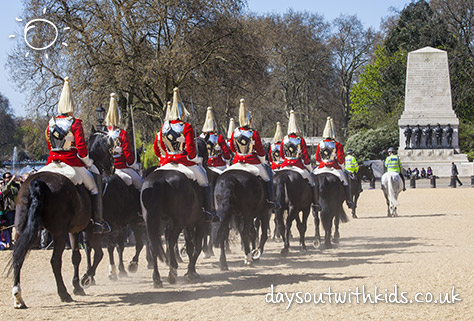 This is a must see experience for the whole family. This traditional and colourful ceremony is full of British pageantry and lasts around 45 minutes. The guards who protect the Sovereign have carried out this duty since 1660. During the ceremony you will see a regiment march from Wellington Barracks to Buckingham Palace and then take over the guard. This ceremony takes place every day from April- July and on alternate days throughout the rest of the year (weather permitting).
Check here for the up to date times
Play Areas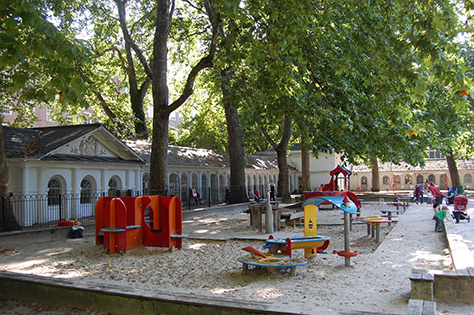 There are a number of free play areas around London both indoors and out that you can visit for free. There's The Great Map at the National Maritime Museum , Coram's Fields has an amazing outdoor adventure play area and many more. Read this blog to find out more.
The British Museum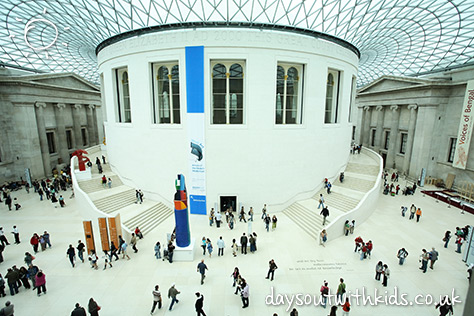 For a fascinating day out, take the family to the British Museum. You'll see some wonderful items and exhibits, both temporary and permanent. You'll see displays on different aspects of art, culture and history! It is great for school kids and could even help with some of their studies!  Some of the most exciting exhibitions include the famous mummies from Ancient Egypt. Many of London's museums do not charge for entry, but there might be some small charge if there is a special exhibition on.
The National Gallery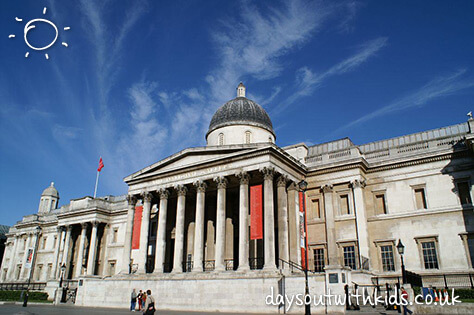 The National Gallery is a great place to take your family for a fascinating and cultural day out. The gallery is home to one of the greatest collections of Western European art in the world. They cater for family visits, you can take part in a Walk & Talk, where an expert will take you through the museum bringing the paintings alive and keeping the kids attention. There are a number of other family tours, workshops and activities throughout the year. The National Portrait Gallery on nearby St. Martin's Place is also free.
The Natural History Museum and the Science Museum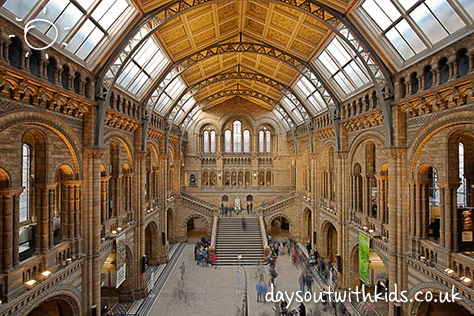 The Natural History Museum and the Science Museum are located within walking distance of each other in London's South Kensington area.  At the Natural History Museum you will learn all about the natural world through amazing exhibitions and displays! Be sure to check out the Darwin Centre where you will discover science in action as well as collections of bugs, snakes and critters. In the Science Centre you will see exhibitions ranging from space to technology; including Making the Modern World which is a fascinating look at objects and events that has framed our world. Both museums are very family friendly with lots to keep the kids entertained.
The Tate Britain and Tate Modern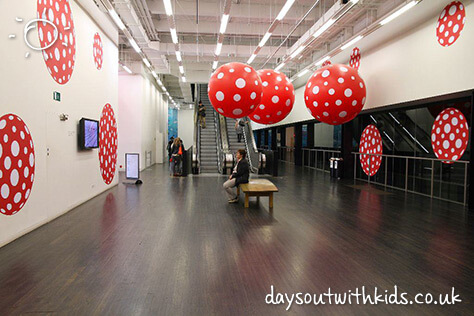 The Tate Britain in Pimlico houses a prestigious collection of British art from the 16th century to the present day. Her modern sister, the Tate Modern, is completely different with collections of 20th and 21st century art that's constantly changing. Both galleries are family friendly, with Apps to download and activities suggested you can do as you make your way around.
London's Street Markets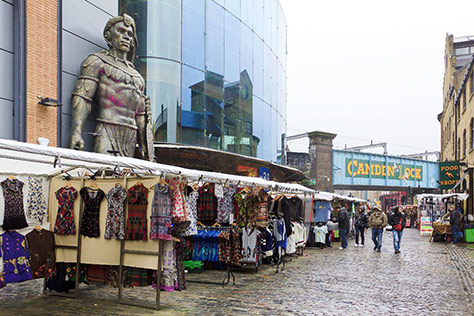 Even if you are not planning on doing any shopping, London's street markets are great for wondering and admiring the huge selection of goods on offer. Visit the Borough Market and browse through high quality local and international foods, or go to Camden where the covered Camden Loch market is surrounded by street stalls, shops, cafes and bars. There are numerous markets all over the city selling everything from antiques through to delicious foods!
London's Parks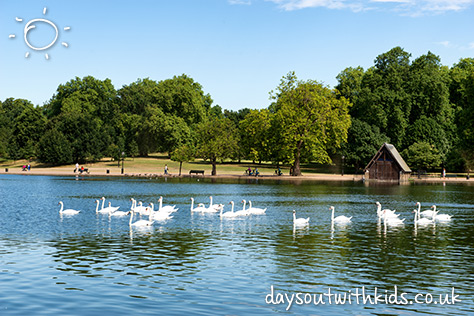 London's green parks are the heart of the city on sunny days. Locals come to their beloved parks to have a coffee in the morning or a sandwich at lunch time, to read a book, to meet friends, to fly a kite, play with the kids, picnic or just to hang out on a nice afternoon. Hyde Park, St James Park, Green Park and Regent Park are the most central of London's parks but there are many more on our website.
Hamleys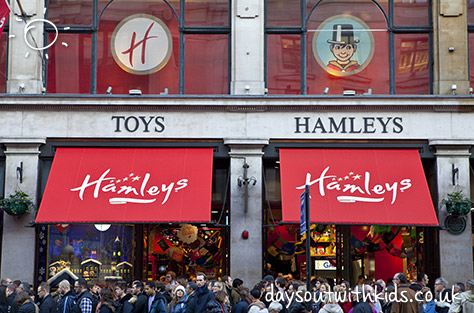 Take the family to Hamleys to enjoy the magic of London's oldest and most loved toy shop. One of the largest toy shops in the world covering many floors with demonstrations and activities. There are all the latest crazes, computer games, traditional teddies and a specialist collector area. Regular events are organised in the holidays which are often free.
East London's Docklands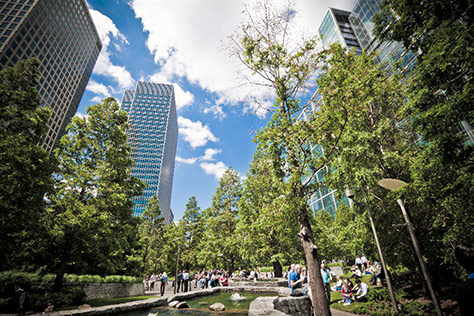 This East London neighbourhood, now called Docklands, was once one of the world's busiest ports. A quick walk around this area and you will see the transformation that has happened. There are riverside cafes, shops and restaurants, and you can walk to Canary Wharf from Tower Bridge along the Thames Path, or continue further towards Greenwich.
Urban Farms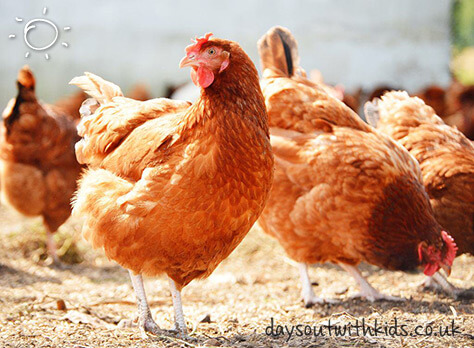 In and around London there are a number of farms that you can visit for free. You can meet an array of different animals, learn all about where your food comes from and enjoy being outdoors. Farms you can visit include Surrey Docks Farm, Vauxhall City Farm and Spitalfields City Farm, plus many more.
Learn about Wartime London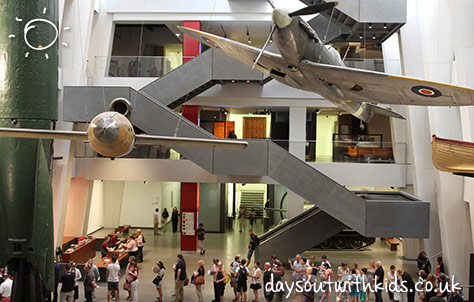 You can learn all about peoples experiences of modern warfare and conflict at The Imperial War Museum. There are exhibitions on the First World War, the Holocaust, London families during wartime Britain and so much more. In the RAF Museum in London you can see over 100 aircraft,  listen to Winston Churchill give his 'Battle of Britain' speech, check out the 'Bomb Bay' television underneath the giant Vulcan Bomber and discover the stories of incredible pilots and trailblazers who have contributed to the development of flight and the RAF.
Do you have recommendations for free days out in London? Let us know by commenting below.