It's the beginning of the Summer Holidays for some Scottish school children this week. So we have found some super days out in Scotland where you can see polar bears, go on highland adventures or even relax at a family festival!
National Museum of Scotland, Edinburgh
Discover the fascinating history of Scotland, learn about the natural world and see collections of objects from cultures all over the world at the National Museum of Scotland. There's everything from meteorites to monsters on display and you can learn all about them through the interactive displays.
Click here for more information
The Highland Wildlife Park, Inverness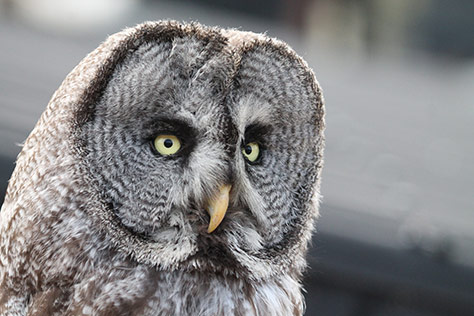 Highland Wildlife Park is a great place to bring the little ones for a wild day out. You will meet some endangered animals including tigers, bears, wildcats, otters, polar bears, owls and red pandas. Take your car and drive around the reserve and then explore the walk-round area, where you can catch daily talks to learn about some of the animals who live at the park.
Click here for more information
Kelburn Garden Party, near Fairlie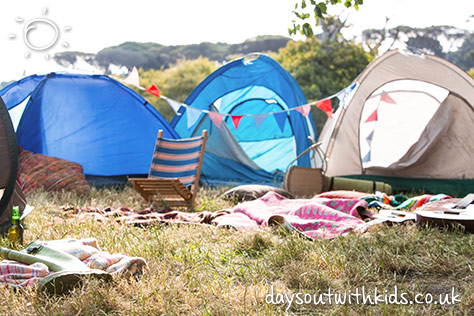 Set in the grounds of Kelburn Castle this eccentric festival has lots to offer families looking for a fun-packed weekend. There will be four stages showcasing a variety of Scottish talent from musicians and other performers. Walk around the festival and you will discover artworks around every corner and lots of family activities.
Click here for more information
Summerlee The Museum of Scottish Industrial Life, Coatbridge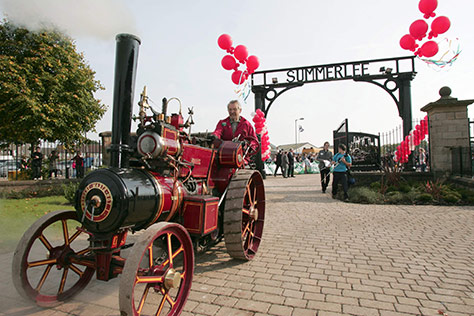 Summerlee was formerly one of Scotland's most important ironworks and is now a fun heritage museum. There are many attractions for the family to enjoy including Scotland's only operational heritage tramway, a recreated mine with guided tours, miners cottages and a play park. During the holidays they have various activities for children, as well as seasonal events for all ages and interests.
Click here for more information
Scottish Dolphin Centre, Spey Bay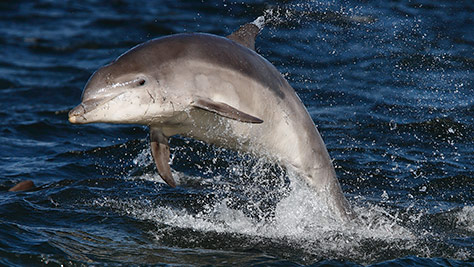 If you want to learn about dolphins and maybe even see some for yourself, plan a visit to this centre. The centre is not only a great place to spot dolphins, but there are also exhibitions, a nature reserve and a range of activities that run throughout the year.
Click here for more information
Riverside Museum, Glasgow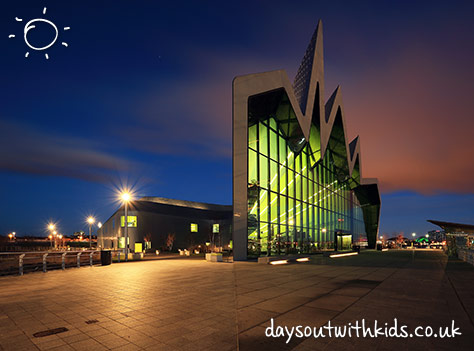 The Riverside Museum houses some amazing displays exploring the past, present and future of transport. There are over 3,000 objects in total for you to admire spread out into 'interactive streets' which have lots of hands-on displays. The building was designed by the famous architect Zaha Hadid and is a wonder in its own right.
Click here for more information
Almond Valley, Millfield, Livingston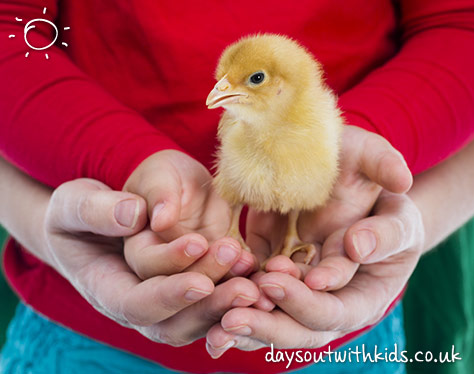 For a day of adventure and play visit Almond Valley where there's a farm full of friendly farmyard animals to meet and a number of fun activities. Throughout the day there are a number of hands-on experiences including feeding and handling some of the animals. The kids can also spend hours playing in the adventure play area, bouncing on the trampolines and racing the pedal karts.
Click here for more information
Deep Sea World, Fife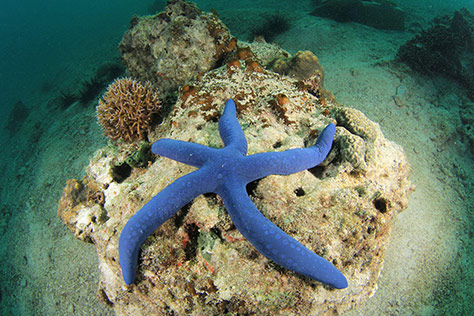 See some wonders of the oceans, rivers and lakes from around the world at this superb aquarium. There's an Underwater Safari which spans 112 metres and houses some amazing animals including the Sand Tiger shark. The Amazon exhibit transports you to a tropical world, where you'll see the likes of catfish and electric eels.  The Rocky Shores exhibit proudly displays the creature indigenous to the British Coastline.
Click here for more information
Highland Safaris, Safari Lodge, Dull, Aberfeldy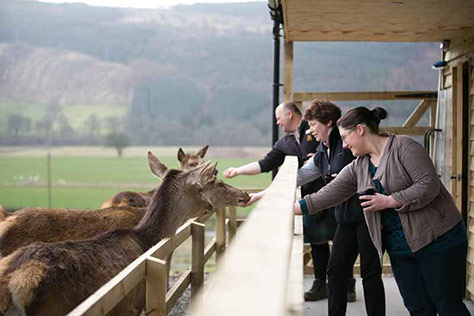 Choose between a variety of different safaris to explore the beautiful awe-inspiring mountains with a kilted safari ranger as your guide. Discover the beautiful scenery and spot wildlife with your expert guide.
Click here for more information
Culzean Castle & Country Park, Maybole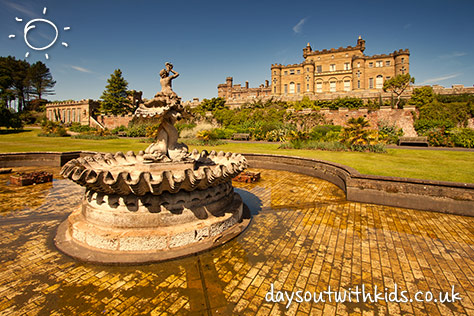 This beautiful castle is set right on the cliff front and is surrounded by Culzean Country Park a 242-hectare estate. The castle is full of antique furniture and furnishings and is a fine example of high-class living. There is so much to see and the multi-media tour and information cards guide you through the fascinating history of the castle. Altogether there's an amazing 40 other buildings and a children's adventure playground around the estate for you to explore, plus the huge grounds are great for seeing ducks, swans and possibly even otters at the Swan Pond.
Click here for more information
Landmark Forest Adventure Park, Inverness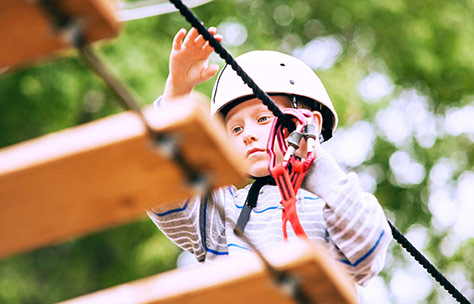 Landmark Forest Adventure Park is full of fantastic things to do! You can get lost in the Lost Labyrinth, which has bubbling mud pools, caverns and a waterfall. Be amazed in Wonder World, where you enter a spinning vortex tunnel, a topsy turvy room and a growing-shrinking room. Discover the weird and wonderful world of Bamboozeleum, plus there's outdoor play areas and a wild water coaster, there's plenty for the family to see and enjoy.
Click here for more information
Grampian Transport Museum, Alford, Aberdeenshire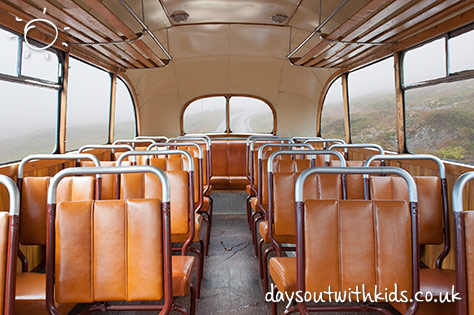 The Grampian Transport Museum has lots to offer families looking for a day out. Parents and grandparents will love seeing all the classic cars, motorcycles, bicycles and public transport vehicles. You'll also have the opportunity to climb aboard a traction engine, a six-wheeled snow plough, buses, trams and even a penny-farthing bike! At the weekends there's the Junior Driving School where children aged 7 -11 years are taught the basics of road safety through play.
Click here for more information
The Bo'ness & Kinneil Railway, Borrowstounness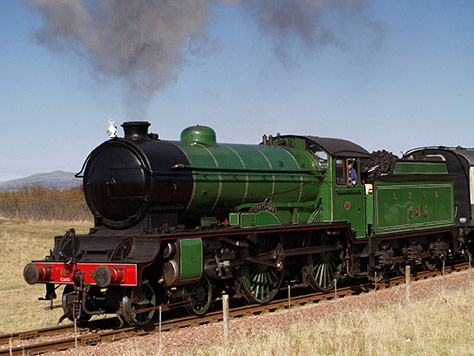 Begin your day at the station at Bo'ness where there is an authentic ticket office, station buffet, model railway and gift shop. From here you can catch a train along the five miles of preserved track in one of the majestic heritage trains. Also, on site is the Museum of Scottish Railways, Scotland's largest railway museum. The children will enjoy the large buildings full of railway locomotives, carriages and wagons. There are plenty of things to keep everyone entertained, you can operate a railway signal and points, climb aboard heritage locomotives and there is a play area for the children.
Click here for more information
We would love to know your favourite days out with kids in Scotland?
Also, don't forget to read our city guides for free days out in Glasgow and Edinburgh.