For all our little budding birdwatchers, the sheer number of places to visit to spot birds can be a little bit overwhelming. So here is a list of some of the best sites to visit up and down the country that will provide just the right amount of inspiration, fun and encouragement for the next generation of naturalists!
Woodland
Woodlands are great places to find birds. Look out for warblers, woodpeckers and if you are there late then listen for owls!
Perfect for Birdwatching: Blean Woods Nature Reserve; Canterbury, Kent
This is a wonderful place for quiet walks in beautiful ancient woodland. This great RSPB reserve is perfect for listening out for nightingales or seeing woodcocks. Track down willow warblers, chiffchaffs and blackcaps in scrubby areas. There are five trails of up to eight miles long that meander through the woods. As dusk falls, you may see nightjars gliding on silent wings.
Click here for more information
Lakes & Lochs
Large bodies of water are the place to see wildfowl like ducks, geese or swans.
Perfect for Birdwatching: Loch of Strathbeg; Aberdeenshire
Britain's largest dune loch is a joy to visit any time of year. In winter, thousands of wild geese, swans and ducks fly in, including 20 per cent of the world's population of pink-footed geese – it's a sight you'll never forget. In summer look out for gulls, terns and wading birds raising their young, and you may catch a glimpse of an otter!
Click here for more information
Wetlands
Marshes and wetlands are fabulous places to find birds and are the best places to see waders and wildfowl.
Perfect for birdwatching: Minsmere; Saxmundham, Suffolk
There's so much to see and hear at Minsmere: amazing wetland areas, splendid woodland, and coastal scenery, rare birds breeding and calling in on their migrations and keep an eye out for, shy wildlife like bitterns in spring. There's an exciting Discovery Centre and Wild Zone for families, and guided walks throughout the year.
Click here for more information
Estuaries
If you can visit an estuary look out for waders feeding at low tide, but remember to check the tide times and take care!
Perfect for birdwatching: Ribble Discovery Centre; Lytham St Annes, Lancashire
Check out the visitor centre on the edge of Fairhaven Lake. It's the gateway to the north side of the Ribble Estuary – the most important single river estuary in the UK – which attracts over 270,000 birds each year. You'll get good views of the estuary nearby and the lake itself attracts wintering ducks.
Click here for more information
Sea Cliffs
The best place to see, hear and smell seabirds!
Perfect for birdwatching: Bempton Cliffs; Bridlington, Yorkshire
With huge numbers to watch, your little ones can easily learn the difference between gannets, guillemots, razorbills, kittiwakes and fulmars.
Each year, 250,000 seabirds flock to the cliffs between Bempton and Flamborough to raise their young. Between mid-April and mid-July, the much-loved puffin also makes its home here. You can get close to the action from six, safe cliff-edge viewing platforms. Inside the seabird centre there's an exhibition area and TV screens showing live images from the cliffs.
Click here for more information
Urban Birdwatching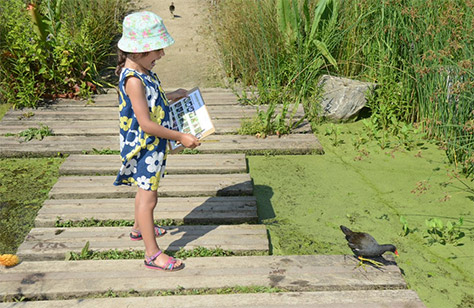 For those of us who live in a city, opportunities to watch birds are just as easy as in the countryside. Check out local parks and gardens for garden and woodland birds. The local duck pond may also harbor a few wild visitors if you keep your eyes open look out for herons, coots, moorhens and kingfishers.
Perfect for birdwatching: WWT London Wetland Centre
It doesn't get any more urban than in the middle of London! Recently voted the UK's Favourite Nature Reserve by the public. Although close to the heart of the capital it is a haven of tranquility for both wildlife and people. There are numerous different wildlife habitats such as lakes, pools and gardens that are home to birds, frogs and newts.
Click here for more information
Established nature reserves are often a great place to go bird watching. Many sites have visitor centres with friendly and helpful staff and lots of information to help you enjoy your day out. Bird hides will provide protection and warmth on cold wet days and allows you to get a lot closer to the birds.  Don't forget your binoculars, and most importantly have fun! 🙂