There is no better excuse to get outdoors than by celebrating the first of the May bank holidays! With so much to do from traditional May Day celebrations and pirate festivals to pillow jumping, we've found some great bank holiday days out which we know all the family will love!
Superhero Family Day! Kempton Park; Sunbury on Thames, London, 2nd May – **Adults just £8 and Kids FREE!**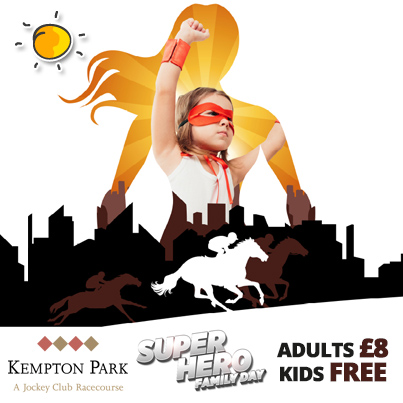 Treat the kids to a day at the races with some extra fun this Bank Holiday Monday at Kempton Park Race Course, London! Dress up as a superhero, enjoy kids activities and cheer on your favourite horse! Tickets are only £10 for adults and free for children, just use promo code SPIDERMAN at the checkout!
MORE INFO AND BOOK TICKETS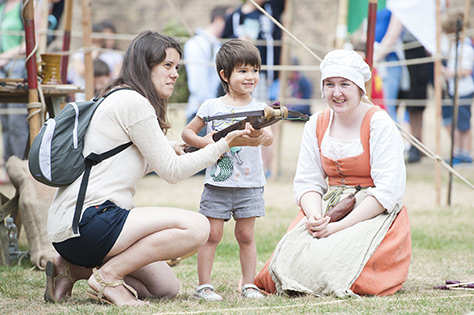 The Tudors are back at the Tower for the bank holiday weekend! As well as celebrating the coronation of Anne Boleyn as the Queen of England, you'll meet other famous characters from the past and enjoy plenty of fun hands-on family activities and games! How about giving candle making a go, or even trying your hand at firing a crossbow!
MORE INFO AND BOOK TICKETS
May Day Festival; Kentish Town City Farm, London, 1st May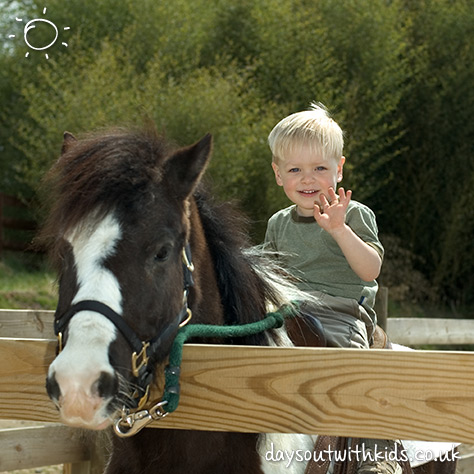 All the family will love this fun May Day festival which will be jam packed with fun things to do. There will be maypole dancing, pony rides, a good old fashioned tug-of-war, live music and great art activities for the kids.
MORE INFO
Downton Cuckoo Fair, Salisbury, 30th April
This marvellous annual fair is a fantastic free fun day out for all the family! Held on the picturesque village greens of Downton close to the beautiful New Forest there is something for everyone. There will be over 250 stalls selling crafts, gifts, tasty food and other lovely things. There will be plenty of entertainment for the kids including rides, inflatables, Punch and Judy and good old fashioned Morris Dancing!
MORE  INFO
Fossil Festival; Lyme Regis, Dorset, 29th April – 1st May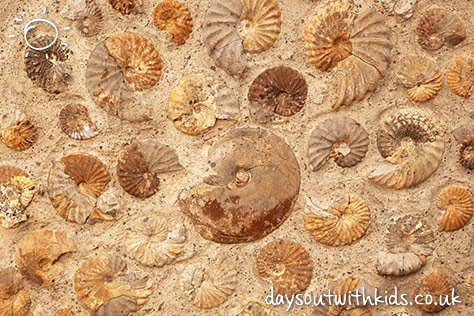 You'll be guaranteed a brilliant family day out in one of Dorset's oldest and most beautiful places for the annual Fossil Festival. There will be plenty of walks, talks, street performances, music and comedy to keep the children (and big kids) entertained.
MORE INFO
Great Dinosaur Hunt; Dinosaur Museum, Dorchester, Dorset, 30th April – 2nd May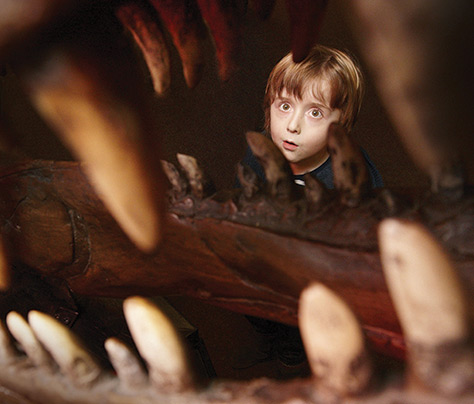 Head to the Dinosaur Museum where there is a mystery which needs solving! The kids will love searching this fantastic museum for clues to crack a special code, plus there are also fun hands on activities and interactive displays.
MORE INFO
Brixham Pirate Festival 2016; Brixham Town Centre, Devon, 30th April – 2nd May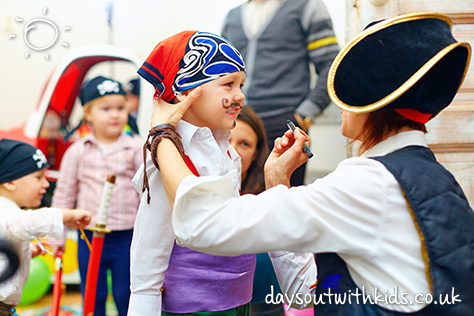 Once again, Brixham will come alive with pirates for this popular annual festival! Prepare to be amazed with music, shows, re-enactments and plenty of ooh arr pirate themed entertainment for everyone to enjoy. There will be a fancy dress competition for the little scallywags but everyone is encouraged to dust off their eye patches, grab their parrots and join in with the fun!
MORE INFO
Bluebell and Wildflower Walk; Nymans, Haywards Heath, West Sussex, 30th April
Visit Nymans this spring to see the colourful bluebells and all the other wild flowers! On the 30th April, you can join a Lead Ranger for an extra special bluebell and wildflower guided walk.
MORE INFO
Medieval Merriments! Bodiam Castle, Robertsbridge, East Sussex, 30th April – 1st May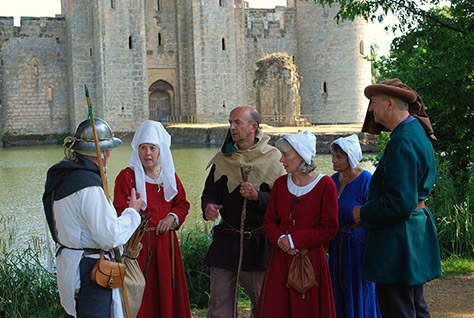 There will be plenty of medieval fun this May bank holiday weekend for all the family to join in with! Get involved in the medieval games and there will also be some great music to enjoy at this magnificent castle.
MORE INFO
Bluebell and Wildflower Walks; Sissinghurst Castle, Cranbrook, Kent, 30th April – 2nd May
You can admire the beautiful bluebells at any time, but why not follow one of the guided walks around the castle during the bank holiday weekend where you will enjoy an abundance of spring wildflowers.
MORE INFO
Bouncy Bank Holiday at Mead Open Farm; Leighton Buzzard, Bedfordshire, 30th April – 2nd May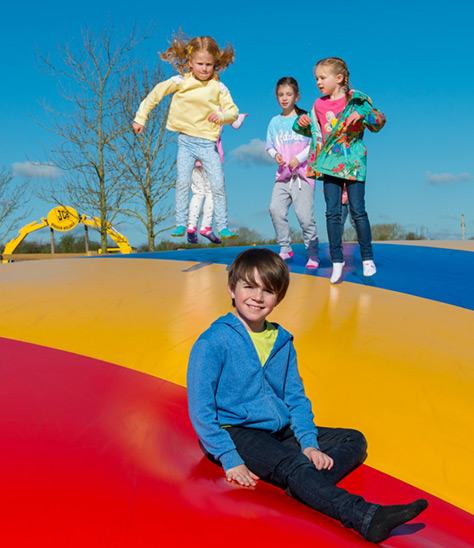 Head to this brilliant farm where there will be huge jumping pillows for big and little kids to go wild on! Of course there's plenty more to keep the family entertained including tractor rides, pony grooming and crazy golf!
MORE INFO
Canalway Cavalcade; Island House, Chesham, Buckinghamshire, 30th April – 2nd May
Come along to the annual gathering of over 130 beautiful canal boats which will be moored along the Grand Union Canal. Many will be dressed up for a pageant and of course this truly British event wouldn't be complete without fantastic morris dancers, plus there will be live music, stalls and entertaining activities for the kids.
MORE INFO
Mildred's Maypole Mayhem; BeWilderwood, Norwich, Norfolk, 30th April – 2nd May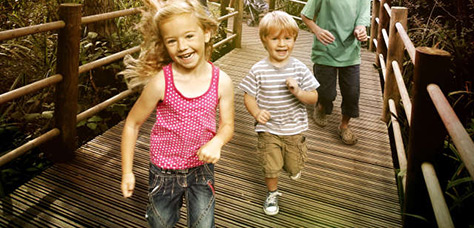 Head to BeWilderwood this bank holiday weekend and join Mildred the Crocklebog for a special Maypole event! The children (and adults) will enjoy following the Lillypad Trail looking for clues and listening to stories all about Mildred's antics, plus there will be lots of other fun activities too.
MORE INFO
Geronimo – Children's Festival; Harewood, Harewood House, Leeds, 1st – 2nd May
This brilliant festival is perfect for children aged from 0-12 where all the family can watch live shows on the "Geronostage" from their favourite stars which include Mr Bloom and Mr Tumble! There is also live music, and the children can visit the craft zone or have a go on the rope swings, plus don't miss Joe's reptile show!
MORE INFO
Tudor May Day; Speke Hall Gardens & Estate, Liverpool, 1st – 2nd May
Enjoy a very traditional Tudor style bank holiday with Tudor market stalls, and of course the Great Hall beautifully decorated for the occasion. Children will get to find out how the Tudors really lived with plenty of fun activities, and how about riding a hobby horse into battle or assist the Jester practising his new act!
MORE INFO
May Fair; Beningbrough Hall and Gardens, York, North Yorkshire, 1st – 3rd May
Come along to a truly traditional English fair this May day! There will be model railways, meccan, morris dancers and of course a May Pole for all the family to enjoy.
MORE INFO
Gibside Buds of May; Gibside, Gateshead, Tyne and Wear, 1st – 2nd May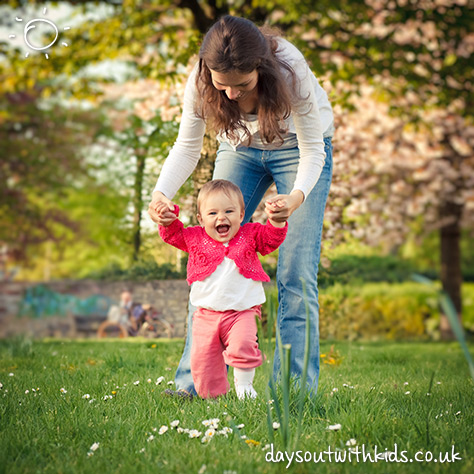 Head to Gibside this May bank holiday for a beautiful spring day in the historic gardens and enjoy tours, and artist demonstrations. You don't even need to worry about the kids as there will be plenty of fun entertainment for them!
MORE INFO
Really Wild Festival; WDC Scottish Dolphin Centre, Spey Bay, Scotland, 2nd May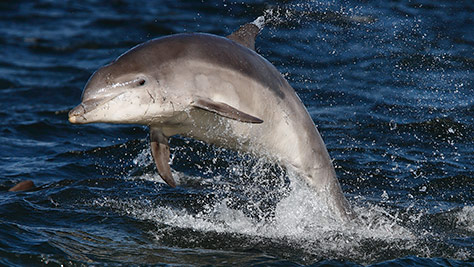 The Really Wild Festival is coming to the Scottish Dolphin Centre for another year to keep all the family entertained. At this free event you can have a go at climbing a rockwall, enjoy a wildlife walk, and don't forget to keep your eyes peeled for the dolphins! There will also be face painting, an arts and crafts fayre plus a very yummy BBQ!
MORE INFO
However you decide to spend your bank holiday weekend, we hope you have a wonderful time!