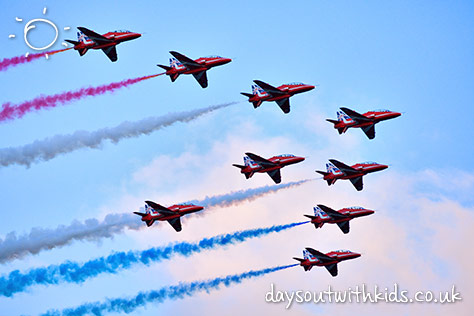 London
Tower of London, save up to 17% off tickets with Days Out With Kids
This summer explore the Tower of London, which is one of the most famous landmarks in the city, and discover a wealth of history and family fun. Join a Yeoman Warder Tour where a Beefeater will tell you stories from the towers murky past or pick up one of the family trails that will lead you around the fortress. You can see the dazzling Crown Jewels which are safely guarded by the Beefeaters in the Jewel Tower, meet the famous ravens who live at the tower, see incredible armour collections in the Royal Armouries and much, much more!
BUY TICKETS
BBC Good Food Festival, Hampton Court; 29th – 31st August, Adult £17.50 Child £8.75, All ages
Over the bank holiday weekend Hampton Court is hosting the fantastic BBC Good Food Festival. There's going to be something for all the family to enjoy with delicious foods, famous chefs, family entertainment and live music. Kids should take along their teddy bears or favourite toys so they can join in with the Teddy Bear's Picnic. There's even going to be a Family Room with lots of activities for the under 5's and much, much more.
Click here for more information
Notting Hill Carnival; 30th August, Free, aged 5+
The Sunday of Notting Hill Carnival is all about the kids, there will be a children's parade with flamboyant costumes dancing to steel bands, live music at Powis Square, family workshops at Emslive Horniman's Pleasance and delicious Caribbean foods on offer.
Click here for more information
Sail Royal Greenwich, London; 27th – 31st August, From Adult £59.60 Child £39.90,
The River Thames will have a number of grand Tall Ships dropping anchor on a number of dates at the end of August. You can jump on board one of these elegant ships for a cruise down the river to see some of London's landmarks.
Click here for more information
The London Bridge Experience and Tombs!; *Exclusive Days Out With Kids Offer* 46% off! 

SEE, HEAR and even SMELL what London Bridge was really like throughout the ages. Experience London's gruesome history first hand with this educational and interactive character led adventure tour! Be prepared for thrills, laughs and frights as you are regaled with stories from the past. Meet some of London's most horrifying characters as they lurk in the 'lanes' including Jack the Ripper and Ben Crouch. After this enter 'The Vortex' and experience the present day hell better known as 'The London Tombs'. Walls dripping with blood, and other unspeakable terrors! Expect to be chased, surprised and amazed!
BOOK HERE and SAVE!
South/ South East England
Anglo Saxon Combat, Sutton Hoo; 29th – 31st August, 11am -4.30pm, Adult 38.70 Child £4.35 Family £21.60
On a visit to Sutton Hoo this August bank holiday you will be able to learn all about the Anglo Saxon's and how they battled. Learn how to swing a sword, fire an arrow, plan a raid and much more.
Click here for more information
Clacton Air Show, Essex; 27th – 28th August, 11am – 5pm, free, all ages
Pack up a picnic and head to this fantastic airshow on the seafront at Clacton. There's going to be aerobatic displays by a range of different planes, exhibition stands and lots of family entertainment.
Click here for more information
History in Action, Arundel Castle, West Sussex; 29th – 31st August, From £9 per person, all ages
The lawns around the castle are going to be taken over by the encampments of the Raven Tor Living History Group and the Company of St Barbara over the bank holiday weekend. The family will get the chance to explore 2,000 years of history and even meet Roman gladiators and Norman knights. There will be crafts, costumes and combat displays that all will enjoy.
Click here for more information
Hever Castle, Kent; 29th – 31st August, 10.30am -6pm, From Adult £13.50 Child £8.45, all ages
There's the chance to meet some real life knights, watch some live jousting and experience a Tudor encampment at Hever Castle over the weekend. Join the royal procession as they make their way down to the jousting field where you will witness a thrilling show of jousting and be able to walk around the encampment to see craft demonstrations, armour making, cookery and lots more!
Click here for more information
Goodwood Racing,Chichester; 28th – 30th August, From £10 pp Accompanied children free
Enjoy a good old fashioned family day at the races and a whole load of family entertainment at Goodwood this bank holiday. There will be traditional 1950's entertainment including a funfair with helter-skelter and merry-go-round. Children can enjoy learning some circus skills and can even get their faces painted or giggle at a Punch and Judy Show.
Click here for more information
Wings and Wheels, Cranleigh; 29th – 30th August, 9am – 9pm, Adult £28 Child £7 Family £50
There's an action-packed schedule of displays and family entertainment planned over the weekend. There will be displays by The Red Arrows, Spitfire, Eurofighter Typhoon and many awesome planes along with some incredible motoring displays. Family entertainment on offer will include a 'Kid's Zone, fairground rides and even the chance to meet some of the pilots
Click here for more information
South West
Brownsea Island, Dorset; 28th -30th August, 10am – 4pm, Adult £6.80 Child £3.45 (ferry not included), all ages
There's a whole host of activities planned for little pirates on Brownsea Island over the weekend. There's going to be a pirate trail to follow around the island and storytelling sessions where you'll hear about invasions and even the islands connections with pirates in the past.
Click here for more information
Nick Baker at Pennywell Farm, Buckfastleigh, Devon; 29th August, Adult £13.95 Child £9.95
The presenter from the popular 'Springwatch' BBC TV show will be making an appearance at Pennywell Farm. He'll be giving a talk and you can join him for some pond dipping to find out about all the creatures that live in the ponds at the farm.
Click here for more information
Dartmouth Royal Regatta, Devon; 27th – 29th August, free, all ages
Dartmouth is bustling with lots of things to do over the three days of the regatta. On Friday and Saturday there's going to be air displays by superb aircraft such as the Typhoon, Swordfish and even The Red Arrows. In the sea there's an action packed schedule of sailing for you to watch, plus there's a street market, live music, a funfair, tournaments and plenty more for the family to discover.
Click here for more information
Acrobatics and Dinosaurs, Longleat Safari & Adventure Park, Wiltshire; All Summer,  Book with Days Out With Kids to save 20%
This summer there's a dazzling acrobatic show that the family can go watch at Longleat. A team of Chinese acrobats will perform dramatic and gravity-defying acrobatic routines in the purpose-built undercover arena. There's also 'Dinosaurs Alive' where you can walk amongst some giants who have come to live. Budding palaeontologists will enjoy the dinosaur discovery zone where they can test their skills. There's all this happening along with all the other amazing attractions on offer at Longleat.
BOOK NOW
Newlyn Fish festival, Cornwall; 31st August, Adult £5 Children under 16 free, all ages
Celebrating all things fish, this festival has displays of locally caught fish, cooking demonstrations and live music. There's going to be a 'Learning Zone' where throughout the festival there will be cooking workshops for the kids, talks from the Cornwall Wildlife Trust and printing workshops. Kids can even follow the Fishy Trail where they need to find all the fish pictures around the festival, write down the name of the fish and then hand their list in to the Information Point to win a prize!
Click here for more information 
Bank Holiday Camping, Puxton Park; 30th August, £35 per tent (4 people), all ages 
Spend the bank holiday camping overnight at Puxton Park. There's going to be lots of brilliant activities on offer, plus there will be a DJ playing some fantastic music and lots of games everyone can join in with. The next day everyone gets free entry into the park for a day of endless fun!
Click here for more information
Shaun in the City, Bristol; 6th July – 31st August, free, all ages
It is your last weekend to try and hunt down all the 70 b-ewe-tiful Shaun the Sheep statues that are dotted around Bristol. All the sheep have been ewe-niquely designed by artists, designers and celebrities. You can download an app off their website that will help you find all the statues.
Click here for more information