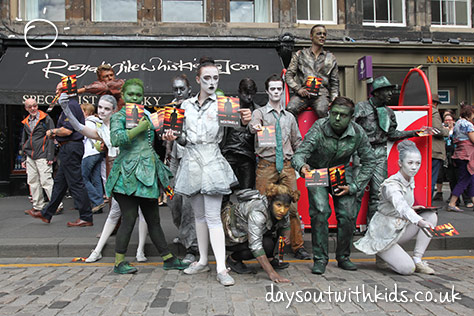 Wales
Beaumaris Medieval Festival, Beaumaris Castle; 29th – 31st August, 10am – 17.00, Adult £5.25 Child £3.90 Family £15.75
The castle is being brought to life this bank holiday weekend with the sights, smells and sounds of medieval times. There will be live performances, falconry demonstrations, have-a-go archery and much more. The main attraction will be a battle re-enactment by medieval knights where they will battle it out to be victorious.
Click here for more information
1930's Weekend, Tredegar House, Wales; 29th – 31st, 11am – 4pm, Adult £8 Child £4 Family £20
Enjoy a weekend just as they would have done in the 1930's. You can take part in some tradition lawn games, listen to period music, take part in a range of children's activities and even experience a garden party set in the Jazz Age.
Click here for more information
World Bogsnorkelling Championships, Waen Rhydd Bog; 30th August, 9am onwards, free
Well here's something that's a little bit different. Take the family along to this event to see competitors battle it out snorkelling the length of a bog in the quickest time. Competitors from all around the world travel to participate in this unusual event. For little legs there will be a shuttle bus running from the town to the bog throughout the day.
Click here for more information
Powerboat P1 Superstock Series, Cardiff Bay; 30th – 31st August, all day, free, all ages
Crowds of people will be descending onto the shores of Cardiff Bay to watch exciting powerboat and jet ski races! This is the penultimate race of the season so it promises tense and exciting boating action.
Click here for more information
Archery at Chirk Castle, Wrexham; 28th August, 11am – 4pm, Adult £12 Child £6 and £2 per six arrows, aged 6+
On a visit to Chirk Castle you will be able to have a go at some archery with expert tuition. Can any one in the family split their opponent's arrow 'in twain' or even just hit the target? Budding Robin Hoods will be able to show off their skills.
Click here for more information
Northern Ireland
Eastside Arts Festival Family Events, East Belfast; 19th – 31st August, various prices, all ages
This 12 day festival has over 78 events planned, of which 33 are free! There's going to be music, comedy, theatre, talks, workshops and so much more. On the 29th head to Orangefield Park where there's going to be craft activities, street theatre and activities such as high ropes, football tournaments and lots more!
Click here for more information
 Victorian Tea Party, The Argory, County Armagh; 30th August 1.30pm, 3pm & 4.30pm Adult £15, Child £7.50
Experience what it was like behind closed doors in an Irish gentry house. You can meet the Housekeeper or even the Lady's Maid and ask them any questions about how they live and afterwards you can enjoy the delights of a Victorian afternoon tea.
Click here for more information
Dunluce Castle Artisan Food and Craft Market; 29th August, 11am – 4pm, Adult £5 Child £3, aged 4+
The dramatic Dunluce Castle is hosting a food and craft market over the weekend. You can wander around sampling a range of delectable foods and admire handcrafted products. Kids can join in with a number of different activities including making their own Coat of Arms and there will be a medieval entertainer who will amaze you with his daring performances.
Click here for more information
Family Fun Weekend, Hillmount Garden Centre Belfast; 29th -30th August, free, under 10's
Over the weekend there's going to be a number of free activities for children to do at this garden centre. There's going to be the chance for kids to plant some seeds, decorate cupcakes, get their faces painted or even pet some pygmy goats.
Click here for more information
 Scotland
Catch the Fringe finale, Edinburgh; 29th – 31st August, pricing varies, all ages
The fantastic Edinburgh Fringe Festival ends on the bank holiday weekend. There are a number of kids shows scheduled including Defrosted a comedy show for children aged 3+. The super-silly show will have you laughing from beginning to end, as the two loveable clowns and their puppet band play their parody songs and perform real magic- best of all the show is free!
Click here for more information
Edinburgh Mela; 29th – 30th August, 12pm – 9pm, From £4 per person Under 12s free, all ages
Edinburgh Mela is a festival celebrating the talents of Edinburgh's ethnic minorities. Over the weekend as many as 20,000 people will visit the Mela to see a huge range of spectacular performances. There will be Bollywood magic, dance workshops and scrumptious food. There's even going to be a Mela Kidzone where all the activities this year are inspired by the monkey gods of Asia.
Click here for more information
 Largs Viking Festival, Largs;  29th August – 6th September, 11am – 5pm, Adult £5 Child £2
Visit Largs over the weekend to experience how the Vikings once lived. There's going to be a recreated village where you will be able to see how clothes and weapons were made and how food was prepared and cooked. The family can also watch street performances and meet some magnificent owls amongst other things.
Click here for more information
Bee Fayre, Wilton Lodge Park, Hawick; 30th August, 11am – 4pm, free, all ages
Bees play an important role in the countryside and you can learn all about what they do and taste some of the yummy honey that they produce at this fayre. There's also going to be baking competitions, crafts, face painting and lots more for the family to discover!
Click here for more information