The kids are back from school, time for some fun!
Here are some activities to try when school is done! 
From popcorn Olympics to building a den…
 The kids will enjoy these adventures again and again! 

1. Popcorn Olympics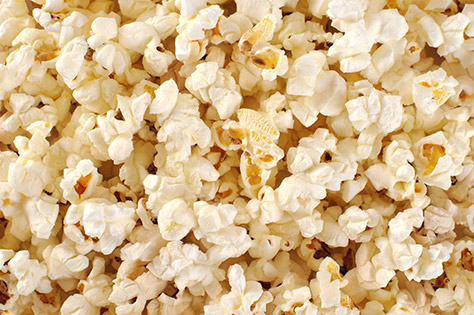 These 3 super fun games will give the kids a chance to show off their best popcorn skills and any number of players can join in the fun.
Popcorn Straw Race: Place a piece of popcorn at the end of a table or on the floor for each player. Using a drinking straw, blow the popcorn to the other end of the table. The first popcorn to reach the finishing line wins.
Popcorn Toss: Throw a piece of popcorn as far as you can, the farthest throw is the winner. This one had us in a fit of giggles, you will be surprised how hard it is to throw a piece of popcorn very far.
Popcorn Catch: Give each player a plastic cup and throw each player ten pieces of popcorn one piece at a time and see how many they can catch. The player who catches the most pieces wins.
2. Lego spellings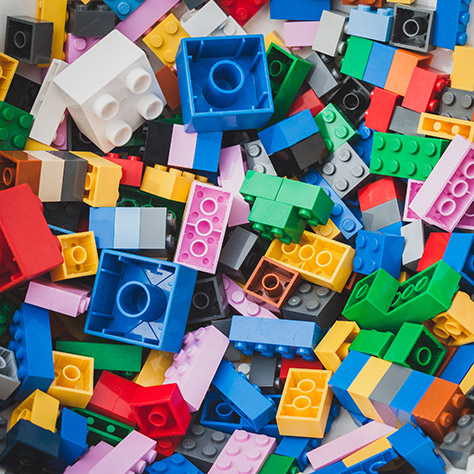 It's often a challenge getting children to learn their spellings but why not make it fun by asking them to spell their words out of Lego.
3. A Budding Picasso?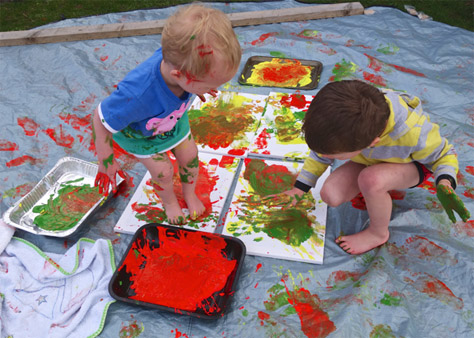 Make some art for the living room. Canvases and acrylic paint can be bought from many bargain shops these days, allowing the youngest of us to afford to indulge our inner artist. Brushes are for traditionalists! Try using fingers, feet, rolling marbles, water balloons filled with different colours. Don't worry Mum, it washes off easily in the shower, although a gentle hosing at the outside tap might save the carpets!
4. Build a den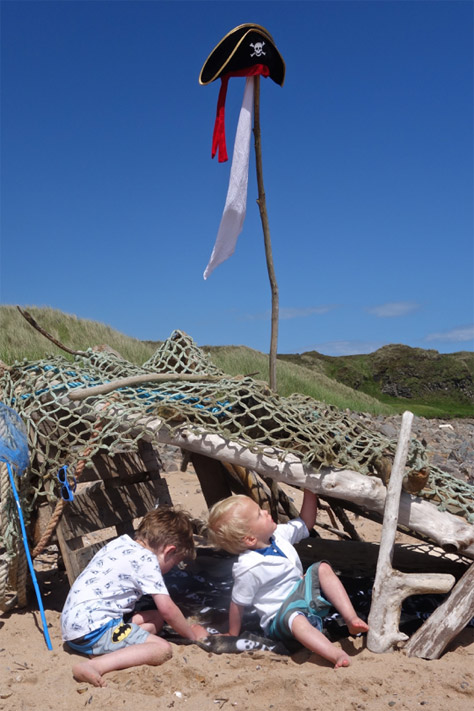 Building a den can be done anywhere! Under the stairs, in the garden, in the woods! Even on rainy days, you can build a den out of blankets and pillows at home and on sunny days it's the perfect outdoor fun.
5. Pooh sticks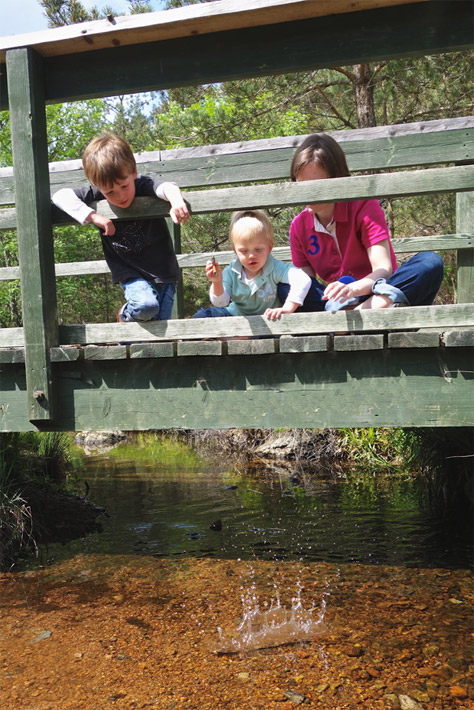 Possibly one of the easiest, cheapest and enduring activities you can do with your kids. A relaxing walk on a beautiful evening and the thrill and excitement of your pooh stick crossing the finish line first.  Remember to take care near fast flowing or deep water!
6. Hold a Play Park Marathon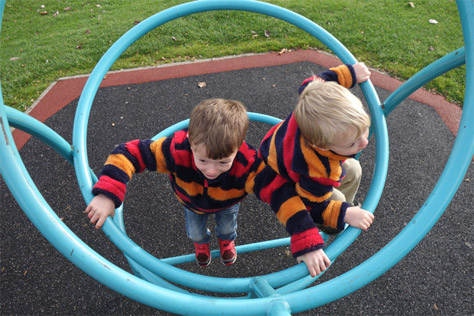 There are two ways to do this!
Version one: Simple; use play equipment as a 'circuit' and set the timer on your phone to track how speedy, or slowly your little ones can complete the course.
Version two: Harder; This one is so much fun if you live in a big town or city. How many parks can you visit in one evening? Planning is the key here! Work out a route with your little ones that take in as many parks as possible before bedtime!
7. Do a Beach Clean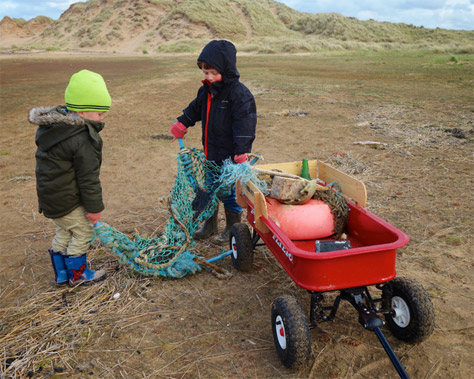 Do you live near a beach? Why not take a picnic tea to the beach and on your way back take more litter home than you make. Plastic bottles are one of the worst offenders. There are thousands of tonnes of them drifting in the oceans, and washing ashore on our beaches. A black bag full of these little blighters is easy to carry and encourages our little ones the importance of recycling.
8. Chalk Fun Outdoors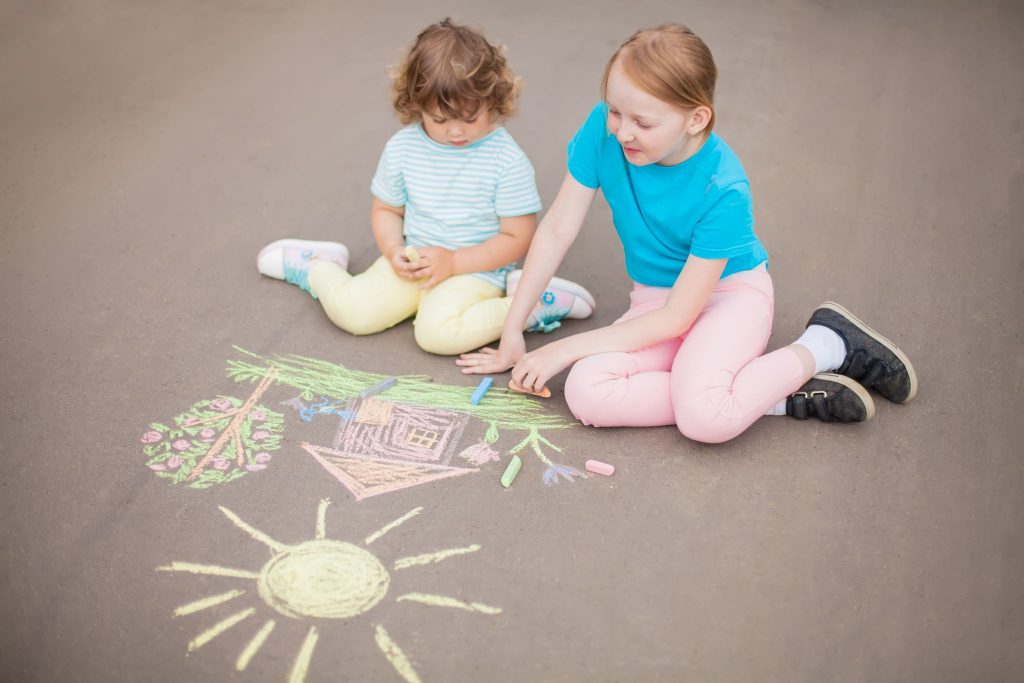 Chalk is great for using to draw on pavements and driveways and easily washes away. From expressing their artistic talents to practising maths sums and playing games, it will keep the kids amused!
9. Dressing Up Stories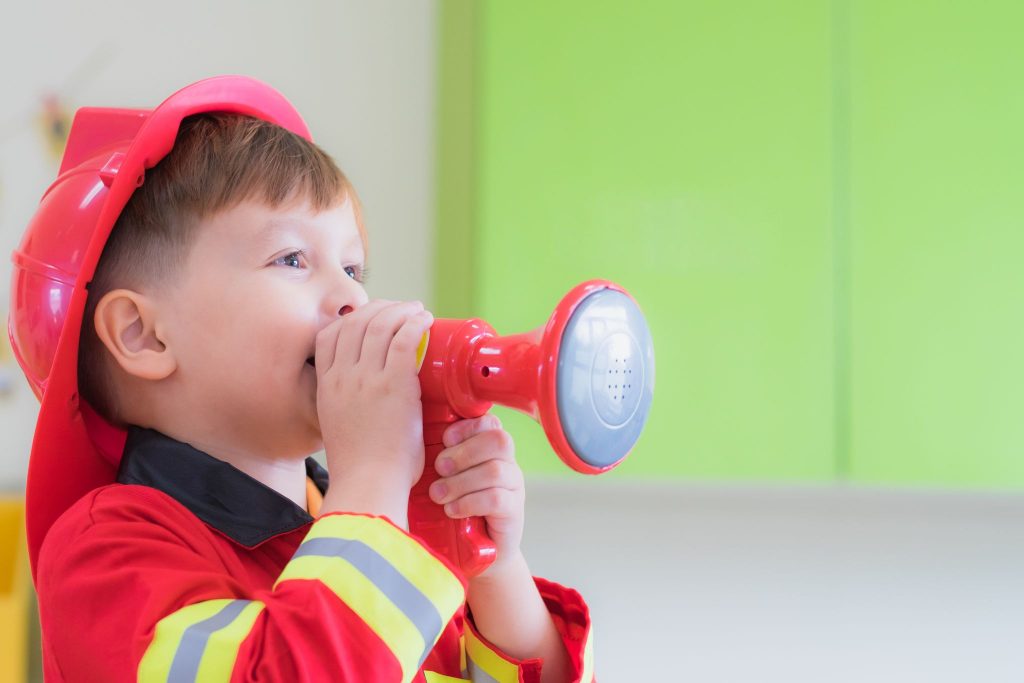 Get the kids using their imaginations and write a story – it could simply be their favourite fairy tale changed! They then have to act out their stories complete with costumes and props. Of course, you'll need to put your acting skills to the test and join in with them!
10. Board Games
Ditch electronic games and play with traditional board games. Snakes and Ladders, Guess Who, Monopoly…which games keep your little ones entertained?
11. Visit an indoor play centre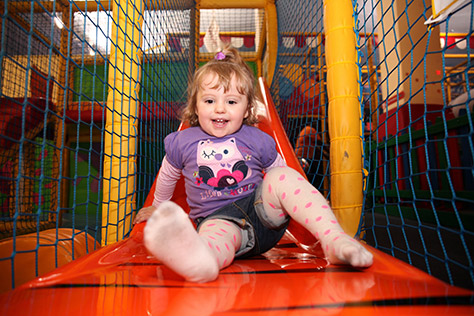 If the kids need to burn off some serious energy before tea and bedtime, indoor soft play centres are a great, safe, fun environment and allow the kids to run riot. Activities can include jumping into ball pits, obstacle courses, slides, and lots of climbing! Click here to check out our website to find a location near you.
12. Research your family tree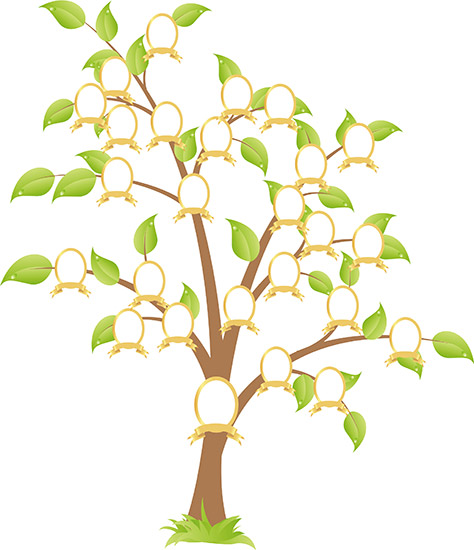 Get the kids learning about your parents' parents whilst exploring history at the same time. You never know, you may even find out something you didn't know about the family!
13. Make Chocolate Crispie Cakes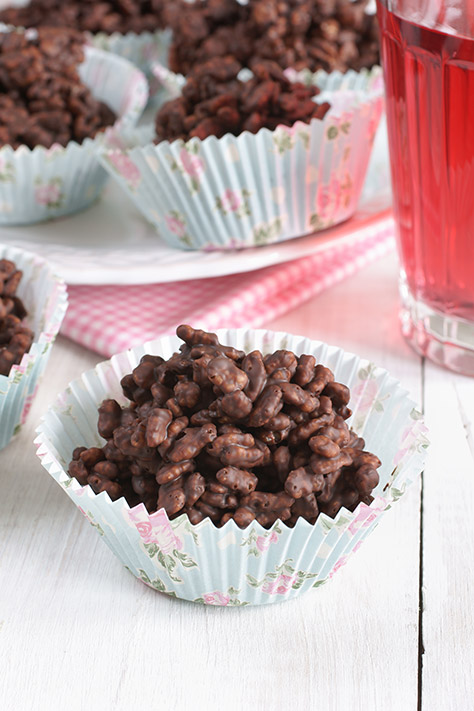 This recipe is so simple, yet the kids absolutely love making (and eating) these tasty treats.
What you will need:
150g rice crispies (or other cereal)
250g chocolate
3 tbsp golden syrup
How to make:
Melt chocolate in a saucepan over a low heat
Stir in syrup and rice crispies – watch out for taste testers!
Spoon mixture into cake cases and leave to cool.
Enjoy!
What have you been up to? We'd really love to know! Someone else might love it, and really want to go! If you've got ideas, suggestions or reviews, you can shout all about it on whatever channel you choose!
Let's go on a Picniq! Follow us on Facebook, Twitter or tag us on Instagram using #PicniqUK! ❤