Do you fancy a cocktail or two?
Then here are some for you!
Start off the bank holiday,
with a huge hurray!
Cocktails
Sea Breeze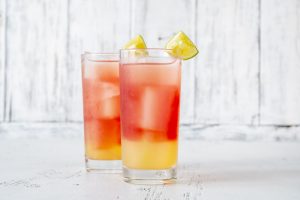 This cocktail tastes like summer in a glass!
Ingredients:
50ml vodka
100ml cranberry juice
50ml grapefruit juice
Thin slice of lime
Ice
How to make
Step 1: Half-fill a glass with ice and pour in the above liquids. Vodka, Cranberry Juice and Grapfruit juice.
Step 2: Stir with a spoon until the glass feels colf. Finish your cocktail off with  a slice of lime on the edge of the glass.
Blueberry Mojito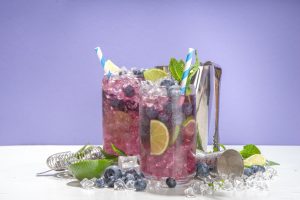 A mojito with a twist. Gluten-free and vegan.
Ingredients:
100g blueberries
3 chopped lemons
2 tbsp granulated sugar
2 mint sprigs
350ml white rum
600ml sparkling water
How to make
Step 1: Mix together the blueberries, lemons and sugar in a jug.
Step 2: Bruise the mint leaves and add these to the jug with ice.
Step 3: Pour in the white rum and sparkling water and stir.
Frozen Piña Colada
This is the ultimate refreshing drink of the summer!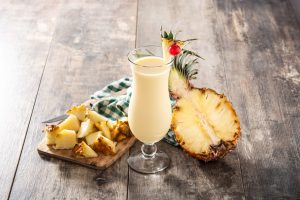 Ingredients:
250ml pineapple juice
100ml white rum
100ml coconut cream
pineapple chunks to decorate
How to make:
Step 1: Take your ice cube tray and pour in the pineapple juice. Leave to freeze until solid.
Step 2: Pour the white rum into your blender, add the coconut cream and ice cubes that you have just frozen.
Step 3: Blend this all together before pouring into your glasses and decorating with the pineapple chunks.
Banana Daiquiri
This is a punchy, vibrant and fun cocktail for you and your friends!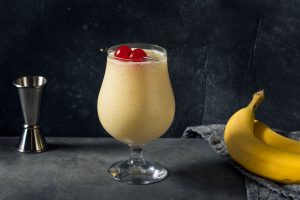 Ingredients:
50ml white rum
25ml banana liqueur
10ml lime juice
1 ripe banana
2 handfuls of crushed ice
Banana slices or chips
Lime wedges or cocktail cherries to decorate
How to make:
Step 1: Take a blender and put the rum, banana liqueur, lime juice, banana and ice in. Blend until smooth.
Step 2: Pour the blended liquid into a tall glass and garnish with your banana slices or chips. Skew two cocktail cherries and a lime wedge on a cocktail stick and serve!
Mocktails
Goji Berry & Raspberry Cooler
This is the perfect mocktail for a sunny summer weekend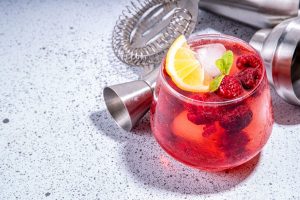 Ingredients:
40g goji berries
150g frozen raspberries
1 thumb-sized piece of ginger, peeled and finely grated
2 tsp honey
Crushed ice
A small handful each of raspberries and mint to serve
How to make:
Step 1: Put the goji berries, raspberries and ginger into a large jug. Pour 850ml of boiling water over the top and leave to cool. Transfer this to the fridge for 2 hours minimum to infuse.
Step 2: Strain through a sieve into another jug before sweetening with the honey. Pour your drink into the glassses with ice and garnish with raspberries and mint.
Ice Tea
This drink will make you feel as though you're abroad!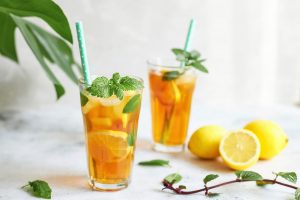 Ingredients:
6 tea bags
2 tbsp golden caster sugar
1 tbsp runny honey and extra for serving
2 lemons
1 orange
Small bunch of mint
Ice
How to make:
Step 1: Put the tea bags, sugar, honey and one and a half litres of water in a large jug. Leave to infuse for 10 minutes before removing and discarding the tea bags. Chill until you're ready to serve.
Step 2: Stir in 1 lemon juiced, 1 lemon sliced along with the orange slices and mint leaves. Fill the jug with ice and stir.
Step 3: Take your galsses filled with ice and pour over the iced tea, finish by serving with extra honey to taste.
Raspberry Lemonade Virgin Mojito
This is a classic cool, fizzy and sweet drink to add a spring to your step!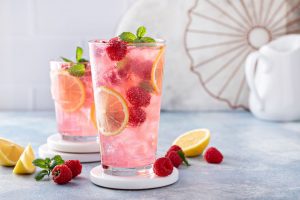 Ingredients:
15 mint leaves
1 oz simple syrup
2 oz freshly squeezed lime juice
8 oz sparkling raspberry lemonade
Raspberries, mint and a lime wedge to garnish
How to make:
Step 1: Place the mint leaves in the bottom of a tall glass and gently muddle the leaves.
Step 2: Add the simple syrup and lime juice to the mint as well as a handful of ice cubes.
Step 3: Pour in the sparkling raspberry lemonade and garnish with the raspberries, mint and lime wedge.
Alcohol-free Passion Fruit Martini
This is one for all the fun but no hangover!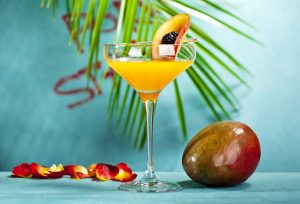 Ingredients:
3 passion fruits
1 lemon
1 egg white
100ml alcohol-free spirit
2 tsp sugar syrup
Handful of ice
Sparkling grape juice
How to make:
Step 1: Scoop out the passion fruit halves into a cocktail shaker. Add the lemon juice, egg white, spirit and syrup and shake vigorously until frothy.
Step 2: Add in the ice, shake again until the outside of the shaker feels cold.
Step 3: Double strain the mixture into martini glasses and top with grape juice. Garnish with the remaining passion fruit halves.
What have you been up to? We'd really love to know! Someone else might love it, and really want to go! If you've got ideas, suggestions or reviews, you can shout all about it on whatever channel you choose!
Let's go on a Picniq! Follow us on Facebook, Twitter or tag us on Instagram using #PicniqUK! ❤