Let's get lost in some mysterious mazes this weekend!
Race your family and friends to the end,
From BeWilderwood to Longleat and more,
There are so many fun mazes to explore!
1. Adventure Wonderland, Bournemouth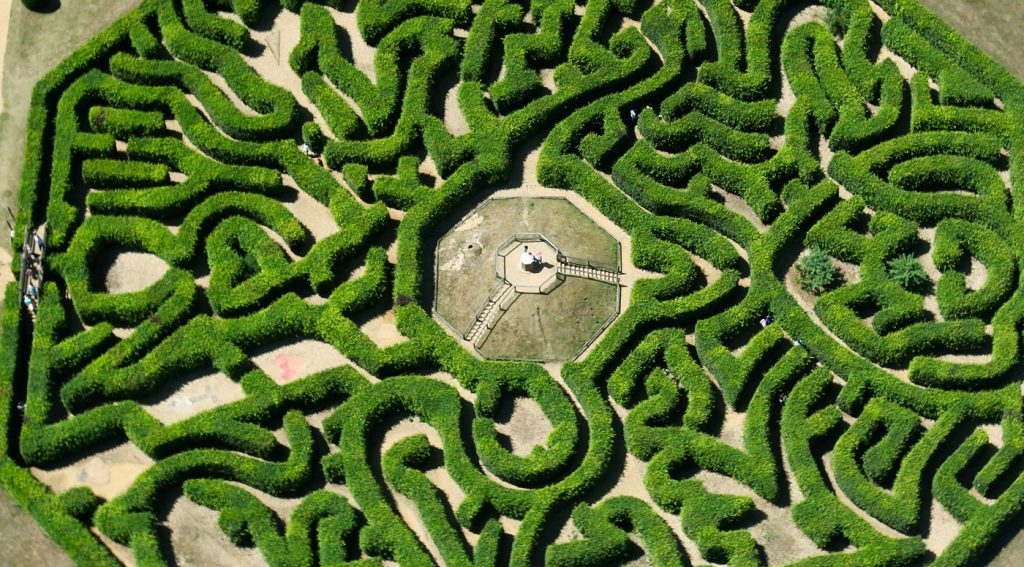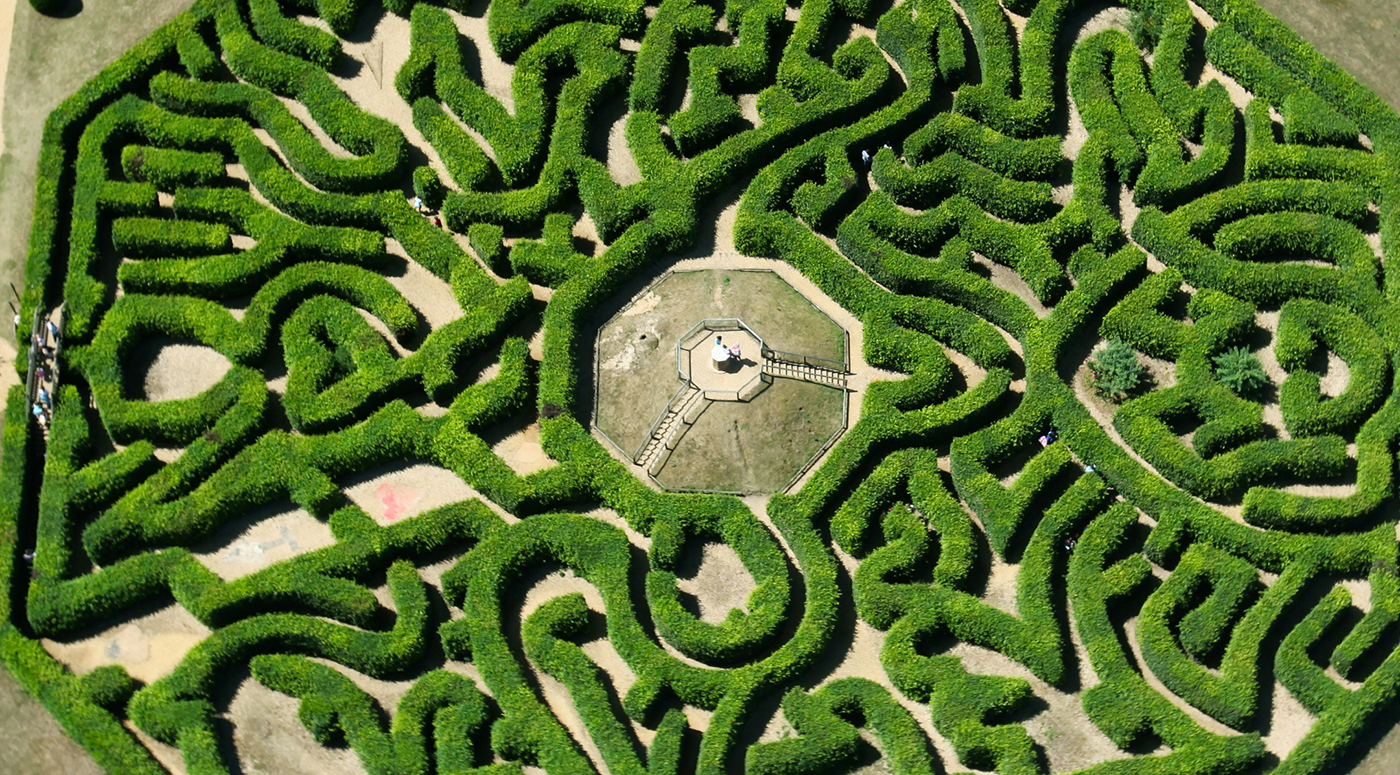 This Alice in Wonderland themed family theme park in Dorset is home to the 'Adventure Wonderland Maze' within these magnificent hedges, made up from over 5000 bushes there are 1.75 miles of paths to keep all the family busy exploring.  There are directions to help you navigate the maze, but you'll have to get the answers right! How many Alice in Wonderland characters can you find in the maze? Book here.
2. Cliveden, Buckinghamshire
📸Cliveden
This National trust site in Buckinghamshire is home to the Cliveden Maze.  This maze was designed and built back in 1894 and is made from over 1000 yew trees! Can you complete the maze in less than its average time of 20 minutes? Find out more here.
3. Glendurgan Garden, Cornwall
📸Glendurgan Garden
Visit Glendurgan Garden, this beautiful National Trust site in Cornwall which is home to the Adventure maze which was planted back in 1833.  When you reach the middle of this impressive maze you'll find the Giant's stride rope swing which kids will love! Find out more here.
4. BeWilderwood, Norfolk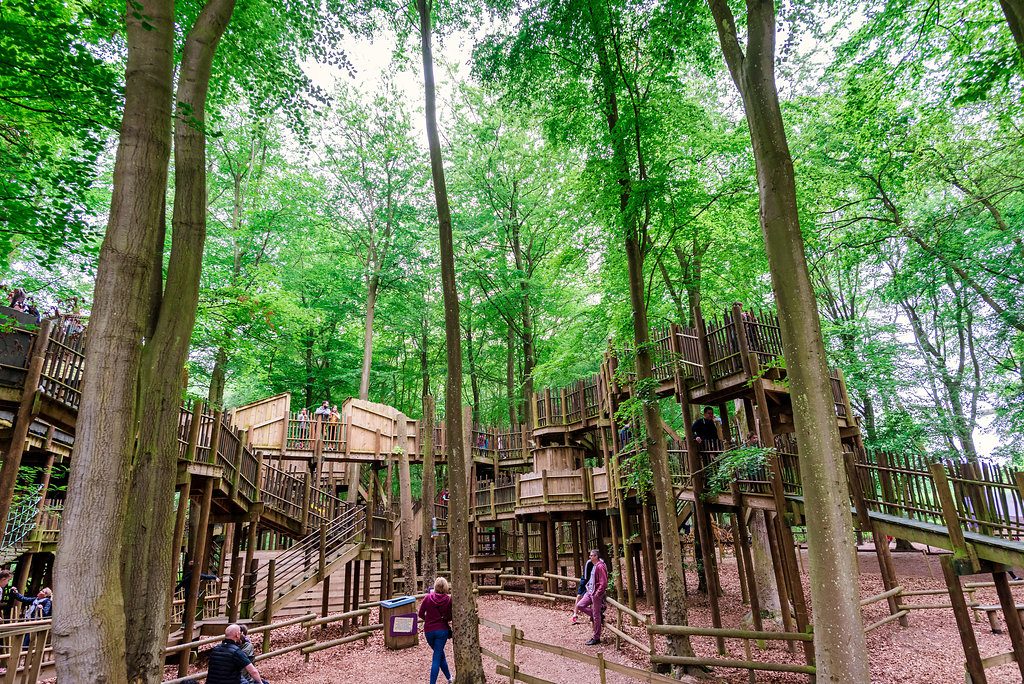 Head to BeWILDerwood in Norfolk and take on the sky maze which is a giant three-dimensional wooden maze that takes you on winding and twisting paths up to the treetops! It's sure to keep the kids busy! Find out more here.
5. Longleat, Warminster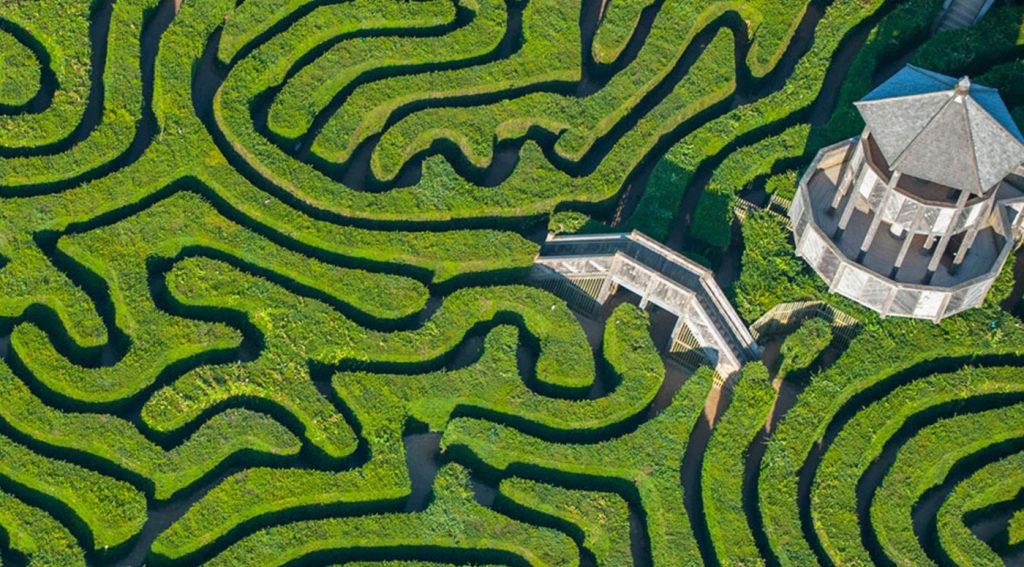 The Longleat hedge maze was added to the estate back in 1975 and is the biggest hedge maze in the whole of Britain! It is made up of 16,000 yew trees and can take between 20-90 minutes to complete.  Can you find the central observation tower or more importantly, the way out!? Book here.
6. Lakeland Maze Farm Park, Cumbria

If you love mazes, then Lakeland Maze Farm Park is for you! Find your way through the large Maize maze during the Summer months, each year the maze has a brand new design and you'll be equipped with an 'emergency map' in case you get really lost! The large maze can take up to 2 hours to complete! There is a 'Mini Maze' for younger visitors too, it is much smaller and takes less time to complete. Don't worry there are staff on hand in the maze to help you if you get really stuck!  Find out more here.
7. Traquair Castle, Scotland

📸Traquair Castle
Set on the stunning estate of Traquair, this impressive maze was planted back in 1981 and is the largest hedged maze in Scotland! This maze has been a popular location used on film for TV and film too! Find out more here.
8. The Forbidden Corner, Yorkshire
Wander through the tunnels and underground caverns as well as the maze of passages and paths around the gardens and wooded areas at this popular attraction.  Families will love exploring the labyrinth of tunnels beneath the grounds.  Watch out for giant mice, you may even find a giant feline! There are so many tunnels to get lost in the kids will be having fun for hours.  Find out more here.
9. Noah's Ark Maze, Somerset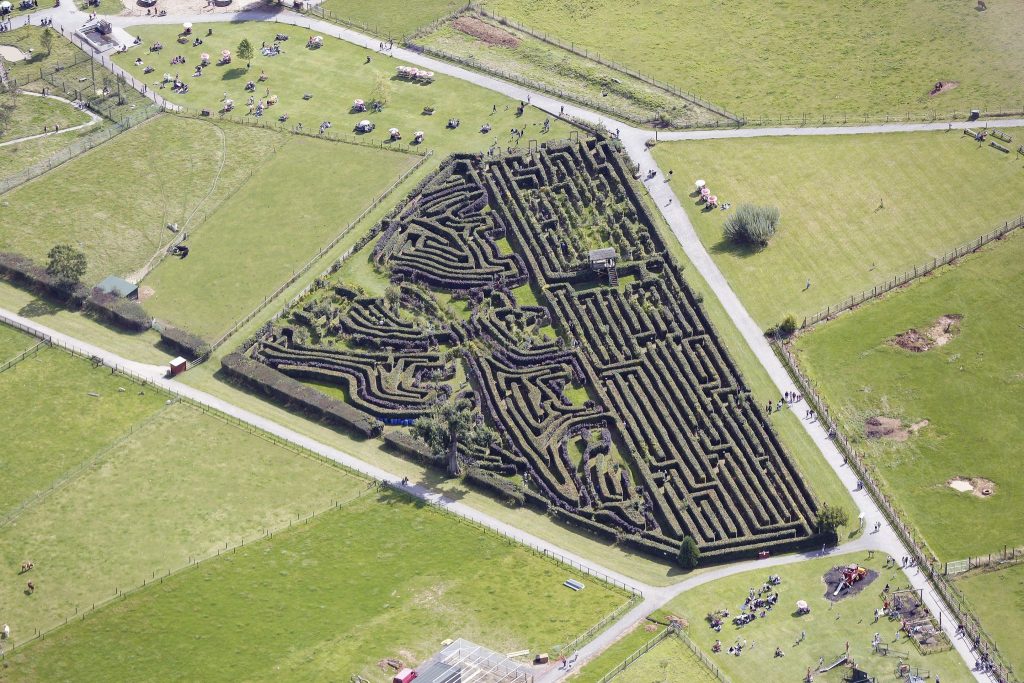 Head to Noah's Ark Zoo Farm in Somerset, home to Europe's longest hedge maze-  The Mega Monster Maze! Answer 15 questions as you go to help you solve the clues to get out! There is also a mini-maze which is great for the little ones to try out. Find out more here.
10. Hever Castle, Kent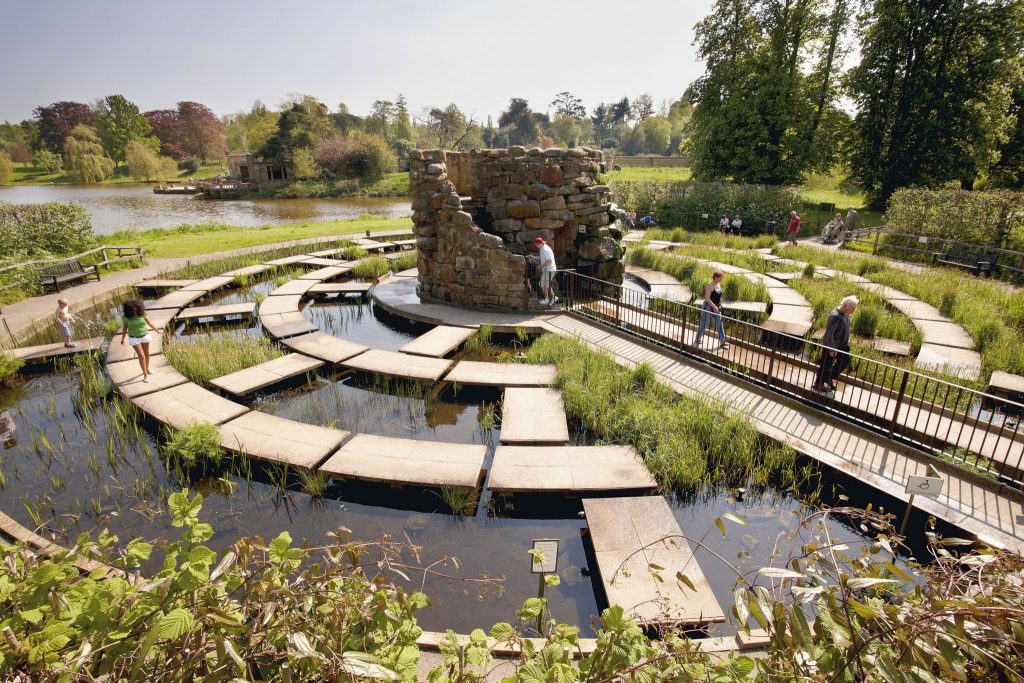 Hever Castle offers two mazes for visitors to try out! The 100-year-old Yew Maze is popular with visitors of all ages where the hedges reach eight feet in height! Why not try out the amazing water maze, located on Sixteen Acre Island.  The water maze consists of a series of concrete stepping stones over water! Watch out for the jets of water that will surprise visitors every now and again! Can you reach the centre without getting wet? Find out more here.
What have you been up to? We'd really love to know! Someone else might love it, and really want to go! If you've got ideas, suggestions or reviews, you can shout all about it on whatever channel you choose! Let's go on a Picniq! Follow us on Facebook, Twitter or tag us on Instagram using #PicniqUK!