It's the perfect time to spend the afternoon with cats,
By the end they'll all be sitting in your laps!
While you're there enjoy a drink or a snack,
You'll fall in love and want to go back!
*Some cat cafés have age restrictions as many of the cats are rescues and can be frightened easily, so children must be old enough to handle them respectfully and carefully.
Lady Dinah's Cat Emporium, London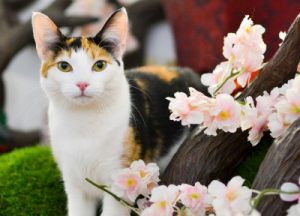 London's very first cat café is magical space where you can relax with it's friendly inhabitants. With a beautiful themed tea room and basement area, enjoy cat-themed snacks and drinks while you get to know the cats! Children aged 12+ are welcome at Lady Dinah's. Find out more. 
Pause Cat Café, Bournemouth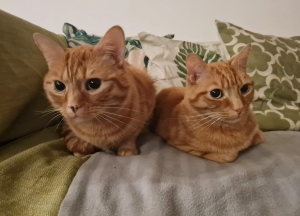 Right in the heart of Bournemouth, this beautiful café is a hub for all things cats, ethical eating, volunteering and community projects. Its peaceful atmosphere means the hour that you spend there is truly relaxing and a safe space. The goal of Pause Cat Café is to encourage human & cat bonding! Enjoy delicious treats from their 100% vegan menu while you explore 2 floors of feline fun. Children of all ages are welcome at Pause Cat Café as long as you let them know when you book. Find out more.
Mog on the Tyne, Newcastle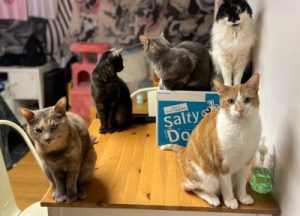 A peaceful escape in a busy city centre! Mog on the Tyne is home to a delightful family of rescued cats, and provides locally sourced food so you can enjoy delicious snacks while you take in the beautifully cosy surroundings. They also host a range of exciting events where prizes can be won! Children aged 5+ are welcome at Mog on the Tyne. Find out more. 
Shakespaw Cat Café, Stratford-Upon-Avon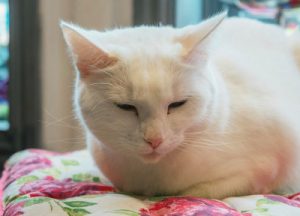 If hanging out with cats in a vintage tearoom sounds like your cup of tea then this one is for you! Shakespaw serve breakfast, lunch, and an irresistible afternoon tea so you will certainly be comfortable during your visit! Sessions last 90 minutes giving you plenty of time to get to know all the cats living there. Children aged 10+ are welcome at Shakespaw. Find out more. 
Cat Café Liverpool, Liverpool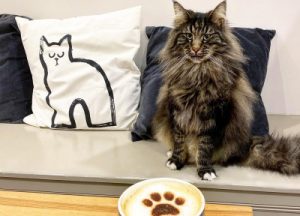 A beautiful family of cats are waiting to be loved and pampered by you in Liverpool! They all have the biggest personalities and certainly will love the attention. This café is the proud host of a popular book club, as well as various social events and evenings. Children aged 10+ are welcome any time, and children aged 4-9 can visit during child-friendly hours of 10am-12pm Monday-Saturday or 11am-1pm on Sundays. Find out more.
Java Whiskers, London

With 2 London based cafés (Marylebone & Westfield White City), Java Whiskers truly is Cat Heaven! They explore the wellbeing benefits of spending quality time with their cats, as well as providing delicious coffee! All of the cats here are looking for their forever homes if you happen to fall in love with any of them! Children aged 10+ are welcome at Java Whiskers. Find out more. 
Canterbury Tails Cat Café, Canterbury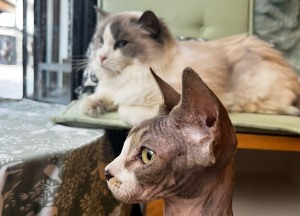 This brand new space which opened as recently as May 2023 is already a thriving hub for cat lovers. The entire café is environmentally responsible from the upcycled furniture to the delicious plant-based food & drink. The also have a cat themed gift shop selling lots of adorable merchandise and handmade goods. Children aged 8+ are welcome at Canterbury Tails Cat Café. Find out more.
The Cosy Cat Café, Kent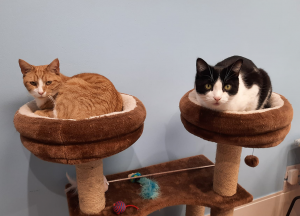 This gorgeous café is home to 14 rescue cats who are finally receiving the love and care they deserve. Located right on the seafront at Herne Bays, this is Kent's first ever Cat Café! Children aged 7+ are welcome at The Cosy Cat Café. Find out more.
Kitty Café, Multiple Locations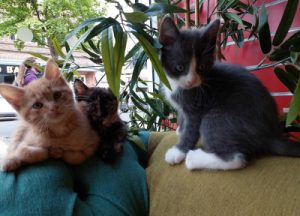 Kitty Café is a comfortable environment for both cats and humans! With big open spaces, lots of toys and places to play, as well as comfy chairs and delicious snacks, this truly is a wonderful experience. There are 4 different locations to explore; Nottingham, Leeds, Birmingham and Leicester, all of which are completely family friendly! Visit their website to print off your free kids activity sheets to bring with you on the day. Find out more.
CatPawCino, Newcastle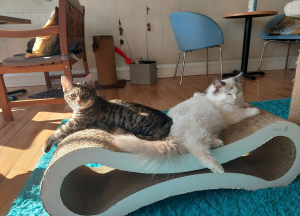 CatPawCino has a beautiful garden theme creating a sense of relaxation as you hang out with the cats that are lucky to call it home. They serve a range of cat-themed snacks, drinks and treats sourced from local suppliers, and event have a gift shop selling merchandise featuring their furry friends! Children aged 6+ are welcome at CatPawCino. Find out more. 
What have you been up to? We'd really love to know! Someone else might love it, and really want to go! If you've got ideas, suggestions or reviews, you can shout all about it on whatever channel you choose!
Let's go on a Picniq! Follow us on Facebook, Twitter or tag us on Instagram using #PicniqUK! ❤