Get ready to visit Epcot and explore, 
The fantastic food, crafts and so much more!
With lots of artistic fun and activities,
It's the perfect time to show off your family's creativity!
Epcot International Festival of the Arts
17th January – 24th February 2020
Get ready to join in with a festival full of the most delicious food, amazing entertainment and spectacular art!
🍴 Culinary Arts 🍴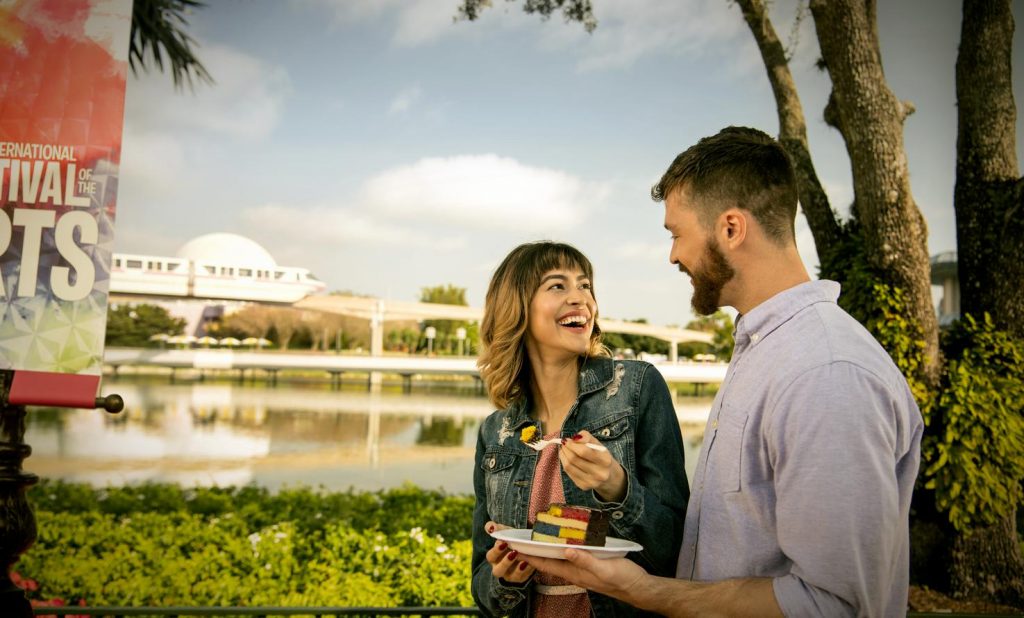 Food lovers will adore this element to the festival! Sample the most mouthwatering foods from around the world created by magnificent chefs!
Let Them Eat Art!
Open: 11am – 9pm
If you're a fan of art and a foodie, this is the perfect event for you! Explore around a wonderful world where food becomes an art to make the most delicious food. You can find Festival-exclusive "food studios" to workshops with the top chefs. And guess what? You get to taste all the food! There are 6 different edible adventures for you to explore serving a variety of food. The food locations are called The Constructed Dish, Cuisine Classique, The Artist's Table, Pop Eats!, Decadent Delights and The Masterpiece Kitchen. Throughout these locations pick up deliciously sweet treats or mouthwatering savoury dishes along with washing it down with a beverage. After checking out all the delicious food locations, if you still find yourself hungry, there are additional food stops which will sell smaller bites.
Wonderful Walk of Colourful Cusine
With all the food available, I'm sure you won't be able to resist buying them all! During the festival, pick up your festival passport, purchase any 5 menu items and get stamps. Then, once you have 5 stamps, you will get a colourful culinary prize exclusive for the Festival.
🎭 Performing Arts 🎭
17th January – 24th February
If you and your family are theatre lovers, this is definitely something suited for you! Enjoy marvellous live performances 7 days a week.
The Show Must Go On
Ever wanted to hear your favourite Disney songs in a broadway-style? During this event, you can do just that. There will also be marvellous acrobatics and interactional acts and entertainment from all around Future World and World Showcase. Marvel at Disney on Broadway Concert Series, see wonderful live performance art along with acrobatics and live statues!
Disney on Broadway Concert Series
Times: 5:30pm, 6:45pm & 8pm
Prepare to be swept away by the magic of your favourite classic Disney songs! Every 2 weeks a new pair of broadway stars are hitting the stage to perform some wonderful songs. Various days will have different performances meaning each show will be slightly different!
Celebrate Art Performance
Art Defying Gravity 
Days: Sunday through Saturday
Marvel as acts defy gravity and imagination through thrilling acts of strength!
Disney Performing Arts Showcases
Days: Sunday through Saturday
Tap your toes as top high school bands perform jazz and pop music.
Epcot Living Statues
Days: Sunday through Saturday
Delight as statues come to life right before your eyes.
Visual Art in Performance 
Days: Fridays through Mondays
Watch in wonder as a guest visual
Characters Off the Page
Travel around the world and visit your favourite Disney characters whilst getting a glimpse of their nearby portraits. Visit Donald, Mulan, Snow White, Aurora, Belle and White Rabbit around the various pavilions! Pavilions, where you can see them, are Mexico, China, Germany, France and the United Kingdom.
📷 Visual Arts 📷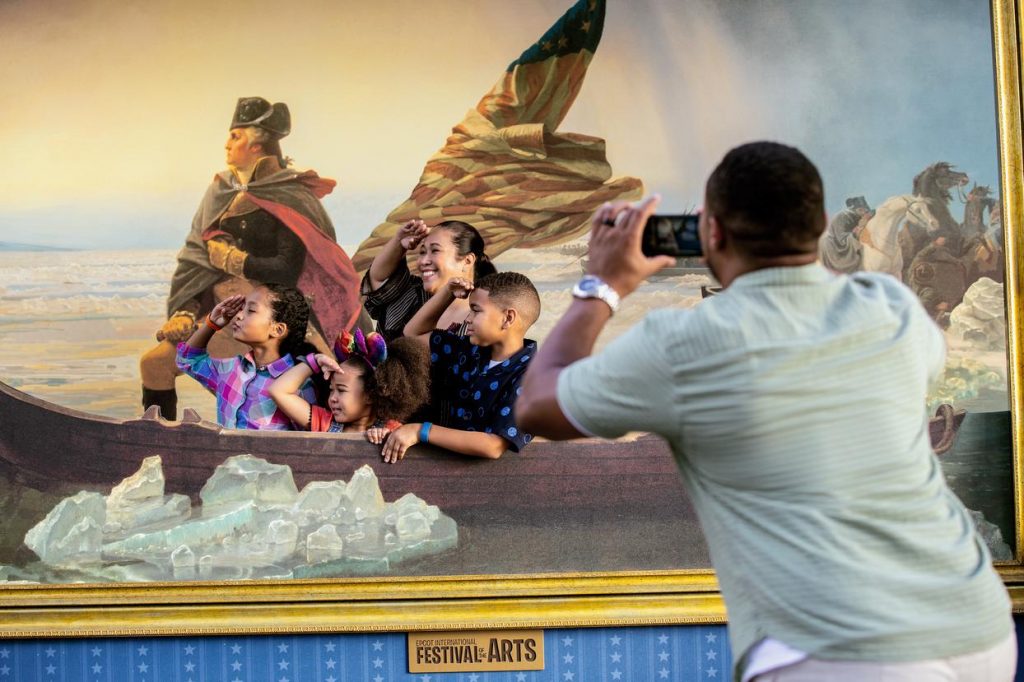 These visual arts are sure to please every art lover! Get ready to view Festival Markets spotlight artists with a wide variety of creative mediums such as jewellery making, photography, paper sculpting, t-shirt screenprinting and so much more. You can also have a go at getting involved yourself! Some visual arts highlights are the Animation Studio, Artful Photo Ops, Professional Workshops and so much more.
Featured Exhibits
Chalk Art 
See chalk artists show off their imaginative work and help them create a chalk art masterpiece!
Pavilion Exhibits
🏰 Art of Disney – American Adventure Pavilion 🏰
Purchase amazing artwork at this art gallery which features merchandise, original artwork and so much more.
Artful Photo Ops
Get picture ready and perfect your pose at this photo op location! Take your own stylish selfies, take pictures of your friends and family or let the wonderful Disney PhotoPass Photographers capture the best image. Take pictures next to famous artworks such as the Mona Lisa, The Scream, Peter Pan Storybook and so many more.
Professional Workshops
Learn valuable creative techniques that will allow you to channel your inner artist. At these workshops, you can learn all sorts of artistic techniques such as animation drawings, painting 2D cels and 3D paper crafting.
Merchandise and Artist Galleries
Pick up your favourite merchandise to remember this super event! Choose between t-shirts, jerseys, Minnie sequin headbands, crossbody bag, magnets and so many more. Plus, if you're a pass holder, there are also adult t-shirts, coaster sets and a special trading pin to pick up. You can pick up this amazing merchandise at the American Adventure Pavilion, Mouse Gear, Festival Markets, Featured Disney Art, Visiting Artists and Studios and House of Blues.
👧 Fun for All Ages 👧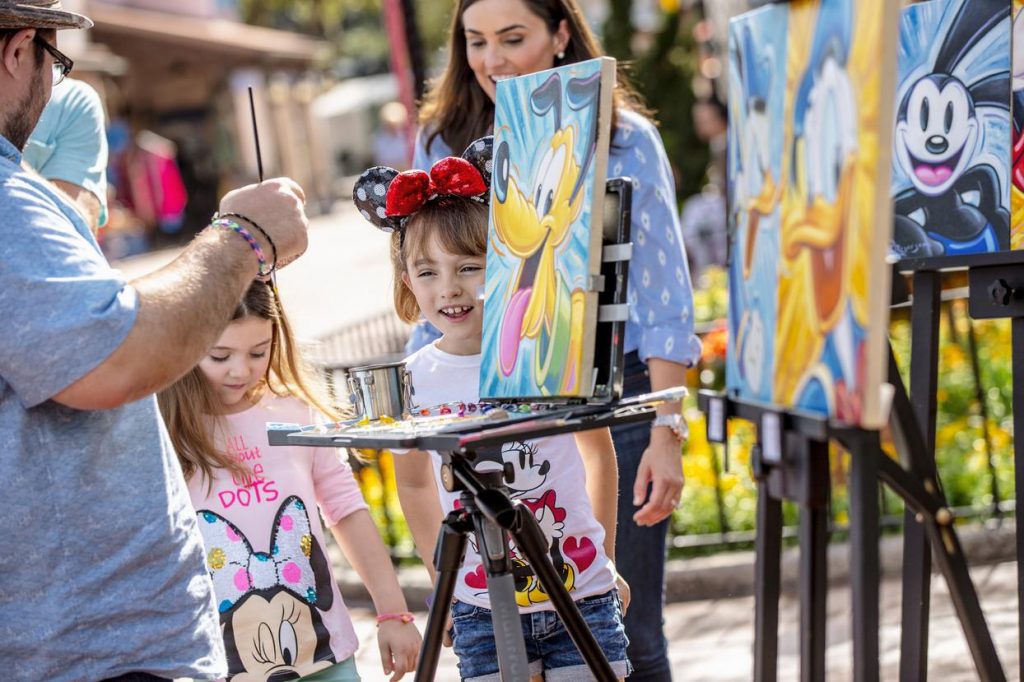 Throughout the festival, there are plenty of opportunities for the whole family to get their creative juices flowing. Make sure to check out these super fun activities!
Expression Section: A Paint-By-Number Mural
Head over here from 11am to 5pm and watch creativity come alive in this giant mural. Grab your paintbrush and join in with the fun!
Green Landing Family Play Zone
If you have WALL•E and EVE fans at home, make sure to show your little ones this out-of-this-world playground where they can let their imagination run free.
Kids' Chalk Art
Create your own chalk masterpiece in Future World daily from 10am to 4pm.
Chalk Full of Character
Get ready to hunt for some chalk drawings of Disney characters during this Festival. From Abu to Jiminy Cricket, they are waiting for you to find them tucked throughout the corners of World Showcase. How many will you be able to find?
Figment's Brush with the Masters
Can you help Figment learn all about art on this scavenger hunt around World Showcase?
Kid-Approved Dining
If you're worried about finding tasty food for your little ones to indulge in, have no fear! Look out for the strawberry icon throughout your Festival Passport for food and beverage items perfect for little tummies.
Fun Family Films
Travel around the world and enter cherished stories with the Disney & Pixar Short Film Festival, Beauty and the Beast Sing-Along, Awesome Planet and Canada Far and Wide in Circle-Vision 360.
Wonderful Walk of Colorful Cuisine
Grab your Festival Passport and travel through World Showcase for a tasty tour.
Animation Academy
Ever wanted to draw your favourite Disney characters? Head to Animation Academy and join in with the information drawing class taught by actual Disney Artists daily at 12:30pm and 1:30pm.
©Disney
What have you been up to lately? We'd really love to know Someone else might love it, and really want to go! If you've got ideas, suggestions or reviews, you can shout all about it on whatever channel you choose!
Let's go on a Picniq! Follow us on Facebook, Twitter or tag us on Instagram using #PicniqUK!