Fancy a day out to Kew Gardens,
It's just for adults… I beg your pardon!
With a children's garden and Jungle Book show,
There's more for children than you know!
The Gorgeous Indoor Hive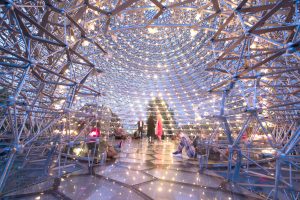 Kew Gardens has become a popular destination for young families and continues to grow every year, so what makes this attraction so appealing? Ever wondered what life as a bee would be like? Explore The Hive with your little ones in this super-sized installation! At 17 metres tall, The Hive sits in the heart of a wildflower meadow that recreates life inside a beehive. One thousand LED lights glow following the vibrations of bees that live in the garden! Witness the secret life of bees on a human scale! Book now with Picniq!
The Epic Young Children's Garden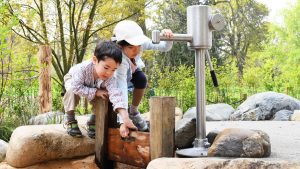 Climb, crawl and run through the children's garden! The new garden is specially designed for children aged 2 to 12 years. It is based in a natural setting the size of 40 tennis courts, providing lots of opportunities for your little ones to learn about all the things that plants need to grow! There are hidden treasures and adventures around every corner which also leads to a 4m high canopy walk wrapped around a 200-year-old oak in the heart of the Children's Garden!
An Ethereal exhibition by Tanya Schultz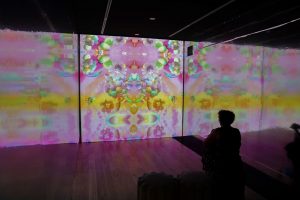 Photo credit: Kew Gardens Facebook
The 'When Flowers Dream' exhibition showcases an eclectic mix of vibrant artworks made from everyday materials such as candy, sugar, and assorted craft materials! Running from the 21st of May 2022 to the 5th of March 2023, this imaginary landscape filled with foods of the future is not one to miss! Created in collaboration with Kew scientists it really is a very special exhibition held at the Shirley Sherwood Gallery of Botanical Art! Plus, entry is included with tickets to the Gardens!
Theatre on Kew: The Jungle Book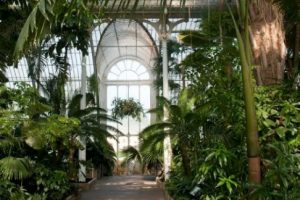 This enchanting show is perfect for all the family as Mowgli sets out on her journey through the jungle! Shown through many songs and fun along the way, she meets the wise Bagheera, the noble Akela, and the enthusiastic Baloo! However, she needs help to trick the sneaky grey apes, so you'll need to keep an eye out for Kaa the python to save the jungle home of her new friends! Performances last 70 minutes with no interval, so make sure to get your snacks beforehand!
Enchanted Evening Bike Ride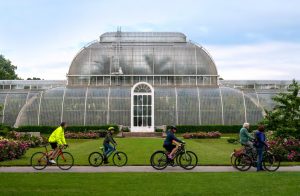 Photo credit: Kew Gardens Facebook
What better way to spend your evening than cycling through Kew Gardens with the family! The magical evening bike ride allows you to take in the enchanted woodlands and beautiful blooms. Stop for a picnic or refreshment and listen to live music as the sun begins to set! This is a unique experience as bikes are not normally allowed in the Gardens. If you feel like treating yourself, you can also dine at one of Kew's pop-up food spots on route!
Inspiring Nature Navigation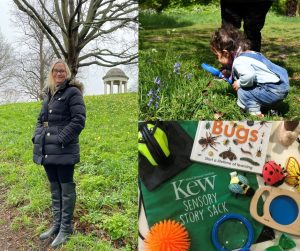 Photo credit: Kew Gardens Facebook
These fun-filled sessions allow your little ones to investigate nature through interactive storytelling, outdoor exploration, and hands-on activities! Each month Kew focuses on a different seasonal theme and aims to inspire a sense of wonder and curiosity about the natural world into your little ones! Some of the upcoming themes until October include 'bees and pollination', 'woodland animals' and 'minibeasts'!
The Ultimate Family Kitchen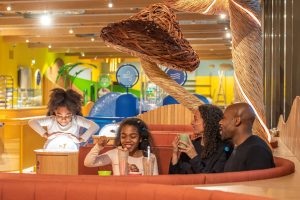 Photo credit: Kew Gardens Facebook
There are so many places to grab a bite to eat or something to drink at Kew Gardens. The family kitchen & shop offers stone-baked pizza, a salad bar, and ice cream, conveniently located right next to the Children's Garden! If you fancy something warmer, head to the popular Orangery for an amazing toastie, burger or Lebanese Barbeque served on the Terrace. Plus, here you can find microwaves to warm your little ones' bottles. There's also an opportunity to eat al fresco at the Pavilion bar and grill. Surrounded by vines and views of the Pagoda and Temperate House, this is a beautiful setting to enjoy a bite to eat!
What have you been up to? We'd really love to know! Someone else might love it, and really want to go! If you've got ideas, suggestions or reviews, you can shout all about it on whatever channel you choose!
Let's go on a Picniq! Follow us on Facebook, Twitter or tag us on Instagram using #PicniqUK! ❤