Happy New Year 2017! We hope you all have lots of wonderful things to look forward to this year! Just in case you need a few more things to get excited about here's our list of some great 'stuff' happening this year!
The Lego Batman Movie
In theatres 10 February, 2017
Calling all the fans of Batman and Lego!! It's one of the most anticipated family movies in 2017, be the first to watch it on the 10th February!
Disneyland Paris 25th Anniversary
from 26 March 2017
Disneyland Paris resort will kick off its 25th anniversary celebration on 26 March 2017. They will offer new spectacular entertainments including Disney Illuminations extravaganza which will pamper your eyes and imaginations with its amazing fireworks, stunning special effects and projections at Sleeping Beauty Castle. The park will also offer a new Star Wars experience with a 'Star Tour: The Adventure Continue' and an epic transformation of the classic Space Mountain into 'Star Wars Hyperspace Mountain'.
The new tenner polymer note and 12-sided £1 coin
We had fun playing with the new polymer fiver banknotes checking its capabilities, from trying to tear them apart to testing the waterproof-ness. So what's next? Expect to see the new £10 note which will be issued in summer 2017! Not only that, the Royal Mint is producing 1.5 billion of the new £1 coins which will be circulated to public in March 2017. Hopefully it will be lighter than the current one!
Partial Solar Eclipse
21 August 2017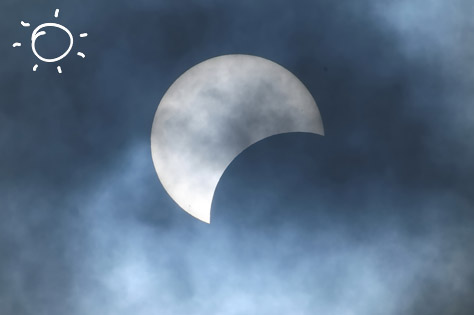 In the United Kingdom, a partial solar eclipse will be visible on 21 August 2017 between 19.37 to 19.40 depending on the city. Find further details here.
In the continental U.S. there will be a total solar eclipse. the first in 38 years. The last one occurred February 26, 1979. A solar eclipse happens when the moon passes between the sun and earth and blocks the light of the sun.

Camp Bestival 2017, East Lulworth
27 – 30 July 2017
This hugely popular festival will be a perfect family getaway in the summer. Located in East Lulworth, Camp Bestival offers a stunning view of Lulworth Castle and ultimate all-ages entertainment from fantastic music performance, artsy workshops, amazing street eats & gourmet treats, to unrivalled camping facilities. This award-winning festival will surely bring a lot of fun for the festival-goers! We'll be selling tickets soon! Find out more.
Legoland Castle Hotel, Windsor
1st July 2017
If you think Legoland Windsor Resort is not enough, hold your breath. Legoland will open its new Legoland Castle Hotel next summer! Let your kids unleash their imagination while they are staying in the Knight's room or the spellbinding Wizard themed room. Find out more.
Jorvik Viking Festival, York, North Yorkshire
February 2017
Visit the largest Viking Festival in Europe, which is held every February. This 9 days festival attracts around 40,000 visitors every year, offering live battle re-enactments, combat performances and other all things Viking. Find out more. 
London 2017
IAAF World Championships 4-13 August 2017
World ParaAthletics Championships 14-23 July
Queen Elizabeth Olympic Park will be hosting this spectacular Summer of World Athletics, and it will be the biggest global sporting event of the year. London 2017 will be the first time that the IAAF  World Championships and the World ParaAthletics Championships will be held in the same summer, in the same city. Find out more.
London Boat Show, ExCel London
6 – 15 January 2017
Enjoy London's biggest annual boat show which will bring together experts, traders and celebrities from boating & watersports industry to showcase the latest nautical trends. There will be an intereting quiz show about sailing and Marine Fashion Week which will feature designer outfits in a catwalk. Your little ones can try out kayaking and zorbing on the Boating lake or watch the demos from the bar. Find out more. 
State Opening of Parliament 2017
May 2017 (exact date to be confirmed)
Don't miss this free event next year and enjoy the traditional procession which leads the Queen and the Duke of Edinburgh from Buckingham Palace to the Palace of Westminster for the State Opening of Parliament. This 100 year old ceremony is the most important event in the parliamentary calendar, as it marks the start of the new parliamentary year. The Queens's Speech and ceremony will also be broadcast live on BBC television. Find out more.
Early Birds Theatre Tickets
1 January to 10 February 2017
Choose from more than 50 shows listed in the website, including the Peter Pan Goes Wrong, The Mad Hatter's Tea Party, Beautiful: The Carole King Musical, Mamma Mia!, Thriller – Live, Wicked and many more. Further details here.
Have we missed other interesting events happening in 2017? Let us know by sharing on Facebook, Twitter and by tagging us on Instagram too! 🙂