It's Christmas tomorrow and kids are super excited to welcome the most magical day of the year (or just the gifts really!). Why not making their Christmas extra special by starting off some sweet Christmas Eve traditions?
A Night Before Christmas Box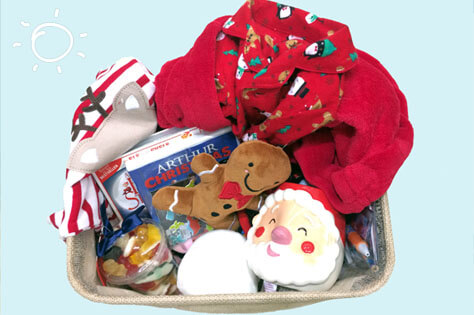 Treat your little ones with a 'night before Christmas' box filled with festive-themed gifts that they can actually wear or use on Christmas Eve. They can wear the Christmassy pyjamas and drink some hot choco from the Santa mug while watching family-favourite Christmas DVDs.
Nice List Certificate
Did your 'Be nice or I'll tell Santa' work well this Christmas? We hope so! Reward your little ones for being extra nice this Christmas with this certificate. Download a printable Santa's Official Nice List Certificate here.
Festive Pizza

Let the kids get involved in the kitchen and teach them how to bake a festive-shaped pizza. Don't have time to do that? Don't worry, you can buy a cute reindeer pizza from Tesco for your quick alternative. Kids will love it!
Tic-Tac Candy Cane Plants
Let the magic of Christmas blow the kids' mind! Ask them to 'plant' some mint tic-tacs on a bowl of sugar and get them to 'water' the candies with glitter. Then (while they are watching that Christmas DVDs) secretly replace the tic-tacs with candy canes. Voila!  P.S. They might stop asking questions on how it happens if you say they can eat all the candy canes 😀
Reindeer DIY thumb-print
This easy fingerprint reindeer art will grab your kids attention. You just need some water colour paints, a marker and a sheet of paper. Kids can also use this craft to make a special Christmas card for Santa, simply ask them to leave the card under the tree on Christmas Eve so Santa can pick it up when he delivers the gifts. Don't forget to replace the card with some inexpensive treats like chocolate or sweets as a 'thank you message' from Santa for the card.
Do you have special Christmas tradition you would like to share with us? Let us know by commenting on Facebook, Twitter and by tagging us on Instagram too! 🙂