Decorate the cupcakes for your party,
Its a great time to get a bit arty!
Blow up the Platinum Jubilee balloon,
and enjoy the perfect festive afternoon!
Dress up this Jubilee
Get some accessories this Jubilee to be the best dressed at the party! From Union Jack glasses to colourful crowns, they are a must for your Platinum Jubilee street party!
Buy now on Amazon for just £5.99!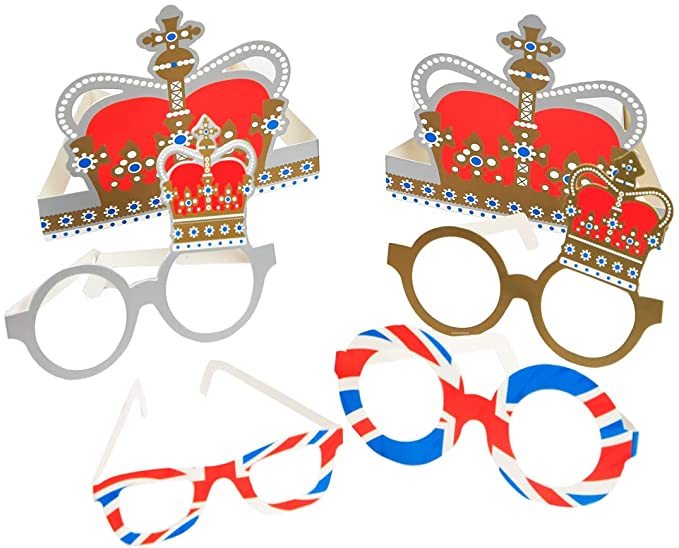 Party invitations
What's a party without friends to celebrate with! Purchase some royal invitations to ensure that everyone knows the time and place of your street party! Hand them out to your family, friends and neighbours to guarantee an amazing day. Buy now on Amazon for just £4.95!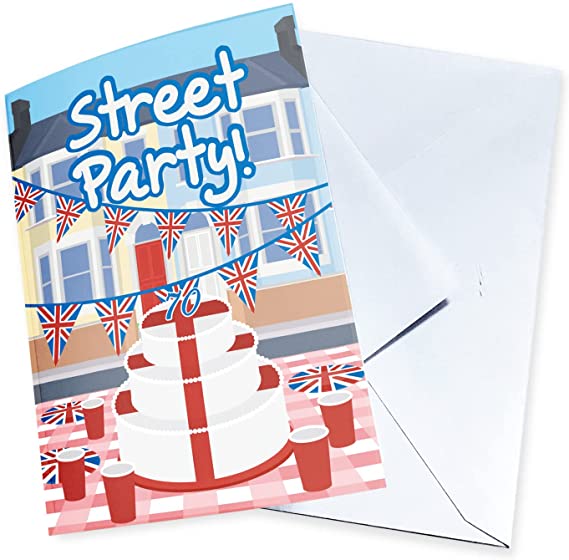 Personlised street banner
Start by decorating your street party with a personalised street banner! In the colours red, white and blue this banner will be the best in the village. At £14.95 order now to ensure personalisation! Buy here on Amazon!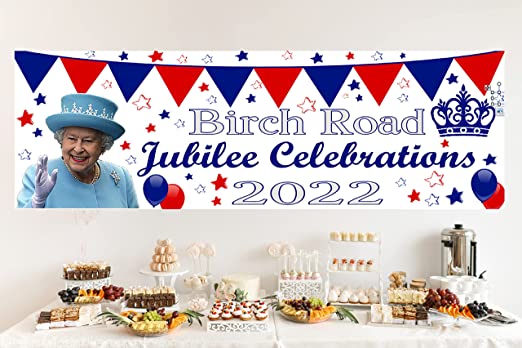 Union Jack paper plates
Union Jack plates are a must for the best British street parties! They will get everyone feeling in the spirit and ready to eat all the yummy goodies you've prepared.
Get 16 plates for £8.49 on Amazon now!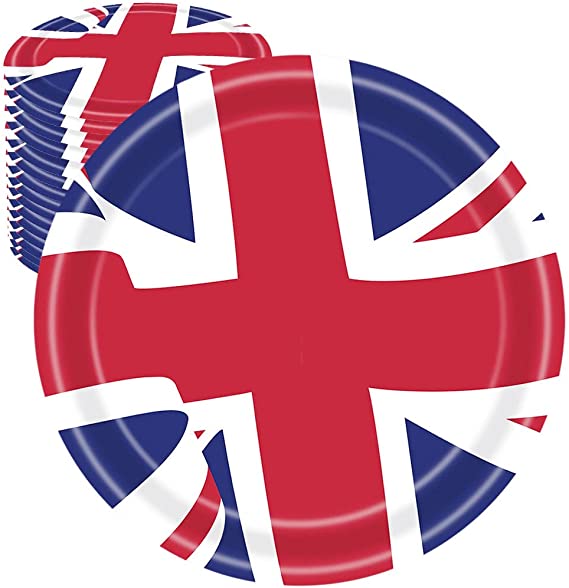 Platinum Jubilee Baloons
Celebrate 70 years of the Queens rule with some baloons to mark the occasion! They will fit in perfectly with your red, white and blue theme and for just £5.99 they are a must.
Get 12 baloons from Amazon here now!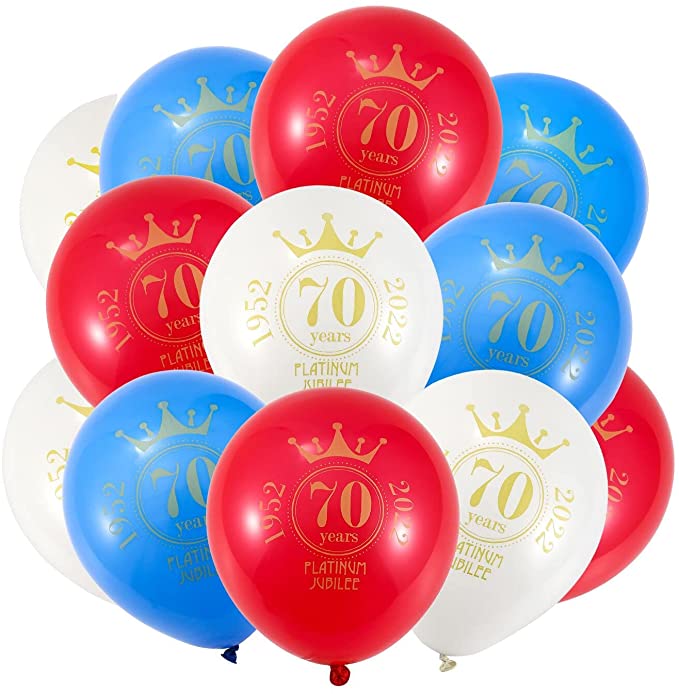 Queen's Jubilee food and cupcake picks toppers
For easy decoration of your cupcakes, get these cupcake pick toppers. From London buses to Big Ben they are perfect for the Platinum Jubilee weekend! Buy now from Amazon for just £5.99!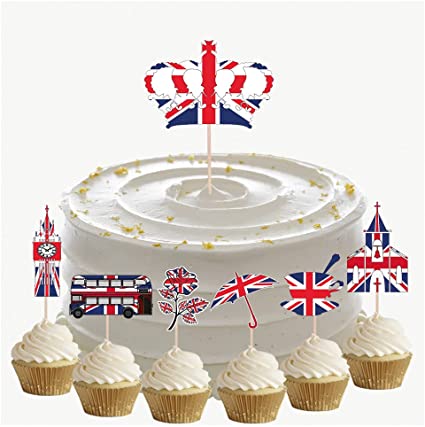 Union Jack Paper chains
With 72 pieces of paper to loop and 6 metres of British bunting to make, this willl be great entertainment for your little ones! These Union Jack paper chains will also add to your impressive street party decorations. Buy now on Amazon for £4.99!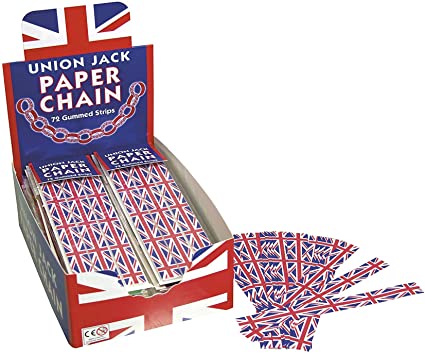 Union Jack table cloth
Avoid ruining your table cloths at home and get these recyclable Union Jack table cloths for your Jubilee Street party. At £9.79 for 2 waterproof table cloths you'll be able to cover two long tables and be prepared for all weather conditions! Buy now on Amazon!

Queens Platinum Jubilee Helium Balloons
For the Royal fans amongst you, this purchase will make your strett party the best around! The Helium 'Platinum Jubilee' Balloons surrounded by stars and crowns will draw everyone to your street Party! At £16.99 for 44 baloons, buy now on Amazon!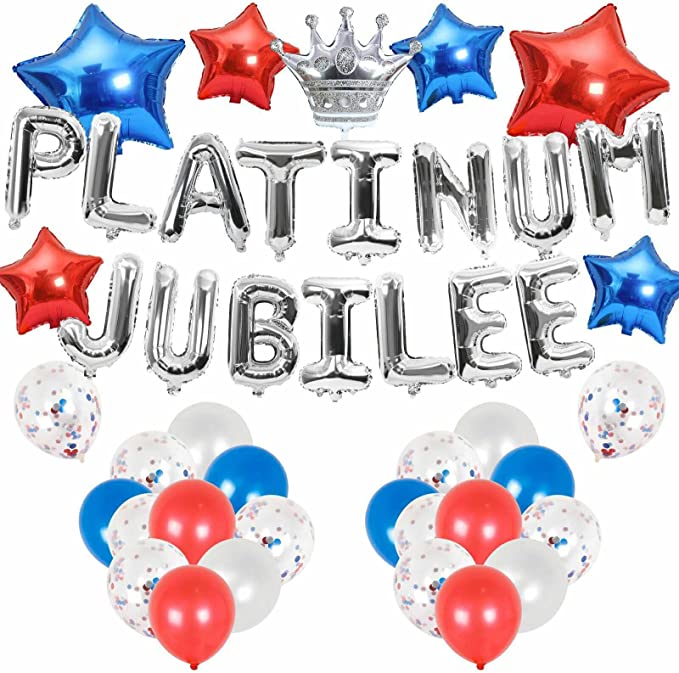 Queens Platinum Jubilee Union Jack stickers
Everyone loves stickers! Hand out some Queens Platinum Jubilee stickers to your guests when they arrive and you'll be the favourite amongst the little ones! Get 24 stickers online at Amazon now for just £2.95!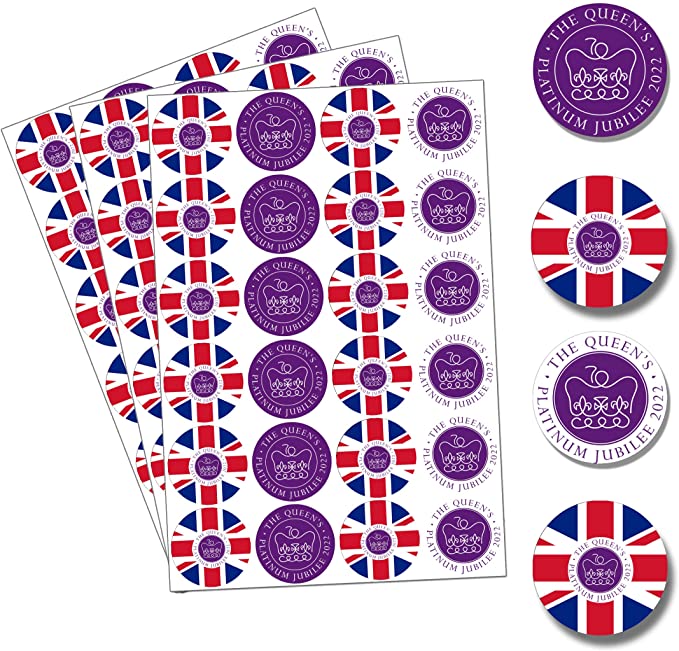 What have you been up to? We'd really love to know! Someone else might love it, and really want to go! If you've got ideas, suggestions or reviews, you can shout all about it on whatever channel you choose!
Let's go on a Picniq! Follow us on Facebook, Twitter or tag us on Instagram using #PicniqUK! ❤