It's time to visit a pumpkin patch,
and why not dress up as a family to match!
Let your little ones pick and choose,
whilst you get those photos and take in the views!

Pickwell Farm, Southampton
End of September- October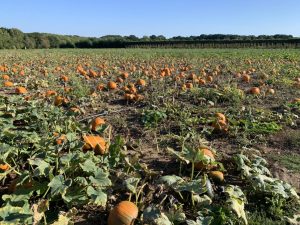 Photo credit: Pickwell Farm Facebook
Head on down to Southampton countryside for the chance to pick your perfect pumpkin! Plus, whilst you're there why not also pick some fresh fruit and veg to take home for dinner, such as corn on the cob and strawberries! Don't forget to also check out the shop! Find out more here!
Sopley Farm Shop, Christchurch
End of September-October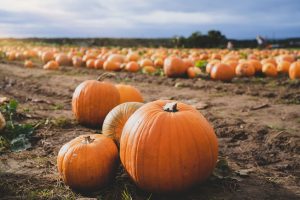 Sopley Farm shop is the perfect autumn day out for you and your little ones! Head to the fields to pick the biggest pumpkin you can find as well as some runner beans, sweetcorn and flowers if you fancy! There's even a bakery for the mums to enjoy and a play area for the kids! Grab a hot drink in the cafe to warm up before getting that seasonal picture in the photography area to capture your great day out! Find out more here!

Fordingbridge Pumpkin Pastures, Fordingbridge
Saturday 8th-9th 9:30-4, then from 15th-28th October everyday
Photo credit: Fordingbridge Pumpkin Pastures Facebook
It's a pumpkin pickers heaven at Fordingbridge Pumpkin Pastures! From pumpkin carving and barrel trains to crafts and slingshots there's so much to join in with! Plus, on the 29th October there's a super Saturday where you can enjoy live music, food, drinks and an incredible fireworks display! What's not to love! Find out more here!
Rogate Pumpkin Patch, Petersfield
14th-30th October daily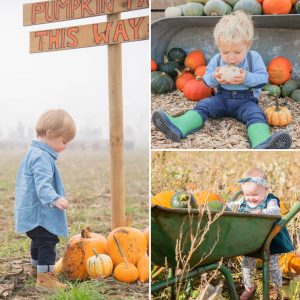 Photo credit: Rogate Pumpkin Patch Facebook
This family run pumpkin patch offers a really wholesome day out! Enter into a land of spooky and wonderful at Rogate Pumpkin Patch and experience a world of fun! Dare to enter the Dracula's estate in Merlin's Wood and witness her spells in action! Get those amazing pictures and explore the spooky sunflower trail. If you fancy a bit of competition, take part in the pumpkin skittles alley, the pumpkin shy, pumpkin slingshot or noughts and crosses. Plus, don't forget to pick your pumpkin to take home! Find out more here!

Halloween in Covent Garden
Throughout October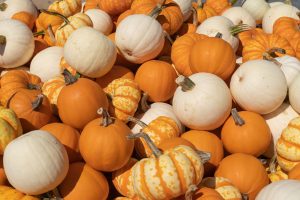 This October experience pumpkin picking right in the centre of London! See the amazing pumpkin displays at the Halloween Pumpkin Market where there will be over 200 pumpkins, squashes and gourds! They'll be all different shapes and sizes so get ready to pick one! For the older ones in the family, there will also be creepy cocktails along with some amazing food for all the family! Find out more here!
Crockford Bridge Farm, Weybridge
Selected dates throughout October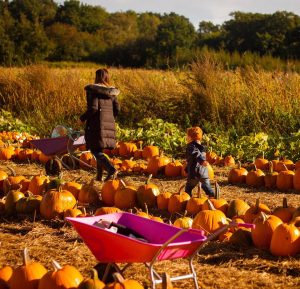 Photo credit: Crockford Bridge Farm Facebook
Head down to Crockford Bridge Farm at the beginning of October to pick your own pumpkin harvested from hand! Wonder around the field to find your perfect pumpkin but make sure to book before you go! From mid-October there will also be a pumpkin market and on the third weekend of October and the last week of October half term you can enjoy a pumpkin festival! Here you can enjoy festival entertainment, an outdoor pumpkin carving and decorating area, lots of fun activities for your little ones and more pumpkins and squashes for you to buy! Find out more here!

Pumpkins R Us, Stoneleigh
8th-31st October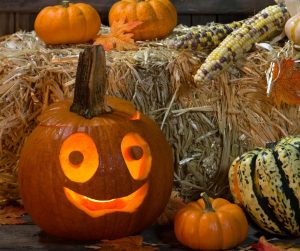 Photo credit: Pumpkins R Us Facebook
Experience an indoor and outdoor pumpkin picking experience at Pumpkins R Us! All the pumpkins have been grown on the family farm in Warwickshire ready for you to pick before heading to the shop for some Halloween decorations and the cafe for some autumnal treats! Pick between all different shapes, sizes, and colours before taking it home to carve! There will also be after-dark pumpkin picking parties for those who want to join in on Friday and Saturday nights! Find out more here!
Fardon Fields Pumpkin Picking, Market Harborough
1st-30th October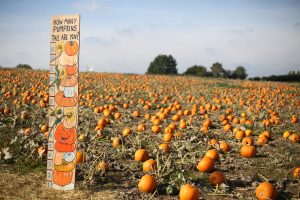 Photo credit: Fardon Fields Farm Shop Facebook
See some amazing pumpkin displays at Fardon Fields this October! Put on your wellies and head on down to this incredible pumpkin field that will leave you with some awesome family photos! Take a picnic and enjoy it in the field of pumpkins as benches have been set down. Or treat yourself to something hot with breakfast rolls, pumpkin soup and chili on offer! With 36 varieties of pumpkins to choose from you'll be spoilt for choice! Find out more here!

Powells Farm Wales, Presteigne
Open from the 8th October for weekends and from 24th-28th October for after school fun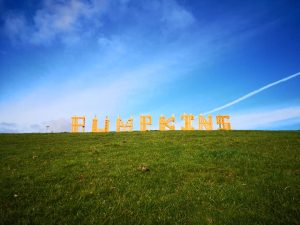 Photo credit: Powells Farm Facebook
Put on your hats and scarves and head on down to Powells Farm! Pick your favourite pumpkin before carving it to place a lantern in or for the littlest ones you can simply design your pumpkin with the special Halloween pens! Or you can take your pumpkin home to make a yummy pumpkin pie! Whilst you're there you can also meet the animals or enjoy a homemade cake! If it rains, no worries, there's a spooky barn just for those occasions! Find out more here!
Clearwell Farm Pumpkin Patch, Cardiff
8th-30th October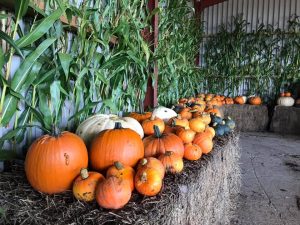 Photo credit: Clearwell Farm Facebook
Choose from over 20 different varieties of pumpkins this October at Clearwell Farm! From the large Atlantic Giant to the tiny multicoloured gourds there's one for everyone! If you want to avoid the mess at home, you can also carve your pumpkin at the farm ready to display as soon as you get home! Find out more here!

The Ark Open Farm, Newtownards
15th October- 1st November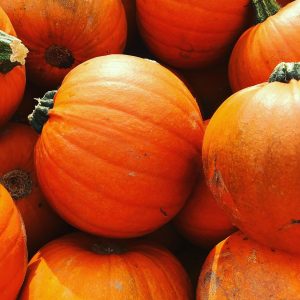 Photo credit: The Ark Open Farm Facebook
It's that time of year again! Grab your wheelbarrow and pick out your pumpkin! After choosing, head to the carving area where you can scoop out the pumpkins before handing over the carving to The Ark Open Farm helpers to avoid any injuries! Meet Arkle the witch, watch her amazing science magic tricks, or learn to fly on a broom! There is also a quiet pumpkin session at 9am on the 16th October for families with children with additional support needs. Find out more here!

East Grange Farm, County Durham
8th-9th, 15th-16th, and 19th October onwards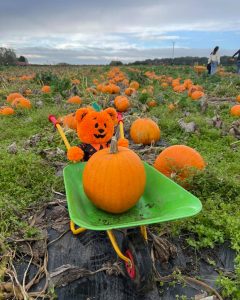 Photo credit: East Grange Farm Facebook
Wrap up warm and head on down to East Grange Farm! Over 70,000 pumpkins have been grown here, spread over 20 acres! So come and choose from 17 different varieties with 6 different colours and sizes with some weighing up to 12kg! If you want a big one make sure to pick up a wheelbarrow! There are even children's wheelbarrows to help them carry their pumpkin of choice! Find out more here!
Whole Hogg Farm Shop Pumpkin Picking, Malton, North Yorkshire
Now until 31st October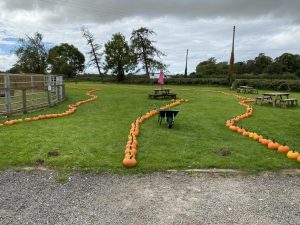 Photo credit: The Whole Hogg Farm Shop and Tea Room Facebook
Said to be one of the most enviable fields of homegrown pumpkins, Whole Hogg Farm has got you sorted for this Halloween! Plus, whilst you're there why not visit the farm shop or tearoom for some delicious local produce! You can also meet Betsey The Clydesdale Horse, Dylan the 37 year old Shetland pony, and Pearl the Pig on your day out! What's not to love! Find out more here!

Cairnie Farm Pumpkin Picking, Fife
8th-30th October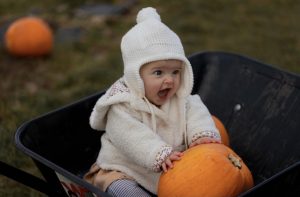 Photo credit: Cairnie Fruit Farm Facebook
Visit the original Scottish producer of pick your own pumpkins this October! Having done this for 23 years they really are experts! You'll be able to choose from over 12,ooo pumpkins of all different shapes, colours and sizes, just remember to book beforehand! Pick your pumpkin for this autumn and carve it to leave on your doorstep or use it for cooking up something delicious! Find out more here!
What have you been up to? We'd really love to know! Someone else might love it, and really want to go! If you've got ideas, suggestions or reviews, you can shout all about it on whatever channel you choose!
Let's go on a Picniq! Follow us on Facebook, Twitter or tag us on Instagram using #PicniqUK! ❤