For all you young wizards there's so much to explore,
From filming locations to experiences and so much more!
Follow in the footsteps of Harry, Hermione, and Ron,
Make sure to take pictures before you're gone!
Kings Cross Station, London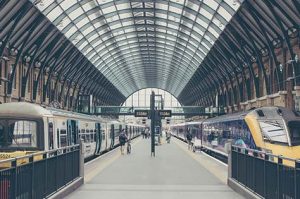 The busy Kings Cross Station in London is one of the first iconic locations we visit in the films, if you're spending the day in London be sure to pass through and soak in the magical atmosphere. The famous Platform 9 3/4 was filmed right here, so you can live out your dreams of jumping on the Hogwarts Express, just don't run at the wall too hard! There is a luggage trolley prop in the wall for photo ops, and every year on the 1st of September, fans gather here to hear a special train announcement for the Hogwarts Express departing at 11 am!
Alnwick Castle, Northumberland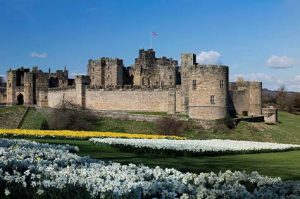 Discover over 950 years of history at this magnificent castle and it's explore its many different purposes and evolutions throughout time. This stunning castle portrayed Hogwarts in the first two Harry Potter films. Iconic scenes such as students learning to fly their broomsticks, and Harry learning the Quidditch rules were filmed right on the castle grounds. The atmospheric courtyards were used for shots of students and staff walking around, so you'll truly feel like your at Hogwarts as you walk the grounds! Don't miss their Cinema Under the Stars event this summer where they'll be screening The Philosopher's Stone and The Order of the Phoenix outdoors! Find out more.
Freshwater West Beach, Pembrokeshire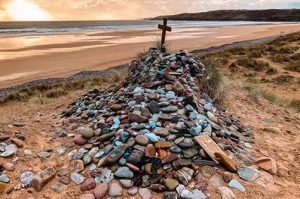 For years following the release of Harry Potter and the Deathly Hallows Part 1 in 2010, fans have flocked to Pembrokeshire's famous Freshwater Beach to pay their respects to the beloved character Dobby, who died right on he beachfront, and was buried just above. These emotional scenes were filmed at this location, marking it as Dobby' final resting place forever. A special memorial sits upon his grave where fans gather year after year to leave gifts and rocks with messages on them. Unfortunately the shell cottage constructed for the film is no longer there, however that doesn't take away the significance of this location to Harry Potter fans. The beach is a beautiful area and is an ideal spot for experienced surfers.
Leadenhall Market, London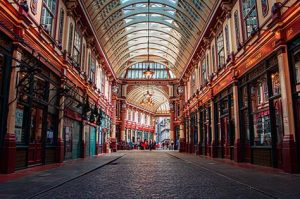 As Harry and Hagrid enter and make their way to Diagon Alley, the magical shopping street of the Wizarding World, you'll see London's stunning Leadenhall Market which has been standing for over 700 years! It hosts a unique selection of boutiques, shops, restaurants and bars, so if you're in London be sure to add this iconic landmark to your schedule. Young witches and wizards walked this very same path to grab their magical equipment before a new school year at Hogwarts, making this a magical place to visit, especially as you can walk right past the entrance to the Leaky Cauldron! Find out more.
Harry Potter: A Forbidden Forest Experience, Cheshire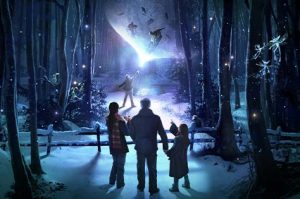 Every year starting in October and running all the way through to Christmas (dates yet to be confirmed for 2023), Arley Hall & Gardens is transformed into a magical Forbidden Forest trail experience filled with magical creatures and wizarding wonders from Harry Potter and Fantastic Beasts. Set in a beautiful woodland, this experience has been brought to life by award-winning theatrical designers and experiential creators. It recreates iconic forest scenes from the films using light, sound, and special effects, as well as lots of amazing props for great photo opportunities, and even an interactive spell experience! This is a must-do experience for Potter-mad families, and is the perfect family activity whether you want a spooky Halloween experience or a cosy Christmas one. Find out more.
Glenfinnan Viaduct, Lochaber, Scotland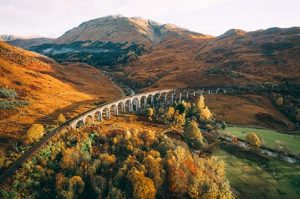 This stunning railway viaduct in the Scottish Highlands located at the top of Loch Shiel is famously one of the most stunning places to visit in the UK. The Longest Concrete Railway Bridge in Scotland (380 meters) remains an active railway bridge that transports the famous Jacobite steam train which runs from Fort William to Mallaig during the summer months. The iconic Hogwarts Express took this exact journey over the breathtaking bridge when taking students to and from Hogwarts, so if you want to feel like you're on your way to the Wizarding school, this is the trip for you! The 84 mile return journey is the perfect day out for Potter fans alone, but while you're there why not stop off at some of the iconic landmarks that this beautiful area has to offer. Find out more.
Black Park Country Park, Buckinghamshire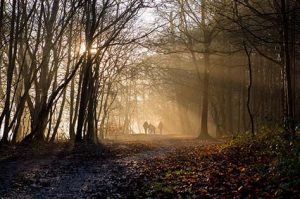 If you want to get a taste of the real Forbidden Forest, pay a visit to it's beautiful filming location which spans 500 acres of woodland, family friendly attractions such as the adventure playground and Go Ape, miles of beautiful tracks and trails, and opportunities for wildlife spotting. It's easy to see why Black Park was chosen to portray the evocative Forbidden Forest which saw so many iconic scenes from a number of the Harry Potter films take place in. With its tall winding trees and gigantic size, it's the perfect home for magical creatures and ancient trees. Find out more.
The Elephant House, Edinburgh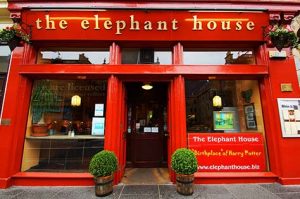 This place is the widely believed to be "The birthplace of Harry Potter", as J.K Rowling famously took inspiration from the views over Edinburgh which included the magical view of Edinburgh Castle from this unique coffee shop and restaurant. She was stunned by the city's gothic architecture and beautiful landmarks, and if you step inside The Elephant Cafe and are lucky enough to grab a window seat with that Edinburgh Castle view, it's easy to see why Rowling was inspired. Check out the wall of photos inside including Rowling writing and quotes from the author herself, and enjoy their delicious food and drinks before setting off to explore Edinburgh. As of August 2023 they are currently closed for refurbishments, but keep an eye on their socials for updates. Find out more.
London Zoo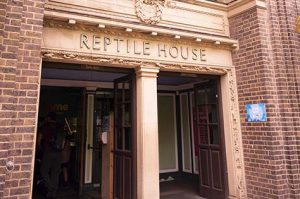 Visiting London Zoo as a non Harry Potter fan, you'd never appreciate why this location is so special! Back in November 2001 when it all began, the cast and crew of Harry Potter and the Philosopher's Stone gathered in London Zoo's Reptile House where they would film the iconic scene where young Harry speaks to the Python and unknowingly causes his spoilt cousin to fall into the enclosure! This enclosure is currently home to their Black Mamba. London Zoo is a great family day out anyway, but especially for Potter fans who wont be able to resist a visit and a photo in The Reptile House. Find out more. 
Glencoe, Scotland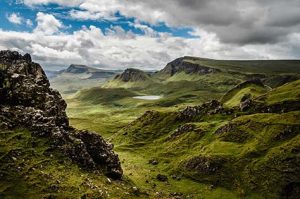 This stunning Scottish landscape served as another shooting location for the Prisoner of Azkaban, Order of the Phoenix and Half Blood Prince. Hagrid's famous hut was constructed in this beautiful area and although it sadly no longer stands today, this picturesque landmark is well worth a visit just to take in the enchanted scenery from the films. The walking route is very easily accessible and absolutely worth hiking to for every Harry Potter fan or anyone looking for an adventure. Find out more.
Durham Cathedral, Durham County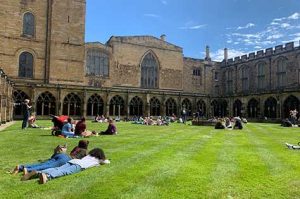 In the heart of Durham sits this stunning Cathedral which was temporarily transformed into Hogwarts during filming for The Philosopher's Stone and Chamber of Secrets. The secluded walkways around the perimeter were used for scenes of the young wizards walking between lessons, so you can truly feel like a student at Hogwarts as you walk these halls! The Chapter House which is open to the public, was used to film Professor McGonagall's classroom. Find out more.
Loch Shiel, Scotland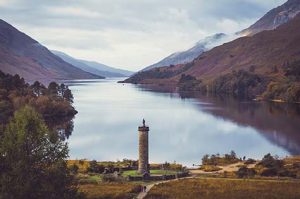 A short distance from the famous Glenfinnan Viaduct and Fort William, the Great Lake in the Harry Potter Films is portrayed by Loch Shiel and is known as the Black Lake. Located in the breathtaking Scottish Highlands, the railway overlooks the waters of Loch Shiel meaning you can see The Black Lake from the comfort of the train carriage, or if you're feeling more adventurous you can walk to the famous area! Cast your mind back to Harry Potter and the Goblet of Fire and you'll remember the spooky scene where Harry and others go searching for their fellow students at the bottom of the lake in the Triwizard Tournament, that should be enough to put you off actually going in the water! Find out more.
Oxford, Oxfordshire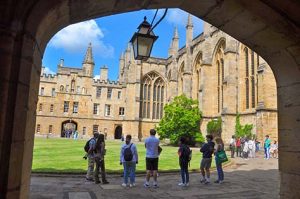 The beautiful city of Oxford and its university campuses attract tourists year after year for the atmospheric architecture and fantastical history. Being another city which inspired the books, the colleges and the streets of Oxford city are open to the public all year round for you to explore. A hot spot for filming locations in Oxford is Christ Church College. The marvelous Great Hall seen in many iconic Harry Potter scenes is located here, as well as the staircase that leads up to it. This staircase is incredibly beautiful, and don't forget to look up because the vaulted ceiling is a spectacle of architectural design! The hall still has a similar layout so you can be transported to Hogwarts as you step inside.
Find out more.

This quirky country house with medieval roots sits in the town of Lacock, an ancient preserved town in Wiltshire which is lovingly protected by The National Trust. The Abbey is a wonderful day out with lots to go regardless if you're a Potter fan or not, but for a chance to visit some more filming locations, this is your next stop! The cloisters that run around the building were used for many corridor shots within Hogwarts, including the Invisibility Cloak scene in The Philosopher's Stone. Also a few famous classrooms such as Professor Quirrel's Defense Against the Dark Arts classroom, and Professor Snape's potions classroom, and lastly the room where Harry discovers the Mirror of Erised. Find out more.
Greyfirars Kirkyard, Edinburgh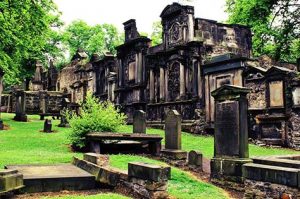 Visiting a Graveyard for a day out may not seem traditionally fun! However, exploring the famous Harry Potter Graveyard in Edinburgh will give you an experience like no other. Harry Potter related names can be found on gravestones all around the site which is supposedly where J K Rowling found her inspiration. If you fancy an atmospheric trip or a another stop off on a Harry Potter tour around Edinburgh, then this is a must-do. Plus, it's only a few minute walk away from The Elephant House café previously mentioned. Most of the Harry Potter gravestones can be found behind Flodden Wall which is on the far side of the graveyard as you enter. Look out more names such as McGonagall, Scrimgeour, Thomas Riddell and of course Potter.
Warner Brothers Studio Tour, London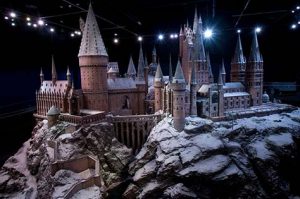 Last but not least, the world famous Warner Brothers Studio Tour is the perfect day out for any Potter fan, and you absolutely need a whole day to explore this magical place. This is probably the first place that comes to mind when planning a Harry Potter themed day out, and it lives up to the expectations. Immerse yourself in breathtaking sets like The Great Hall, Diagon Alley, and The Hogwarts Express, see authentic props and original costumes up close, and get involved with interactive displays such as Professor Sprout's greenhouse where you can have a go at pulling outa potted Mandrake! After you've seen everything and taken hundreds of photos, relax in the Backlot Café with a warm cup of Butter beer (which is delicious!) and explore the giftshop. Look out for seasonal events as this experience is even more magical at Christmas and Halloween! Find out more.
What have you been up to lately? We'd really love to know! Someone else might love it, and really want to go! If you've got ideas, suggestions or reviews, you can shout all about it on whatever channel you choose!
Let's go on a Picniq! Follow us on Facebook, Twitter or tag us on Instagram using #PicniqUK! ❤