From whimsical woodlands and goblins galore,
To pixie dust trails and hidden fairy doors!
If you're looking for magic, mischief and more,
Let's go on a fairytale day out with lots to explore!
Download our spotting guide below and if you can find each one then you'll know that a fairy is near! Not sure where to look? You can go in the garden, down the park or to any local woodland!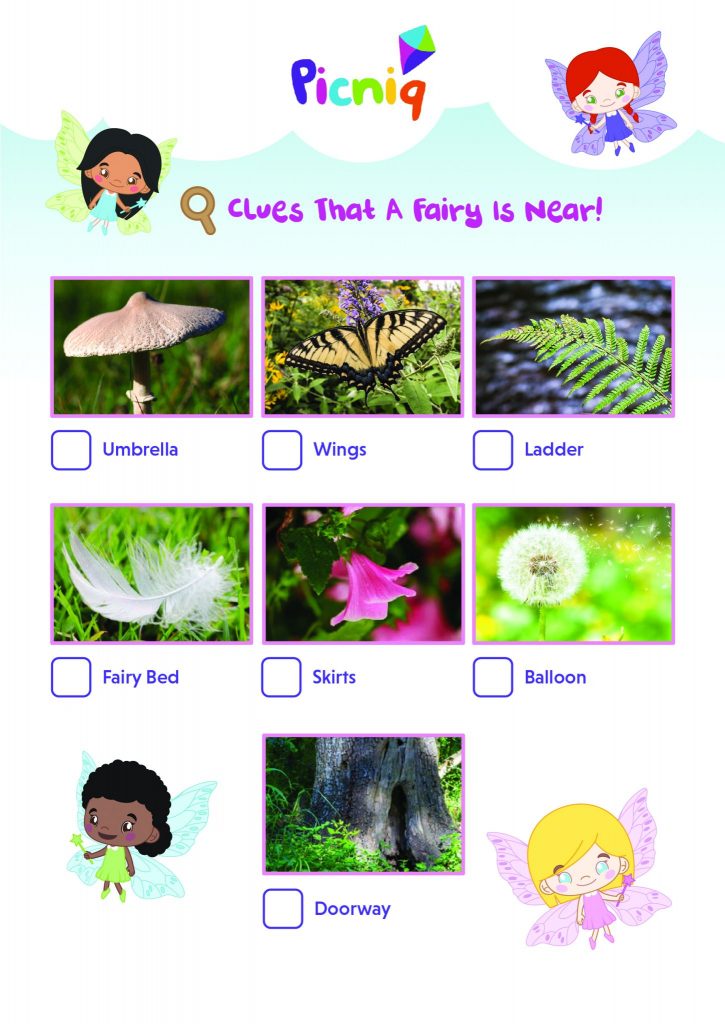 Download your guide here: Fairy Spotting Guide
Trentham Gardens,  Stoke on Trent, Staffordshire
There's plenty to discover in these gardens, where you will find a superb adventure playground, stunning gardens and the fairy trail where you will see beautiful fairy sculptures perched around. Find out more.
Puzzlewood; Coleford, Gloucestershire 
Explore the enchanting ancient woodlands of Puzzlewood and you will discover ancient trees, bridges, lookouts and twisted rocks. Around every corner there's something different to see! The beautiful scenery is so magical that it's often used in movies. Find out more.
Forest Fairy Tales; Nationwide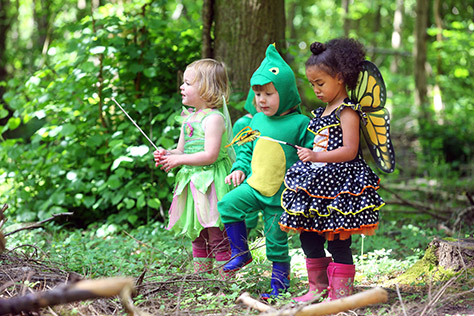 All around the country in local woodlands fairy tales are being brought to life by the Forestry Commission. Discover landscapes with babbling brooks, tree glades, enchanting sculptures, fairy dens and giant chairs for storytelling. Download one of the free fairy tale activity sheets from their website and find the nearest magical adventure in a forest near you! Find out more.
Fairytale Farm; Chipping Norton, Oxfordshire
Fairytale Farm is designed for children with varying disabilities but is open to all. The family can meet a range of friendly farmyard animals including donkeys, alpacas, goats, chickens, rabbits and South American Rheas. The farm is full of sensory and fun activities including a water play area, sensory garden and Fairytale Street where you can take a peek into the lives of some fairytale characters. Find out more.
Forbidden Corner; Layburn, North Yorkshire
For a day full of surprises visit Forbidden Corner! There are four acres of labyrinths, grottos, walled gardens, statues and passages for you to discover hidden throughout the stunning landscape. You're not provided with a map so you have to find your own way around, which is all part of the fun! Find out more.
Hobbledown Children's Farm; Epsom, Surrey
For a magical day out, look no further than Hobbledown where you will find an action-packed day out for all the family. You can meet adorable animals and play in the themed play areas in the 'Hobbledown Village' for hours. Find out more.
Furzey Garden, Lyndhurst, Hampshire
Thank you Louise Dupont for sharing this lovely photo!
With relaxing woodland walks, gorgeous trees & shrubs, stunning views and a fascinating history, Furzey Gardens is a beautiful day out for the whole family. The gardens offer a lovely variety of sights and sounds. The cottage, situated by the garden's entrance, was built around 1560 and bursting with history and shows what life was like living in the charming little cottage. For children there is a play area and fairy doors to hunt for. Find out more.
Mottisfont Abbey & Garden, Romsey, Hampshire
At Mottisfont Abbey & Garden, your little ones can search for some hidden fairy homes and a wise old tree spirit. There is a lovely Wild Play area for kids and great trails to follow making this a special place for a day out with family and friends. Find out more.
BeWILDerwood; Norwich, Norfolk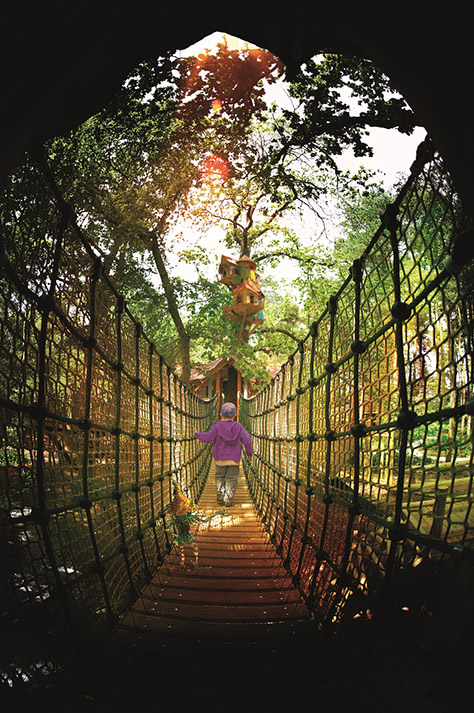 This adventure park is based on the book 'A Boggle at BeWILDerwood' by local children author, Tom Blofeld. Step into the world from the book which is a landscape like no other. Explore bridges, slides, crocklebogs, tree houses, zip wires, jungle bridges and walks through marshes, plus enjoy storytelling and boat trips. Find out more.
The Den and The Glen; Aberdeen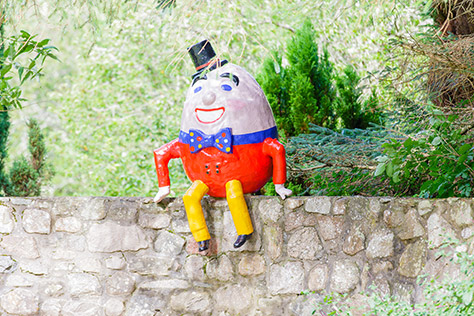 The Den in the Glen offers a magical experience of make-believe. Kids can listen to their favourite nursery rhymes and stories while exploring fairy tale houses in within 28 acres of stunning landscape. The Den area has active play where kids can climb, slide or have fun in the sports arena, making friends and burning off energy as they play. Find out more.
Illuminasia; Blackpool 
Illuminasia is a world of illuminated fantasy, which is the culmination of thousands of years of Chinese craftsmanship. Come face to face with sharks, jelly fish and clown fish in 'The Deep' zone or explore the 'The Land of Giants', where amongst the bugs, beasts and plants you will be the smallest thing around! With a total of seven interactive zones to explore there's something for everyone to enjoy, young and old! Find out more.

Giant's Causeway; Bushmills, Northern Ireland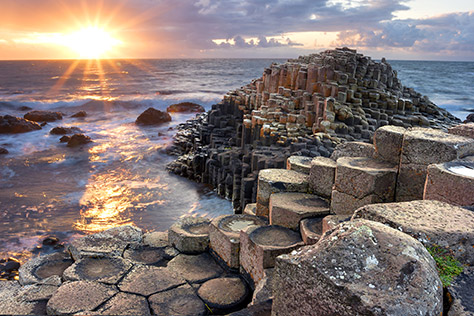 According to legend this area was once part of a causeway between Ireland and Scotland that was built by a giant. Nowadays the UNESCO World Heritage site consists of over 40,000 basalt columns creating the unusual landscape. Keep any eye out for the Giant's Boot and the Wishing Chair. Find out more. 
Wookey Hole Caves; Wells, Somerset
Bring the family to visit some spectacular caves and as legend has it, the home of the infamous Witch of Wookey a human shaped stalagmite that was once a witch turned to stone by a monk from Glastonbury. You'll also find a whole host of family attractions on site including a 4D cinema, model dinosaurs, mazes and play areas.
Tintagel Castle, Cornwall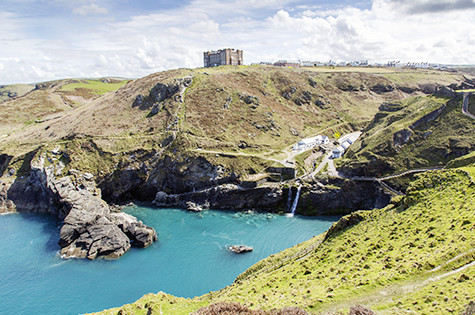 Supposedly Tintagel is the birthplace of the famous King Arthur and that the magical wizard Merlin lived in the caves below the castle. On a visit you will be transported into the world of medieval knights, magic and heroic battles. Let your imagination run wild as you admire the castle ruins and the dramatic scenery. Find out more.
What have you been up to? We'd really love to know! Someone else might love it, and really want to go! If you've got ideas, suggestions or reviews, you can shout all about it on whatever channel you choose!
Lets go on a Picniq! Follow us on Facebook, Twitter or tag us on Instagram using #PicniqUK! ❤️