Let's go an autumn adventure… I wonder what we'll see?
On a crisp and chilly walk wrapped up all cosily! 
From Newtimber Walk, Dunwich Gorse and more,
Here's some fab autumnal places for us to explore!
Saddlescombe Farm and Newtimber Walk, Devil's Dyke, West Sussex
Five miles north of Brighton, Devil's Dyke offers stunning views, from a working farm nestled among rolling hills to old chalk pits, and is vibrant and colourful all year round. In autumn the hills are transformed into a breath-taking haze of purple. Find out more.
Dunwich Gorse Walk, Dunwich Heath and Beach, Suffolk
Hidden away on the Suffolk coast, Dunwich Heath is the place to go for a peaceful walk, and in autumn it's also great for spotting fungi. Dunwich is a small coastal village, perfect for a stroll with spectacular views out to sea. Find out more.
Railway Walk at Hardcastle Crags, Hardcastle Crags; West Yorkshire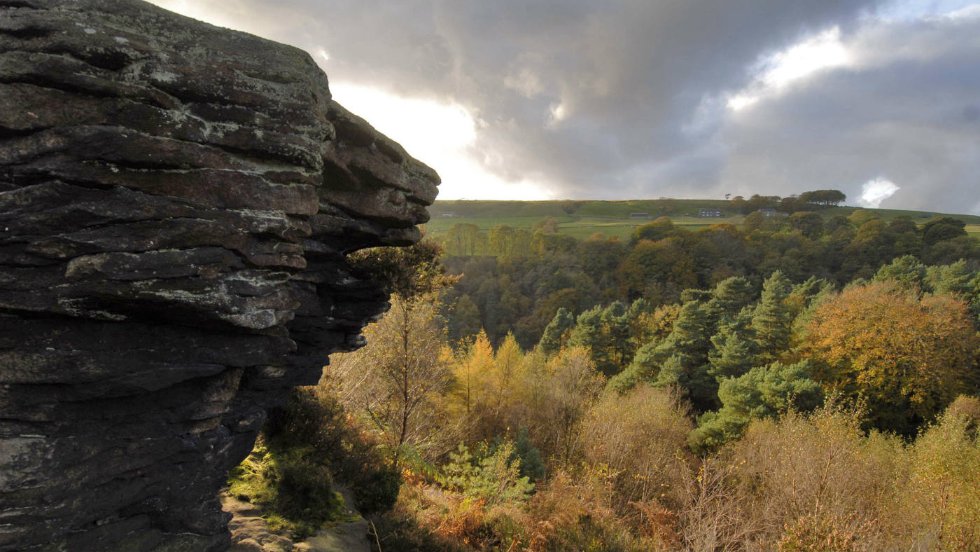 The valleys of Hardcastle Crags lie just west of Halifax with more than 400 acres of peaceful countryside to explore. Beech and pine trees provide vibrant bursts of autumn colour and stepping stones and footbridges make for a picturesque setting – and wonderful photos! Find out more.
Autumn Colour Trail at Ashridge, Ashridge, Hertfordshire
You will see some of the most interesting woodland and parkland with breath-taking views of autumnal colour provided by the beech, oak and lime trees. Lucky wildlife spotters may catch a glimpse of the resident deer through the trees. Find out more.
Octavia Hill Walk at Brandelhow Park, Derwentwater, Borrowdale, Cumbria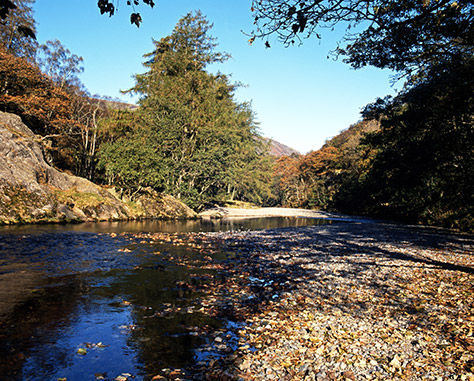 This gentle lakeside amble along the quiet side of Derwentwater is great for budding nature spotters as you may see kingfishers, woodpeckers, and red squirrels as well as other wildlife. The woodland also hosts a large variety of fungi, so autumn is the perfect time for a fungal foray. Find out more.
Dinefwr Park Wildlife Walk, Dinefwr, South Wales
Dinefwr's historic parkland is famed for its abundance of wildlife and stunning valley views. This is a great location for spotting wildlife, as well as a seventeenth-century mansion and medieval castle. Find out more.
Cliveden Views Walking Trail, Cliveden; Buckinghamshire
Overlooking the River Thames, Cliveden's beautiful gardens and woodlands offer breath-taking views that have been admired for centuries. Visit the water garden, as the trees begin to turn to the spectacular red and brown colours of autumn. Find out more.
Brownsea Island Wildlife Walk, Brownsea Island; Dorset
Brownsea's unspoiled landscape provides a peaceful haven for visitors and autumn is the perfect time to spot Red Squirrels foraging for food as they prepare for the colder months ahead. The particular species of trees make Brownsea a very 'red' time of year, perfect for admiring the autumn colours. Find out more.
The Pipe Walk, Carding Mill Valley and the Shropshire Hills, Shropshire
This area is renowned for having outstanding natural beauty and is hugely important for wildlife, as well as landscape, geology and archaeology. Follow the stream up to the dark-blue reservoir, and you will finish at the beautiful Lightspout waterfall. Find out more.
What have you been up to? We'd really love to know! Someone else might love it, and really want to go! If you've got ideas, suggestions or reviews, you can shout all about it on whatever channel you choose!
Lets go on a Picniq! Follow us on Facebook, Twitter or tag us on Instagram using #PicniqUK! ❤️