Let's go and play some games for some spooky Halloween fun,
From apple bobbing and mummy relay… the list has just begun!
Whether you're feeling crafty and creative, or want something easy to do,
Here are some fab ideas for you and your creepy crew! 
Apple Bobbing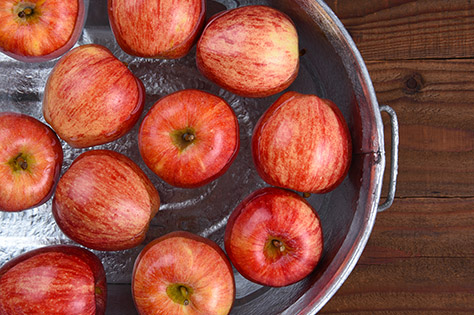 No Halloween party would be complete without this traditional, much loved classic! If you're unfamiliar with the rules, all you need is a full container of water, a large selection of apples and a selection of very willing participants! Set your timer for one minute and the little monster who grabs the most apples (using their teeth only!) wins a treat!
Pumpkin Carving Competition

Creative little devils will love this fun pumpkin carving competition! Using small pumpkins, or munchkins if you'd prefer, get your contestants drawing up and carving out their designs. After finishing the carving off by adding tea lights (or LED lights for extra little ones), choose your winner! Be sure to have a selection of sweet treats on hand for all (including judges, of course!).
Doughnut Chomp

This fun (and slightly different!) game is perfect for your Halloween party. All you need to do is thread doughnuts (these can be Halloween themed), making sure to leave enough space in between each. Have your little monsters race to eat their doughnut first – the catch being that their hands are tied behind their backs! The winner receives a sweet treat prize!
Poppin' Pumpkins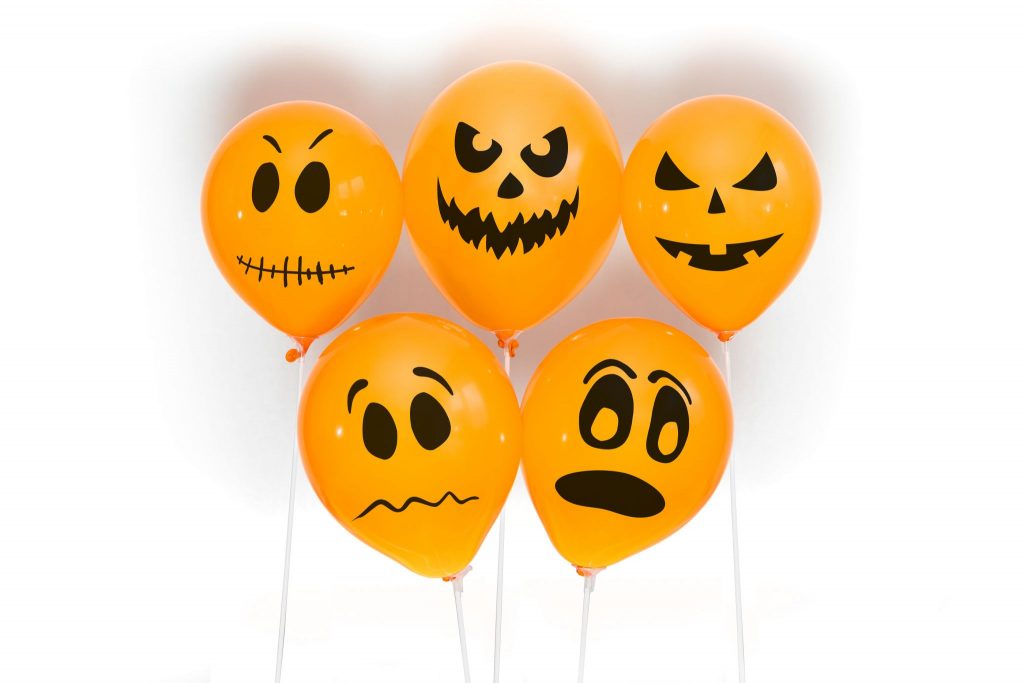 Fill the garden or room with Halloween balloons.  The team that pops the most pumpkins with their feet are the winners!
Halloween Bat/Spider Hunt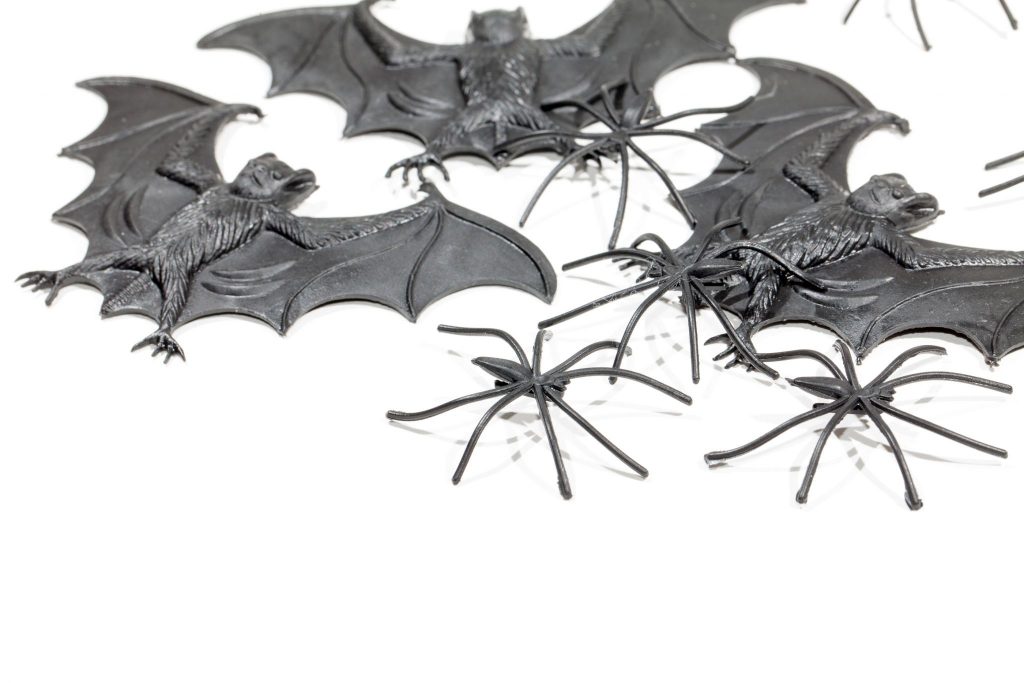 Hide some plastic bats/spiders around the garden or house, the team to find the most in the allocated time, Wins!
Witches Hat Ring Toss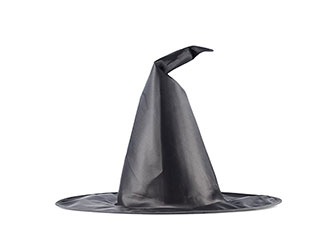 Grab a witches hat and some rings (you could even make your own Halloween themed rings). Have your eager little devils line up and throw the rings. Whoever covers the witches hat most wins!
Skeleton Puzzle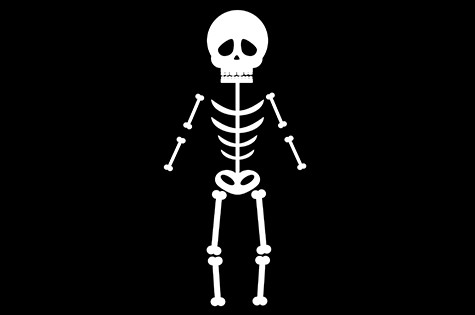 Make skeleton bones using foam, and by hot gluing on a magnet to each. Coat a board with magnetic paint, or just use your kitchen fridge, and see who can create a skeleton the fastest!
Mummy Relay Race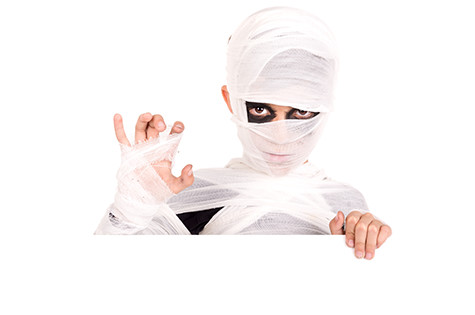 First, divide your little devils into teams of two. One has to wrap their teammate up as a mummy as quickly as possible. Whichever team's mummy runs to the finish line first wins!
Halloween Heads Up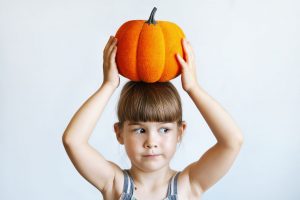 Give each player a sticky note with a spooky Halloween word or costume idea on it. Each player must then place the sticky note on their forehead without looking at it! Then you'll take turns asking different questions one at a time going around the circle to guess who you are! The other party-goers can answer your questions with yes or no replies. This is a great game to break the ice between your different guests!
Halloween Bean Bag Toss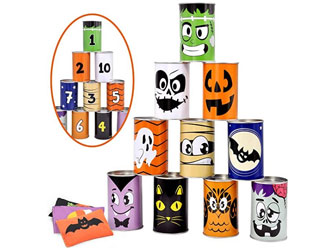 Save up those old baked bean or tomato soup cans ready for your Halloween party! Give them a clean before decorating them with pens and paper to make spooky characters! If you're not feeling too creative or just want to save time you can also buy this game from Amazon for £15.99. Take turns to see how many cans you can knock down, placing a point value on the back of the can to count up the scores! Buy this Halloween bean bag toss game here!
Eyeball Pong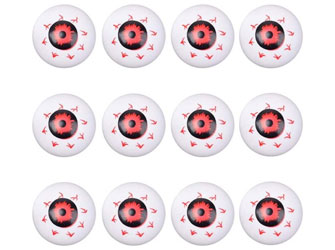 Get some plastic ping pong Halloween eyeballs from Amazon, set up a table and cover with an old table cloth. Lay out 10 plastic cups on each side of the table and fill with water or juice! Divide the kids into two teams on either side of the table. Each team will then take it in turns trying to get the eyeball in the cups opposite them. The team who gets the eyeball in all the cups first wins! No cheating! Buy here!
Pumpkin Bowling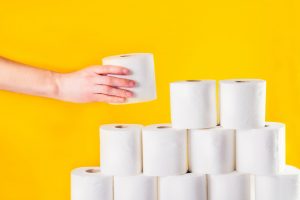 Take 10 toilet rolls and arrange them into a tower. You can even draw ghost faces on them with a black sharpie if you fancy! Then take your pumpkin, remembering to chop off the stem first, and take it in turns to use the pumpkin as a ball to knock down your toilet roll tower! This is a the perfect festive bowling activity!
Sweet-Filled Balloon Pumpkins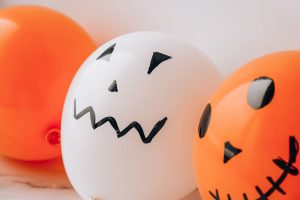 This is just like pinata but with a Halloween twist. Before you blow up your orange balloon fill it up with a variety of sweets! Then take your blown up baloon and using a black sharpie draw on eyes, a nose and a mouth for your pumpkin look. Next you can either hang up your sweet-filled pumpkin balloon or simply place it on a table. Your little ones can then take turns trying to pop it!
Pumpkin Tic Tac Toe
This is a great DIY autumn party game! Take a small old table and using tape make a grid. Then purchase 9 small pumpkins one colour for Xs (white) and one colour for O's (orange). You then have your counters and are ready to challenge your friends to a game of tic tac toe!
What have you been up to? We'd really love to know! Someone else might love it, and really want to go! If you've got ideas, suggestions or reviews, you can shout all about it on whatever channel you choose!
Let's go on a Picniq! Follow us on Facebook, Twitter or tag us on Instagram using #PicniqUK! ❤