Everyone makes houses of gingerbread,
But what about Christmas jumpers instead?
Christmas treats for the kids and you,
Fun to make and super yummy too!
Ingredients
175g dark muscovado sugar
85g golden syrup
100g slightly salted butter
350g plain flour, plus extra for dusting
1 tsp bicarbonate of soda
1 tbsp ground ginger
1 tsp ground cinnamon
1 egg, beaten
500g fondant icing sugar
Food colouring in various colours
Sugar sprinkles (optional)
Method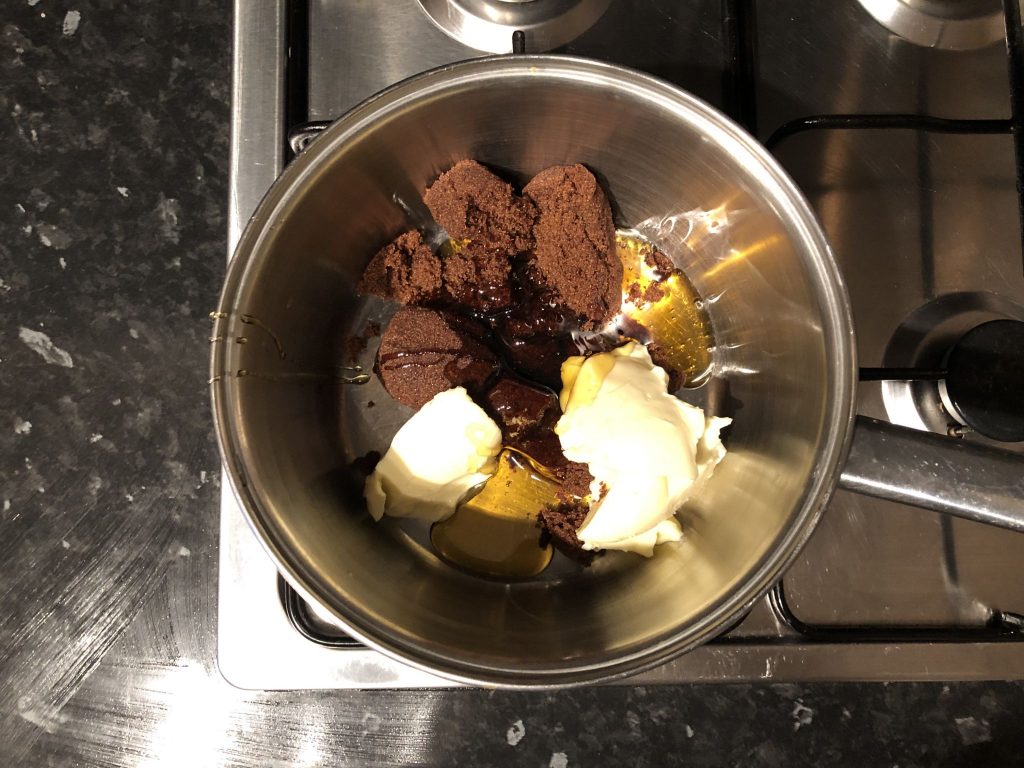 1. Put the sugar, golden syrup and butter in a saucepan. Simmer, then bubble for a couple of minutes, stirring until well combined. Leave to cool for 10 minutes.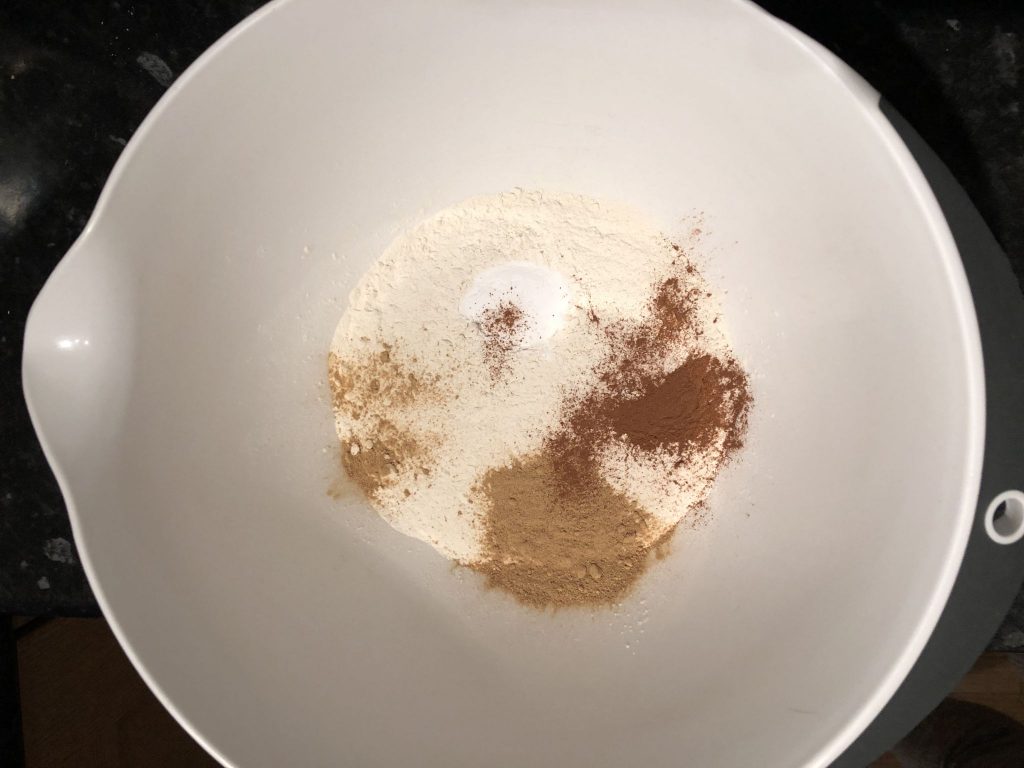 2. Tip the flour, bicarbonate of soda and spices into a large bowl. Add the warm syrup mixture and the egg. Stir to bring everything together, then gently knead in the bowl until smooth and streak-free. It will feel soft now but will firm up once cooled.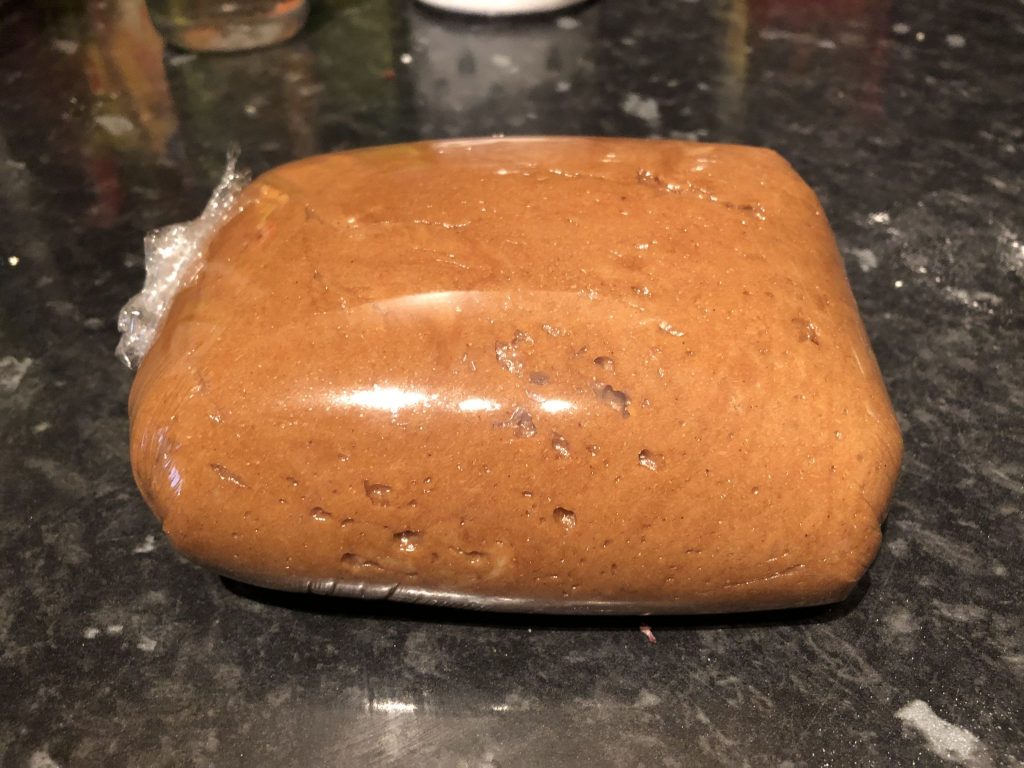 3. Wrap the dough in cling film and chill for at least 30 minutes.
4. Take the dough out of the fridge and leave at room temperature until softened. Heat the oven to 200°C or gas mark 6. Line two baking trays with baking parchment.
5. Cut the dough in half and keep one half wrapped in the cling film. Roll out the other half to the thickness of a £1 coin, keeping it in a rough rectangle shape.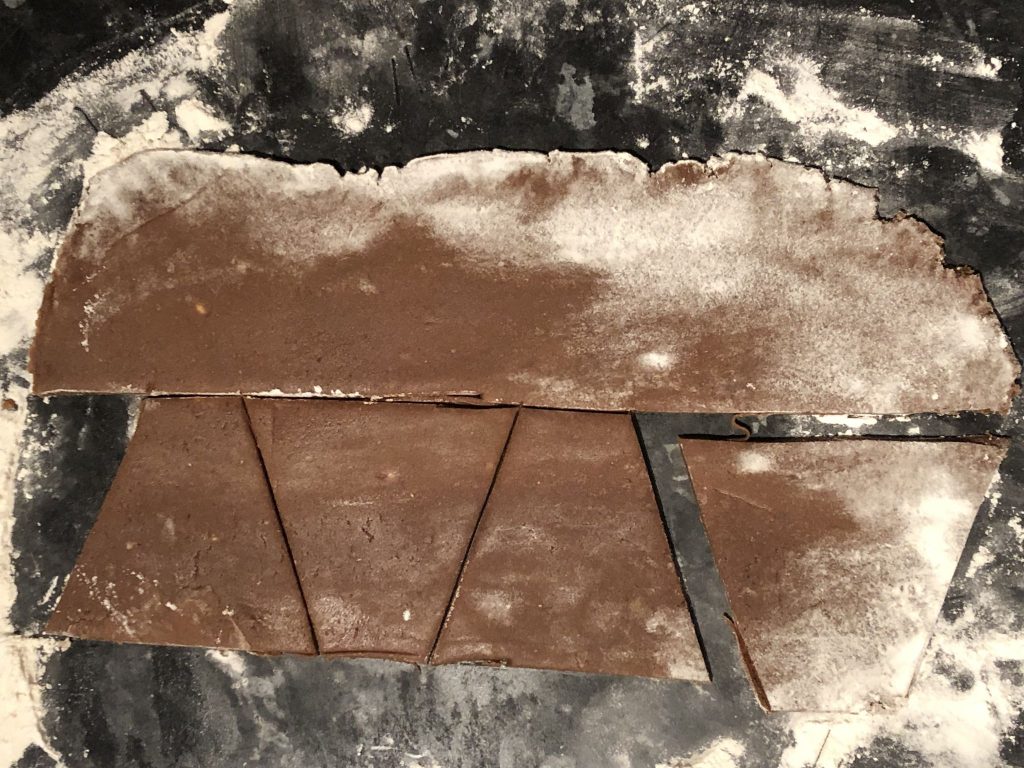 6. Cut the dough into long strips, roughly 8cm wide, then cut each strip into 'jumpers' (see images).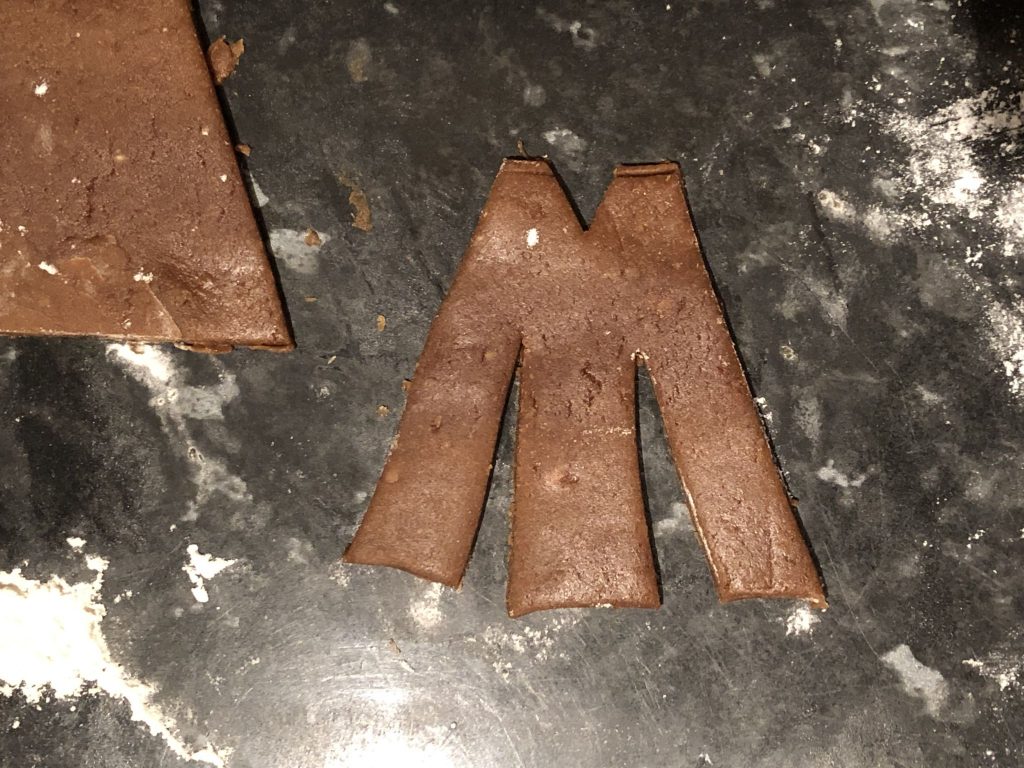 7. Cut out a V-neck collar and trim slim triangular pieces from either side to create sleeves. Continue rolling and shaping all of the dough until you have around 20 jumpers.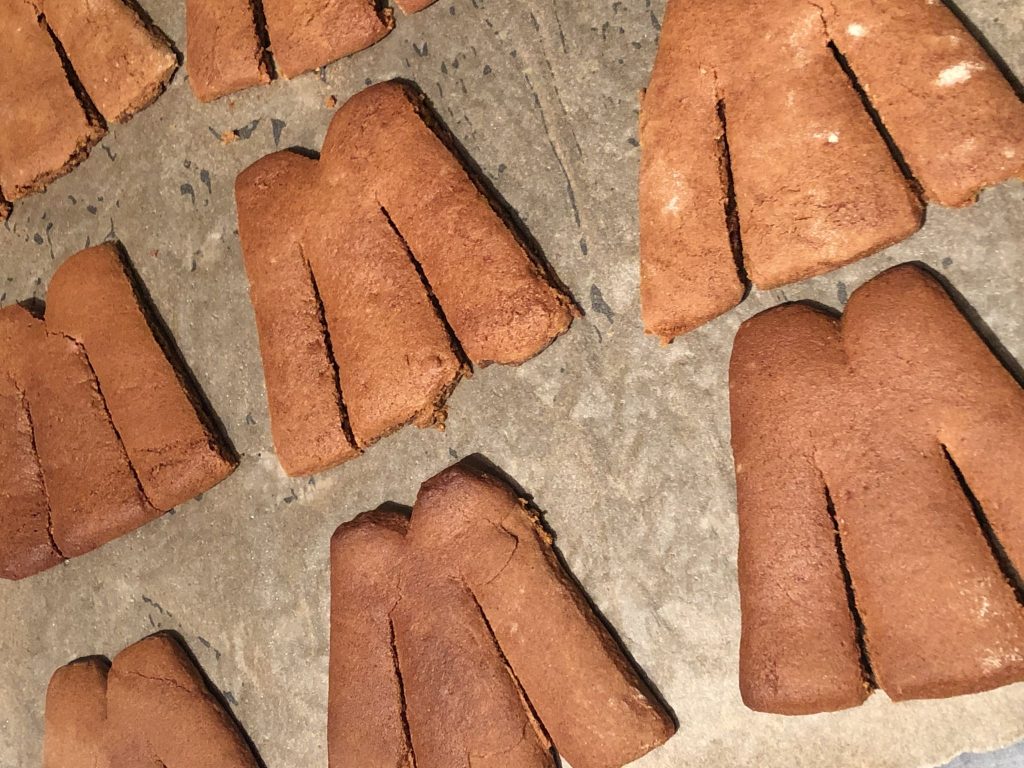 8. Arrange the jumpers on the trays, leaving room for them to spread and puff up a little. Bake for 8 minutes until a few shades darker.
9. Cool on the trays for 5 minutes, then move to a wire rack to cool completely.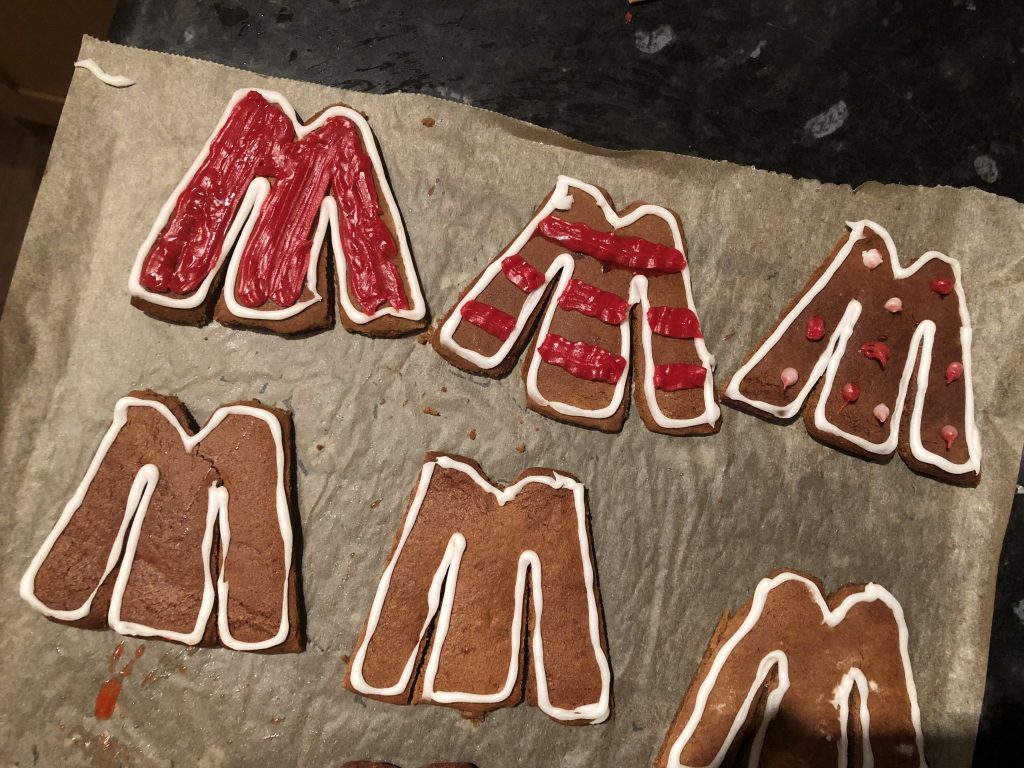 10. Mix 100g fondant icing sugar with enough water to make a thick but pipeable icing. It should hold its shape when piped. Transfer to a piping bag fitted with a fine round nozzle and pipe a line around the edge of each biscuit.
11. Tip any remaining icing, and the remaining icing sugar into a bowl and add enough water to make an icing that's a little looser than the first batch, but not too runny. Divide the icing between as many bowls as you need to create the colours you'd like to use. Add a tiny bit of colouring to each and mix well until you the colour you'd like.
12. Fill in each biscuit with the coloured batches of icing. Use a cocktail stick to encourage it to fill every corner up to the white border.
13. To pipe a cable knit effect, pipe lines of coloured icing vertically across the coloured jumper. Use a toothpick to drag up and down through the icing to create a wave effect. Finish with sugar sprinkled if you'd like to!
What have you been making? We'd really love to know! Someone else might love it, and really want to have a go! If you've got ideas, suggestions or reviews, you can shout all about it on whatever channel you choose!
Let's go on a Picniq! Follow us on Facebook, Twitter or tag us on Instagram using #PicniqUK!