Looking for a day out with a difference with your equestrian mad little ones? Here's a handy list of some lovely horse riding centres around the UK which cater to various ages and abilities. They all offer lots of different experiences for everyone to enjoy… whether you're a complete beginner or pro! 
Brockenhurst Riding Stables, New Forest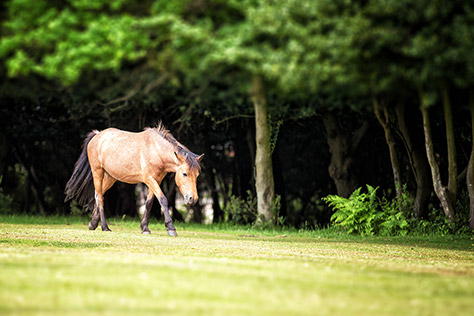 This children friendly stable in Brockenhurst, which is nestled within the glorious New Forest, tailors your experience to your ability by choosing the most suitable horse or pony! You'll be able to take in some spectacular views and forest wildlife whilst you ride! Find out more.
Borlum Farm Horse Riding, Inverness
With over 400 acres of land, including field, mountain and forest paths, Burlum Farm Horse Riding is the perfect spot for horse riders of all abilities. Burlum also offers lessons and activities just for little equestrians, including their Horseshoe Club which operates every weekend and during the holidays. Find out more.
Cumbrian Heavy Horses, Cumbria
Set within the beautiful surroundings of the Lake District, Cumbrian Heavy Horses is a family run Equestrian Centre offering lots of fun horse riding options. Have a go at farm riding, beach riding and more! Find out more.
Derbyshire Horse Trekking, Nottinghamshire
Derbyshire Horse Trekking, located within the lovely surroundings of Nottinghamshire, offers horse riding whatever the weather… even snow! They offer rides for all levels of experience, as well as the option to ride either throughout the picturesque woodland or try your hand at an adrenaline inducing fast paced treks! Find out more.
Country Treks Equestrian Centre, South Shropshire
Based within the beautiful village of Stottesdon in South Shropshire, Country Treks Equestrian Centre has over 27 acres of rolling hills and woodland. They also offer lessons and regular activities for your little ones to enjoy, as well as hosting hacks, day rides and two day trail rides! Find out more.
Bilsdale Riding Centre, York
Set within the stunning North York Moors, Bilsdale Riding Centre offers some fab horse riding which is tailored according to your ability! You can choose from a short one hour trek, 2 hour trek or a full day trek with lunch, or even stay for a week for a fun filled residential holiday! Find out more.
Tyning's Trekking Centre, Bristol
With over 1,000 acres of stunning forestry and moorland, as well as unparalleled views across seven counties, Tyning's Trekking Centre is the perfect day out for those looking to get immersed in some beautiful scenery! They offer a day ride, pub ride, an hour ride and pony experience days! Minimum age of eight is required for these rides. Find out more.
Northfield Farm, Peak District
Located within the lovely peak district, Northfield Farm offers 2 hour riding treks which follow the old pack horse trails to the Three Shires Head where the 3 county boundaries meet (Cheshire, Staffordshire and Derbyshire). All rides are accompanied by a qualified member of staff who can assist riders off all abilities! Minimum age of eight is required for these rides. Find out more.
Ridgway Stables, London
Conveniently located just next to Wimbledon Common and 30 minutes away from Central London, Ridgway Stable offers lessons for all abilities… including nervous riders and beginners! There's even pony riding lessons for little ones too! Find out more.
Brecon Beacons, South Wales
Located in the stunning location of the Brecon Beacons, this National Park caters to riders of all abilities! There are beginners, improvers and advanced treks, as well as full day and holiday options! Find out more.
Island Equestrian Centre, Londonderry
Set within 160 acres of lovely farmland, this fab equestrian centre offers tuition for everyone, including beginners and competition applicants. Children are especially welcome to Island Equestrian! Find out more.
 Have we missed your favourite horse riding centre? Let us know! Don't forget to share your snaps on Facebook, Twitter and Instagram! 🙂