Head to Brighton for something new,
The BAi360 really does offer the best view!
Enjoy some champagne at the top,
then take some photos as your drop!
Experience the best views of Brighton!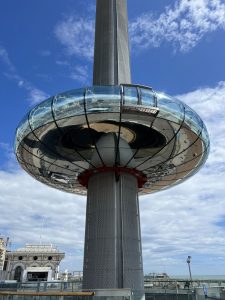 Save up to 24% off tickets when you book with Picniq!
Immerse yourself in the British Airways i360 to enjoy some of Brighton's best views! Experience the full British Airways experience as you get directed towards a photo booth to get your picture taken with the family, before heading through security just like a flight! Then enjoy the views perhaps also with a glass of champagne as you wait for your flight! You can also save up to 24% off tickets and get a family of 4 ticket for £40 when you book here with Picniq!
Your flight has arrived!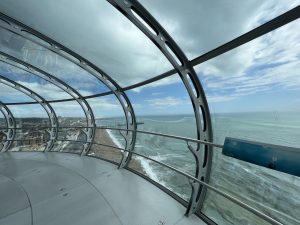 Step onto your flight that will glide you up 138 metres above sea level and offer a 360—degree view of Brighton's coastline! There is a bar inside so you can grab a drink before and throughout your flight, so why not treat yourself! We even offer a Sparkling Wine Experience ticket that you can upgrade to perhaps for a special occasion.
Enjoy the journey!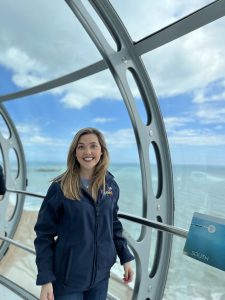 Once you've settled into the futuristic glass pod it will gently glide you up to your destination in the sky! It will then remain there for around 15-20 minutes, allowing you to take in the breathtaking views! This is an opportunity for you to take those pictures and capture the memories. If it's a clear day you may even be able to spot the Isle of Wight! This really is the perfect experience for all the family with live commentary during the flight also making it an educational day out!
Gliding back down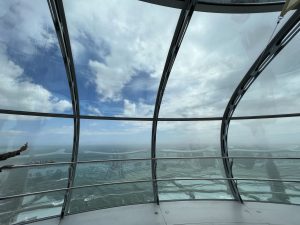 You will then be taken back down where you can depart from your flight and view the pictures taken of you earlier that day! There is also an exhibition room where you can view pictures of the BAi360 being built. Plus, there is a gift shop where you can purchase a souvenir to remember your day out!
Top tips and information:
Arrive 30 minutes early to avoid queues and take in the views before your flight arrives.
Pack light as your bags will be checked at security
Open Monday-Thursday 10:30 am-6:30 pm and Friday to Sunday 10:30 am-8:30 pm
For sunset views make sure to book the right time
Getting there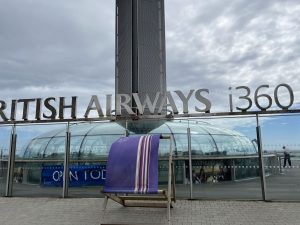 By train, the BAi360 is an easy downhill 15-minute walk from Brighton station or a quick ride by taxi. You can get trains to Brighton easily from places such as Bournemouth where just a quick change at Southampton Central gets you to Brighton in 2 hours 40 minutes. From London, Brighton is just under an hour by train and only 30 minutes by rail from Gatwick Airport. There are also direct trains from Bristol, Portsmouth, and Eastbourne! By foot, the BAi360 is just a 10-minute walk from The Lanes, the Royal Pavilion, and Brighton Pier.
What have you been up to? We'd really love to know! Someone else might love it, and really want to go! If you've got ideas, suggestions or reviews, you can shout all about it on whatever channel you choose!
Let's go on a Picniq! Follow us on Facebook, Twitter or tag us on Instagram using #PicniqUK! ❤