Let's go on an adventure, there are so many iconic London landmarks to see,
The City Children's Trail is perfect for families and completely free.
Make sure to download their map so you get to see the best views,
The hardest part will be deciding which trail to choose!
Explore the City of London! 
For a top family day out, the City of London Children's Trail is a must! Pick from three recommended routes to walk with your little explorers  –  City Stories, Skyscrapers or Towers on The Thames. All three trails will ensure you see the very best of London, from iconic landmarks to hidden gems, whilst having lots of family fun!
Did you know the Coat of Arms for the City of London features dragons? Whilst on your exciting walk, make sure to look out for dragons which can be found in many places around the city, on signs, buildings, boundary markers and in the central section of Leadenhall Market too. Remember to count how many you see!
Plus, there are several family-friendly activities taking place during the May half term and Jubilee Bank Holiday weekend at some of the fantastic venues you will pass on the trails.
Download the City of London Children's Trail map and bring it with you.
Download the map here!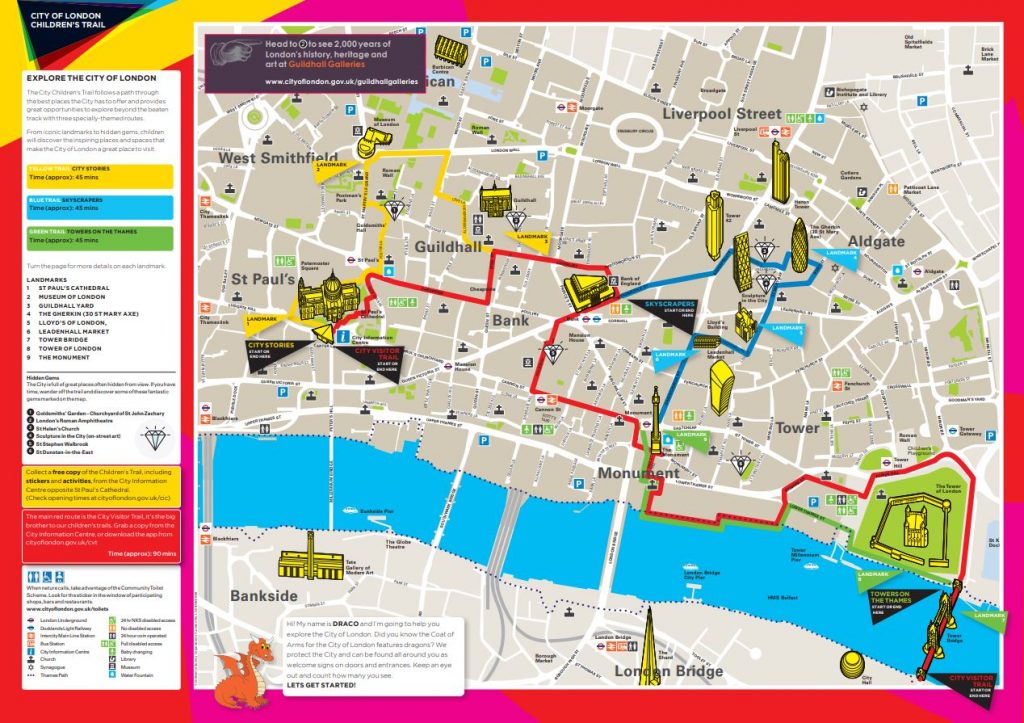 Or, pop into the City Information Centre to pick up a Children's Activity Map including stickers and fun facts. Open Friday and Saturday 10am – 4pm weekly and opening Thursday 1st June to Sunday 5th June during Jubilee Bank Holiday weekend.
Three Recommended Routes!
City Stories
Yellow Trail (Approx 45 minutes)

Whilst following the City Stories trail, you'll see iconic landmarks including St Paul's Cathedral, Museum of London and Guildhall Yard with Guildhall Art Gallery and London's Roman Amphitheatre!
Kids go free during May half term at St Paul's Cathedral when tickets are purchased in advance here. Families can enjoy free trails around the Cathedral, a multimedia guide and discover Jubilees over the years in an exciting new exhibition, St Paul's, the Monarch and the Changing World. 
Why not stop and explore inside Guildhall Art Gallery too, tickets are free (except for special exhibitions) and include a visit to London's Roman Amphitheatre. On 1st June, join a fantastic Royal-themed family activity day including Royal storytelling, family trees & portraits – free but tickets need to be booked in advance. Join one session, or all three. Find out more here.
Or, if your little ones are football crazy then make sure to step inside the Museum of London which is free to enter and has brand new Harry Kane 'I want to play football' exhibition launching on the 21st May. This exclusive free display celebrating one of the city's sporting heroes, will encourage visitors of all ages to be their best and never give up on their dreams. This exhibit will feature rarely-seen personal items, family photos and iconic objects that document Harry's career so far, from his first club, to winning golden boot awards and being named England captain. More information available here.
On 4th June, join in on the excitement as the Birmingham 2022 Commonwealth Games Queen's Baton Relay comes to the City of London. Follow the Queen's Baton from Blackfriars Pier (around 12.15pm) to Paternoster Square (near to St Paul's Cathedral). Enjoy a free family-friendly event in Paternoster Square from 12noon-3pm, with a whole host of fun sporting and cultural activities. Watch stunning sports-themed street theatre, take part in some sports, and pose for pictures with the Baton. Live music and food stalls on-site too! Find out more about this event, here 
Skyscrapers
Blue Trail (Approx 45 minutes)


If your children are fascinated by skyscrapers, then this trail is a must! See The Gherkin, Lloyd's of London and more! In between, explore hidden city gems such as Leadenhall Market (Diagon Alley) and look out for fabulous outdoor artworks including Sculpture in the City.
On the 1st June between 12-6pm, stop by Leadenhall Market to snap some pics with a real-life corgi to celebrate the Queen's Jubilee! Free of charge and with no booking needed, the Corgi Cam pop-up is open to all, giving families who may not have their own dog the opportunity to strike a Jubilee pose with one of the most regal pooches of all. The alleyways of the market will be bursting with Jubilee decor, from royal purple crown bunting to quintessentially themed flowers, making it a wonderful place to celebrate with your children. Find out more here.
Towers of The Thames
Green Trail (Approx 45 minutes)


Enjoy an exciting trail along the Thames, perfect for little explorers. See The Monument to the Great Fire of London, Tower of London and Tower Bridge… to name a few! This route also has amazing views from the riverside walkway.
You can start or end this trail from Tower Bridge – so why not go inside to explore the high level Walkways with stunning panoramic views and Glass Floor experience, and go down to see the Engine Room? For a limited time only, join Bella the Tower Bridge Cat and characters from the books, as you make your way through Tower Bridge – details: Tower Bridge Cat Trail. On 31st May, Tower Bridge are hosting a fantastic family activity day which is included in the price of admission. Find out more here.
The trail ends at the Monument to the Great Fire of London. Combination tickets are also available to purchase for Tower Bridge and the Monument here. Climb 311 steps to the top of the Monument for an amazing view, and receive a certificate to take home with you. Back on street level, look for the sign showing where the Great Fire of London started.
The Superbloom at the Tower of London is a must visit too! Visit the Tower this summer to see the moat flooded with millions of flowers to celebrate the Platinum Jubilee of Her Majesty The Queen. As an evolving display, it has been designed to offer you a changing experience depending on when you visit, moving from soft greens in June to blues, pinks and oranges throughout the height of summer. Plus, kids of all ages will love the unique way to enter the moat… whizz down a giant metal slide! Find out more here.
What have you been up to? We'd really love to know! Someone else might love it, and really want to go! If you've got ideas, suggestions or reviews, you can shout all about it on whatever channel you choose!
Let's go on a Picniq! Follow us on Facebook, Twitter or tag us on Instagram using #PicniqUK! ❤