It's that time of year to head to a pumpkin patch,
So get out those costumes, make sure you don't match!
Take part in a spooky halloween trail,
or listen to an ancient ghost tail!
Longleat, The Great British Autumn
22nd-30th October
Save an extra 5% when you book with Picniq!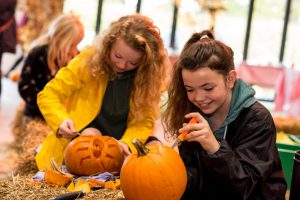 Get autumnal at Longleat this October! Join in with some amazing activities such as pumpkin carving and ride-on-tractors! There will also be giant pumpkins hidden around the Park for you to find in the amazing Pumpkin Trail! This is your chance to get that autumn pumpkin family photo in at the same time! Book here!
Halloween & Autumn Trail at the Walled Garden Moreton
8th-31st October
Get your most spooky fancy dress outfits ready for this spectacular Halloween & Autumn trail! Pick up a £3 map from the garden shop when you arrive and complete the quiz questions to win a prize whilst learning about nature! This a great day out for all the family! Find out more here!
SEA LIFE London Aquarium, Creepy Creatures
23rd-31st October
Family fun ticket from £55 for 4 people!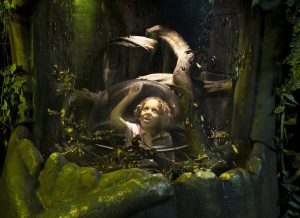 Step into a world of creepy crawlies and curious critters! You'll get to meet the Rainforest Ranger and learn the truth about these creatures, busting those myths! See some charismatic crocs and watch the feeding of the UK's biggest collection of Piranhas! Plus, you can meet the Chilean rose tarantula and the colony of leafcutter ants racing to find the queen! Brave the creepy crawlies of the rainforest this Halloween! Book here!
Upton Country Park: Roots and Shoots
6th, 13th and 20th October
This is a grandparent-friendly Tots session where you can bring the kids to The Cabin to join in with some nature and nurture storytelling and some crafts and exploration in the gardens and woodland! These activities are for children up to 5 years old and remember to dress for the weather so that you don't get cold! You only need to pay £2.50 on the day to enjoy this activity so why not go along and enjoy the day out! Find out more here!
The Crystal Maze LIVE Experience, Halloween
17th – 31st October
London & Manchester
Family ticket from £80 with Picniq!
This Halloween, visit The Crystal Maze LIVE Experience for the perfect family adventure! Get ready to encounter a cryptic crystal gazing fortune teller armed with fiendish fortunes and rascally riddles!!! This brand-new and exclusive game is available at both the London and Manchester sites from the 17th – 31st October. Plus, save with our special offer for half-term visit dates!
Crystal Maze LIVE Experience London, family of 4 from £118! Book here!
Crystal Maze LIVE Experience Manchester, family of 4 from £80! Book here!
Lightwater Valley, Hocus Pocus Half-Term
From 22nd October
Save up to 22% off tickets with Picniq!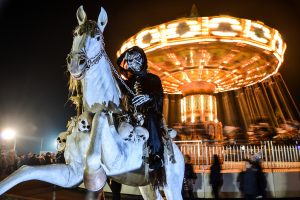 Join in with the Halloween fun at Lightwater Valley! Experience the incredible magic show with all the family that will have your little ones giggling all day! Meet some wonderful witches and vampires and get that Halloween selfie! There will even be a Monster Mash UV disco in the Show Barn with prizes for the best dancers. Get your UV face paint on and come along to the party! If that's not enough, there's the wicked witch trail around the park where you must find 13 witches hidden around the park for the chance to win 2023 park tickets! Don't forget to come dressed up to Lightwater as the best dressed will take to the stage to compete for prizes! Book here!
West Midland Safari & Leisure Park: Spooky Spectacular
22nd-30th October
See the impressive pumpkin patch at West Midland Safari & Leisure park this October! Get into the Autumnal spirit and be greeted by 'Patch' the amazing pumpkin-scarecrow character! Locate the missing potion ingredients in the free Scratchcard Trail and win a special treat if you can find all the items! There's also a Spooky Magic Show that offers some great interactive fun! From fang-tastic magic to eerie spells the whole family is bound to have an incredible time emersed in all the spooky fun! Find out more here!
Chessington World of Adventures Resort, Howl'o'ween
15th-30th October
Get an exclusive family ticket from £115 for 4 people with Picniq!
It's getting to that spooky time of year! See The Witches of Adventure Point in a battle of good vs evil, join the circle of 8 to protect Banyan, and help Emily and Evie as they head on an amazing adventure of trick or treat to find Candyland! You caneven make your own potions at Pansy & Petunias Potion Creation Station to strengthen the spells of The Good Witches! There's so much to explore at Chessington World of Adventures so dress up in your best Halloween outfits and join in with the daily fancy dress competitions! Book here!
Southbank Centre's London Literature Festival
20th-30th October
Take the family to the Literature Festival in London to hear prestigious authors and literary stars speak! From Greta Thunberg talking about the Climate and the global launch of The Climate Book to Graham Norton speaking about his new book, Forever Home, there's so much to experience. Find out more here!
Legoland Windsor Resort, Brick or Treat: Monster Party
1st-31st October
Exclusive family ticket from £110 for 4 people with Picniq!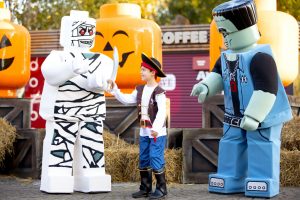 Celebrate the new 4D Movie 'The Great Monster Chase!' this October at Legoland! Get ready for a party with live shows, LEGO decorations, monster mischief and the spectacular NEW Monster Street! There's even an exclusive concert where the Monster Rock Band from The Great Monster Chase will be taking to the stage with Square Foot, Wolf Guy, Monster Rocker, Tiger Lady, and Zombie Cheerleader! Join in with the dance moves and sing along to the music! There's so much to see and do, don't miss out! Book here!
Reddish Vale Farm: Halloween Festival
8th-30th October
Explore the Haunted Children's Straw Maze this Halloween as you take on the challenge of completing this spooky maze! Bring along the whole family and pick your own pumpkin with over 100 to choose from! Don't forget to take some photos in the Halloween village before taking your pumpkin to the carving cavern to start your design! It's your chance to create a masterpiece! Plus, there's a Spooky Express that'll take you through the haunted woods and gruesome graveyard, stopping to feed the pigs on the way! Find out more here!
The London Dungeon, Halloween
15th-31st October
Family fun ticket from £55 for 4 with Picniq!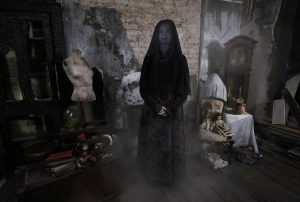 Head to the most haunted house in London this October to experience the seasonal show '50 Berkley Square'! This show based on murder, madness and mystery will leave you shocked and amazed as you witness the many terrifying happenings that have taken place at the house since the 1850s! Can you survive the night? Head to The London Dungeon this Haloween to find out! Book here!
Godstone Farm
Various dates throughout October
Take part in the Tiny Treks and Trails activities at Godstone Farm this Autumn! This story time session allows your little ones to explore sensory and messy play as they get creative at Wiglet's Play Village! For your older toddlers and pre-school aged kids, there's the Mini Treks and Trails activities with different stories from 'Princess Smarty Pants' to 'There's a Shark in the Park' in October! Find out more here!
Upton House and Gardens: Autumn colour trail
Various dates throughout October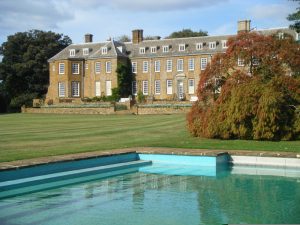 Photo credit: Upton House and Gardens NT Facebook
This is a great autumn activity for your little ones! Head to Upton House and Gardens to explore a selection of items from the Upton collection with your free colour wheel. Make discoveries outdoors carrying home what you've learnt! Dress for the outdoors and head on down! Find out more here!
Dragon hunt at Bodiam Castle
15th-30th October
Discover the tales of when dragons supposedly lived at Bodiam Castle when it was built by the knight Sir Edward! Explore the castle grounds and see if you can spot any signs of dragons! This will be a great adventure for your little ones! How would you approach a dragon if you met one? This family-friendly trail will leave your little ones imagination running wild with excitement! Find out more here!
Muncaster Castle: Halloween Week
23rd-31st October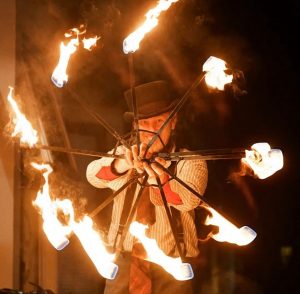 Photo credit: Muncaster Castle Facebook
This Halloween week is not one to miss! From the Scary Maze and alchemy workshops to fire juggling shows and kids crafts in the Ghostly Grotto, your little ones will have heaps of fun! Help the Rag Tag Arts to create a Day of the Dead masterpiece and join in with the evening parade through the gardens to reach the "Magic Lantern" theatre in the woods! There's even a trail with water pistols supplied, watch out for the skeletons and zombies! If this isn't enough to persuade you, there's an amazing Twilight Owl show as well! With so much to do why not head on down! Find out more here!
Audley End Railway: Halloween Special
22nd-31st October
Ride on board the Halloween express and chugg deep into the Estate Woodland! Discover the witches' house where you will see the witches chanting spells around their cauldrons, don't let them cast a spell on you! After your train journey, the fun doesn't stop there! Head back into the woods to meet Belinda the Fortune Telling Witch, play in the adventure play area, and grab a bite to eat in the cafe! Make sure you're dressed to scare as you meet William the Woodland Wizard and watch out for those spells! Find out more here!
Tapnell Farm Park: Pumpkin Festival
22nd-30th October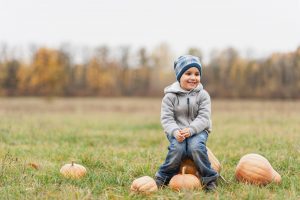 Join in with the pumpkin related festivities at Tuffnell Farm Park this October! Have you ever tried tossing or bowling a pumpkin? Well here's your chance! There's even a corn catapult! To keep you and the family entertained throughout the day there's also pumpkin flavoured drinks, live music and carving competitions! It's time for you to get creative with the family! Find out more here!
Paultons Park: Happy Halloween
13th-31st October
Peppa Pig World has had a spooky halloween makeover! Meet Peppa and George in their Halloween outfits and enjoy all the spooky decorations! There will also be the spook-tacular show, The Legend of Paultons Manor, where you must follow Pickles the Pumpkin and the Spirit Squad on their adventure to solve the mystery of the missing key to the ancient Manor House of Paultons! With laughter, singing, incredible illusions and spectacular suprises guaranteed what's not to love! If you're feeling adventurous you can also join in with the rides in the dark on the 25th, 26th and 27th of October! Find out more here!
Halloween at Hever Castle
22nd-30th October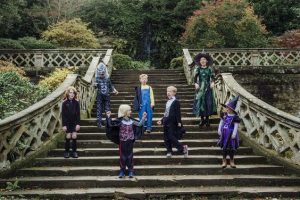 Photo Credit: Halloween at Hever Castle Pinterest
Get dressed in your spookiest halloween outfits and head to Hever Castle! Listen to some immersive ghost stories and take in the halloween decorations around the grounds. From witch and skeleton zones to spider and bat zones, look out for letters that will spell out a mystery word that will give you access to a prize! If you fancy, you can also plant garlic bulbs as a family, this being the way that they used to ward off any vampires! For a small extra cost you can also have your face painted! Find out more here!
Kentwell: Halloweenies
22nd-30th October
Make your own wand this Halloween! There's so much to do at Kentwell, you'll be spoilt for choice! Attend Sorcery School, attempt the Broomstick Challenge, make experiments with the Alchemist and follow the Haffalump trail through the woods. As you adventure through the woods you can also visit the impressive Gingerbread House and explore the secret tunnels! The whole family can even dance to the Piper in the Magic Circle dressed up in your finest and spookiest costumes! Find out more here!
What have you been up to? We'd really love to know! Someone else might love it, and really want to go! If you've got ideas, suggestions or reviews, you can shout all about it on whatever channel you choose!
Let's go on a Picniq! Follow us on Facebook, Twitter or tag us on Instagram using #PicniqUK! ❤