Catching crabs is a real old school seaside activity, its bags of fun, inexpensive and can be done from almost anywhere around the UK! So lets grab our nets, pack a picnic and head out for a day at the seaside!
What to take crabbing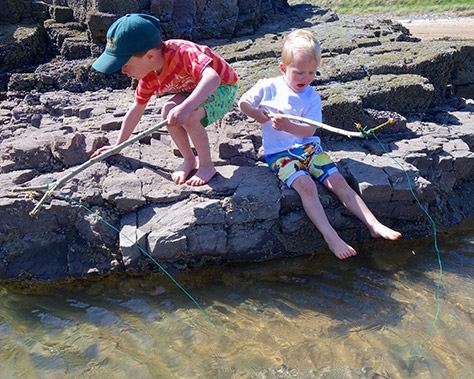 A net or line – There are two main ways to catch crabs, with a net or on a line. A bandy net is perfect for rock pools and in areas of really shallow water. Line crabbing is more appropriate for piers or from rocks where the water is deeper. It consists of a long weighted line wound on a reel, however you could even make your own crab rods using a long stick with a piece of string weighted with a stone.
Bait – A piece of bacon rind is popular according to all crabs surveyed for this blog, or a little bit of chopped up limpet or mussel from the rocks will work just as well, and its simply tied to the end of the line!
A bucket – Fill with seawater and you can view your new friends. Don't forget to release them back to their home before you leave.
The best places to find crabs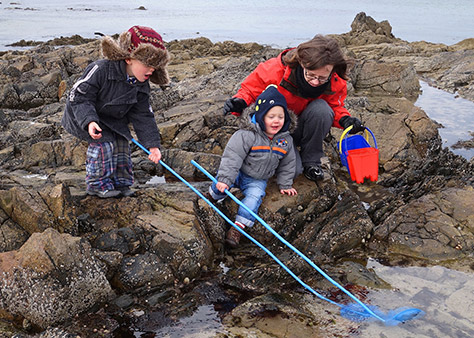 As an island, we are not short of locations ideal for crabbing. Long sandy beaches tend to be a little less productive so aim for rocky areas, rock pools or piers and jetties. It goes without saying that parental supervision is required!
Piers
Long line reel fishing is perfect for piers. There will usually be an ice cream shop nearby too! Some great piers and quays for crabbing adventures include:
 Beaumaris Pier, Anglesey
Cromer Pier, Cromer
Blakeney Quay, Norfolk
Mullion Cove, The Lizard
Padstow Harbour, Padstow
Rock Pools
Rock pools are great for crabbing either with a bandy net or with a homemade fishing rod. Take care on slippery rocks and seaweed! Some awesome crustacean rich rock pools can be found at the following locations:
Banff Beach, Moray Coast
Caswell Bay, Gower Peninsula
Samphire Hoe, Kent
Newton Haven, Northumbria
Benllech Beach, Anglesey
Things to remember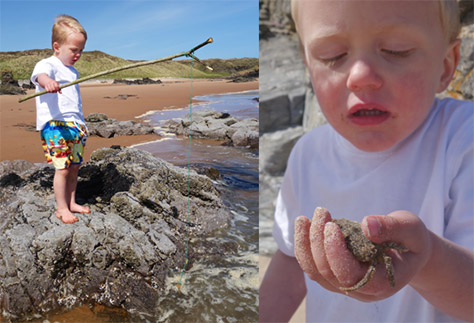 Remember to release the crabs after you catch them. Handle them carefully and pick them up by their bottoms to avoid getting nipped! Crabbing will often be near dangerous areas, so requires common sense and parent supervision. It's also really important to check the tide times before your trip.
Have a super fun time!