Summer is very almost here and that means festival season! So we've rounded up our top 10 festivals this month that are great fun for the whole family. Whether it's a musical, magical or adventurous escape you're after we have found events from around the country to please everyone.
1. Bearded Theory – 26th to 29th May – Walton upon Trent, Derbyshire
For the kids
Bearded Theory has won awards for its Children's Village which even includes an OFSTED approved Bearded School on the Friday. It's run by a group of educational specialists and includes a range of classes from Maths to Mindfulness – and it's free for all festival go-ers!
For the adults
With five stages and over 80 confirmed acts including Public Image Limited, Squeeze and The Levellers and this is certainly an event for real music lovers.
2. Common People – 28th to 29th May – Southampton and Oxford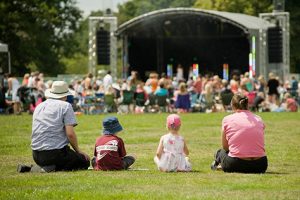 On the bank holiday weekend the makers of Bestival bring two mini family festivals to commons in Southampton and Oxford. The festival boasts top acts from Katy B to Duran Duran and an array of alternative activities to explore, such as a Knitting Tent, a Bollywood Cocktail Bus and possibly too many delicious street food vendors to choose from.
For the kids
There is a dedicated kids area at both locations, bouncy castles and loads of arts and crafts activities to keep the little ones busy.
For the adults
One for the foodies, their line-up of food and drink vendors makes the mouth water. Pizza, grilled cheese, cakes, gourmet burgers and even luxurious healthy options!
3. Elderflower Fields – 27th to 30th May – Uckfield, East Sussex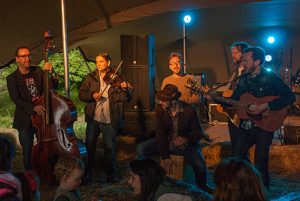 Now in its fourth year Elderflower Fields is a unique family-first festival set in the beautiful landscape of Pippingford Park in East Sussex. As a fully independent and non-profit event they rely heavily on volunteers which simply adds to the amazing vibe of this hidden countryside haven. Children are at the very core of what makes this festival so special, with everything else branching out to create a truly magical experience.
For the kids
With activities, music, crafts, sport, games and so much more happening over the four days there won't be a second of boredom for your little ones.
For the adults
Although this is a smaller festival than most they boast some impressive music acts such as The Resonators, one of the UK's best reggae bands, and the 10 piece London Afrobeat Collective. As well as music you get the chance indulge in some of the locally sourced food and drink or you could sneak off to the woodland spa for a relaxing massage.
4. Faerie Festival – 20th to 22nd May – Alfriston, East Sussex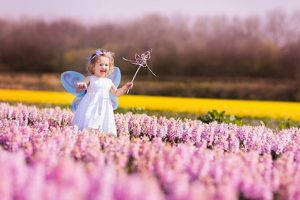 The Faerie Festival is a one of the most magical events in the country, full of faerie dust, flowers and music it is sure to captivate and entertain your little ones. The event has a huge range of workshops to explore spirituality, history, nature and art. Best experienced for the whole weekend the festival includes two camping fields with optional luxury glamping tents for added comfort on this magical weekend.
For the kids
As a more relaxed festival you can let the kids take part in craft workshops, test their circus skills or listen to faerie stories while you relax in the sun.
For the adults
This is truly a festival for expanding the mind with loads of creative and spiritual workshops suitable for adults as well as the kids, or simply enjoy the traditional music and delicious food and drink on offer.
5. The Fairyland Trust Fairy Fair – 29th May to 30th May – Dereham, Norfolk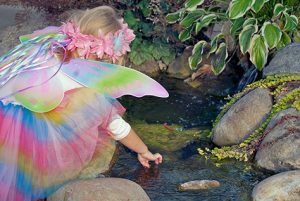 The Fairyland Trust is a charity organisation with the primary intent of engaging children with nature in a fun and magical way. The Fairy Fair is a spectacular two days where your kids can take part in workshops, create fairy houses, visit the fairy king and queen and dens in the woods and much more. All activities are underpinned by the magic of nature.
For the kids
This fair puts kids at the forefront of all the fun and games, offering a huge variety of workshops and activities with a magical twist.
For the adults
As is fitting for all fairy fairs there will a range of live folk music to enjoy, stalls selling home-made and fair-trade goods and even a 'Good Elf' pub.
6. Geronimo – 29th to 30th May – Knutsford, Cheshire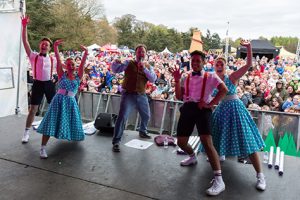 Geronimo is a fun-first festival with a line-up that guarantees fun for the whole family no matter how young (or not so young) the kids are. They've got everything from baby yoga to circus acts to entertain everyone this bank holiday weekend.
For the kids
Roller-skating rink, den building, My Little Pony friendship bus, petting zoo… the list of kids' activities is endless so we are certain you'll find something they'll love no matter their age!
For the adults
At Geronimo adults can enjoy the musical and theatrical talents taking place throughout the whole festival.
7. Hay Festival Wales – 26th to 29th May – Brecon Beacons, Wales
For a more alternative festival there is the Hay Festival, an international festival that takes place in 5 different continents over the course of the year. The event attracts writers, poets, speakers, scientists, film makers, comedians, musicians and more to the beautiful Brecon Beacons National Park in Wales. With activities for all the family, this festival is a true sharing of ideas, views and creative expression – definitely one for the bucket list!
For the kids
This event is perfect for taking the kids, with a full kids programme and loads of activities that are great for all ages. There is even a whole section of the festival specifically for toddlers and parents.
For the adults
Whatever your interest is: art, history, politics or philosophy, there will be something to tantalise and broaden your mind.
8. Knockengorroch – 26th to 29th May – Dumfries and Galloway, Scotland
For one of the most incredible festivals locations going, Knockengorroch takes place in the stunning Scottish Highlands and celebrates rural regeneration in the Uplands. A big festival feel in a smaller plot, this festival is a concentrated hub of music with a unique fusion of folk and contemporary artists.
For the kids
This festival is just as much for the kids as it is for the adults, with a whole weekend of entertainment such as puppet shows, hula hooping, sensory games, mini beast hunts and a kids' procession.
For the adults
Reconnect with nature, hear music from around the world or take part in a real ceilidh.
9. Lechlade Music Festival – 27th to 29th May – Lechlade, Gloucestershire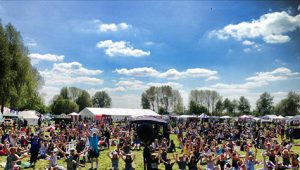 For a fun and affordable festival this month Lechlade offers a very full weekend of music, arts and activity. Set in the heart of England, at the intersection of Gloucestershire, Wiltshire and Oxfordshire this festival has been steadily gaining momentum since its inception in 2011. The organisers have a passion for music and the local area which has led to their aim to fund a scholarship from the festival's profits to enable young people to benefit from music education.
For the kids
With several craft and play tents there is something to keep your little ones busy all weekend long, even a dedicated circus where they can learn all the necessary circus skills such as stilt walking, tightrope walking, plate spinning, limbo dancing and more.
For the adults
Rock out to The Proclaimers or brush up on your dance moves at one of the many workshops taking place over the three days.
10. Wood Festival – 20th to 22nd May – Wallingford, Oxfordshire
Last, but definitely not least: a true naturists event the Wood Festival in Oxfordshire is a small and intimate event perfect for taking the whole family. It began as an experiment to see how environmentally friendly a festival could be and has since spawned into one our favourite family festivals in the country. Plus, all children under 13 years go for free when accompanied by an adult!
For the kids
For the littles ones we recommend checking out the Tree Top Restaurant Puppet Show and for kids a little bit older there is a whole host of workshops, dance and meditation activities free for all.
For the adults
Check out a range of music acts on the solar-powered, grass-roofed stage such as Sam Lee and Friends, Danny and the Champions of the World, Owiny Sigoma Band and Emily Barker.
…And one more for luck…
Camp Bestival – 28th to 31st July – Lulworth, Dorset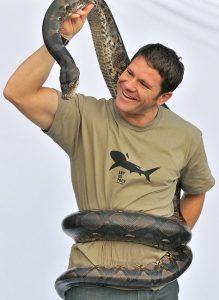 This one isn't in May but it's one of our favourite festivals and keeps getting better each year! A large area of the festival is exclusively aimed at kids with a circus tent, bouncy castle and for the first time ever a Space Centre making it the perfect place for families, plus with a whole host of internationally known music artists the adults will be happy too.
For the kids
The little ones will be spoilt for choice at Camp Bestival with a whole host of activities and entertainment such as go-carts, a sandpit, kid discos and older kids can hang out in The Den, a place only for 13 – 17 year olds.
For the adults
The music line-up at Camp Bestival is organised by world renowned music specialist Rob da Bank and promises nothing but show stopper after show stopper. This year's line-up includes Jess Glynne, Katy B and Jamie Laweson.
Going to one of these festivals? We'd love to hear your stories and see your pictures! Share them with on in the comments below or on Facebook!