The British coastline is dotted with thousands of beautiful beaches and now's the time to start exploring them. Here are our favourite beaches, so pack the cossie, towel, sun cream, umbrella and beach toys then enjoy a day by the sea.
Bournemouth Beach, Dorset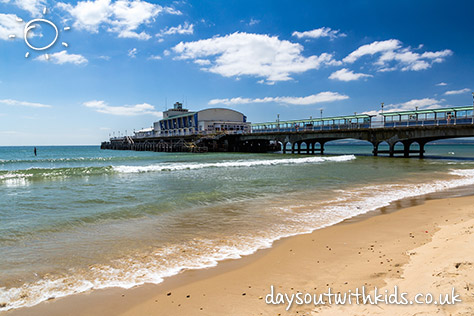 This had to make it onto the list as it is our local beach! The miles of gorgeous sand, calm water and lots of nearby attractions makes Bournemouth beach a great place to visit. If little legs are getting tired there's a land train which can drop you of at various points along the beach for a small charge. The Oceanrium by Bournemouth Pier has recently opened a new Penguin Beach where you can watch adorable Humboldt penguins enjoying their new home. If you're in the area consider visiting these nearby beaches too there's Sandbanks beach in Poole, Studland beach and Weymouth beach.
Click here for more information
Kynance Cove, Cornwall
I have holidayed in Cornwall many times and absolutely love the beaches. Kynance Cove is a little gem of a beach there's gorgeous white sand, turquoise water and stunning scenery. There's a bit of a walk down a hill, but when you're there it's worth it for the beach and the great little café. Make sure you take your nets and buckets as there's some great rock pooling action to be had. Nearby you will find Lizard Point which is actually the most southerly point in the UK.
Click here for more information
Woolacombe Beach, Devon
If you're after acres of gorgeous sand, clean water and excellent facilities, then you have to visit Woolacombe beach. It has won numerous awards including an 'England for Excellence Gold Award'. During the summer the National Trust have rangers on the beach, where they will show the kids how to go on a rock pool safari or even how to build the best sandcastles! The beach also has lifeguards on duty to make sure everyone is safe swimming. If you are into your horse riding visit Woolacombe Riding Stables, where experienced riders can go for a beach ride!
Click here for more information
Barafundle Beach, Pembrokeshire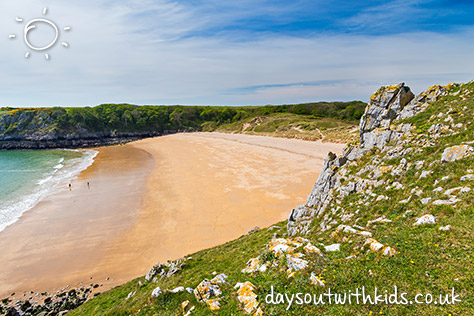 There are two beaches for the family to enjoy at Stackpole Barafundle and Broadhaven. Barafundle is a small golden sand beach with crystal clear waters and is backed by dunes and pine trees. There are no facilities on the beach and be warned there is a ½ mile walk (with steps) from the car park, so it's best not to take the pushchair. It's all worth it when you're there, as the family will have plenty of room to play games and relax surrounded by beautiful scenery. Make sure you have your buckets and nets packets as there's rock pools to plunder.
Click here for more information
Murlough National Nature Reserve, County Down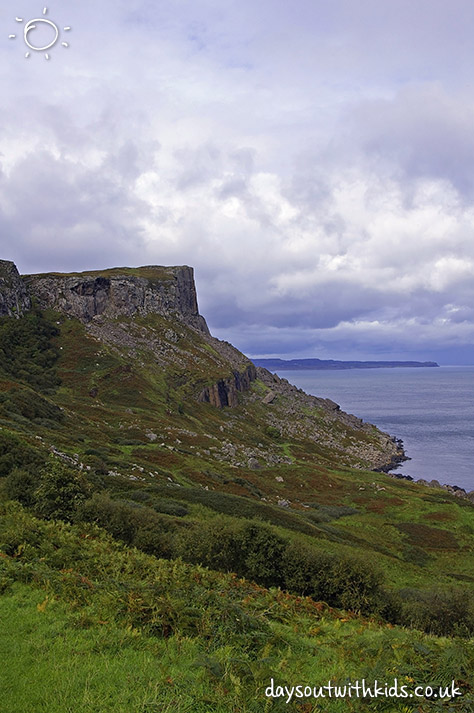 Escape the chaos of daily life by heading to this nature reserve right on the coast where there's four miles of shingle beach with the backdrop of the Mourne Mountains. There is a visitor centre where the kids can pick up a trackers pack full of activities including, hunting for treasure along the coast, using a compass to find your way around and even looking to see if you can spot any seals.
Click here for more information
Filey Beach, North Yorkshire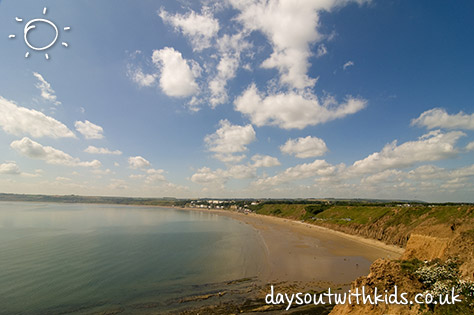 Yorkshire's coastline offers some stunning scenery and many gorgeous beaches. Filey beach is popular with families, and once you arrive you will see why! There's five miles of sandy beach and crystal blue water. There's pubs and bistro's nearby where you can pick up some tasty food and there's a paddling pool for the kids. Nearby there's the Filey Bird Garden & Animal Park where you can see a variety of exotic creatures and many fore family attractions.
Click here for more information
Sandwood Bay, Scotland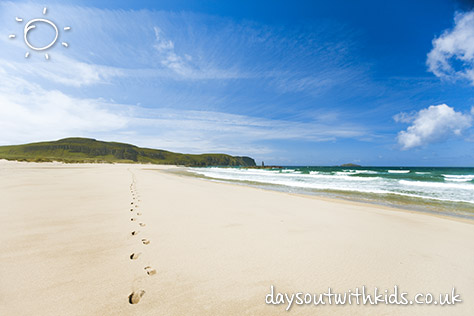 This may not be the easiest beach to get to, as it is a four mile hike to reach it, but once you're there you will amazed at the beauty of its seclusion. The beach is often said to be the best in Scotland! The glistening sandy beach has crystal blue water lapping, is surrounded by towering cliffs and is backed by sand dunes. There's no facilities at this beach, so make sure you take along food, drink and any provisions that you might need.
Click here for more information
Benllech, Isle of Anglesey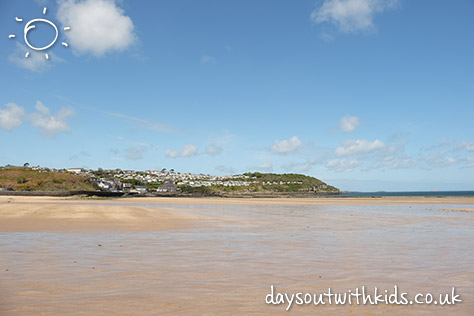 This beach is known for safe bathing and paddling, along with its stretches of golden sand. Make sure you take your nets and buckets as there's rock pools to hunt out marine life and take some beach games as at low tide you will find acres of sand to play on. The beach is easily accessible if you have a pushchair or wheel chair and there's even a family area on the beach.
Click here for more information
Eastbourne Beach, West Sussex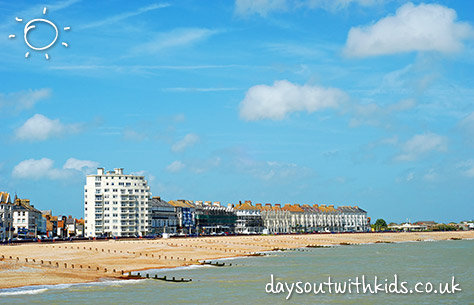 Eastbourne has been a popular beach resort for many years as there's a Blue Flag award winning beach. You can rent out sun loungers, deckchairs and umbrellas for added comfort and the beach has lifeguards on duty, plus they also operate a kidsafe wristband scheme. If your kids are loco about locomotives take a quick walk from the beach and go for a ride on the Eastbourne Miniature Steam Railway.
Click here for more information
Great Yarmouth, Norfolk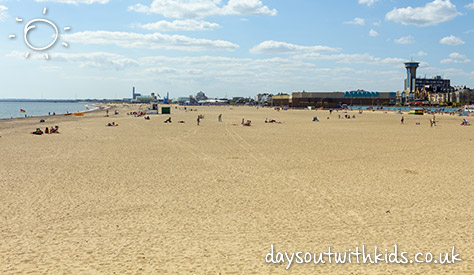 A popular spot for families since the late 1700s Great Yarmouth offers all the allures of a seaside resort, there's the beach, deck chairs and ice creams galore. With lots of nearby family attractions, from the crazy golf to the trampolines and boat trips! Along the Golden Mile there's miles of gorgeous beach, amusements, rides and the majority of the beach has RNLI lifeguards on duty. There's two piers Wellington Pier and Britannia Beach offering a whole host of traditional activities for the family
Click here for more information
Blackpool Beach, Lancashire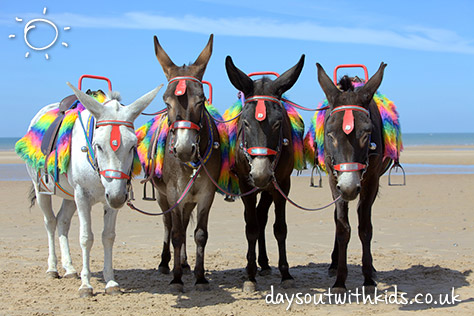 The famous Blackpool beach has been a favourite for families for hundreds of years. With miles of unspoilt beaches there's lots of room for the family to play games, build sandcastles and relax. There's three piers for you to explore, traditional donkey rides along the beach and a huge amount of family amusements nearby including Illuminasia, Blackpool Tower, Blackpool Pleasure Beach and many, many more!
Click here for more information
If we have missed your favourite beach let us know by commenting below!