I have definitely caught tennis fever with the excitement of Wimbledon this year and feeling very sad that it's almost come to an end! Tennis is a great sport to get outdoors and get fit as a family. Over the summer there are a number of tennis events planned, so you can perfect your game, plus summer camps for children too! 
 The Great British Tennis Weekend, Nationwide
16th – 17th July 2016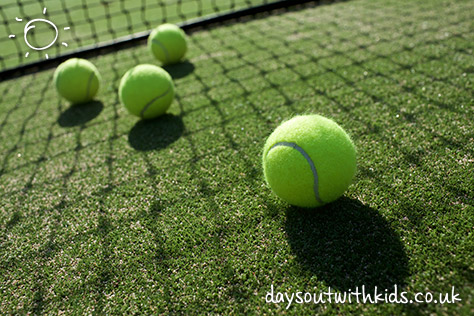 All across the country there's going to be free tennis for everyone, new and old, beginner and professional. Equipment will be provided so pop along to one of the events for a couple of hours of fun. Find an event near you.
Hyde Park Tennis Centre, London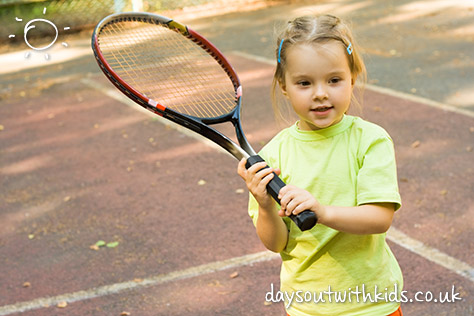 Located right in the centre of Hyde Park is this superb tennis centre with six hard courts and two mini tennis courts. Choose between drop-in sessions or sign up for some courses and get expert coaching! Find out more.
Free Tennis at Nottingham Tennis Centre; Nottinghamshire
24th June – 31st August 2016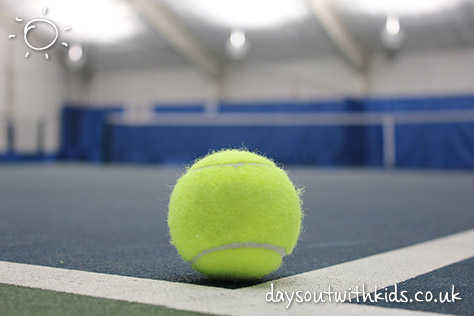 This is the largest tennis centre in Great Britain and hosts major competitions throughout the year. They offer lots of activities for the local community and anyone over the age of 2 years can try tennis sessions, get some coaching and enjoy the superb facilities. Families can also enjoy free tennis during the summer which is suitable for children aged 5 and over! Find out more.
Edgbaston Priory Club, mid England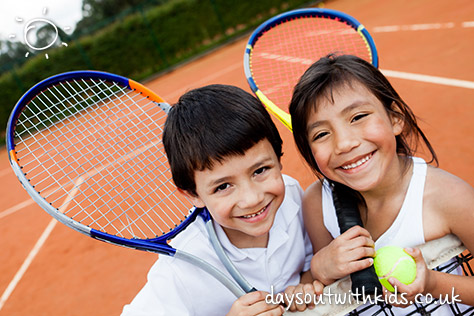 This private members club has been around for 130 years and has world-class tennis facilities. They offer classes for children aged 3 years+ and are dedicated to encouraging more people, young and old, to take up tennis and other racket sports. Find out more.
Exeter University Tennis Centre; Devon
25th July – 25th August 2016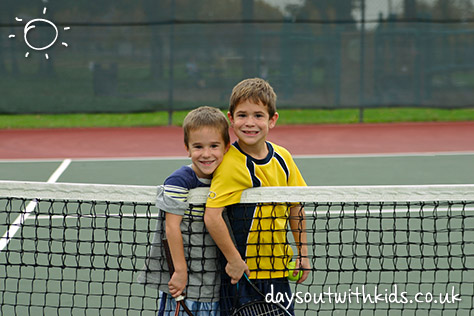 This tennis centre has superb facilities including indoor and outdoor tennis courts. Over the school holidays they offer full-day tennis camps for children aged 5 -16 years and they also offer 1-1 coaching. Find out more.
Free Tennis at the Swansea Tennis and Squash Club; Swansea, Wales
16th July 2016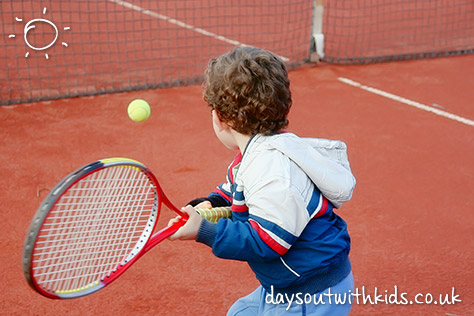 Take the kids along to this centre where they can learn how to play tennis and have fun for free! If they love it and want to play more, then don't forget to enquire about reduced coaching fees! Find out more.
Culford Sports & Tennis Centre Holiday Clubs 2016; Bury St Edmunds, Suffolk
25th July – 31st August 2016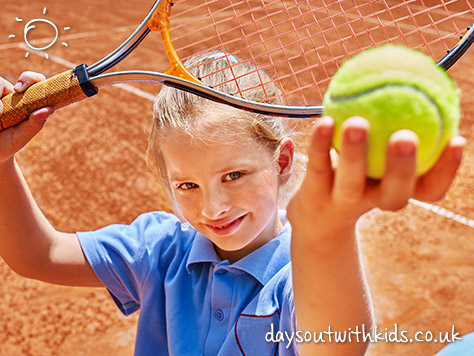 This centre has great tennis facilities with both indoor and outdoor tennis courts so you can play in all weathers. Children can join the activity camps over the school holidays where they will have the opportunity to join in with a variety of sports. Find out more.
The Northern, Manchester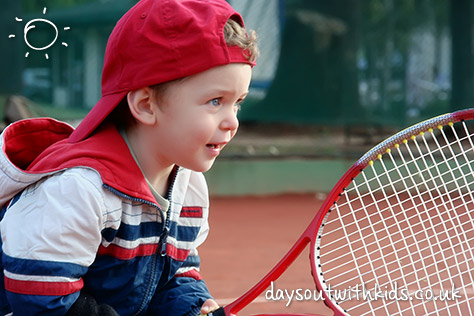 This prestigious tennis club hosts international tournaments throughout the year but families can enjoy the facilities too. There's pay & play sessions, a junior club and tennis camps available which are suitable for all ages and abilities. Find out more.
Tennis For Free! David Lloyd Club; Nursling, Southampton
16th – 17th July 2016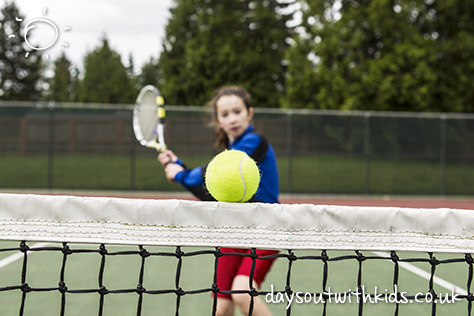 Come along and enjoy a free tennis session and don't panic because it really is suitable for all abilities! It's part of the Great British Tennis Weekend and is one of many clubs taking part in this fantastic event. Find out more.
Skipton Tennis Centre; North Yorkshire
25th July – 31st August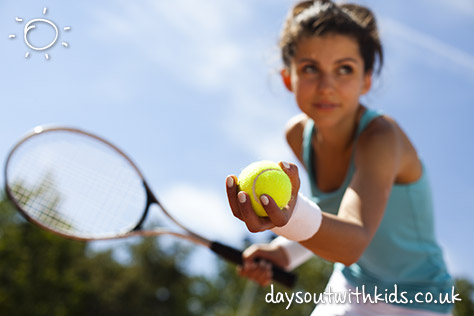 This dedicated tennis centre offers coaching for beginners and improvers of all ages. There's fun summer camps for the children, mini tennis, junior tennis and adult programmes available.      Find out more.
Multi-Activity Holiday Camp Craiglockhart Tennis Centre; Edinburgh
23rd June – 31st August 2016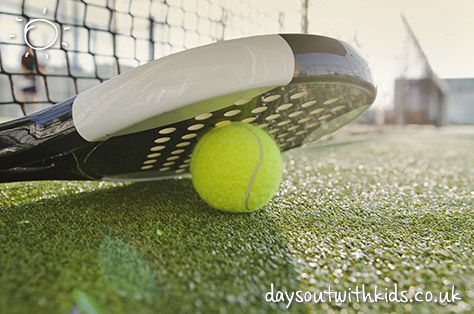 There's facilities and coaching available for all the family at this tennis centre for beginners all the way up to advance players. There's also sessions that help introduce kids to the sport from 18 months old and they have summer camps with some top notch training. Find out more.
Belfast Indoor Tennis Centre and Ozone Complex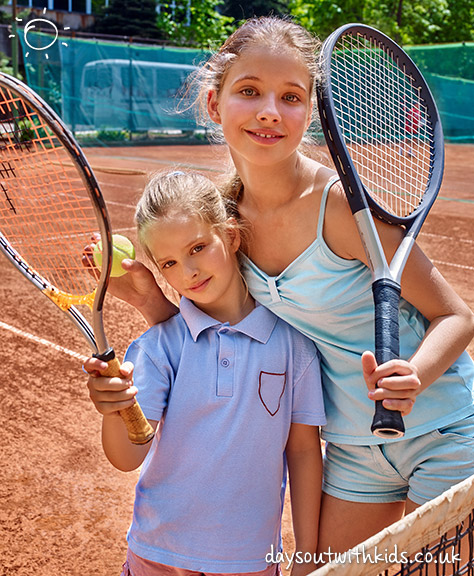 Belfast Indoor Tennis Centre offers a range of tennis lessons for all ages and abilities. They have four US Open standard tennis courts and also offer summer courses. Find out more.
Or why not visit…
Wimbledon Museum, London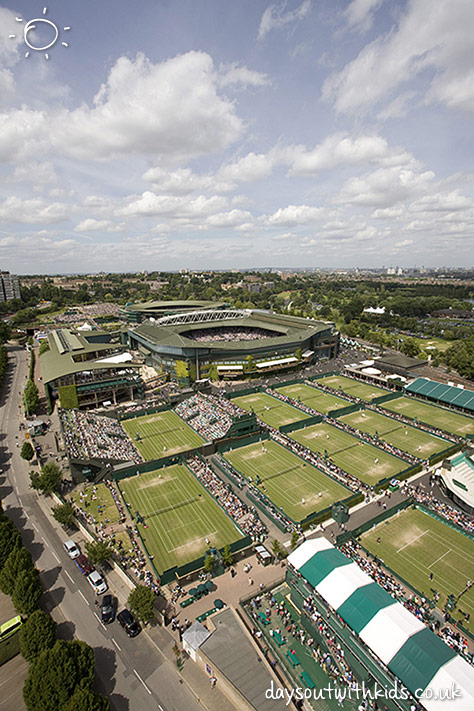 If you have an aspiring Andy Murray, then take them here to one of the most famous sporting venues in the world. With interactive features such as a holographic 'John McEnroe', who talks about the game, and 'Centre Court 360' a new experience for viewing the famous Centre Court. Take a tour of the grounds which lasts around 1 1/2 hours and includes Centre Court, No.1 Court, Press Interview Room and much more. Find out more.
I really hope this has inspired you to give the beautiful game of tennis a go… and I hope you have enjoyed Wimbledon as much as I have this year! 🙂