Gardening is something that children of all ages can engage with and learn,
So why not get them involved and give them a turn!
Growing your own fruit and veg can save money and encourage healthy eating too,
So we've made this 4 step guide to making gardening fun for the kids and you!!
Step 1. Give them their own tools
Grown-up gardening tools can be a bit boring so give them their own tools that they'll love and want to use. There are loads of cute and funky designs for kids' gardening kits, here are few for inspiration: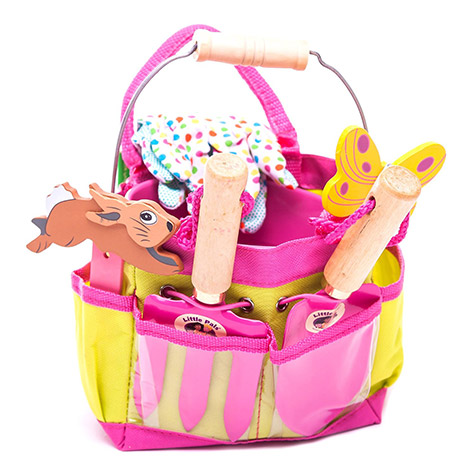 This gardening kit comes with gloves, two plant markers, a bucket, fork, trowel and a handy bag to keep everything in. Perfect for a girly gardener apprentice! Buy it here.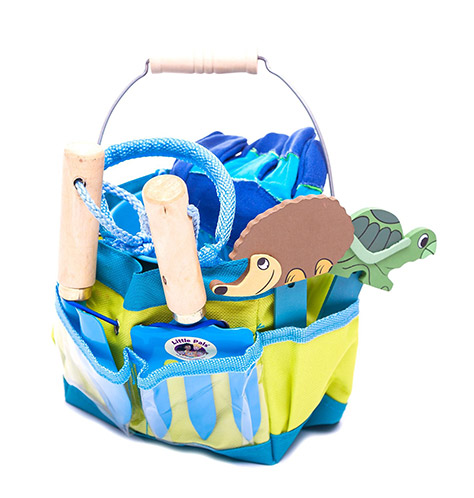 Same as the kit above but in blue, because gardening is not just for girls! Buy it here.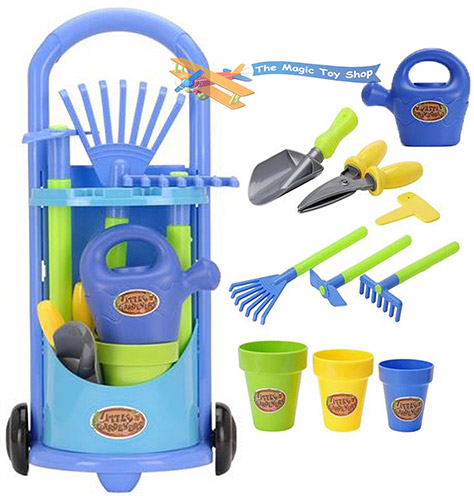 This trolley has absolutely everything a young gardener might need and is ideal for carrying all their tools with them around the garden. It comes with a rake, cultivator, watering can, three different sized pots and more! Buy it here.
Step 2. Give them a section of the garden
Similarly, with the tools, give your kids each a patch of the garden which they are responsible for and where they can grow whatever they like – much like a mini allotment! Or, if you don't have a big garden or much-growing space you can get a small planter instead.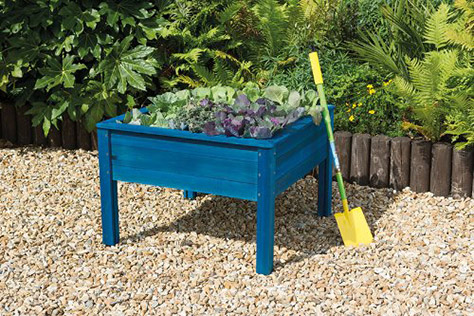 Available in blue or red this little planter is the first way to introduce your kids to gardening and they will be so proud of their patch! Buy one here.
Step 3. Let them choose what they grow
The best way to get your kids excited about gardening is to let them choose what they want to grow. Maybe their favourite fruit or vegetable? Or a beautiful flower in their favourite colour? It's always best to try and choose something fairly easy for the first thing they choose to grow. or use one of these easy-grow kits especially made for kids – these are fab!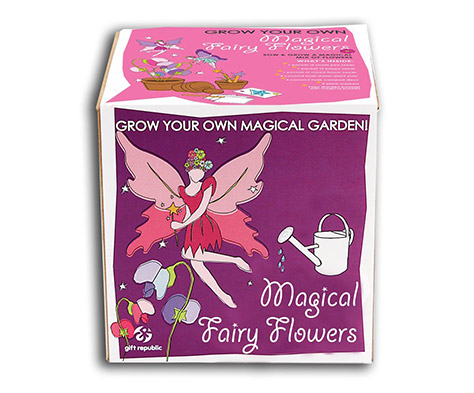 Add a touch of magic to your garden with this fairy flowers kit. It comes with super easy instructions and useful tips to ensure success in your child's first gardening experience! Buy it here.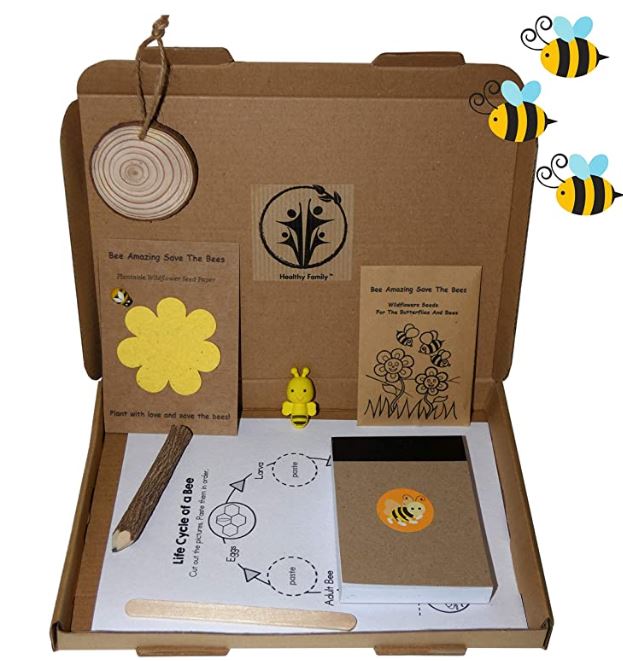 This awesome bumblebee themed garden set is brilliant value for money at just £6! The set includes 1 x packs of Wildflower seeds, 1x Plantable Wildflower Seed Shape, 1x Wooden Plant Label,1x A7 Paper Jotter, 1x Twig Pencil, 1x Mini-Bee rubber, 1x A4 size bee activity sheets, 4 different activities and 1x Natural Wood Slices Disc. Buy it here!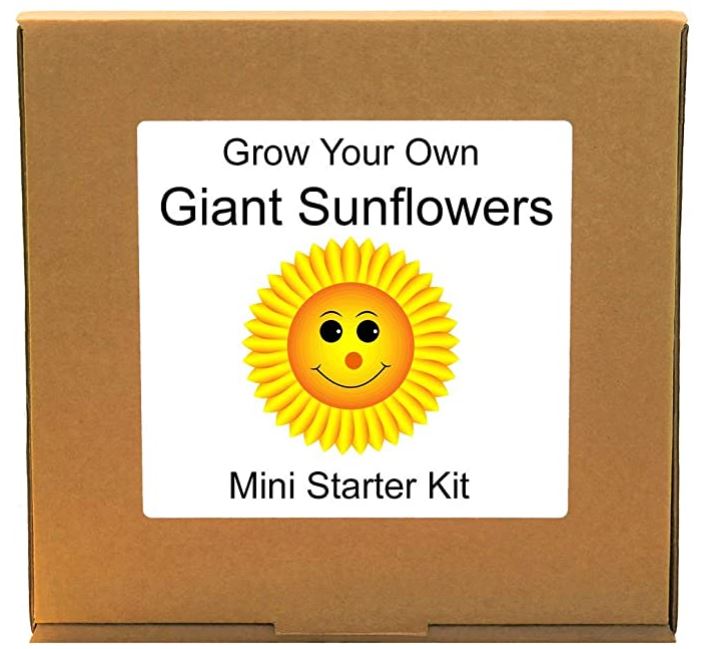 This beginner-friendly sunflower starter kit is perfect for your mini gardeners! Each kit contains a Jiffy Professional Growing Pellet, Plant Watering Saucer, Fresh Seeds, Wooden Plant Label and Detailed Growing Instructions. Buy it here!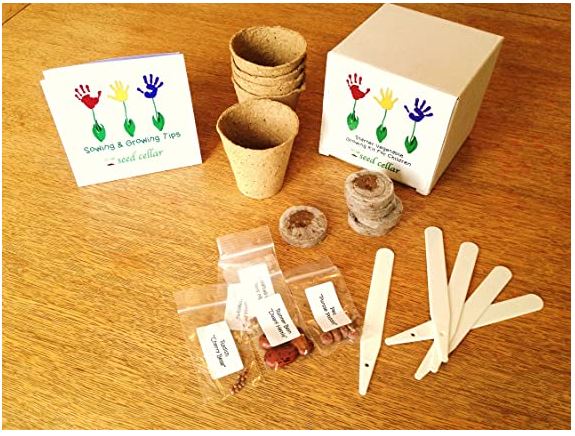 This fun and education growing kit will have your children learning about seed germination and plant growth! Watch as you grow golf-ball carrots, purple-podded peas, radish, spinach and dwarf runner beans! Buy it here!
Step 4. Celebrate successful sows!
As we all know, gardening doesn't always go the way we want it to so when it does it's important to always celebrate the hard work that has paid off! If flowers bloom wonderfully, take a picture or press them in a book and make wall art. Or if you're growing food, enjoy the harvest by having a celebration feast utilising all the yummy food you've grown together. Enjoying what comes out of gardening together will mean that the kids look forward to doing it all over again next year and want to try new things to grow.
Do you have any ideas for how to make gardening fun for kids? We'd really love to hear! Someone else might love it, and really want to give them a go! If you've got ideas, suggestions or reviews, you can shout all about it on whatever channel you choose!
Let's go on a Picniq! Follow us on Facebook, Twitter or tag us on Instagram using #PicniqUK!