Beautiful scenery, active adventures, perfect picnic spots, wonderful wildlife… what's not to love about paying a visit to the forest? If you're after some educational and outdoorsy fun to make the most of your day out, here's a list of some of the best trails around the UK!
1. Queen Elizabeth Olympic Park – London
Adventures in the Park Trail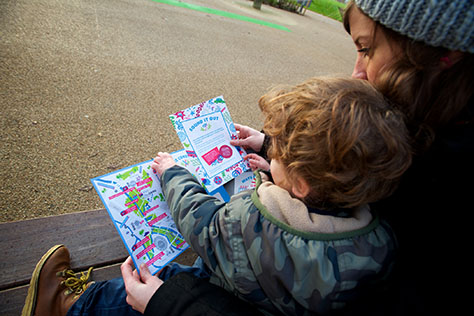 This lovely park, which was home to the 2012 Olympics, offers lots of fun for your little explorers! The Adventure in the Park trail is the perfect way to make the most of Queen Elizabeth Olympic Park, with 'secret mentions' dotted around the map which encourages little ones to interact with London's newest park. Find out more.
2. Martineau Gardens – Birmingham
Nature Trail with Guide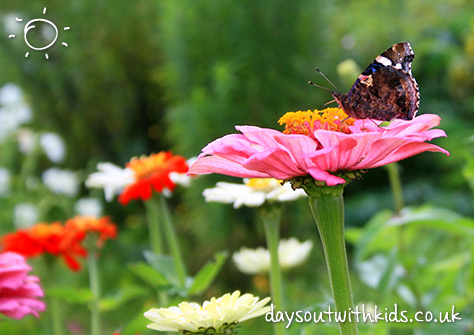 Make the most of everything this lovely community garden has to offer with its Nature Trail with a Guide! You'll get to explore over 2 1/2 acres of ponds, beehives, an earth oven, hot house and so much more. Find out more.
3. Dartmouth Town – Devon
Dartmouth Town Trail
This lovely one mile trail, which lasts approximately two hours, allows you to take in the spectacular views and historic features of Devon. There's lots of cafes, restaurants and pubs along the way for rumbling tums too! Find out more.
4. Dare Valley Country Park – Wales
Multiple Trails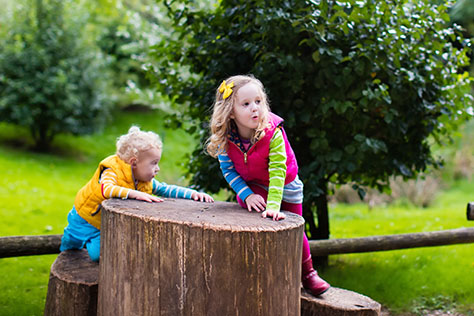 With 500 acres of woodland, this stunning public country park is the perfect place to take in some glorious sunshine on a family nature trail. There are three to choose from, including the Bwllfa walk, which is a shorter route on a level surface, which is ideal for pushchairs! The Cae Mawr takes you off the beaten track through uphill paths and over stiles. For the more adventurous, the Penrhiwllech Trail follows a horseshoe route with an upland plateau on countryside paths, stiles and rough terrain. Find out more.
5. Lullingstone Country Park – Kent
Summer Holiday Activity Trail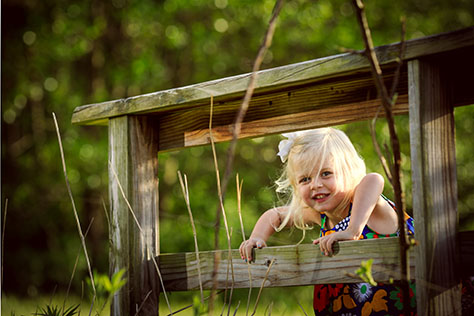 This fab summer activity trail, where you can drop in anytime from 10am until 3pm, gives you the chance to explore the woods on a self-led activity with one of their trail sheets. See what you can discover about the park… all completed trails will receive a small prize! Find out more.
6. Hadleigh Country Park – Essex
Wacky Wheels Challenge Trail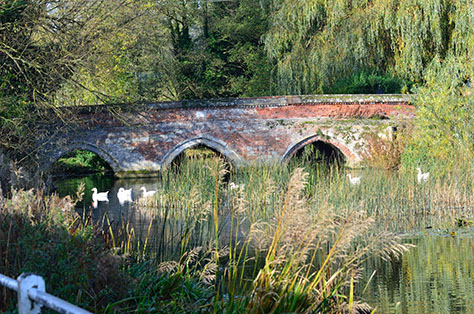 Take part in fun-filled bike ride challenge, where you'll have to solve puzzles as you go along to win! This trail is roughly half a mile and lasts 30 minutes, so is perfect for all of the family to get involved in! Find out more.
7. Belhus Woods – Essex
Mini Rangers Trail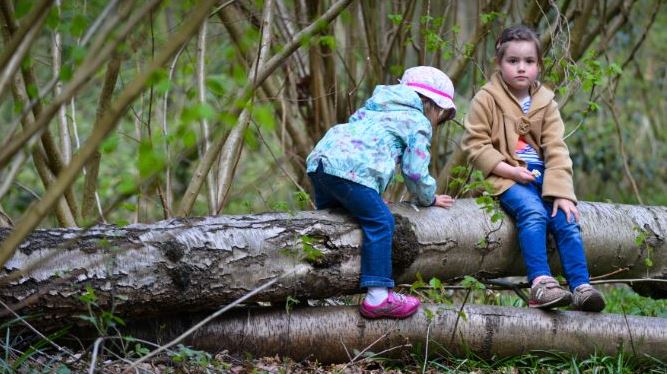 This trail is perfect for all aspiring mini rangers! Have a go at spotting some wildlife, name trees and more. You'll even be able to feed some animals along the way! Simply turn up and pick up your trail pack from the Visitor Centre. Don't forget to pick up your included gift at the end of your adventures! Find out more.
8. Sandringham Estate – Norfolk
Sculpture Trail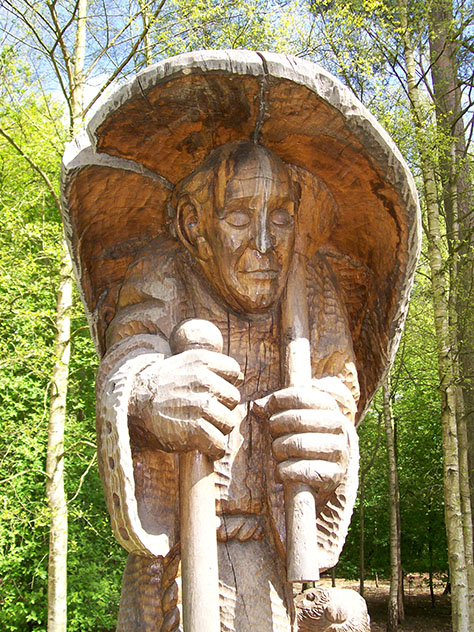 This fascinating trail takes you through the Arboretum where you'll pass lots of interesting sculptures made by using chainsaws on natural tree trunks! Better yet, there's an adventure play area nearby for the little ones to blow off some steam, which includes over 30 pieces of fun equipment! Find out more.
9. Rother Valley Country Park – Sheffield
Sculpture Trail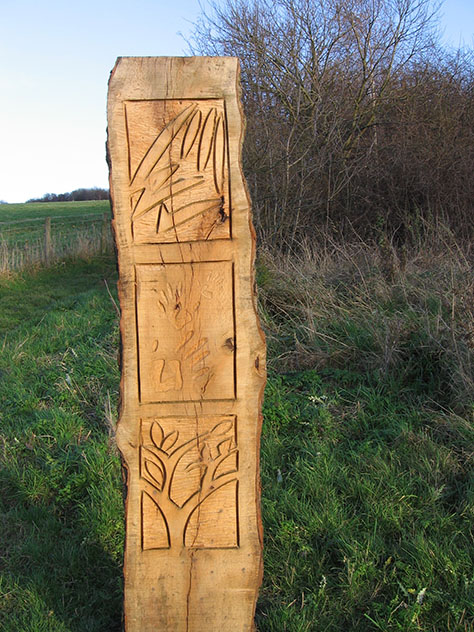 This lovely trail includes 10 pieces of art, all carved from wood, along the 1.9 mile route. Starting from outside the offices in the courtyard, this trail leads you to the one of the best views of the park over to Derbyshire and Sheffield! Find out more.
10. Calderglen Country Park – Scotland
Multiple Trails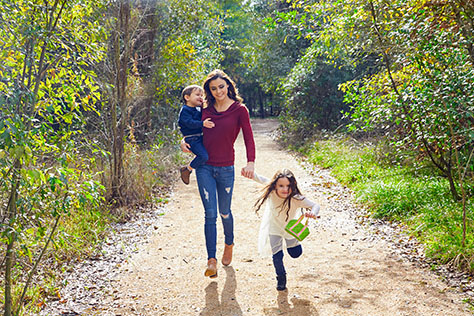 With 4 trails to choose from at this beautiful country park, you'll be spoilt for choice at where to start first! The red trail heads down stream along the bank of the Rotten Calder to the site of the former Calderwood Castle, with some stunning views included along the way. The popular south trail explores the steep wooded glen of the Rotten River, with the Langland's Trail running along a boardwalk where you can take in the Langlands Moss Local Nature Reserve. Last, but not least, is the Tor trail which passes through open meadows, as well as broadleaf and coniferous woodlands. Find out more.
11. Mountain Biking Swindon – Swindon
Croft Trail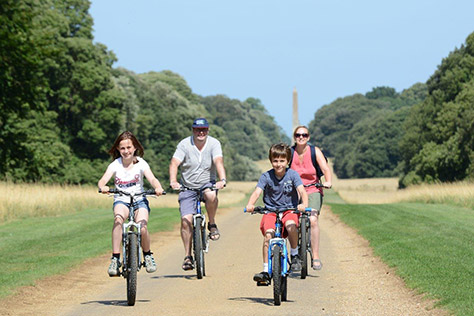 This mountain biking trail is perfect for those wanting to get active and take in some beautiful scenery along the way! It offers both a family/beginner off-road trail (Blue), and a more technical trail (Red) with features for the more experienced cyclist or those wishing to improve their skills. Find out more.
12. Badderidge Country Park – Staffordshire
Multiple Trails
This country park, set in the beautiful surroundings of the Black Country, has 4 trails for you to explore, as well as a guided walk with a ranger to learn some insightful facts as you go along. Each trail varies in distance and difficultly, meaning there's something for everyone to enjoy. Find out more.
13. Severn Valley Country Park – Shropshire
Multiple Trails (Woodland, Riverside, Highley, Country Park Geology, Easy Access)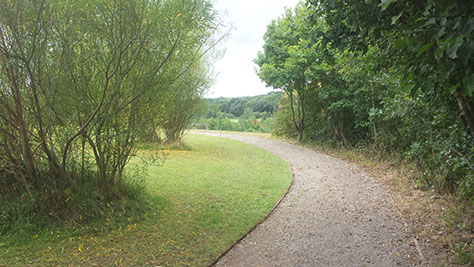 Severn Valley Country Park has lots of fun and insightful trails on offer, ranging from the Woodland, Riverside, Highley, Country Park Geology and Easy Access. Each trail varies in difficulty and length, meaning that everyone can in the beautiful surrounding views of Shropshire. Find out more.
Stick Man Trails – UK Wide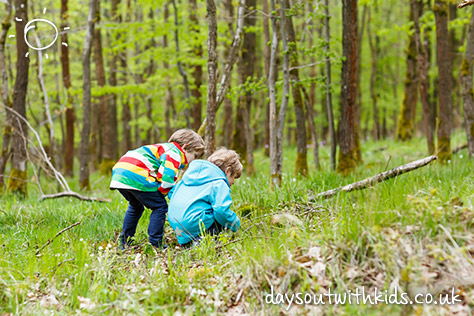 Explore some amazing Stick Man Trails with Forestry Commission, England! Pick up an activity pack to discover twiggy trails, giant Gruffalos and much more. The Stick Man Trail is aimed at younger children, but the whole family can enjoy finding the trail panels and completing fun activities as they go! Here's a list of some Stick Man Trail locations around the UK. Find out more.
Stick Man Trail Locations:
14. Grizedale Forest – Cumbria
Set in the picturesque heart of the Lake District, Grizdale Forest offers lots of fun for every little (and big!) nature lover. As well as walking and cycling trails, you'll also get to admire the wildlife, amazing sculptures and take in the glorious woodland surroundings and sunshine. Find out more.
15. Whinlatter Forest – Cumbria
This amazing forest, which is the only mountain forest in the UK, offers beautiful views, walks and mountain biking. You'll also get the chance to see some rare wildlife and little ones can blow off some steam in their fab adventure park. Gruffalo fans will also love the Grufallo Orienteering Trail too! Find out more.
16. Hamsterley Forest – Bishop Auckland, Durham
Hamsterley, which offers over 20,000 hectares of wonderful woodland, has lots to offer for outdoor lovers! It's one of the Super 6 mountain biking locations and also includes a lovely adventure play park. New for 2016 are the new Viking themed play areas, including the Ghostship, Dragon Swing, Thor's Workshop and Odin's keep! Find out more.
17. Kielder Forest and Water Park – Northumberland
This breathtaking forest which, at 250 acres, is the UK's largest forest! As well as the Stick Man Trail, you can also take on the largest mountain bike trail, see some fab art and architecture and more. For rumbling tums, head to the Kielder Castle cafe which offers hot meals, snacks and yummy cake. Find out more.
18. Dalby Forest – Scarborough, North Yorkshire
Dalby Forest, situated on the southern slopes of the North York Moors National Park, offers stunning views and lots to do! Take to the tree tops with Go Ape or have a go on their Segway tours. For those after a relaxing slice of culture, head over to The Lumberjills for some outdoor theatre entertainment!  Find out more.
19. Guisborough Forest – Yorkshire
With an orienteering course, trimtrail, sculpture trail, play area and more, Guisborough Forest is the perfect family day out! There's also fun ranger led activities and downloadable activity packs for you take with you on your visit! Find out more.
20. Salcey Forest – Northamptonshire
There's lots to see and do at Salcey Forest! Try horse riding, cycling and release your inner ninja on their tree Ninja activity, including a ropes course, 6 zip lines and Shock Drop. Be sure to keep an eye out for some of the fab events taking place over the summer! Find out more.
21. Haughmond Hill – Shropshire
Offering stunning views of the River Severn and Shrewsbury, and all the way to the South Shropshire and Welsh hills beyond, Haughmond Hill is the perfect place to relax and unwind. Bring along a family picnic, or head over to the on site cafe! Find out more.
22. Cannock Chase Forest – Staffordshire
Offering amazing bike trails, woodland walks, adventure play and Go Ape Tree Top Adventure, Cannock Chase Forest is the perfect family day out for those after an active adventure! Find out more.
23. Wyre Forest – Shropshire
This lovely forest has so much on offer for everyone to enjoy. Have a go at horse riding, take to the tree tops with Go Ape or simply take in the glorious surroundings of this SSSI site. Find out more.
24. Thetford Forest Park – Suffolk
You'll be spoilt for chance at the UK's largest man made lowland forest, which covers 18,730 hectares! Other than finding some wonderful wildlife, there's also lots of fab play areas and the chance to find out more about the history and heritage of Mildenhall Warren and Lynford Arboretum! Find out more.
25. Beechenhurst Lodge, Forest of Dean – Gloucestershire
Nestled within the heart of the Forest of Dean, this lovely lodge offers a Sculpture Trail (with new artwork added this year), play area, cafe, climbing tower and Tree Top Junior! If you're feeling peckish, head over to the Contain-a-Cafe for some yummy treats. Find out more.
26. Haldon Forest Park – Exeter
With 3,500 acres of woodland, and just fifteen minutes from Exeter, Haldon Forest offers something for everyone! There's horse riding, bike trails, orienteering and so much more. Be sure to pay a visit to on site cafe The Ridge. Little explorers will also love woodland adventure club A Touch of the Wild, where those aged 6 – 13 year, which runs during the summer holidays. Find out more.
27. Cardinham Woods – Cornwall
This beautiful mixed woodland, with its waymarked trails that take you deep into the woods, allows you to discover stunning viewpoints and an fascinating history. Head to the Woods Cafe refuel after your adventure! Find out more.
28. Wendover Woods – Aylesbury, Buckinghamshire
Feeling adventurous? Wendover Woods is the place to be! With Go-Ape! Tree Top Adventure, orienteering and even a fitness trail assault course, little moneys will be in their element! For those after a relaxing day out, bring along a picnic to enjoy the stunning views. Find out more.
29. Moors Valley Country Park – Dorset
Moors Valley, famous for its adventurous woodland Play Trail designed for families of all ages, offers lots of fun for all of the family. Go for a walk to take in the beautiful scenery, take to the Tree Tops for Go Ape, hire a bike and more! There's also a lovely cafe and gift shop on site. Find out more.
30. Bedgebury Pinetum – Kent
Bedgebury Pinetum, which offers cycling, walking, running and riding, adventure play and Go Ape, is the perfect family day out… whatever you're into! You'll get the chance to visit the National Pinetum, which has one of the world's finest conifer collections! Find out more.
Have we missed your favourite forest trail? Let us know on Facebook, Twitter and by tagging us on Instagram!