Happy Easter! Here are some fun ways to keep the kids occupied today and during the Easter holidays!
Decorate some eggs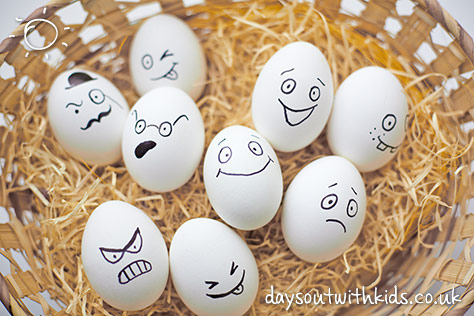 Hard boil some eggs then you can either dye, pain or event draw on them.
Race some Snails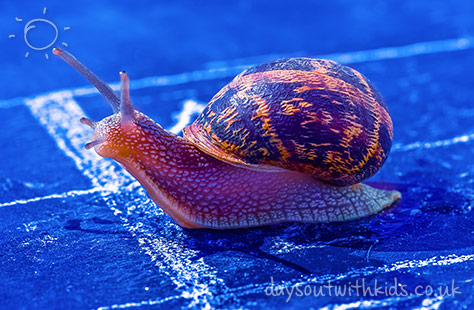 Get some chalk and draw a start and finish line on your patio, find some snails, place a tasty reward for them at the finish line and get racing!
Make some chocolate nests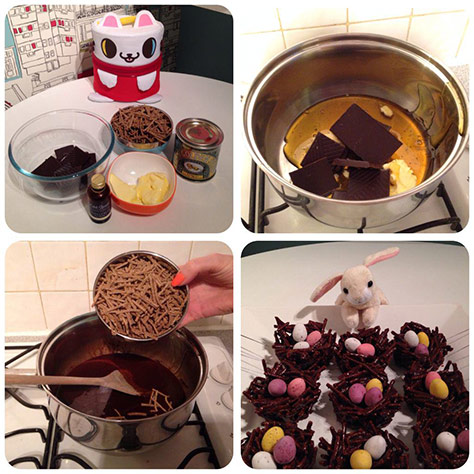 We make these every Easter! They are so simple to make and kids will love getting their hands messy making them. If you're in need of a recipe click here.
Plan an Easter Egg Hunt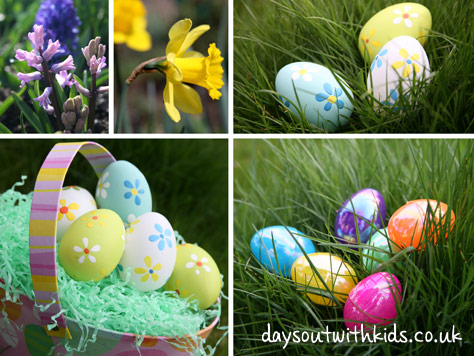 Get creative and make your own Easter egg hunt. In the past we have done a night time one with glow sticks in plastic eggs, made clues for the kids to solve and even hidden little challenges in plastic eggs for them to complete.
Go Pond Dipping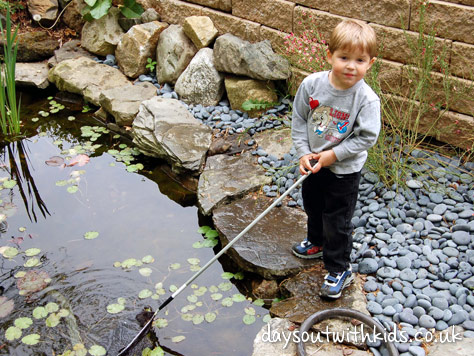 If you have got a pond get a small bucket and net and examine what you find. You will probably be surprised by how much wildlife calls your pond home. Use this website if you need help identifying what you have found.
Make some Easter Cards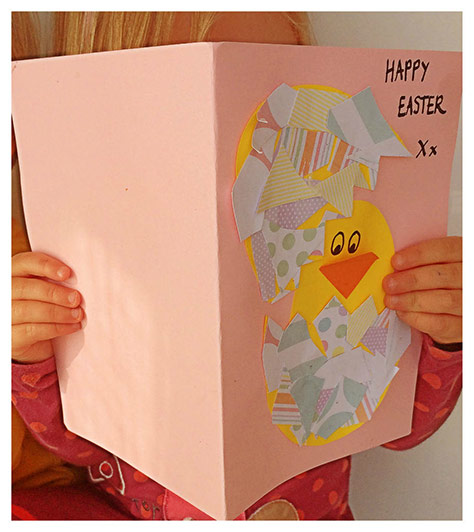 We made these adorable Easter cards and gave them to the grandparents. You just need coloured card, scraps of patterned paper, scissors, glue and some pens.
To Make:
1) Stick the coloured paper to the egg shape and allow to dry. Any bits sticking over the edge can be trimmed down later.
2) Cut the egg in half using a zig zag pattern
3) Cut out an elongated semicircle out of yellow card and draw on some eyes and beak.
4) Arrange the chick and the bottom of the egg onto the card and stick down, then stick on the top of the egg.
Turn a Paper Plate into a Chick

If you have paper plates lying around from the kids parties turn them into Easter chicks.
You will just need some coloured card in yellow, white and gold, a paintbrush, googly eyes, PVA glue and scissors.
How to make:
1) Paint the plate yellow and allow to dry.
2) Paint some white card brown, let it dry then cut out two long rectangles for the legs.
3) Make orange handprints and cut around them for the wings.
4) Cut a small square out of the orange card and fold it in half for a beak.
5) Cut out the feet with toes out of the yellow card
6) Get glueing and put everything together!
Make Some Easter Bunting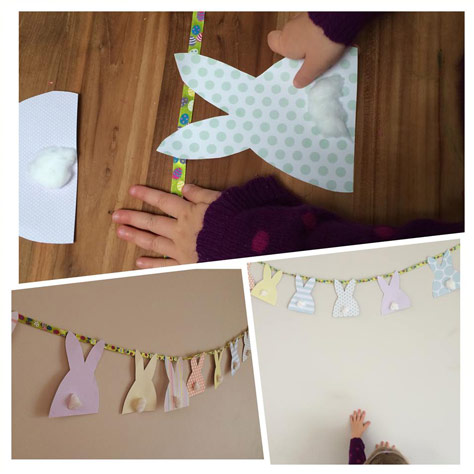 Make some Easter bunting to decorate the house. We just used some ribbon, coloured card and cotton wool.
To make:
1) Draw out a rabbit shape on a piece of card and cut out, you can use this as a template.
2) Cut out enough rabbit shapes out of card that will fit on your ribbon
3) Add a ball of cotton wool to each rabbit to create their tales.
4) Arrange the rabbits on the ribbon and glue them down.
Turn some pegs into caterpillars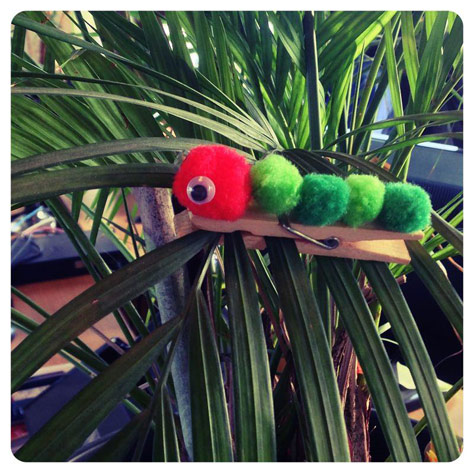 Jazz up some pegs and make some cute caterpillars. You need pegs, some pom poms, googly eyes and some glues.
To make:
Stick some googly eyes to a large pom pom for the head, then select some pom poms for the body and just stick them all to the topside of the peg.
Make a Toilet Roll Easter Bunny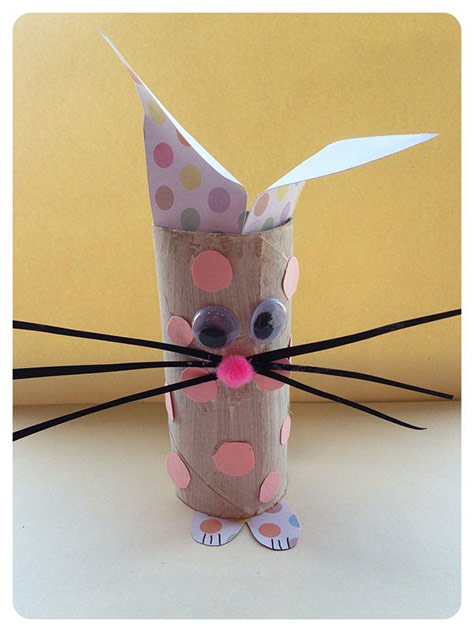 We had fun making these. You will need a toilet roll tube, a pom pom, googly eyes, white poster paint, paint brush, PVA glue, cotton wool and coloured card.
To make:

1) Paint the toilet roll white all over and allow to dry
2) Cut out some ears making a long oval and attach them to inside of the tube.
3) Glue on the eyes and pompom nose
4) Cut out small circles for decoration and stock to the toilet roll
5) Cut some small strips for whiskers and attach near the nose
6) Cut a shape that's shaped like to ovals joined together to make the feet and attach to the bottom,
7) Attach a ball of cotton wool to make the tail
8) Admire yours and your children's work
Have you made any Easter craft? We would love to see some photos.