Across the UK we've brought together,
A collection of activities to make you feel better,
If you've not planned your week – do not fear!
Have a browse for inspiration or ideas.
If you're stuck on things to do this May half-term, we've got you covered! From outdoor adventures, free workshops, theatre, kid-friendly festivals, dinosaur-themed days… the list really does go on! Read our blog to discover something new near you this May half-term.
To help you out further (as we know parents are usually short on time!) we've separated this list into regions. Whether you're visiting, or live in the region, you're bound to find something new near you.
London
Explore the capital this May half-term, with these fabulous attractions you're bound to have tons of fun.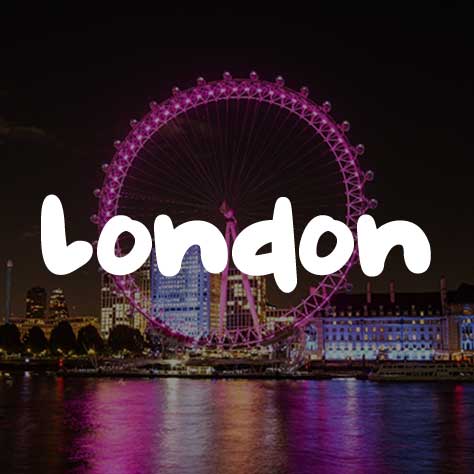 1. LEGOLAND® – Windsor: Have the ultimate LEGO® adventure! With 12 themed lands to discover, you're bound to have an action-packed day!
2. London Eye – London: Want to peer out at the skyline of London? Catch a glimpse of the city from a new angle with this popular attraction.
3. The Natural History Museum – London: Have a fantastic educational day out at the Natural History Museum and learn about our natural world through amazing exhibitions.
4. Buckingham Palace – London: Get up and close to the home of His Majesty The King, at one of the few working royal palaces remaining in the world today!
5. Horniman Museum & Gardens – London: There's Urban Crazy Golf, Brick Dinos, Art in the Gardens, and lots more! There are tons of natural fun to be had at Horniman.
6. Sea Life – London: Deep dive into the wonderous world of the sea at London Aquarium. Marvel at over 500 different species of global aquatic life in this interactive attraction.
7. DreamWorks Tours: Shrek's Adventure! – London: This interactive walkthrough will take you on a journey to 'Far Far Away'. You'll be swamped with things to do.
8. Paddington Afternoon Tea Bus – London: Climb aboard the Brigit's Bakery bus for a bear-tastic Paddington-themed afternoon tea experience. And yes, there will be marmalade sandwiches!
9. The Everywhere Bear, Polka Theatre – London: Join the Everywhere Bear in this visually stunning theatre performance. Find out more about Polka Theatre here.
10. Shakespeare's Globe – London: To be, or not to be… on this half-term's itinerary. Transport yourself back into the magical realm of Shakespeare's Globe Theatre. Explore the iconic theatre, watch a performance, or participate in a workshop.
11. KidZania – London: Here's an experience with something for everyone. Choose from a variety of real-life role-play scenarios for your children to get involved and have fun with. They can understand what it takes to be a police officer, a fashion designer, doctor, vet and much more! Whatever you kids are into there's something at KidZania to suit their personality.
12. Science Museum – London: Have an educational trip to the Science Museum with your little Einsteins! Discover space, science, and technology through a range of interactive activities.
13. Terrible Thames – London: Horrible History proudly presents its wicked river tour. Delving into the gruesome parts of history at many loved locations. This is an unforgettable sightseeing excursion.
14. Kew Gardens – London: Visit one of the world's most famous botanical gardens. There are stunning trails, an interactive Children's Garden, and many gorgeous natural environments to stroll through.
15. Madame Tussauds – London: Take a selfie with your favourite heroes! From film superstars to iconic historical figures, and sporting legends, it's the best place to rub shoulders with all your favourite celebrities.
16. Windsor Castle – Windsor: Bring the family on this mystical tour back in time, visiting one of the oldest and largest inhabited castles in the world!
17. Tate Modern – London: A free international art gallery, home to sensational contemporary art from across time and locations.
18. Crystal Maze – London: Always dreamt of being on this popular 90s show? Well, now you can take on these challenges! Bring your best team to take on the iconic Crystal Dome.
South East
There's a wonderful array of options for the seaside South East. Where will you end up?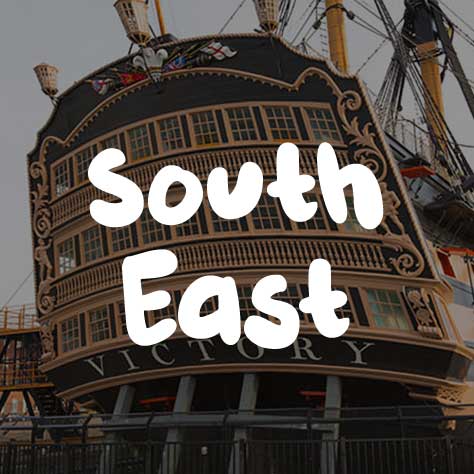 19. Brighton i360 – Brighton: Take a 360-degree view of Brighton's beautiful South Coast with a journey on Brighton's futuristic glass i360.
20. Brighton Fringe – Brighton: Head to Brighton this half-term to explore the delights of their annual Fringe Festival. From circus playtime, art exhibitions, musical shows, and countless more, there's creativity right across the city.
21. Beach Sports Venue – Yellowave – Brighton: Located on the stunning shores of Brighton. Yellowave runs beach sport sessions that develop different skills through drills and games. No experience is necessary to attend. Find out more here.
22. Discover Sailing, Tudor Sailing Club – Portsmouth: Ever wanted to be a shipmate? You can try kayaking, yacht & dinghy sailing on this nautical day at Tudors Sailing Club.
23. Spinnaker Tower – Portsmouth: This tower offers breathtaking views of Portsmouth. Situated within Gunwharf Quays, a popular shopping arena, there's plenty to do and see in this marina.
24. Portsmouth Historic Dockyard – Portsmouth: Climb aboard some of Britain's famous naval ships. Home to Henry VIII's vessel, The Mary Rose, and the popular boats HMS Victory and HMS Warrior.
25. Kent Life Heritage Farm Park – Maidstone, Essex: Enjoy an enriching day at this 28-acre indoor and outdoor activity farmyard. From a paint-a-pot studio to a 16th and 18th-century village, there's plenty to do on this farm.
26. Wyvernwood – Colchester, Essex: Wyvernwood is an enchanting day full of magic, exploration, and entertainment. This immersive, story-led adventure will lead your family through The Enchanted Lost Kingdom, a world filled with fairies, dragons, princesses, and other magical beings.
27. Zoobilee half-term, Colchester Zoo – Colchester, Essex: There's a variety of activities throughout the half-term to celebrate the zoo turning 60! Including Peppa Pig and George visiting on the 21st of May.
28. Hylands Park – Chelmsford, Essex: Hylands Park is the largest park in Chelmsford. Surrounded by ancient woodlands, play areas, formal gardens, and ponds. Children can let their imaginations run free whilst they explore the gardens.
29. Knights of Royal England Joust, Hedingham Castle – Halstead, Essex: Race down for an action-packed day filled with epic battling and many medieval pursuits. Cheer on your favourite knight as they charge toward their opponent.
30. Fairytale Week at Tapnell Farm Park – Isle of Wight: There's tons of enchanting family fun at Tapnell Farm Park during the May half-term! There are falconry flying displays, horse jousting, and lots of fairytale activities.
31. Sandham Gardens – Sandown, Isle of Wight: You'll have a roaring time at Sandham Gardens! Navigate the trials of Dino Island mini golf, bounce high in the air in an airborne Big Bounce Park or race around the Sandham Karts track. Find out more here.
32. Calshot Activities Centre – Fawley: Calshot is a place for adventurous spirits. They have a range of activities such as climbing, windsurfing, snowboarding, kayaking, skiing, track cycling, air rifle shooting, and more.
33. Birdworld – Farnham: Walk around this 26-acre bird park, farm, and gardens, where you can spot many exotic bird species, visit Jenny Wren's Farm, and have a memorable family day out.
34. SeaCity – Southampton: There are family workshops and creative activities in this museum throughout the May half-term. What new skill will you learn?
35. Heroes Academy Week at Hogshaw Farm – Oxford: Calling all heroes! Complete a special farm trail and win prizes. Join the Hero Training and be awarded a hero certificate from your favourite hero and princess.
36. Alton Towers – Staffordshire: Thrilling rides, family attractions, and shows. With entertainment and adventure at every twist and turn, including record-breaking rides for adults and older kids, and the UK's only CBeebies Land. Check out more here.
South West
Seaside fun, farmlands and festivals, the South West is definitely a place to explore this May half-term.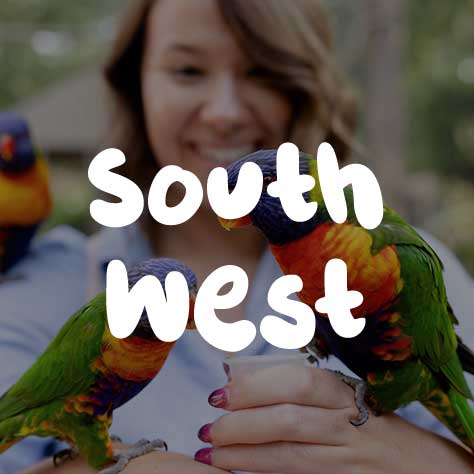 37. Mary Shelley's House – Bath: Step into the dark world of Mary Shelley and her most famous creation, Frankenstein. Experience all things Frankenstein and his monster. At Shelley's house, you'll meet the 8-foot monster, recreated just how Mary had first designed it.
38. Journey to Mars Exhibition, Aerospace – Bristol: Leave orbit and travel across the solar system in this temporary Journey to Mars exhibition which features a full-scale model of Beagle 2 and other Astro equipment.
39. Plant power, Bristol Aquarium – Bristol: Love plants? Love the plant? Come to Bristol's aquarium for a half-term exhibition to learn about the power of plants. There's a crafts and photography competition running too.
40. Royal Bath and West Show – Bristol: A great day out includes many events, performances, and fun for all ages. You can also meet farm animals on this interactive ranch.
41. W.O.W! – Bristol: The Invisible Circus are delighted to present their Weekend Of Wonder! A four-week street festival that's filled with outdoor performances from local and international artists.
42. Cheddar Gorge – Somerset: Explore stunning stalactite caverns and see the dramatic cliffs which rise 450ft above the ground in these wonderful caves. A journey into the deep and dark for the whole family.
43. Farmer Palmers – Bournemouth: Calling all cowboys and cowgirls this half-term, for an ultimate wild west soak-off! (A water fight!) YEEEE-HAAAAA!
44. Camel Creek – Wadesbridge, Cornwall: Embark on a daring family adventure with epic thrills, fast roller coasters, and entertaining experiences… this action-packed attraction is something your little ones won't forget!
45. Festival of Imagination, Eden Project – Cornwall: Come along to the Eden Project to discover an abundance of creativity. From music to dance, theatre to storytelling, this festival is bursting with performances. 
46. Minack Theatre – Penzance Cornwall: This stunning theatre sits upon the rock face overlooking the sea. Check out some performances or discover the history of this beautiful Cornish gem.
47. Unicorn Week at Pennywell Farm – Devon: Meet Merlin the Unicorn, travel through the unicorn trail, and enjoy the famous pig race. Treat yourself to a variety of live entertainment at Pennywell Farm this May half-term.
48. Magical May, Crealy Theme Park & Resort – Exeter: Magical madness all through the May half-term. Watch the magic show with Tik & Tok, witness the mayhem by Sooty in the Big Top Showtime, and ride on their thrilling attractions.
49. Outdoor Cinema at Powderham Castle – Exeter: Outdoor cinema set on the castle grounds, with a themed competition for the best dressed. Choose from Grease, The Greatest Showman, Elvis, Top Gun, and Dirty Dancing.
50. Longleat Safari – Warminster: Experience a full-on, fun-packed day for the whole family! See creatures from around the world, from the majestic and exotic to the cute and cuddly, there's always another animal adventure just around the corner.
Wales
If you're after a sense of adventure, head to Wales for your holidays.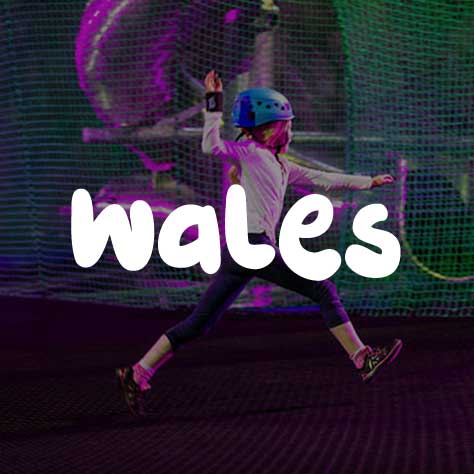 51. Zip World – Betws-y-Coed, Wales: An exhilarating high-top adventure in a natural setting. Bounce, slide, and jump your way through the day.
52. Hay Festival – Hay-On-Wye: Writers unite! In this wonderful collaborative festival, for all things literature! Poets, authors, illustrators, and performers, find your new favourite author at this festival.
53. Dam Open Day, Elan Valley – Pen y Garreg: Join the Rangers on this rare dam open day. Venture into the Pen y Garreg Dam and explore the bird's-eye view of the dam.
54. Brick Festival – Newport: Celebrate all things LEGO at this Newport festival. There are competitions, displays, activities, and traders, can you build this into your half-term schedule?
55. Margam International Kite Festival – Margam, Port Talbot: Let's go fly a kite! Have a soaring time at this kite festival, bring your kite to join in on the fun.
56. Buzz Parks – Cardiff: Bounce your way through the half-term at this enormous inflatable course. Boing over the challenges! Will you take on the 6m drop slide?
57. Dinosaur World Live, Memo Arts Centre – Barry: Join in for this terrific roar-some show. Meet a variety of creatures as they thunder across the stage in this interactive performance.
58. Cardiff Castle – Cardiff: A castle famous for being founded by William the Conqueror, climb into this interactive fortress to explore 2000 years of fantastic history.
59. Magic Mayhem at Fonmon Castle – Barry: Find the Wizards and their Assistance who are hidden across the realm (estate). Solve the quest to win the ultimate prize… chocolate! With live music, archery, and more, this is one to bring your witches and wizards to.
60. Tour the BBC Studios – Cardiff: Sneak a peek behind the scenes of the BBC with this guided tour. Discover the futuristic camera and virtual reality equipment and observe the TV gallery. No two tours are the same, so you can revisit time after time.
Midlands
Have a magical time in the Midlands this May half-term. These attractions will transport you back in time.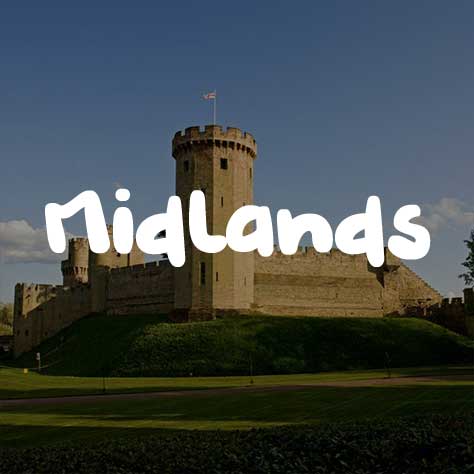 61. Warwick Castle – Warwick: Visit the medieval fortress and travel through time to this magnificent action-packed castle! Experience live shows, jousting, and a Zog Playland.
62. Wicksteed Park – Kettering: Explore 4 different zones at this Grade II English Heritage Listed Park and Garden, with 30 exciting rides there's something for all ages.
63. Freddo's Magic Show, Cadbury World – Birmingham: Two fabulous things combined: Chocolate and magic! Be amazed as Freddo the master magician wields his wand and makes things disappear.
64. Jurassic Gardens Half Term Takeover, Birmingham Botanical Gardens – Birmingham: Have a roaring time at this unforgettable experience! Get ready for an up-close, thrilling time with these dinosaurs.
65. Sharklife, Sea Life – Birmingham: Learn about these mysterious and magnificent creatures. Search for shark teeth, meet a marine biologist, and lots of other aquatic activities are planned at Sea Life this May half-term.
66. Van Gogh Alive, Birmingham Hippodrome – Birmingham: A sensory experience with a much-loved painter: Van Gogh. Immerse yourself in his life's work in this unique exhibition and be amongst his creations with these stunning projections.
67. Black Country Living Museum – Dudley: Step back in time and walk the streets of a 1930s high street, visit shops, pubs, and industrial workshops. Reconstructed with over 50 authentic buildings discover the character of past eras.
68. Attingham Park 18th Century Parkland – Shrewsbury, Shropshire: Have an entrancing time at this natural attraction. An expansive parkland that's rich in history, with family-friendly activities running all year round.
69. Clearwell Caves – Gloucestershire: Go deeper this May half-term with this underground adventure. Explore the caverns and history of these hidden caves.
70. Rufford Abbey Country Park – Nottingham: Set in a beautiful parkland, have a roam and a stroll through the native woodlands.
71. Dinosaur Breakout, Drayton Manor Resort – Staffordshire: Rides, Vikings, Thomas the Tank engine, a zoo… what more could you want in one place? Find out more about Drayton here.
North
Plenty of fun attractions to visit in the North this May half-term. If you're stuck for ideas have a look at our selection.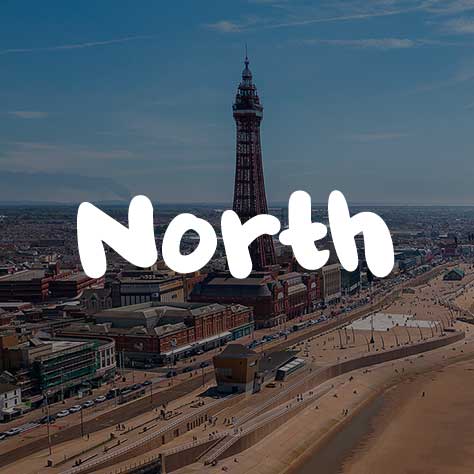 72. Blackpool Tower – Blackpool: Overlooking the beachfront, this iconic tower is brimming with entertainment. Home to the infamous Blackpool Tower circus, ballroom, and dungeons.
73. Sandcastle Water Park – Blackpool: Splish, spash and slide your way around this water park. There's adrenaline filled slides for the thrill seekers and a sea breeze spa for those wanting to unwind. Find out more about Sandcastle Water Park here. 
74. Blackpool Zoo – Blackpool: Discover over 1000 animals at the award-winning Blackpool Zoo. There are lots of fantastic animal interactions, talks, and feeds to explore.
75. PETER RABBIT™: Explore and Play – Blackpool: Burrow into the world of the beloved Peter Rabbit™ and his friends. Explore the oversized world of Peter and his friends through the five themed zones.
76. Coronation Street: The Tour – Manchester: Ever wondered what stories lie behind the nation's favourite street? Don't miss out on your chance to go behind the scenes and walk the cobbles on Coronation Street: The Tour.
77. We Invented the Weekend – Manchester: This free Weekend Festival has 200+ free activities. Ranging from live music, creative workshops, gaming, performances, sports, and more! Find activities that interest you here.
78. Spring Escape Fun Fair – Manchester: Racing cars, balloon rides, ponies, and all your favourite funfair attractions are coming back to the Trafford Centre in 2023. This family-friendly event has pop-up stalls, thrilling rides, a funhouse, and so much more for you all to enjoy.
79. The Crystal Maze LIVE Experience – Manchester: Based on the popular 90s TV show, you can now experience the frantic and immersive experience of The Crystal Maze. After a quick team briefing, your group will have approximately 70 minutes to traverse through the adventure zones.
80. Free Swimming – Manchester: Across Manchester throughout half-terms enjoy free swimming sessions at your local pool. It couldn't be easier to enjoy a dip and a splash! Sign up here.
81. Gnome Sweet Gnome, Abbey House Museum – Leeds: Spot the Gnomes and their doors which have appeared throughout the Victorian streets. There's a variety of trails, quizzes, and crafts throughout the day.
82. Hedgehog Hideaway Trail, Leeds City Museum – Leeds: Search high and low for the hidden hedgehogs across the museum. Sadly, you won't find Sonic, but there's lots to discover in the museum.
83. Heaven Inflatable Play Day – Leeds: Boing… Boing… enjoy a free bounce on a giant inflatable sculpture created by artist Pippa Hale. Book here for your free ticket.
84. Pudsey Park – Leeds: Have a spring stroll through this award-winning park in Leeds. Equipped with a playground, bowling green, and skate park, it's the perfect place to have a picnic.
85. The Beatles Story – Liverpool: Take a tour into the musical world of John, Paul, George, and Ringo in the world's largest permanent Beatles exhibition. Make sure you say hey to Jude.
86. Liverpool FC Stadium Tour & Museum Tickets – Liverpool: Go behind the scenes at one of the most notorious stadiums in the UK. Even if you're not a Liverpool FC fan, there's lots to appreciate at this arena.
87. Around the World in 80 Stories, Lotherton – Leeds: Stories for all ages! Follow a trail, dress up in costumes, outdoor games in the gardens. Join in on the fun.
88. Spring Swashbuckle Pirates' Adventure, Stockfield Park – North Yorkshire: A-hoy mateys! Venture on this quest through mazes, arts & crafts, party dances, and more. This pirate-themed adventure will have you walking the plank.
Scotland
Check out these fun attractions which are based in Scotland.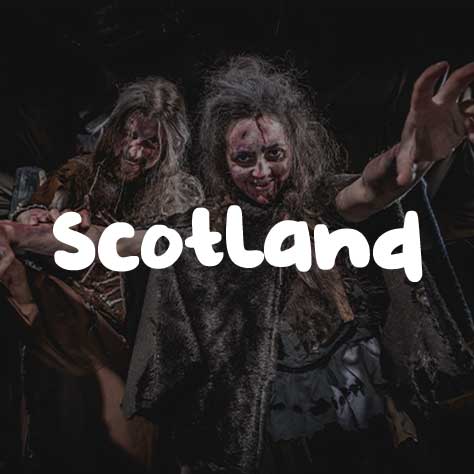 89. Edinburgh Dungeon – Edinburgh: Feeling brave? Head into the spooky and gruesome dungeons to experience Edinburgh's murky past. Be warned – this is not for the faint-hearted!
90. Imaginate – Children's Festival – Edinburgh: Calling all creatives! There is an immense amount of talent at this Children's Festival, from theatre, comedy, workshops, and music, this is certainly one to visit.
91. Jacobite Steam Train – Fort William: All Harry Potter enthusiasts you'll need to board this train – running from Fort William to Mallaig you'll venture over the iconic bridge that the legendary Hogwarts Express traverses.
92. Wildhood a Children's Festival, Tullibole Castle – Kinross: Born to be wild? At Tullibole Castle there's graffiti, live music, games, tree climbing, bagpipes, mindfulness, traditional arts & crafts, and more!
93. Looking Forward, Science Festival – Glasgow: Across the city at different venues, there are award-winning activities, workshops, and events to get stuck into. This is one for the future Isaac Newtons.
94. World of Illusions – Edinburgh: Things are not what they seem! With 5 floors and 100 interactive exhibits, lose your mind with these mind-bending illusions.
95. The Chocolatarium – Edinburgh: That's it you did read right… chocolate! And lots of it at this popular chocolate factory. Create, discover, and eat your way through the day.
96. Glasgow Science Centre – Glasgow: Feed your curiosity and encounter stunning space performances, perception exhibits, and unearth the mysteries of nature, at the Glasgow Science Centre.
97. Beauty and the Beast Experience, CluedUpp Games – Various Locations: Solve puzzles and explore the streets of Scotland in this interactive scavenger hunt. Choose from many different themed experiences.
98. Edinburgh Zoo – Edinburgh: Track down flamingoes, giraffes, penguins, giant pandas and more, at this natural and enjoyable family-fun day out.
99. Strathclyde Cycle Fest – Strathclyde Country Park, Motherwell: Cycle to this free event. There's a variety of bike-based activities and 'learn to cycle' sessions for younger riders! Find out more here.
100. Wheatley's Massive Funfair – East Kilbride: Ready for a MASSIVE day out at this funfair? There are games, rides, stalls, and fresh food! Roll up, roll up, one and all.
What have you been up to lately? We'd really love to know! Someone else might love it, and really want to go! If you've got ideas, suggestions or reviews, you can shout all about it on whatever channel you choose!
Let's go on a Picniq! Follow us on Facebook, Twitter or tag us on Instagram using #PicniqUK!