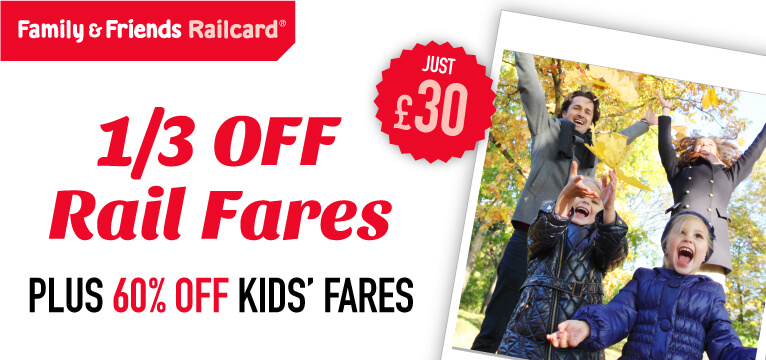 All aboard! If your train mad little ones are after a railway adventure and fab time at some amazing attractions across the UK, look no further, here's a handy list of attractions all within walking distance of a train station! Even better why not grab a Family and Friends Railcard, and  get 1/3 off of most adult rail fares, as well as an AMAZING 60% off of kids fares!  ⚡️Enter promo code PICNIQ at the checkout and save 15% on your Railcard! ⚡️
Purchase your card here ( takes 5 working days to arrive) or pick one up at your local National Rail station ticket office and start making savings immediately!
 Can You Experience, Scotland
0.5 miles from Balloch Train Station (10 min walk)
On the shores of Loch Lomond is this amazing activity centre where you can hire out canoes, kayaks, katakanus, rowing boats and pedal boats in a sheltered lagoon! You'll also be able to hire bikes to explore the beautiful surrounding countryside or take a guided trip session. Find out more.
Attractions nearby:
Balloch Castle Country Park
Art4You Scotland
The Big Adventure
 Ripley's Believe It or Not!, Blackpool
0.7 miles from Blackpool South Station (15 min walk)
For something weird and unusual come visit Ripley's! You'll get to feast your eyes on some uniquely unusual exhibits, which include shrunken heads, a model of Lizard Man, West African Hate Gods and lots more weird and wonderful objects! Find out more.
Attractions nearby: 
Illuminasia
Sandcastle Waterpark
Blackpool Beach
 National Football Museum, Manchester 
0.1 miles from Manchester Victoria Station (2 min walk)
This is the perfect place for a day out for all aspiring mini David Beckham! Discover the history of the beautiful game and see the many collections displaying famous kits, trophies and invaluable archives, as well as the Hall of Fame which showcases the sport's greatest players and icons. Find out more.
Attractions nearby:
Museum of Science and Industry
Chill Factore
Manchester Art Gallery
 Birmingham Museum & Art Gallery
0.4 miles from Birmingham New Street Station (9 min walk)
Birmingham Museum & Art Gallery is home to a collection of over 500,000 objects spanning 200,000 years worth of history all across the world. You can actually step inside a painting and even eavesdrop on Albert Einstein! Find out more.
Attractions nearby:
BBC Birmingham Public Space
Library of Birmingham
Ackers Adventure
 Gulliver's World, Matlock
0.7 miles from Matlock Bath Station (15 min walk)
Set on a hillside in the Derbyshire countryside the theme park offers great value for money! Aimed at younger children (age 2 – 13), you'll find attractions and shows including the fun-packed NerfZone and SpyZone interactive play areas as well as theme park staples such as log flumes and dodgems. Find out more.
Attractions nearby:
The Heights of Abraham
Matlock Farm Park
Matlock Bath Aquarium and Exhibitions
 National Railway Museum, York
0.4 miles from York Station (7 min walk)
 Home to a collection of over a million objects, which cover 200 years of history, you and your family will be spoilt for choice! Explore giant halls full of engines and railway legends including Mallard, the world's fastest steam locomotive and an array of luxurious royal carriages. Kids can even let off steam in the outdoor play area, enjoy lively science shows, take a ride on the miniature railway or learn through the interactive exhibits! Find out more.
Attractions nearby:
The Roman Bath
The York Dungeon
Clifford's Tower
 KidZania, London
0.6 miles from Shephard's Bush (12 min walk)
** 30% off all types of tickets with Picniq **
This child sized city located within the Westfield shopping centre is the perfect place for children to let their imaginations run wild as they test out real jobs such as being a pilot, fire fighter, radio presenter, banker, police officer and many more! As they 'work' they will get paid and can spend their money or open a deposit account at the KidZania bank. Buy here.
Attractions nearby:
Ripley's Believe it or Not
Serpentine Galleries
Natural History Museum
Oxygen FreeJumping
 Dinosaur Museum, Dorchester
0.6 miles from Dorchester West Station (12 min walk)
** £5 off a Family Ticket with our Days Out Card! **
Established in 1984, this amazing museum presents a mixture of dinosaur fossils, skeletons, life-size reconstructions and interactive displays such as the 'feelies' (a unique hands-on experience reveals what a T-Rex dinosaur felt like), colour box and parasaurlophus sound. Multi-media presentations provide a family friendly attraction with new features each year! Find out more.
Attractions nearby:
Teddy Bear Museum
The Terracotta Warriors Museum
Tutankhamun Exhibition
 Cardiff Castle, Cardiff
0.7 miles from Cathay's Station (15 min walk)
Bring your little knights and princesses to explore this medieval castle and Victorian Gothic revival mansion in the middle of Cardiff mansion. Explore the dramatic interiors with murals, stained glass, gilding and much more. The children will love the Children's Area where there's hands-on art and craft activities, puppet theatre and child sized costumes! Find out more.
Attractions nearby:
National Museum Cardiff
Bute Park
Treetop Adventure Golf
 Tower Museum, Londonderry
0.9 miles from Londonerry Station (18 min walk)
Delve into the history of Derry at the wonderful Tower Museum. Here you'll find two permanent fascinating exhibitions; The Story of Derry and An Armada Shipwreck – La Trinidad Valencera, as well as other amazing displays. Be sure to check out the open air viewing facility at the top of the museum, where you'll see some stunning views of the city! Find out more.
Attractions nearby:
Creggan Country Park
Riverwatch Aquariums
Barontop Fun Farm
Don't forget to enter promo code PICNIQ at the checkout to get 15% off your  Family and Friends Railcard 
Do you know of any amazing attractions within walking distance of a train station? Let us know on Facebook, Twitter and by tagging us on Instagram! 🙂